The return of fans to Anfield was a sign of normality resuming, and Josh Sexton writes that Joel Matip has come to embody Liverpool's 'new normal'…
I MOVED back to Liverpool recently.
I've lived in the city for the last three years, but moved back in with my family before the first lockdown meaning I'd been away for nine months. Nine months away from the place I dreamed about living in as a kid.
So I've spent the last few days going for walks around the city, reacquainting myself with the sights and sounds, bringing out that child in me that saw this place from afar and fell in love.
The overwhelming feeling that has occupied my mind is the return to normality of sorts. Of course, it's different from the city I left. A 'new normal', if you will. But it's still something normal, and we've all needed that in our lives.
The emotions I felt upon returning to my spiritual home came to the fore seeing 2,000 fans back inside Anfield last night. I'd argue I came close to being overwhelmed on three occasions and I wasn't even there myself.
It of course started with You'll Never Walk Alone; to hear actual voices singing our anthem once again, to see the scarves raised on The Kop. I never want to take that for granted again.
It ended with Jürgen Klopp giving his trademark three fist pumps to the crowd gathered at a social distance in our famous stand. That was when it truly hit that this was us getting back to something normal.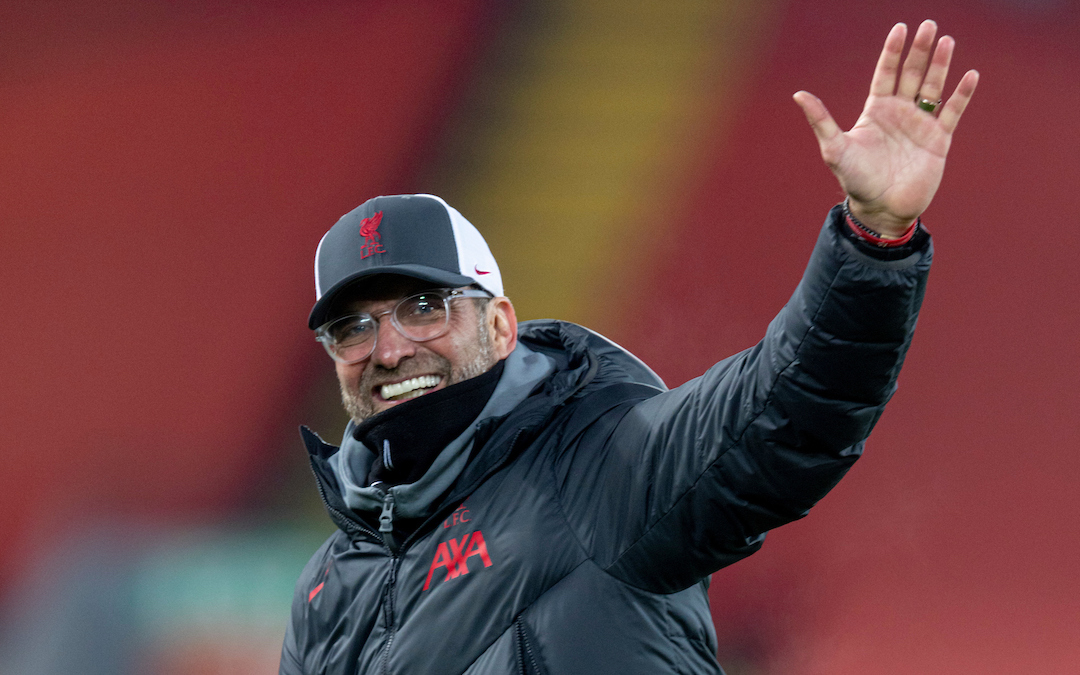 In between all that though, Liverpool scored a handful of goals and put in a really good performance. There was one goal in particular that made me wish I was one of those lucky 2,000 to be the first to acclaim the Champions.
I love going the game and everything that surrounds it. It's been a pleasure to be there in the flesh to watch this side develop into the team we see now. To watch Liverpool take the piss, over and over again. I love that because there's a lot to be said about laughing inside a football ground.
When Joel Matip scored last night it hit me like an epiphany, as my brain teleported me into The Kop. Matip had nodded home and celebrated by roaring at The Kop, in my head, I screamed back at him and then laughed my head off while looking around for people to hug.
There's a few reasons why moments like that would get me. Firstly, Joel Matip scoring to make it 3-0 is a perfect 'Liverpool taking the piss' moment. Secondly, Matip is just hilarious isn't he? Were you onto his reaction to Pedro Neto after he fouled him in the first half? Hahahaha, I love him.
Oh, and that's the third thing.
Loads has been said about the mentality of this team, how they've dealt with all the setbacks that have been thrown at them this season and how they continue to prove the doubters wrong.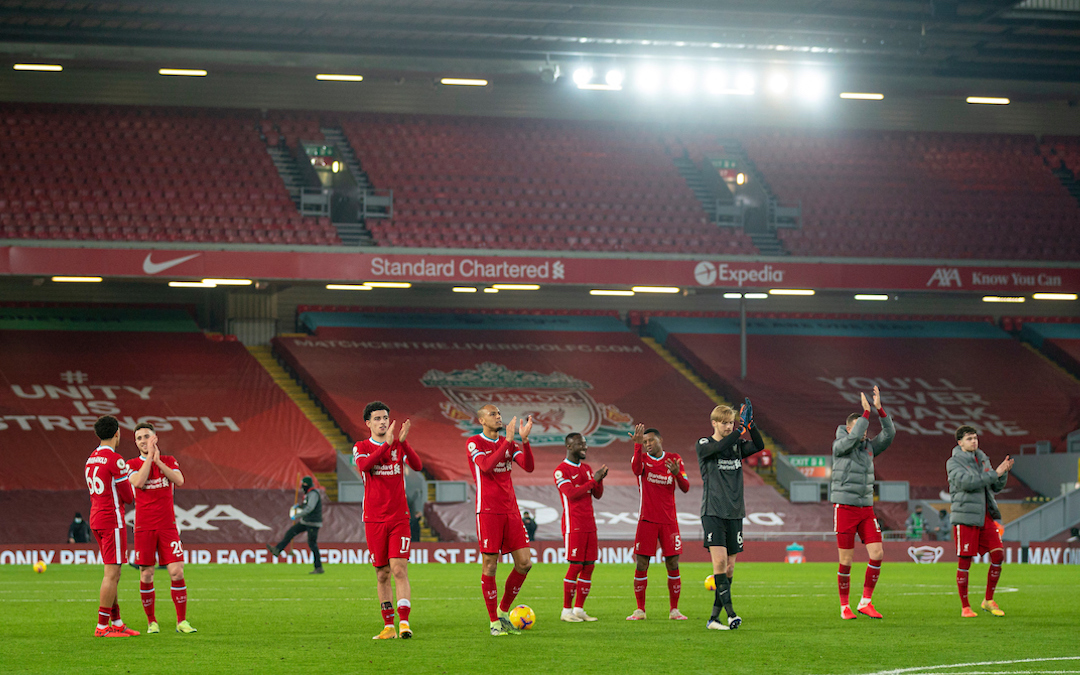 If you go through the team, every player has their stories. From the youngsters proving their worth, to the usual suspects having to dig deep while their bezzies drop like flies.
Joel Matip stands alone, though. He doesn't really fall into either of those camps.
Since the partnership of Virgil van Dijk and Joe Gomez began to flourish, Matip has had to settle for being Liverpool's third-choice centre half. Of course, he has been called upon in the absence of Gomez but he's never really been given an awful lot of credit for doing so. He's playing alongside Virgil, isn't he? Easiest job in the world.
Maybe we've been guilty of letting that perception carry over to our current situation. It still feels like Matip is just there until he isn't. Until another inevitable injury comes along and then we can have a moan about him again.
Quietly though, he's been absolutely crucial to some of Liverpool's best displays. He's rarely let The Reds down, and he's actually a better football player than he gets credit for.
His performance against Wolves was a prime example of all the good that he brings. His reading of the game is so good, he's committed in the tackle but doesn't tend to put us under pressure in doing so and his passing is really something to behold.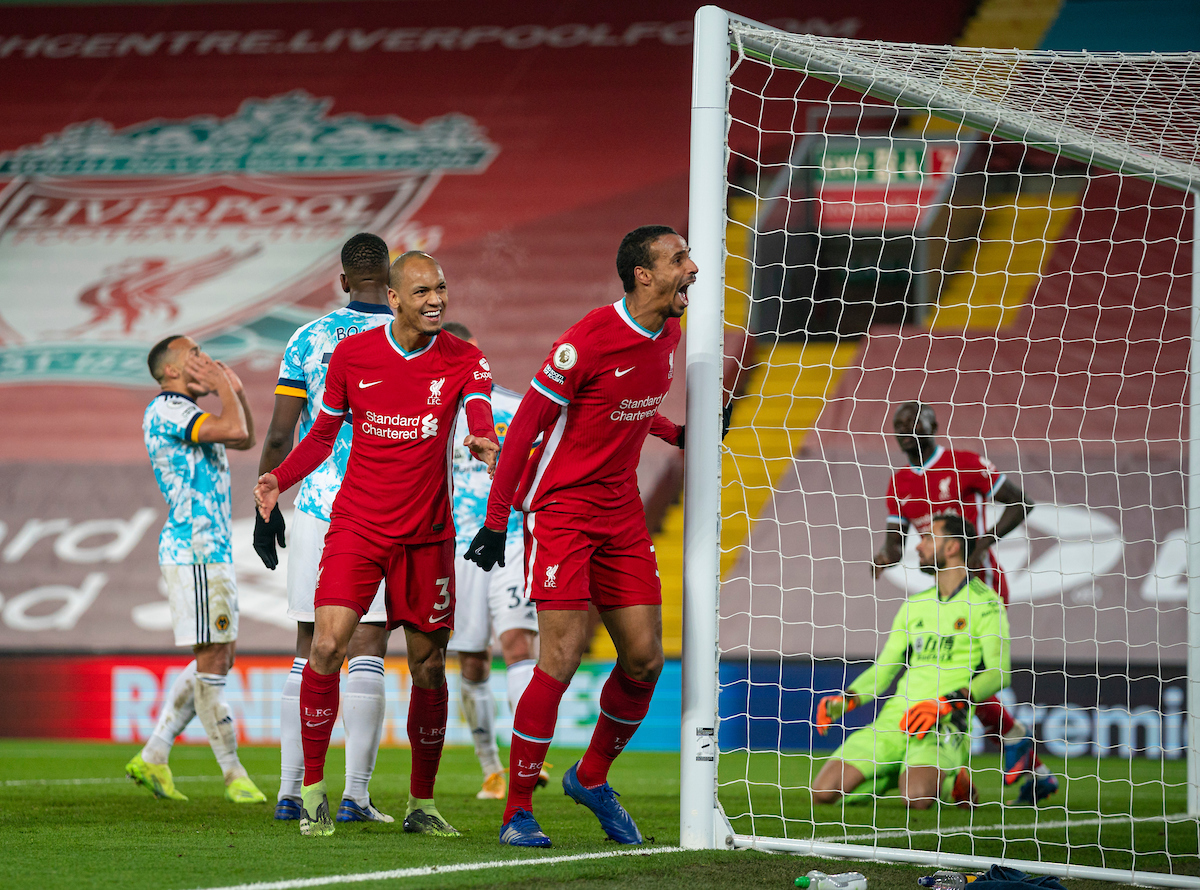 Teams like Wolves have tended to cause Liverpool the most problems over the years, combining a defensive-minded formation with a quick counter-attacking style, by utilising long diagonals and asking their pacey forwards to be committed in the press.
Matip won his battles, stepped out of defence with intent and his forward passing was crucial to The Reds being able to beat the first line of the press and cause havoc in the areas our forwards occupied between Wolves central midfielders and defence.
Of course his injury record leaves a bit to be desired, but we can't take that out on the player himself. Daniel Sturridge said on Melissa Reddy's podcast Between The Lines that he'd pay any amount of money to play injury free, and I'm sure the same applies to the majority of lads we've seen at Anfield down the years.
Hopefully Joel can put together a run now, helped by the fact that Liverpool have set themselves up for a more relaxed December than that of some of their rivals. He deserves no less than that, given that he helped us get to this point.
Matip leading Liverpool's defensive line isn't the norm, but what even is normal these days? Well, it's The Reds winning and lifting more shiny things.
Luckily there's no sign of that being taken away from us.
---
"To be able to show the players what they mean to us, to sing 'bring on the Champions'. It surpassed my expectations."

"It felt like a special night."

📱 Subscribe for our immediate reaction from Anfield 👉 https://t.co/oaOWcUzrlr pic.twitter.com/Y7nfVVNjnj

— The Anfield Wrap (@TheAnfieldWrap) December 7, 2020
Recent Posts: