Neil Atkinson gives his immediate post-match review after Liverpool's 1-1 draw with Fulham in the Premier League…
THERE was this point watching the Manchester Derby where both teams just hit a wall.
It was around 68. Both, as a collective, just had legs fall off. It looked like walking football for long sections, it looked like extra time of a summer tournament. It wasn't good.
I looked at what passes for the sensible discourse this morning and was stunned to discover it was because of a lack of fans, not a lack of energy.
Supporters offer adrenaline, yes. And they may have offered some to Fulham today just as they may have offered some to Everton or Southampton. But the footballers I've seen this weekend who have been playing European football these last few months have looked utterly devoid of energy and inspiration.
None of this is to excuse Liverpool. There is a job to be done and if we praise them when they respond to adversity we need to be prepared to criticise them when they fail to stand up and be counted. But, at the time of writing, every side who has played European football for the sixth time this season has been poor. The Manchester clubs, Chelsea, Tottenham and now Liverpool, all well below par. Arsenal and Leicester to come.
Within that there will be murmurings. I understand it, why give Mo Salah and Trent Arnold 100 minutes midweek to sub them here? I suspect the answer is solely about them being ready for Wednesday. Everything worked back from there. But that doesn't mean tonight could just be forgotten, obviously.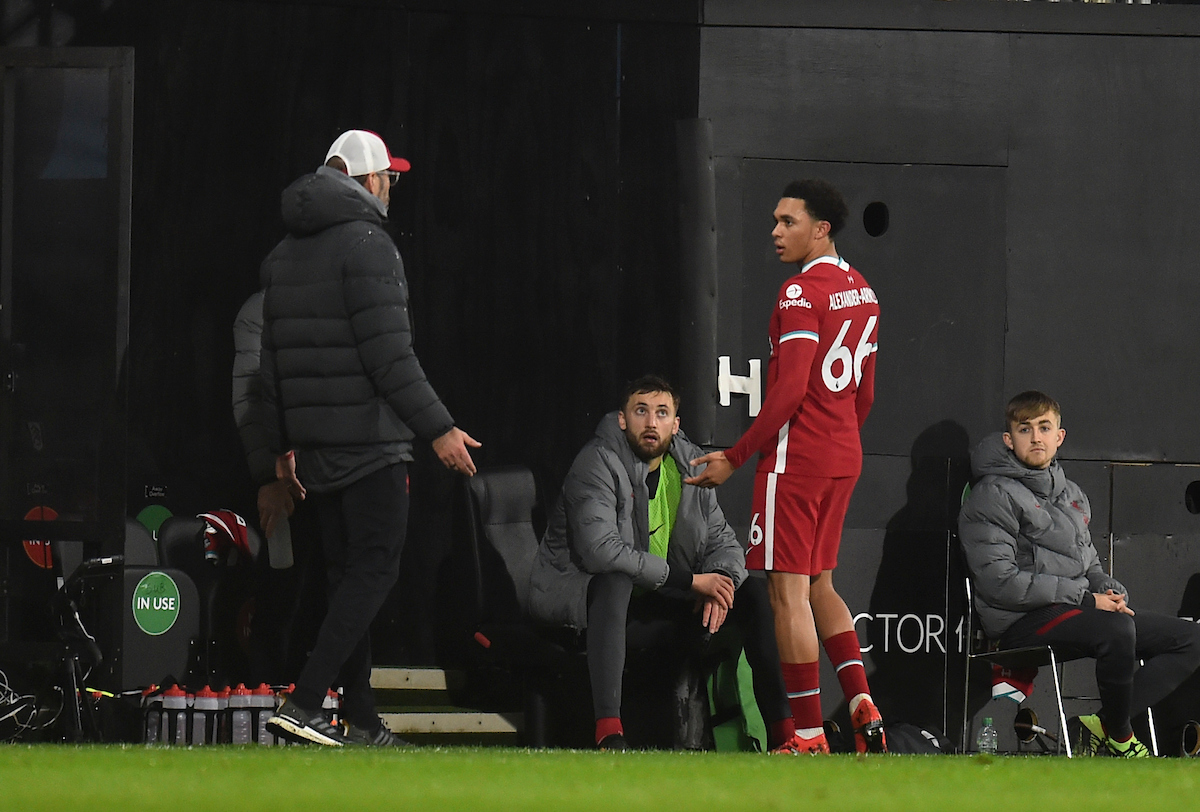 Prior to the game I was surprised by the numbers of people expecting Liverpool to run amok. I thought Fulham were good against Leicester City. Helped by circumstances, but good. They were just about OK against Manchester City. And they started marvellously. Liverpool helped for certain; they helped by not hindering, but every Fulham pass connected, every gamble went their way and Liverpool were penned in by the moves between three, four and five at the back.
Those paying attention to the stats will know I pointed out that Fulham had started poorly this season, given up a disproportionate amount of their expected goals and actual goals against in the first 15. But they ensured Liverpool couldn't get near their box.
Scott Parker stands on the touchline every inch the Fulham man. Elegant and sharply coiffured, he looks full of west London pride and has become more certain of his personnel. He has worked out that he needs them fast before he needs them considered and that he needs them gambling, believing in the gamble, making the gamble.
Fulham shape up well upfront, with Loftus-Cheek, Cavaleiro and Lookman showing strength against Liverpool's disordered defence. And it is Lookman who teams up with Bobby Decordova Reid around the 25th-minute mark to see a sure-footed shot beat Alisson. Decordova Reid is excellent through the first half. He challenges the spaces and uncertainties in Liverpool's shape, and plays with determination.
Insofar as this writing considers Fulham, it should end thus: it would be understandable to consider this two dropped. I would walk away feeling that if they were that bit peppier second half they get a second.
As a game it didn't remind me of Watford, where Liverpool were set up and undressed, but more in the end of Red Star Belgrade away from the November of 2018. The early damage done and Liverpool at arm's length, unable to get going. The difference was that Red Star got that second. Fulham didn't and, as the second half wore on, looked less and less likely.
Liverpool question themselves and what, on paper, looked to be a very strong side turns out to be nothing like. It isn't just that we miss Van Dijk at the back, it is that we, for the first 30 minutes anyway, don't look like we know who is supposed to be playing where. Bobby Firmino is doing an awful lot of defensive tracking back and Gini Wijnaldum and Jordan Henderson look put of position too often.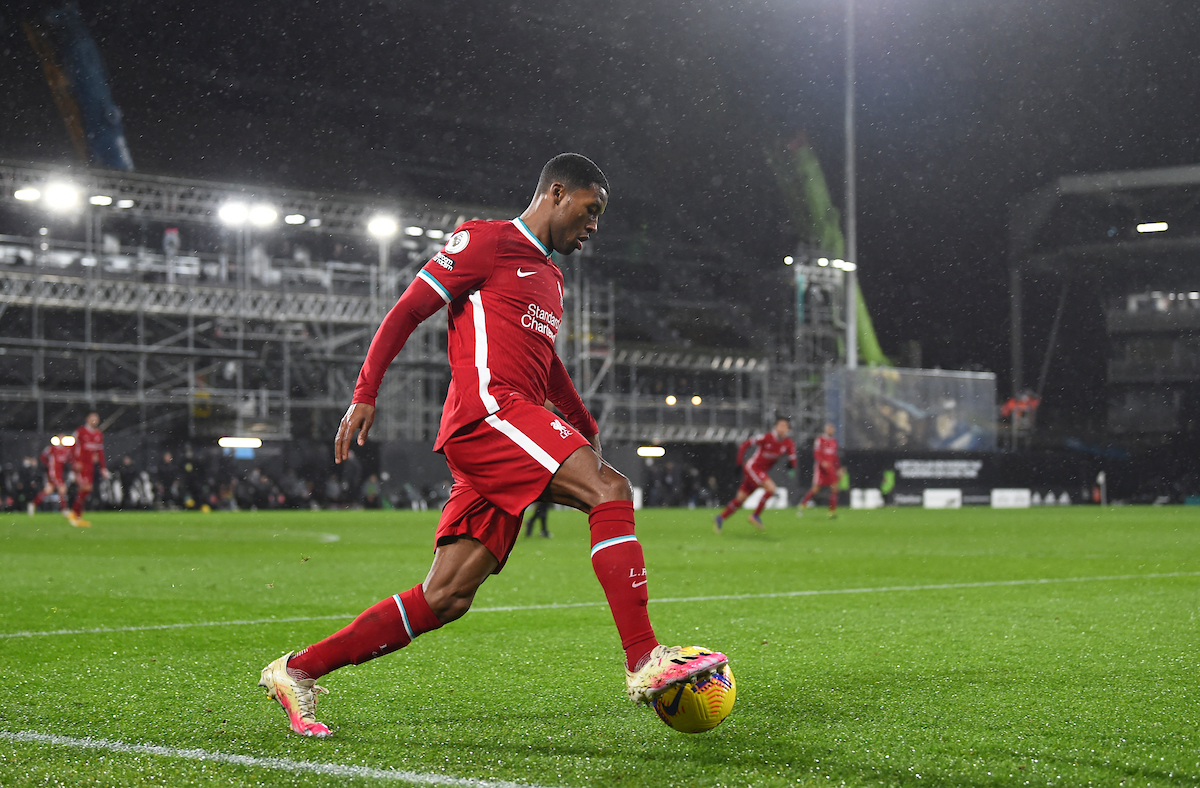 If we take the game in sixths, Liverpool's first 15 could well prove their poorest non-Aston Villa 15 of the season. But the second 15 minutes was worse. They stank the gaff out. It was beyond abject. It was as bad as any 15 against Villa, possibly worse. The differences were only that Villa are better than Fulham, that deflections didn't happen and that Alisson Becker was in goal.
Liverpool improved towards the break and possibly have their best spell – both Sadio Mane and Mo Salah should do better with opportunities which fall to them. Liverpool simultaneously should have gone in two or three down, but could also consider themselves unfortunate that a foul wasn't given against Fulham in the buildup to the goal they concede.
Jordan Henderson ends up back at centre back given Joel Matip being taken off. Liverpool looked threadbare from the bench and literally need time to pass to start to get some footballers back. They are yet again a minus for availability this week just when it felt matters had turned.
But that was the least of our issues as the second half kicked off at Craven Cottage. The fact that we had impetus but no inspiration, we had urgency but no subtlety was a far greater concern. We had what felt like nowhere near enough Sadio Mane. We had everyone bar the very good Curtis Jones on the periphery of the game which was strange in that the game was being played in their half. And yet.
The mental toll on these players has been great. I know you are, like me, all the way up here and livid and veins popping and you don't want to hear that. I know. I understand. Trust me, I understand.
But it is true all the same. Second half Liverpool didn't look lacking in running or willing, they looked short of sharpness. Sharpness is where the physical and the mental meet and Liverpool look just off in both and honestly, genuinely, is that any surprise?
With Curt we nearly had the greatest moment of our lives. It is a truly great Liverpool goal that wasn't. Urging him on as he surged forward was in and of itself magnificent but imagine had he scored it. It would have deserved for him but not for the 11. Not for the club.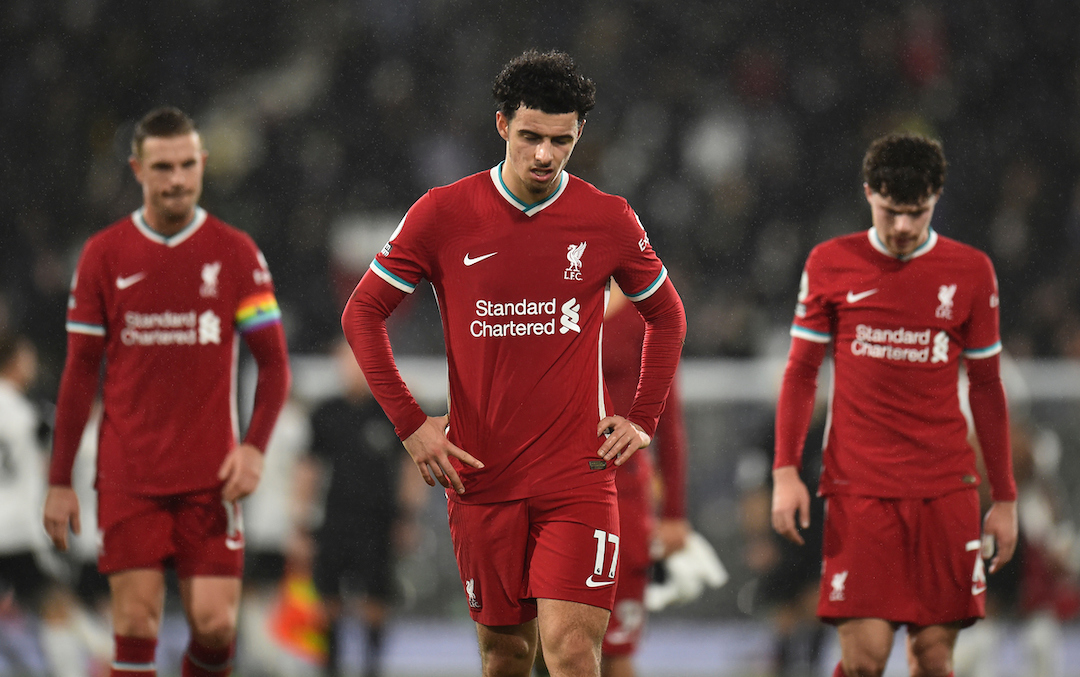 Whenever you don't win a game you are defined by what you do next. For Liverpool this is easy now. I mean, really difficult but easy.
We go into Wednesday now with all pressure on. This Liverpool side must be tired, and Merseyside in December is often dark, wet and very cold. A team of 11 plus 2,000 must push on and find reserves of energy and skill.
It will not be easy as we face a Tottenham as prepped for us, as fractured but determined as us but with a known foe at the helm. No one ever said this would be easy. No one ever said it was all down hill from June. We push on through to 2021 and hope these Reds can find a way, and us with them.
Wednesday offers full clarity. This could prove to be the campaign. Footballers rousing themselves when they can. But we do need to wonder about the fact we are making them all less good, we are blunting them all.
It's 12 hurdles done. It's 26 to go. And the ground is heavy. The rain is pouring. The field is in ribbons. Increasingly it is difficult to have a sense of how the line is crossed in first or what the eventual winner actually looks like in terms of its own fitness. Liverpool will be there or thereabouts. But the slog isn't stopping not for anyone.
Slog your guts out Liverpool. We're there for you. As many as they will allow. Nothing will be resolved by January but resolution itself.
We remain on the march but by Christ if our boots aren't sticking in the mud.
---
"You expected Liverpool to boss the game and get the win. But what transpired was a fucking horror show. They were abject. Dreadful. Fucking dreadful."

📱 Subscribe for the best audio and video reaction to a really disappointing draw away at Fulham 👉 https://t.co/oaOWcUzrlr pic.twitter.com/q3esoSY9Xa

— The Anfield Wrap (@TheAnfieldWrap) December 13, 2020
Recent Posts: