Rob Gutmann's match preview ahead of the visit to Manchester City to Etihad, where the manager has a decision to make over Diogo Jota and Roberto Firmino…
IT'S a strange thing how our perception of a football team can change so comprehensively and so swiftly.
I was musing the other day at how Jose Mourinho's Tottenham team had morphed in a few short weeks from the to-be-pitied risible outfit of the Amazon documentary, to being regarded as the Premier League's insurgency. The reborn Lilywhites are champions elect, apparently. Two crappy wins in the past week compelling further evidence of this.
Liverpool were also busy stringing together wins in underwhelming style. Four of them to be precise (over Ajax, Sheffield United, Midtjylland and West Ham). The modesty of the margins of Liverpool's 'ugly' victories was seen as evidence that The Reds prospects of retaining their title in the post-Van Dijk injury era were clearly diminished, even if it had to be conceded that the team's character and resilience remained in rude health.
Van Dijk was undeniably a massive presence in the Liverpool setup in absolutely every sense. The Virgil-shaped hole in the team appeared, on early evidence, to manifest as the chasm it was expected to be. Although his teammates had shown their famed 'mentality' in carving out narrow wins in their first few games without him, it seemed crystal clear that in the absence of the big guy things could simply not be the way they had been.
And then Atalanta happened.
Champions League matchday three in Italy was billed as being one where The Reds could very much expect to experience some pain. Atalanta were the coming force in the Champions League, oozing goals, work rate and ambition. Every couple of years the competition throws up a young fearless team that none of the footballing establishment want to play. Let's be honest, we were all biting hands off for a point from this fixture.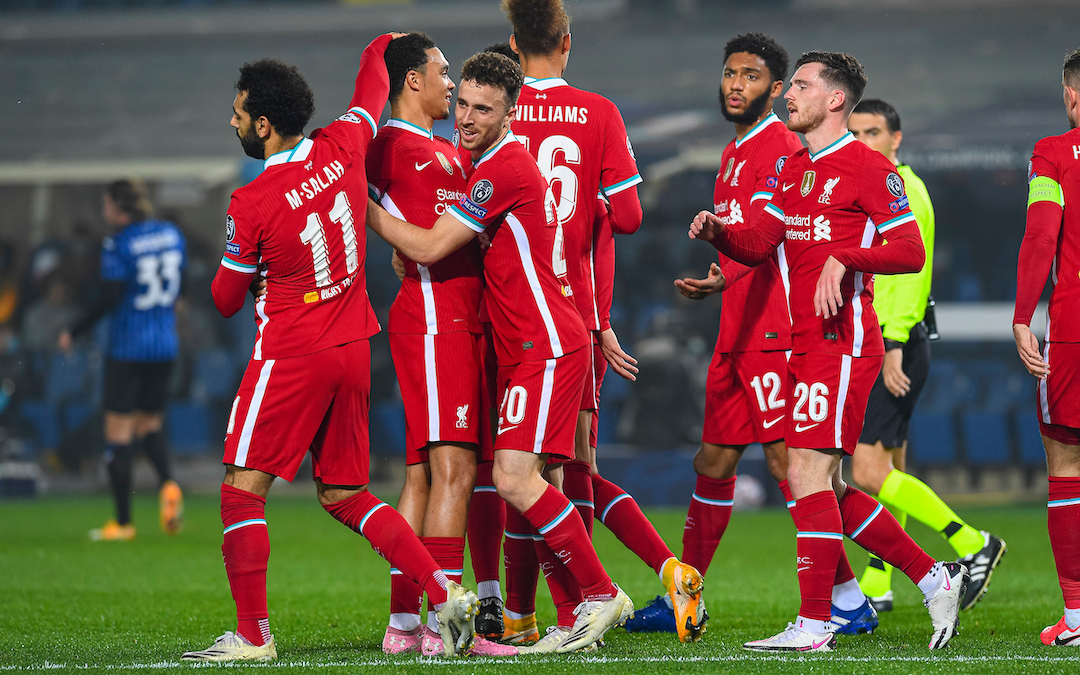 The Champions of England had other ideas, though. Atalanta were taken apart in 55 minutes of breathless football. Liverpool subjected the Serie A side to a counter-attacking masterclass and the new look front three of Mane, Jota and Salah positively gorged themselves on goals, each one a mini masterpiece in its own right.
All over the park, positives abounded. How good was new man Diogo Jota? What an assured performance at the back by 19-year-old Rhys Williams. Henderson majestic, Curtis Jones looking a natural at the elite level. Even the keeper, Alisson, showed his class when eventually called into action.
On Monday evening, we had waved off a Liverpool team on a plane bound for Italy defiant but still feeling a touch sorry for itself after myriad misfortunes of the past month. As the squad arrived back on Merseyside on Wednesday, it was as a collective that had produced a result to rock European football back on its heels.
The English League and World Champions shouldn't have had anything to prove to anyone, but now they had reaffirmed their power anyway. "Liverpool were a different level," conceded Atlanta coach Gasperini.
You take the tonic of a fine victory at any time in football, but it's especially welcome in the approach to an encounter with your primary rival. Liverpool will go to Manchester City's Etihad lair on Sunday feeling a fair few inches taller.
City themselves have recently been steadying their ship after taking a series of shocks to the bow during the season's opening phase. Already too many points have been dropped and boss Pep Guardiola's fears that they have not yet corrected their now year-long slide have been affirmed.
Two comfortable Champions League wins and three points narrowly gained at Sheffield United in the past fortnight have lightened the mood a bit, but City would've preferred to be preparing to face Monday's Liverpool rather than the thoroughly rebooted version which returned from Italy later in the week.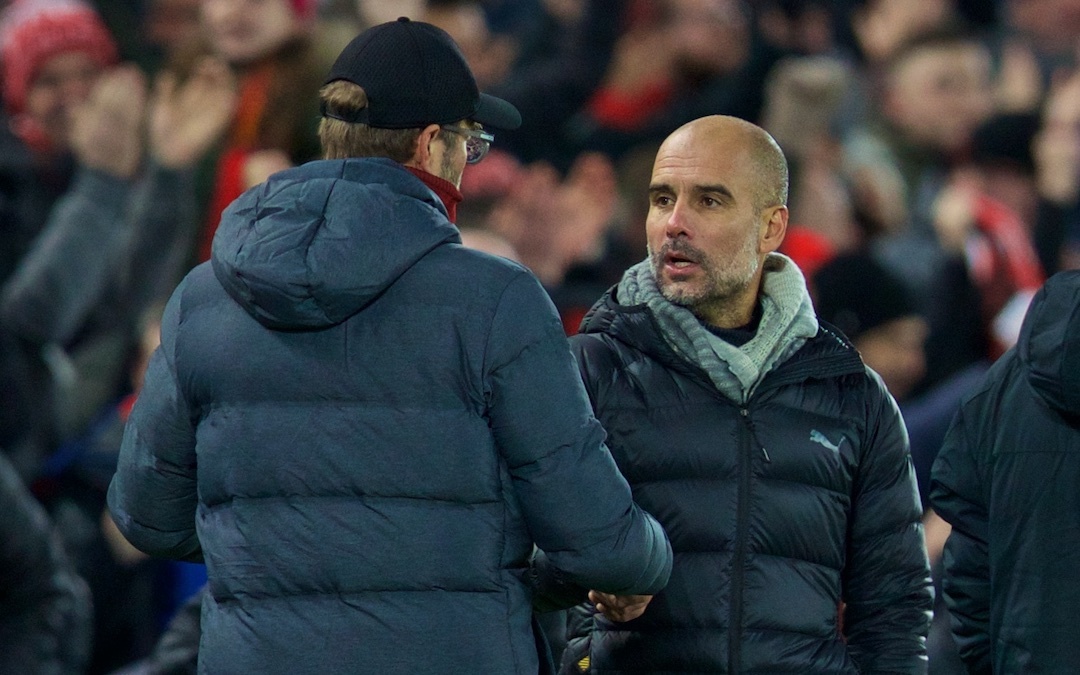 It is still early in the new campaign but plenty is already at stake on Sunday. A City win would kickstart their season and serve to assure them that this time round Liverpool will not be running away from them as they so comprehensively did in 2019-20. If the Champions triumph, though, the sinking feeling of deja vu may be too great for City to reassert from. A six-point swing to The Reds this week could break Guardiola's side.
Jürgen Klopp will need to make some big calls with so very much riding on this one fixture. Does he return talismanic Bobby Firmino to the first team and leave out midweek hat-trick hero Diogo Jota? Will the fragile but experienced Joel Matip be drafted back into the lineup, or will one of the two impressive performances from stand ins (Nat Phillips and Rhys Williams) be rewarded with a place?
Then there's decisions to be made in midfield. Who partners Henderson and Wijnaldum? Curtis Jones made a case in midweek but Klopp may prefer the experience and defensive attributes of a Milner or a Keita for a contest of this magnitude.
There was talk of Liverpool facing the prospect of City sans Van Dijk with some trepidation at the beginning of the week. We can now firmly banish that kind of chat. The Champions were fairly fearless fuckers as a default, but reborn in Bergamo on Tuesday night, The Reds are once again laughing in the face of danger.
It's Pep G and his uncertain thoroughbreds who won't be sleeping well on Saturday night.
Predicted 11: Alisson; Trent, Matip, Gomez, Robertson; Henderson, Wijnaldum, Milner; Salah, Jota, Mane
---
"We've got a better squad, we're now saying 'how can we get this lad who's scored a hat-trick and four before that into the starting eleven?"

"He's got to start Jota, hasn't he?"

📱Subscribe for all of our build up to City 👉 https://t.co/oaOWcUzrlr pic.twitter.com/ue3Htqn1og

— The Anfield Wrap (@TheAnfieldWrap) November 6, 2020