Ben Johnson's match preview ahead of Liverpool vs Atalanta B.C. at Anfield, with Jürgen Klopp's mentality monsters showing their steel once again…
IT'S amazing what the systematic dismantling, a great team performance and a lovely little 3-0 smashing of a supposed title rival can do for the feel-good factor around a team.
Before the Leicester game, Liverpool – heavily depleted Liverpool, no spine of the team Liverpool – were not really given much of a chance. The talking heads and the shouting hands looked at the misfortune already doled out to The Reds and rationally assumed that any side in their position would struggle.
I mean, they were without the greatest defender on the planet, the greatest wide forward on the planet, the greatest right back on the planet, the greatest centre midfielder on the planet and man of the match in the last European Cup final, some crab called Henderson. Oh, and England's best centre half and… Oh don't worry about it, you get the jist. They basically had no team.
As you will be well aware by now, what unfolded was a masterclass in shape, tactical awareness, movement, playmaking, to name but a few. Amongst the reaction to the decimation of our squad, what seemed to fly under the radar a little is this team's unbelievable mindset. It is absolutely elite. It has been carefully built year on year, from its infancy in Klopp's first season to The Reds being crowned Champions, of well, everywhere.
Going into that Leicester game, most sides without their most vocal midfield and defensive organisers would struggle to impose themselves in the manner Liverpool did. Christ, coming off the back of Virgil's injury Liverpool have conceded three goals. How's that for mentality? Who knew Virgil was the problem all along?
Time and again when this Liverpool side are up against it, when any mere mortal would be on its knees, these Reds have sucked up the shite, swallowed it down, and turned it into performance-enhancing rage. Getting the most points in this club's history and not winning the league – yes thanks, I'll have a bowl of that. How will we ever do better than that? Well we could just win ALL OF OUR GAMES. Shall we give that a go?
Going 3-0 down, weirdly against the run of play to Barca, in the European Cup semi, having lost the final the year before, oh and I forgot to say, without two of our unreal front three? Yer no bother, we will just lash on this little fella with calves like Iberico ham and give Divock some of Popeye's spinach. Easy.
Given all that, we should never have doubted them for one second. This mindset is just too good. I'm paraphrasing here but as Jürgen repeatedly says, we cannot change anything so we will get 11 players on to the pitch and we will fight to win the game. They want our three points, we will kill for them. Who knew he would be right?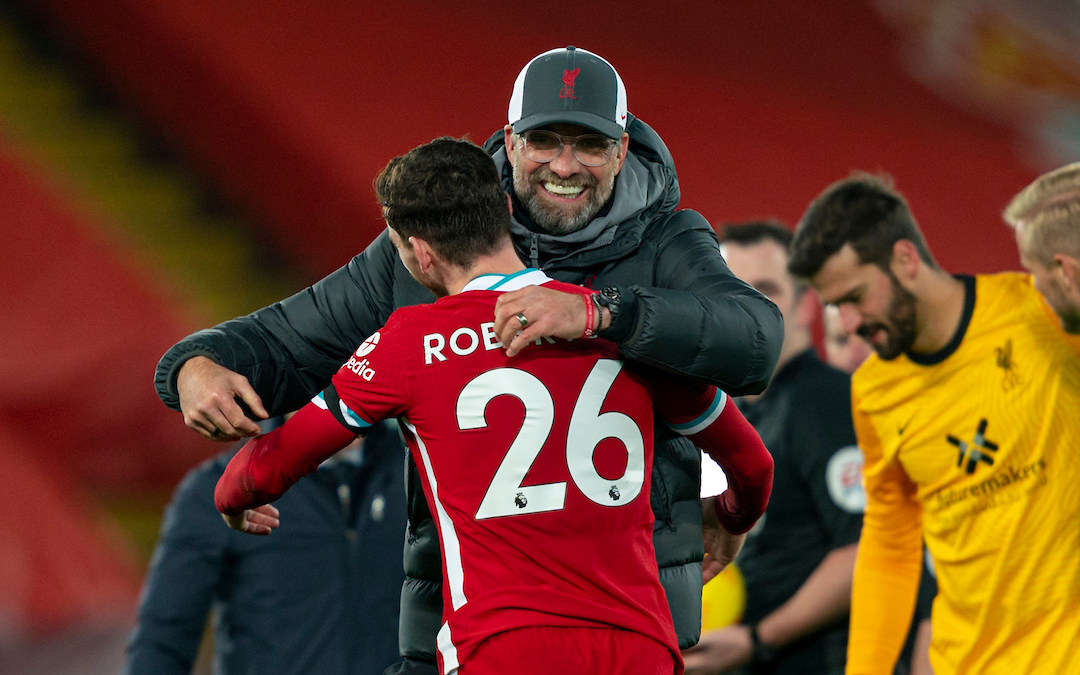 Which brings us to the next instalment against Atalanta tonight. Liverpool, adversity and doubt consigned to the bin for a bit, face an interesting dilemma. Do we go relatively full strength, with what we have got available and get qualification assured, or do we hedge our bets?
Brighton away, which is miles away to be fair, is the 12.30pm Saturday game, which frankly no one can be arsed with. Jürgen is ready to maim people with microphones over this kick-off time. Liverpool go Atalanta tonight, Brighton 12.30pm Saturday, Ajax Tuesday, wolves Saturday. That is no easy task given the available troops.
Jürgen must be tempted to give some of his lads a rest. Let's be honest, we don't want Joel Matip or Fabinho anywhere near three games in a week given Joel Matip has some mad feet that always seem to get weirdly injured and Fab is just back from a red zone hamstring pop.
Andy Robbo is grafting like there is no tomorrow, he needs a rest before he drops down dead. My mate knew a fella when he worked on the taxi's that started kipping in his cab so he didn't miss any fares. Lasted two weeks, found dead in his cab, overworked. Heavy that, isn't it? Anyway, that's Robbo if we are not careful.
Sadio whilst looking immortal, surely could do with a week off, Gini the same, what with him playing 600 minutes last week for the Dutch and scoring 14. James Milner probably got straight off on Sunday and dug some footings for an extension, back in training at 5am Monday. He could do with an enforced rest couldn't he? On the flip side Mo has had two weeks sitting in his undies watching the telly, he could do with a runout.
As I said, Jürgen has got a dilemma on his hands. Save some legs and focus on Saturday safe in the knowledge that The Reds will almost certainly qualify from the group anyway, or absolutely put it to bed tonight to let Pep Ljinders lead out a team of kids against Ajax and them mad Danish fellas.
Whatever he decides one thing is for sure. Mentality won't be an issue.
Predicted 11: Alisson; Neco, Joel, Williams, Tsmikas; Milner, Jones; Minamino, Salah, Jota, Origi – subs I don't know.
---
🗣 Liverpool v Atalanta: Under The Lights | #NewPodcast | #LFC

🔴 @robbohuyton, @lizzidoyle, @The_Mighty_Mojo and @kevwalsh_
🔵 @Knox_Harrington and @ConJClancy

Listen 👉 https://t.co/iEXQANtvUZ
Subscribe 👉 https://t.co/cXuFmbDvp3 pic.twitter.com/9ePJgL9eHM

— The Anfield Wrap (@TheAnfieldWrap) November 25, 2020
Recent Posts: