While it's not been his best start to a season, Leanne Prescott thinks we saw the best of Trent Alexander-Arnold again at Anfield on Tuesday…
FOOTBALL without fans.
It has felt like a struggle for some time now.
It is the supporters that make stadiums across the world come to life. They help transform the game we love into a spectacle; 54,000 voices inside Anfield all in complete unison. Strangers turned comrades for the 90 minutes ahead.
Without them, football feels like an altogether different experience.
There is no palpable excitement or expectation in the air as the team descend on the opposition box, no rallying call of 'Allez, Allez, Allez' bouncing on The Kop, nor anger or revolt at the latest questionable refereeing decision or nervousness heading into the final 10.
Seeing Anfield, usually a cauldron of noise, fall silent on its first Champions League night since 3,000 Atletico Madrid fans arrived in March, felt decidedly more alien.
In truth, there was little about the occasion that got the pulses racing. There was no customary walk to the ground, or flurry of pre-game pints to calm the lingering nerves.
Instead, we were all lounged across our respective couches as Liverpool's senior centre-back options fell from two to one and the usual electric atmosphere of a European night was replaced by UEFA's artificial crowd noise not dissimilar to a school bus singalong on loop.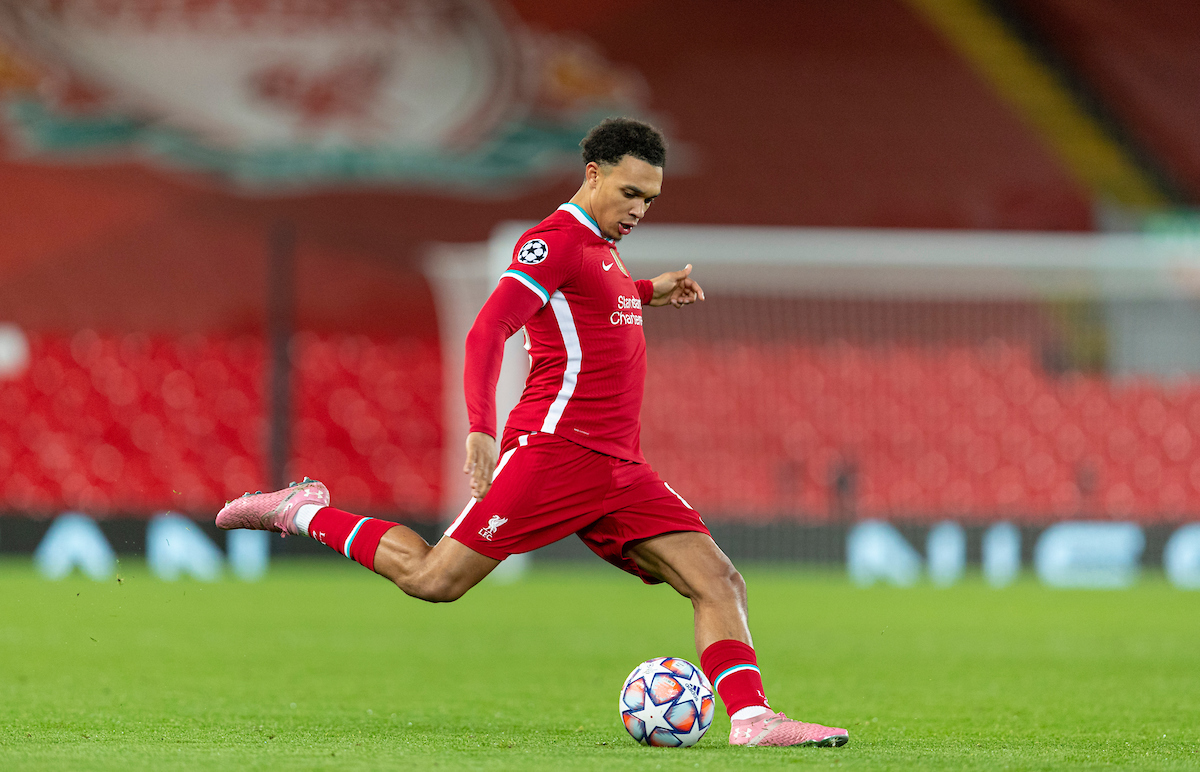 There was, however, Trent Alexander-Arnold.
There was a time when being a full back was one of the least desirable positions on the football pitch. While creative midfielders and strikers were lauded for their style and substance, full backs remained far from the headlines, rarely gaining recognition for the ground they'd cover week in, week out.
Deemed not skilful enough to be wingers nor defensively apt to mould into centre backs, there was ample reason for Jamie Carragher's remark that "no one grows up wanting to be the next Gary Neville," while Andy Robertson's jovial suggestion that "no one wants the left back's shirt" was indicative of the self sacrifice it entails.
Those days are now long gone.
Liverpool's flying full backs are perhaps the best indication of why, capturing the essence of what it means to be a modern-day full back; an attacking outlet with the vision and quality to execute the pass and split opposition defences.
Suffering a relative slump so far this season compared to last, Trent was back to his absolute best on Tuesday night, comfortably The Reds' standout player in a man of the match display.
He was the sole source of any discernible quality; bursting down the flank with his usual endeavour, meticulously pinging cross-field balls to Andy Robertson, there was even an almost perfect assist for Minamino after a mazy solo run into the box.
On a night of few chances, Trent delivered as he so often has, providing the critical moment of quality after a quick one-two with Xherdan Shaqiri culminated in Diogo Jota tapping home for the club's 10,000th goal. Whether he remains a right back or moves into midfield remains a relative moot point given his undeniable influence in this serial-winning side.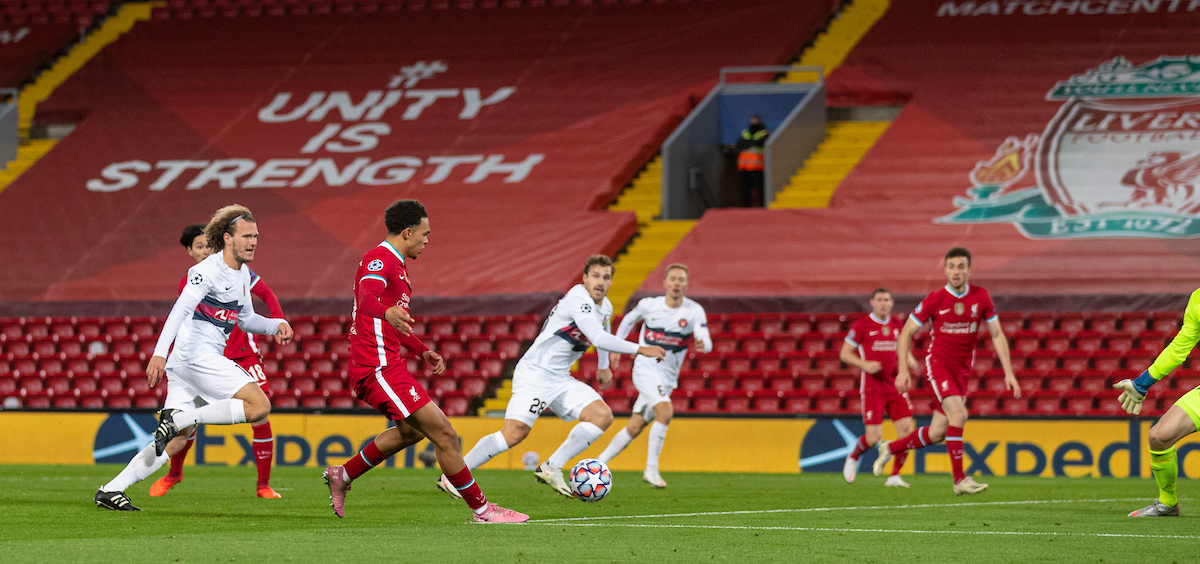 It is perhaps the biggest testament to his consistency of delivery in the final third that the company he keeps in terms of creativity are all attacking midfielders or wingers, while he rather amusingly continues to compete with himself for the record assists for a defender in a single league campaign.
Who needs the front three to assist when you've got Trent Alexander-Arnold?
A game entirely lit up by his brilliance, with an inch-perfect pass carving the Midtjylland defence in half as The Reds made it six points from six to take control of their own fate, the passing, the intent, and the invention in his game brought a breath of fresh air to an otherwise dull affair.
Not only is he a local lad who knows what this all means, he's also a world-class player. A true professional with an experienced head on such young shoulders, it is easy to forget that 2019-20 was only his third campaign as a regular first-team player in Klopp's side.
Earlier this year Trent spoke about wanting to redefine the full back role, and his growth into one of the most talented and consistent attacking outlets in world football has emphatically changed the narrative of what a full back is.
One of the side's chief creators, a return to his best against Midtjylland was evidence of his status as a truly generational talent. Most excitingly, though, there is a real sense there is so much more to come from the 22-year-old, who looks set to underpin the side for the next decade.
Jamie Carragher may be right that no one grows up wanting to be the next Gary Neville. There are very few, though, that wouldn't want to be the next Trent Alexander-Arnold.
Electric, adventurous and ingenious, he is everything you could want from your modern-day full back.
---
"Winning the Champions League was amazing, but time for reflection is after your career. Until then I want to keep putting trophies on the board."

Our interview with @JamesMilner on this day last year 🗣

World Club Cup & Premier League since then 🏆🏆 pic.twitter.com/MGbSsuKNXU

— The Anfield Wrap (@TheAnfieldWrap) October 29, 2020