FEW would dispute the importance of psychology and mentality within football, but it is one of the hardest to analyse.
It is complicated by the fact there is no quantifiable output, no list of characteristics or designated number that distinguishes between good mentality and bad mentality, making it difficult to identity the impact it has on players and teams, compared to, say, the presence of a throw-in specialist, or tactical drills on the training ground that translate onto the pitch.
It is no secret, though, that the very best teams possess a winning mentality; the strength in their mindset to keep pushing.
Prior to Jürgen Klopp's arrival, there was a nervousness in Anfield's atmosphere, a lingering doubt that it could all fall apart in an instant.
Supporters would get anxious, and it would translate onto the pitch, with players making mistakes or failing to perform. Leads would be squandered, and points were often dropped.
It was a vicious cycle, one that at times seemed impossible to break. Shoulders were hunched, and recovery appeared out of reach. What's more, the aftermath of defeat would rarely be met with a resolute response.
There is no escaping how poor the performance in the 7-2 defeat at Aston Villa was: Adrian set the tone with an early blunder, the defence's lack of confidence in his abilities clear, while the high line and lack of impetus in midfield made it all too easy for them. It was a humiliating result and the manager will have made his feelings clear.
Yet, in contrast to the equally dismal 6-1 defeat against Stoke City in 2015, there is a real sense that Liverpool will come out of this international break swinging and eager to make their point.
The ability to surround yourself with people primed on high standards, those determined to win every day while holding themselves accountable on the days they fall short.
It all stems from the manager; it is his duty to instil a positive attitude, to provide the environment in which his players can learn, develop and flourish. To set an ideology in which nothing but victory will do. To persevere when things aren't going your way.
That's exactly what Klopp's Liverpool possess.
In his five years as Liverpool manager, arguably the most impressive part of the club's transformation has been the change in mentality among the squad and the supporters.
Where defeats often lingered in the squad, with players visibly showing scars and suffering long-lasting psychological blows, there is now a sense that the team use it as fuel to go again.
What has set Liverpool apart the last few seasons isn't just their unrelenting brilliance, but their genuine refusal to give in and accept when they're beat. Barcelona was a prime example, Aston Villa away in the league another. Southampton. Watford. All occasions where The Reds were down and appeared to have hit a boulder, only to find another level.
In previous years, they would have buckled under the pressure, but there is now grit and belief to accompany their obvious quality. Indeed, they are as resilient as they are relentless.
Yes, there have been alarm bells at the back on more than one occasion this season, but this team has proven they are made of stern stuff. The players will be determined to put it right, and Saturday's Merseyside derby is the perfect opportunity to do so.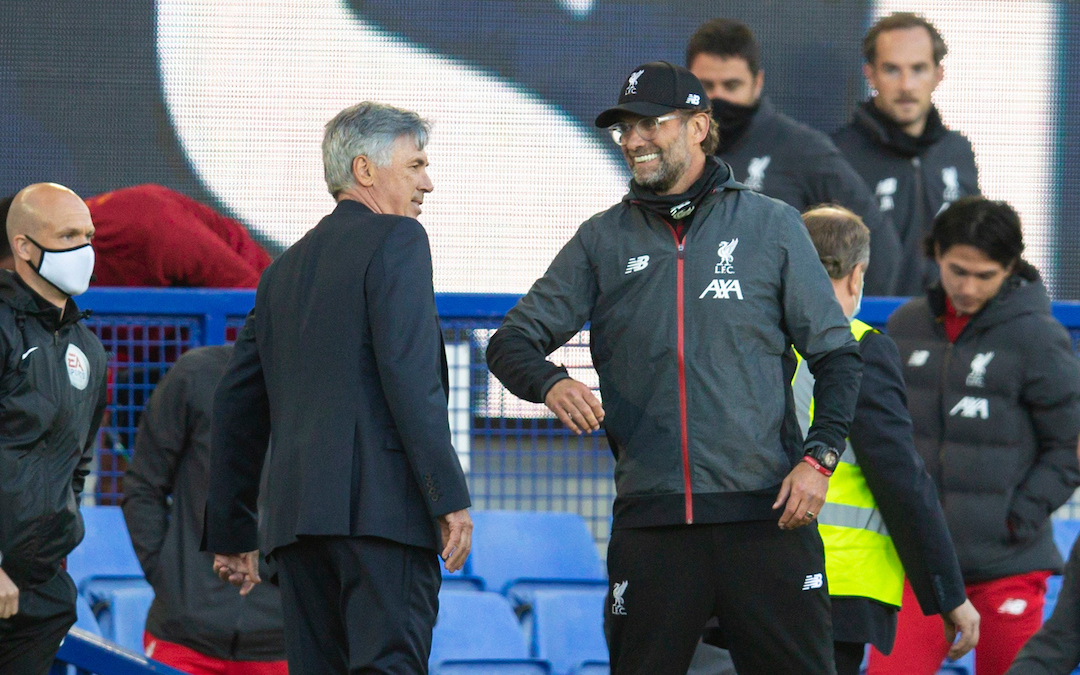 The Reds have jumped over nearly every hurdle they've been met with in the past few seasons, bouncing back from losing European finals. Their progression to serial winners can be traced back to despair in Kyiv, where Klopp's bold message embodied the mantle of a man who seldom gives up.
From heartbreak to number six, to the euphoria of a Premier League title, this team has developed a psychological edge. They defy the odds, disregard limitations and are always determined to right their wrongs.
It is engrained in the very core of these players and stems from the manager himself.
Wounded from defeat against Villa, Saturday is the latest opportunity for Liverpool to show their mental fortitude.
The return of Sadio Mane, the trigger for the press and the one who so often sets the tone, will undoubtedly strengthen the side. Jordan Henderson is the vocal leader and rallying enforcer that was desperately missing at Villa Park, and he has stepped up his recovery having been involved with England, while Thiago's experience and assurance will only improve his new teammates.
Liverpool have evolved from a side once mentally vulnerable to one whose drive and determination has underpinned their progression over the last few years. Villa was a blow, but it'll take more than one punch to knock this team off their perch.
Stick the league table up on the wall and let the players do the rest.
They are, after all, our mentality monsters.
---
"I don't think they'll call each other out individually. You can't blame one player, it's the collective."

"That changing room would have been spicy."

The Pro View with @stephenwarnock3 🗣

Subscribe to watch all of our build up to Everton 👉https://t.co/oaOWcUzrlr pic.twitter.com/EuNRvbWBFx

— The Anfield Wrap (@TheAnfieldWrap) October 15, 2020