With Van Dijk out injured Joe Gomez has had to step up in more ways than one, but Dave Segar suggests the shift in position may just be the making of Gomez…
HUMAN beings are very odd.
That's not the start of my article, just something that I feel needs saying every now and then.
Anyway, Joe Gomez…
No, wait, I did have a purpose for that opener. Sides of the bed.
For those of you who live with a partner – or an overly confident pet – you will most likely have your own side of the bed. How you picked it, or ended up with it, is not important. It is just your side. Sleeping on the other side is weird, as if you're sleeping in another bed, or another house even.
It is one of those strange human behaviours that scientists have been unable to quantify, or at least that's what I concluded when they told me to "piss off and stop wasting our time" as I was researching this piece.
It is behaviour that you see replicated in footballers, not just having a side of the bed with whoever they have decided to share it with that night, but also on the pitch.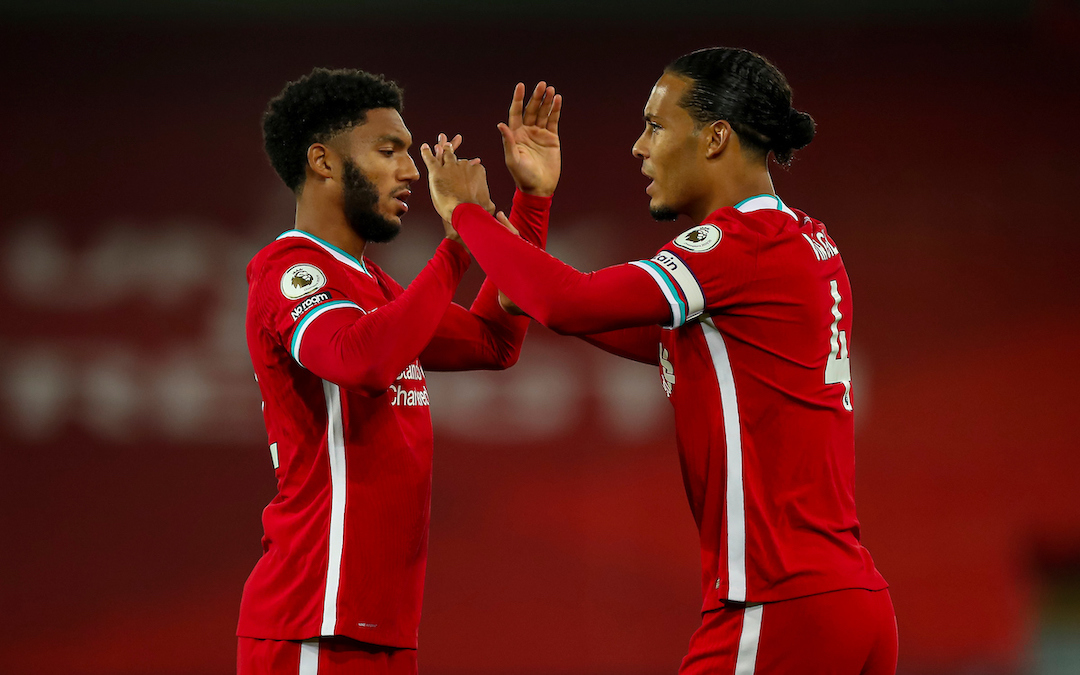 Often it depends on their stronger foot. As a general rule, left and right-footed defenders want to play left and right back respectively, while left and right-footed attackers want to play right and left side respectively.
This isn't necessarily the trend at centre back, though. Some of the world's best defenders in the last couple of decades have been right-footed players playing as a left-sided central defender.
John Terry, Nemanja Vidic, Mats Hummels, Diego Godin, Harry Mag… Oh. There is also, of course, Virgil van Dijk, all right footers who have thrived having more of the pitch open to their stronger foot. They all seem to want to play there, as well. It is not because their partner wants to play on the right, they see an advantage in being on the left and all have fully justified that preference.
Josh Sexton, of this parish, wrote last week about how Liverpool can deal with the gaping Van Dijk-shaped hole in their backline, including how it could be the making of Joe Gomez.
As we have seen in the 2.9 games that Liverpool have played since the Dutchman's injury, the right-footed Gomez has been tasked with being the new left-sided centre back.
This is interesting in more ways than one. It is the first time that Gomez has had to play for an extended period without Van Dijk as his partner. It is also the first time the England international has played as the left of the two centre backs.
However, I have a theory that, like Van Dijk, he actually might prefer it to playing on the right.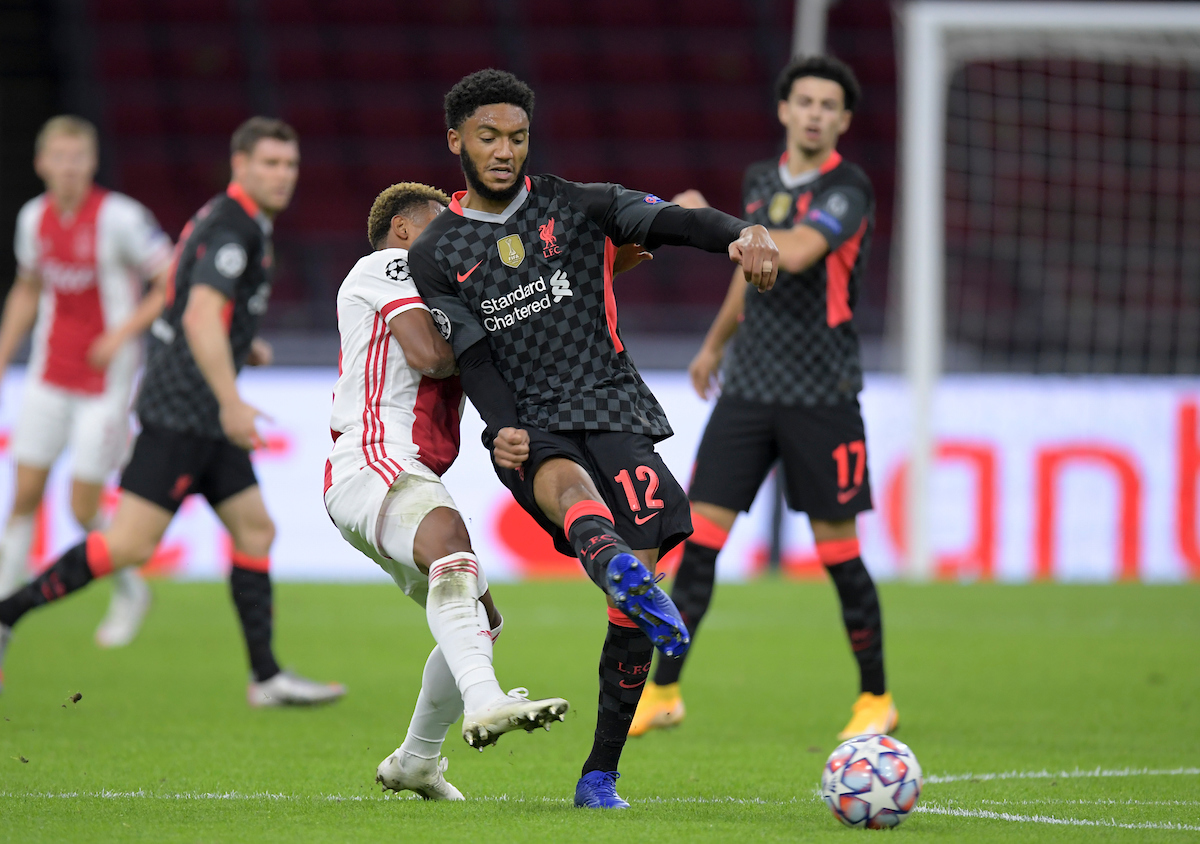 Gomez has already started to show promise in the role with his performances against Ajax and Sheffield United that it might indeed suit him, which is why I waited until now to reveal this theory. Confirmation bias and all that.
On Saturday night, Gomez put in a man of the match showing against The Blades, completing 85 of his 90 passes, making eight clearances and two interceptions, all while avoiding being dribbled past. There were a couple of moments in the first half when he was caught slightly out of position, but it was perfectly understandable in the circumstances and, more importantly, he corrected himself from then on.
There had been concerns about the 23-year-old's form as recently as last week. While far from Maguire levels of all over the place, Gomez perhaps hasn't quite maintained the levels he showed at his peak last season and the season before in recent months, but he's still a young player, certainly for a centre back.
There is also the factor of not being next to Van Dijk. While there is a supposition that playing with the big man raises your game, there is also the possibility that it puts you under more pressure.
You will be the centre back targeted by every opposition attacker, while also playing on the same side as Mo Salah and Trent Alexander-Arnold. With all due respect, you will have to do more covering defensively on that side than you will playing on the left with Sadio Mane and Andy Robertson.
With this opportunity to play on the other side, Gomez can perhaps even reinvent himself. He'll have far more license to play long passes. Maybe not with the accuracy of Virgil, but he's already been seen to attempt a few, and hit some nice ones in particular against Sheffield United.
Defensively, there are more factors to consider. He will now be able to deal with right-sided attackers cutting onto their left foot with his stronger side, while also being able to cover his partner from a more natural position, as he showed making the block on Oliver Burke's second-half effort on Saturday.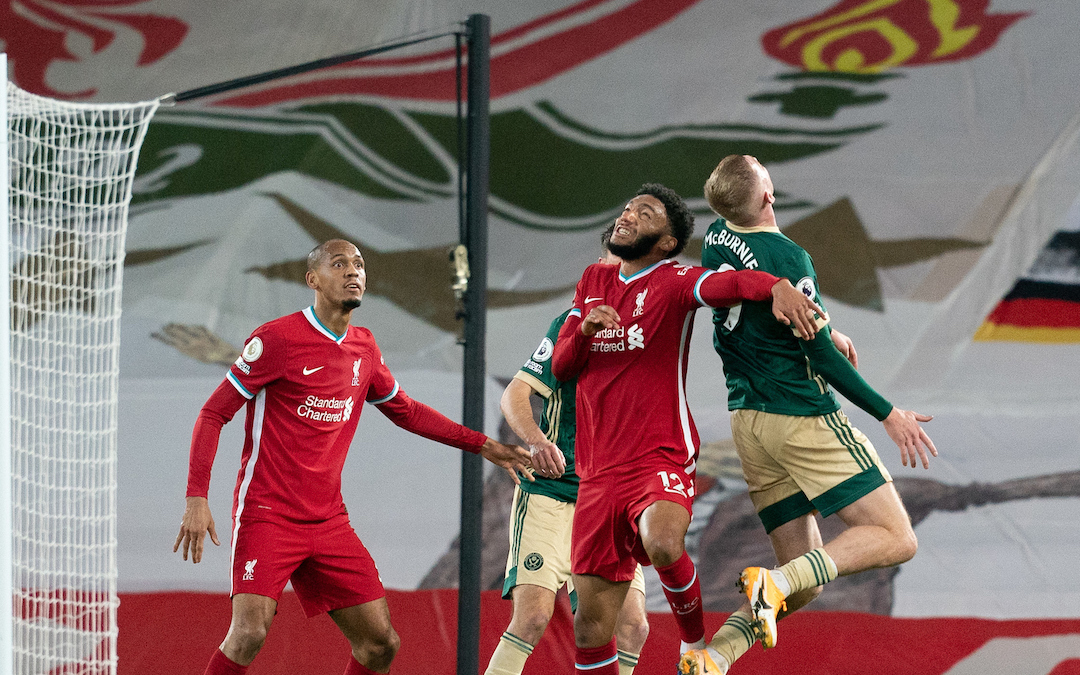 Gomez had already shown a propensity for thriving on the left side despite being right footed, having been given his debut run in the side by Brendan Rodgers as a left back shortly after signing from Charlton in 2015.
Having Alisson Becker back in goal also helps immensely, of course. Adrian has received some relatively harsh criticism of late, but nearly booting Gomez into touch in the second minute in Amsterdam last week won't have done much to ease nerves. Gomez giving Alisson a big hug at the full-time whistle at the weekend was perhaps just thanks for not trying to clear him into the stands at any point.
Even when Van Dijk returns and Gomez has to go back to playing on the right, he will at least do so as a far more rounded and hopefully confident player. Injuries permitting, he is due to have a prolonged run in the side and, you would assume, predominantly on the left.
There is also the possibility that a new left-sided centre back will arrive in the January transfer window, but Gomez will be determined to show that anyone who does come through the door will have to settle for being an emergency backup for the time being.
In tonight's Champions League group game against FC Midtjylland at Anfield, Gomez will continue developing his partnership with Fabinho in which he is actually the senior centre back. It will be fascinating to see how he develops, and hopefully, thrives in the new role.
Gomez has a chance to 'see the world'. From his new role, he can maintain 'how we operate', he can 'ping one down' to Trent, and prove that 'we haven't turned around'. He can 'get miles' on the left side, and is now 'free to run'. The critics will have no choice but to 'make no sound'. Bring it on.
See? I told you humans are very odd.
---
"I asked Klopp about Jota and his performance and he was quick to bring Shaqiri and Minamino into the conversation. I wouldn't be surprised to see one or both in the side."

"If you're not using Origi in this game, when are you?"

🗣 Listen for free 👉 https://t.co/DaEMHqsA3a pic.twitter.com/mm6hGPJTV0

— The Anfield Wrap (@TheAnfieldWrap) October 27, 2020