AT 2.25pm on Saturday, a wave of nausea hit me.
At first it was a matter of personal pride. Since the introduction of VAR, I've subconsciously altered the way I celebrate goals. Anybody who sits near me in the ground would probably be able to tell you the same, so long as they weren't too busy going sick themselves.
Basically, if there's even a hint that the goal might be ruled offside or it looks like it's a bit scrappy and VAR might rule for a foul or handball within the madness, I'll usually hold off giving it the absolute big one until all checks are complete.
That didn't happen on Saturday, though. I screamed my head off, bounced around the living room like a complete divy, without even the slightest worry that there would be anything for VAR to look at.
Once I sat down, having almost given myself an aneurism, it all hit me.
Jordan Henderson wasn't going to get his big moment in this derby. The Reds weren't going to get all three points. That was a lot to take in the moment, but I knew that would pass after a while. Being honest, I'd have taken a point before a ball was kicked anyway.
But even as that initial mix of embarrassment and upset wore off, I still felt sick to my stomach. Virgil van Dijk going off was occupying my mind, and that was then combined with the reports that Thiago had also flagged up a potential injury to his manager as he left the pitch.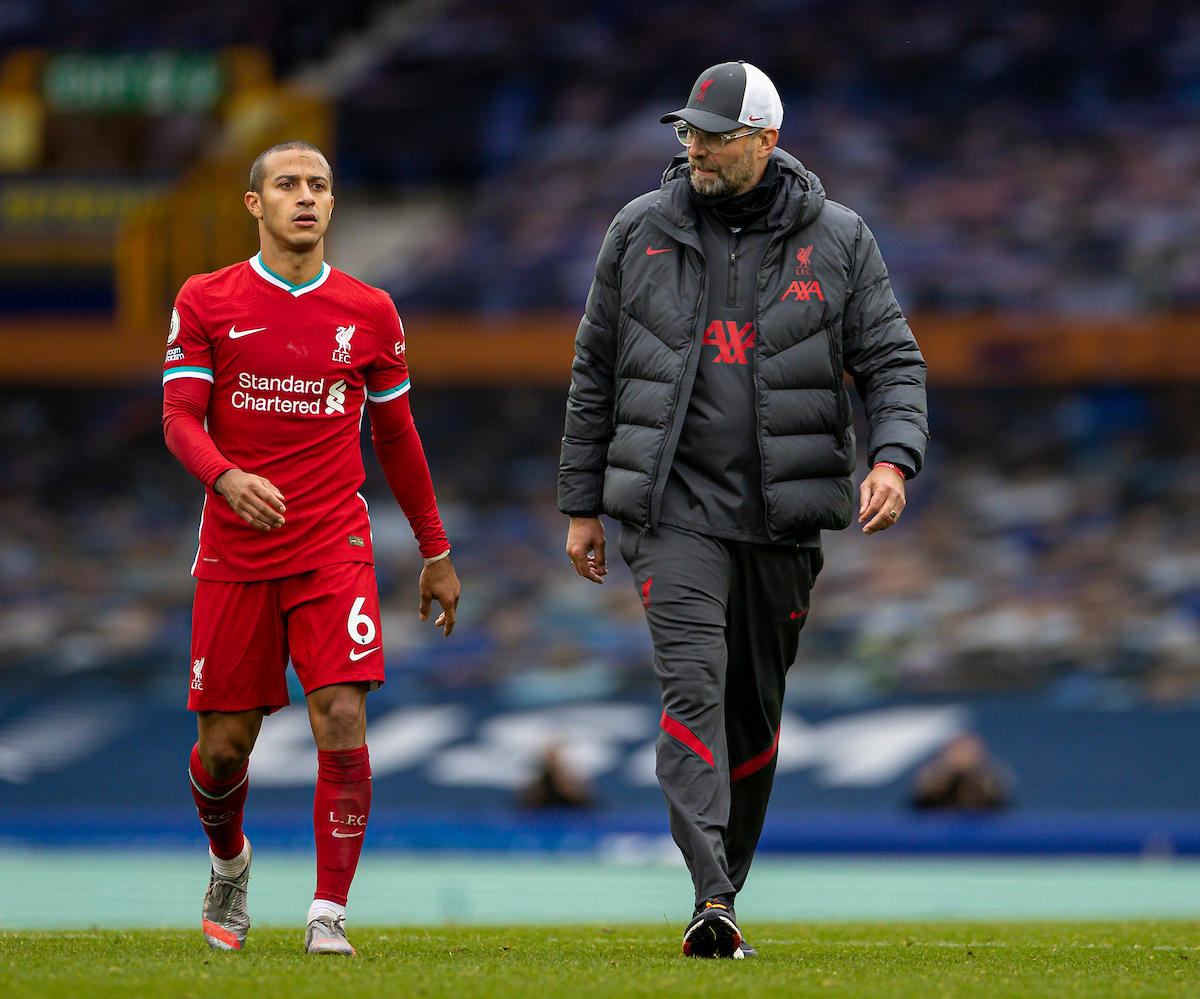 It all felt like too much to take for a Saturday afternoon.
I think the reason that Virgil being ruled out with an injury feels like the walls are caving in is because he's just always been there. Since January 2018, the month he signed for the club, he hasn't missed a single minute of Premier League football.
We've only had to deal with the idea of being without him once; Bayern Munich at home, and even then we knew we were getting him back for the second leg.
No, this time it's different. This time we've got no real idea when or how he'll recover.
It's upsetting, it's cruel and of course it was all so avoidable, but unfortunately it is all part of this game. It's why it has the potential to make us feel on top of the world as we did when Henderson wheeled away in celebration, and just moments later rocking back and forth in a corner trying to process the reality of what has just happened.
But, as with any situation in the sport and life in general, Liverpool have the opportunity to turn this into a positive. What we know for sure is that Virgil will miss a massive chunk of this season, and now the rest is up to these lads who have recovered from every other setback they've had thrown in their way.
As the manager himself said today: "We go already in the right direction and so that's OK and the rest is football and life, like always a challenge, so see what you get and then make the best of it and that's what we do now."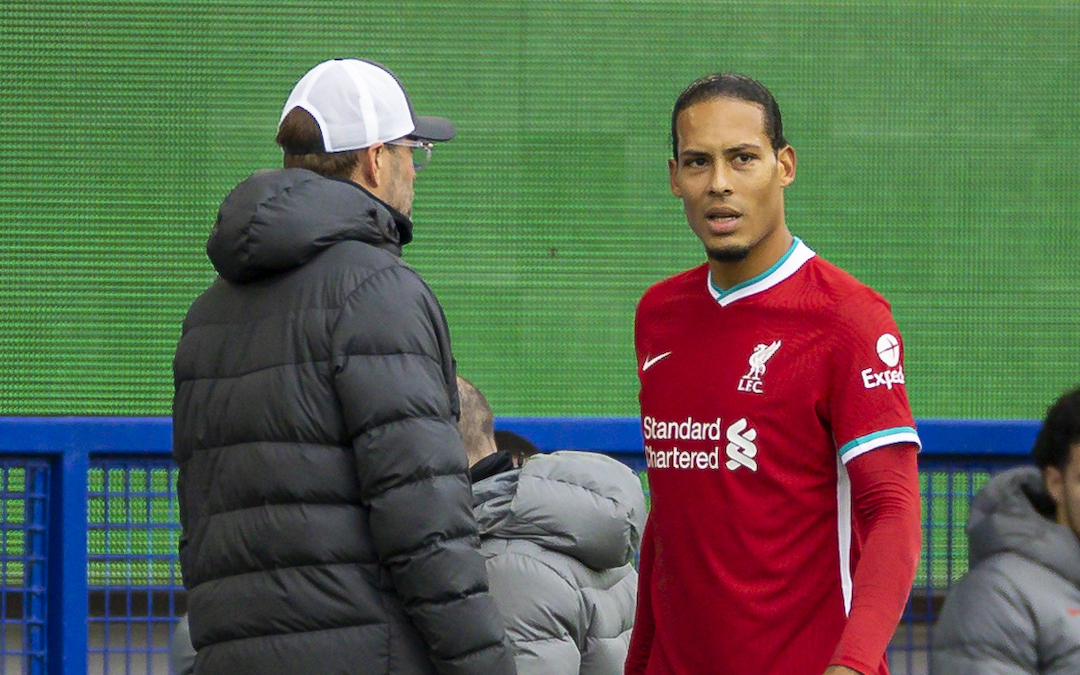 We all need to make the best of it. Virgil will have to remain positive throughout his recovery, the players will have to be there for him and kick on in his absence, the manager will have to do the same and also figure out how to adapt tactically, and we as supporters will have to support each and every one of them in every way we can.
The fact we can't be in the ground obviously makes that much harder, but we are where we are and we need to bat on regardless.
Our anthem always feels as pertinent as ever in times like these.
One thing we can do is get behind the lads who take to the pitch. It doesn't make you any less of a fan to acknowledge when a player has had a bad game, or even to dissect how and why that was the case, but it definitely does make you less of a fan if your way of coping with that is to send them abuse on social media.
Actually, it makes you less of a human being, to be quite honest.
One player in particular who will need all the support we can give at this time is Joe Gomez. He's become the younger brother of Virgil van Dijk in so many ways, and we've loved watching that partnership blossom off the pitch, but now Gomez must fill his brother's considerable boots and be without his influence on the pitch.
You'd imagine he'll be the one trusted with the mantle of playing left-sided centre half, and that comes with its own challenges, but he'll also be required to become our beacon of consistency in the centre of defence.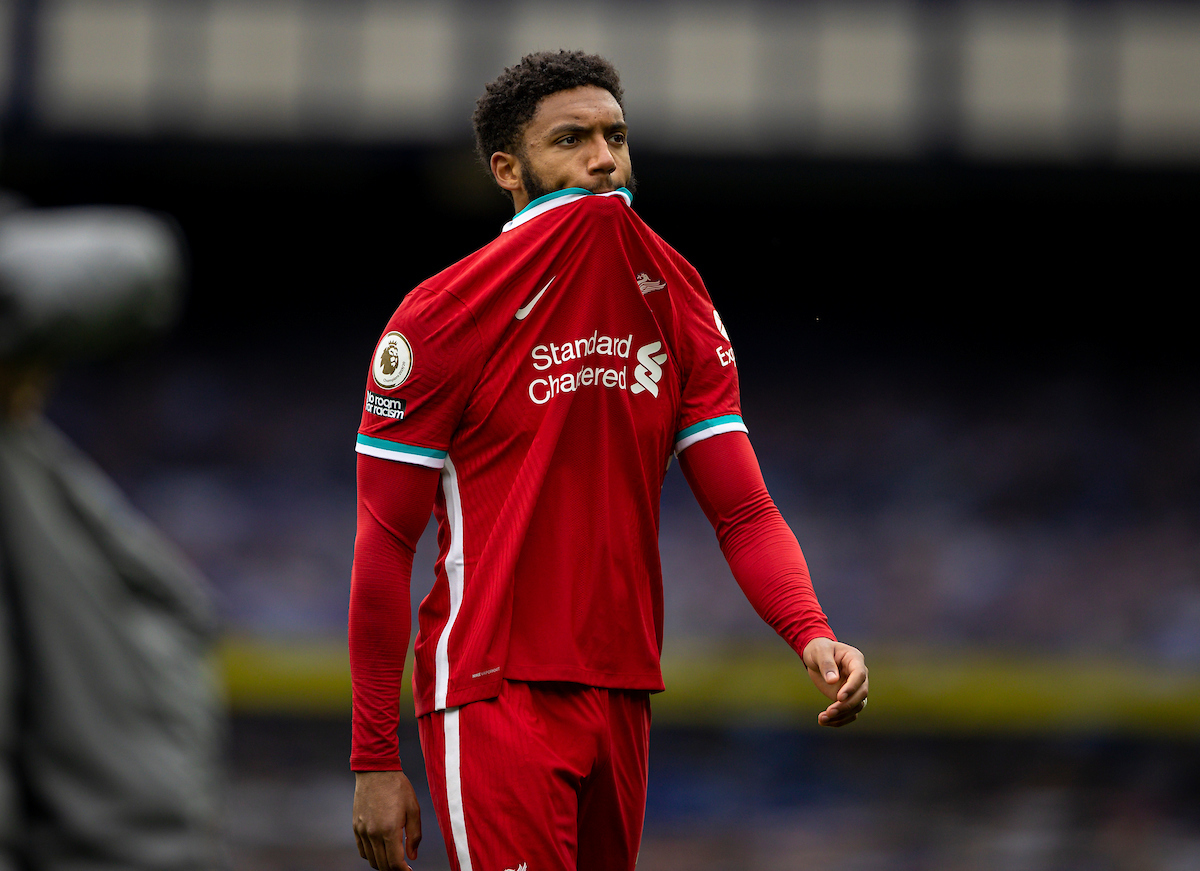 Matip needs to be wrapped up in cotton wool. I wouldn't even think about starting him twice in one week, as he'll be better served being rested for the challenges to come in the league. Gomez will have to adapt to that partnership as best as he can.
He'll have to deal with the fact that Fabinho will occasionally have to fill in, and make more adjustments to his own game in order to accommodate for that, but his ability to do so shouldn't be questioned for a second as he's shown time and again he's a supremely talented football player.
He also may have to become a big brother himself, depending on which of Rhys Williams or Billy Koumetio the manager considers to be closer to the level required to fill in. Gomez has played in teams filled with youngsters in the past and has led by example, and he may just have to take that same energy onto the training ground when he's around those lads.
It could be the making of those lads. It could be the making of Gomez. It could be the making of this Liverpool side.
We've squirmed in the past as Brendan Rodgers has stood in a dressing room and asked his players to win a game for Lucas Leiva, and though the lads aren't necessarily doing this *for* Virgil, they should consider his injury and the nature of it to be a platform upon which they can go and chase more greatness.
Every cloud has a silver lining, and we've had heavier and bleaker-looking skies hover over us in the past as a team and as a football club.
But we've come through that enough times to know what lies at the end of a storm.
---
🗣 The Anfield Wrap: Derby Heartache For Liverpool And Henderson | #FreePodcast | #LFC

Reflecting on a hectic Merseyside derby and looking ahead to The Reds' first European clash of the season…

Listen for free 👉 https://t.co/bqzvPLYije
Get our app 👉 https://t.co/vk8bEKLKiK pic.twitter.com/Qx56WJURF0

— The Anfield Wrap (@TheAnfieldWrap) October 19, 2020