"THERE was a point in the game where I was watching Salah and I just thought, that is some player.
"Four years ago, when he first came to Liverpool and he got 40-odd goals, I thought: 'That's a freak, he won't be able to live with that.' But then he consistently produces over a period of two or three years."
Gary Neville there, waxing lyrical about Salah's career at Liverpool.
Saturday's season opener against Leeds was a great spectacle of attacking football: relentless and open, the type of game that makes you really miss the supporters.
It wasn't pretty at times, nor was it vintage Liverpool, with improvement required in defence should The Reds succeed in defending their crown. But when you have Mo Salah in your side, more often than not, you'll come out on top.
Every question that could be levelled at The Reds, who appeared to take Klopp's 'attack the title' ethos a little too literally, Salah emphatically answered, delivering in the biggest of moments as he so often has.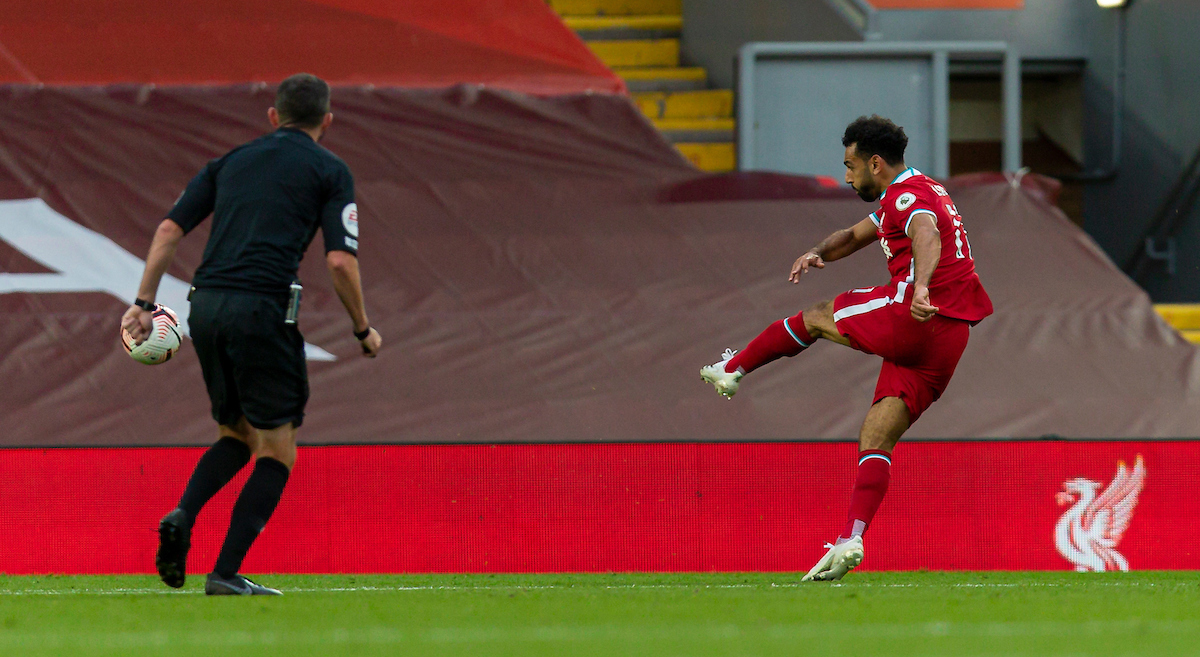 Sporting a sharp new haircut, the Egyptian produced a scintillating performance, clinically dispatching two penalties at opposite ends of the field and opposing periods in the game. His spotkicks fell either side of a thunderous effort that cannoned into the top corner.
For four seasons on the spin, Salah has now scored in the opening fixture, becoming the first ever Liverpool player to do so and only the second in Premier League history after Teddy Sheringham.
Meanwhile, as he clutched the match ball at full time, he became only the fourth player in club history to do so in the first game of a league season, and the first since John Aldridge in 1988.
The records just continue to roll off the tongue.
Indeed, in a world where 'normal' still feels far away, the 28-year-old's ability to continuously break records in red offers some solace.
Completing the most touches (87), most successful passes in the final third (35), most shots (9), most take-ons (7), most chances created (4) and most shots on target (3), Salah lit up an empty Anfield in a performance reflective of his relentless drive to be the best of the best.
He has put in this level of performance before.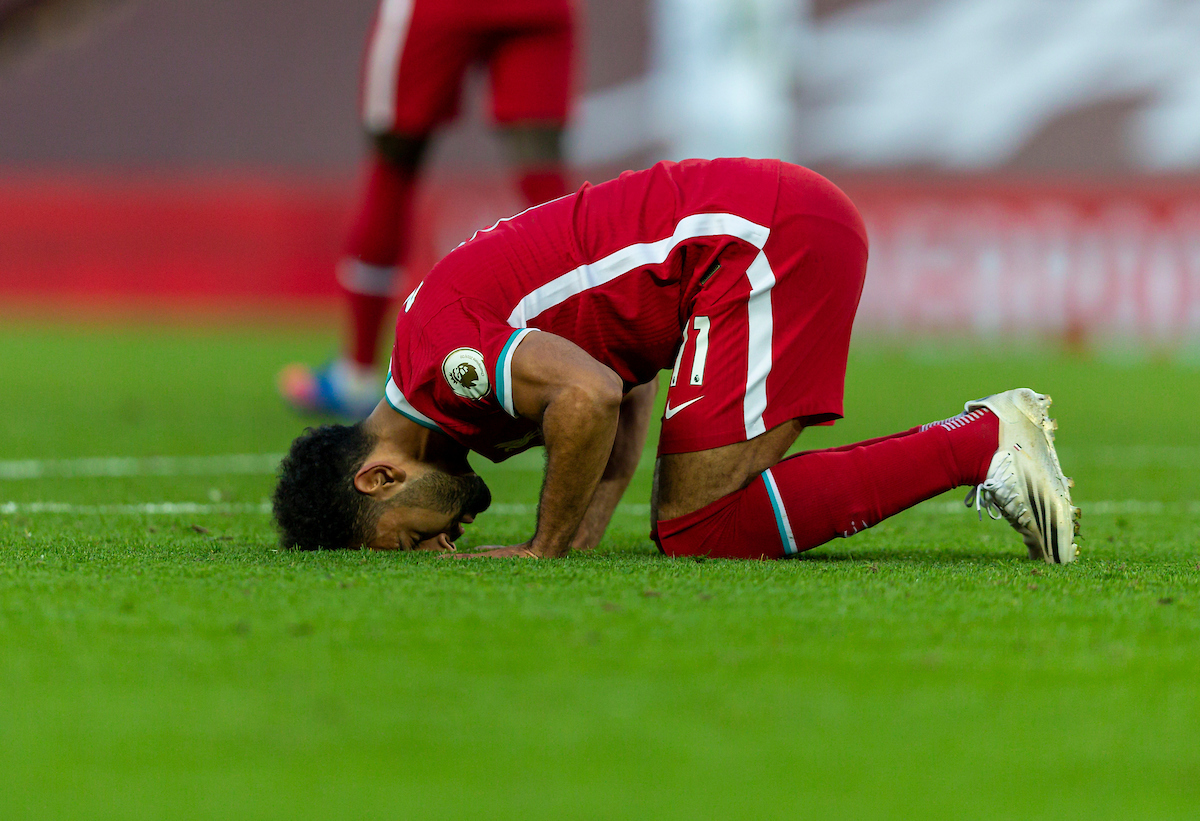 When Liverpool players were asked which of their teammates they'd select for their Fantasy Football team this year, Andy Robertson picked Trent Alexander-Arnold. Curtis Jones picked Roberto Firmino. Xherdan Shaqiri picked Alisson Becker. Virgil van Dijk, James Milner and Joel Matip all chose Sadio Mane.
When Mohamed Salah stepped up to give his opinion he gave a fierce glare down the camera lens, carrying with it a palpable sense of determination…
"This season sign me. Why? Because I get the most points every year, so it's easy."
A man seldom content with standing still, it is that unwavering self belief that sets him apart as a truly world-class player, one of the best in world football, and acts as an additional motivator to improve week in, week out.
Even when he appears to be at the very top of his game, he finds that extra one per cent.
Salah's insatiable hunger to maximise his ability sums up the relentlessness of Klopp's Liverpool; even after the Champions League and Premier League triumphs, his eyes remain fixated on scoring and achieving more.
His performance against Leeds was inescapable, carrying with it the guise of a man aggrieved to not be included in the PFA Premier League Team of the Year as well as the Player of the Year nominations.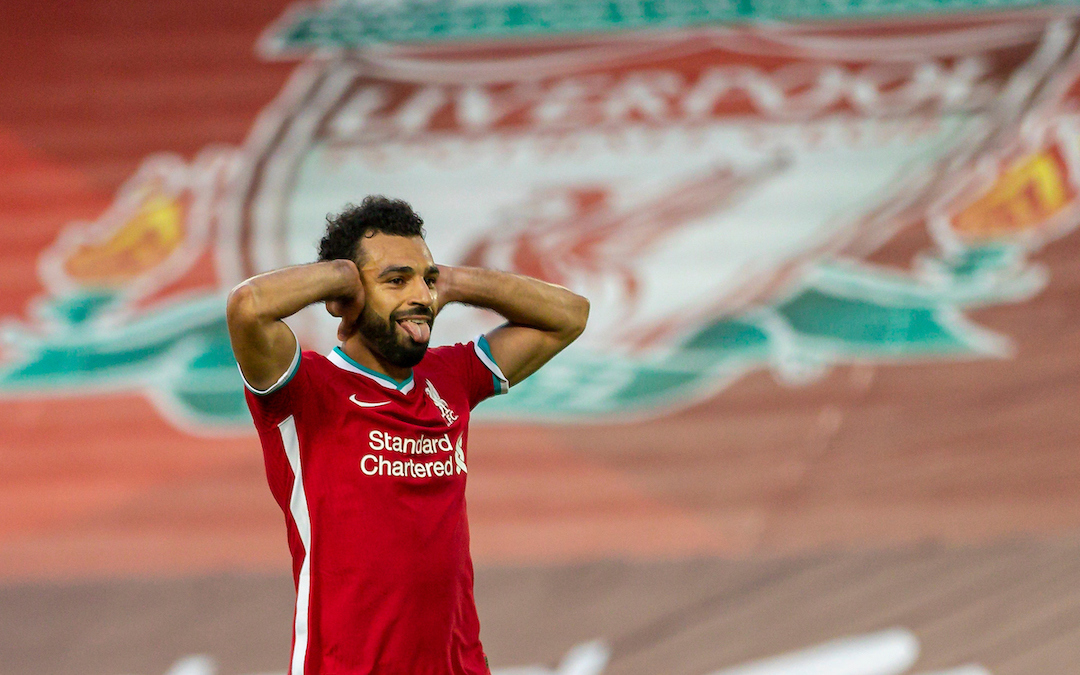 Boasting 97 goals and 41 assists in 154 appearances for the club, Salah is well on course to beat Robbie Fowler's record for the fewest games to reach 100 goals (165), while Alan Shearer is the only player to have scored a half century of goals faster than his record of 52 league goals at Anfield from 63 games.
While Firmino is the facilitator, peeling off defenders to open space, Salah is so often the one on hand to do the business in front of goal. His Liverpool career to date has been a catalogue of individual genius.
He sets the standard. He doesn't ease off. He doesn't settle for what he's achieved nor bathe in his own genius. From the moment Salah made his debut away to Watford, he has never looked back.
His level of consistency is unprecedented. His skill unrivalled. His influence ubiquitous. Yet, in the face of all that, the Egyptian continues to break ground and build on his imperious record.
In a game where Liverpool displayed faults, Mohamed Salah wasn't one of them. For every question and every goal conceded, he came up with the answer to ensure the Premier League Champions got off to a winning start. Only a handful of players in Premier League history have produced what he has from the moment he arrived.
A special footballer whom we are lucky to witness, Salah will go down as one of the best to ever play in the division.
---
"104 goals and assists in the Premier League since 17/18! It's the minute he gets the ball, you get that feeling…he's going to make something happen." 🇪🇬👑

One of five new video shows, 'The Final Word' 🎥

📱 Download our app to watch 👉 https://t.co/v3xcfwjq7C pic.twitter.com/ejMLEGcyFW

— The Anfield Wrap (@TheAnfieldWrap) September 15, 2020