AT the time of writing, Everton are top of the league and Liverpool are playing like a team that has been the dominant force in the game for as long as anyone can remember.
It's almost as if I'm a kid that's fallen asleep in an '80s movie, only to awaken and realise that 1991-2018 was all just a weird dream. The new normal feels a bit like the very old one.
Of course it's ridiculous to think Everton are a genuine top of the table outfit, and some early campaign swallows do not a season in the sun make. I'm not in the fate-tempting business but I can't wait for the derby in about three weeks' time. Jürgen Klopp's Liverpool have been handing out doses of reality for a good while now and it would be rude to deny The Blues their portion of our potion.
I've enjoyed some early season delusional vibes over the course of our fallow decades, but I'm relieved that now we win with conviction and demonstrate genuine intent. We are not in the flattering to deceive business.
The 2-0 victory at Chelsea a week ago was as definitive a mission statement as holding champions can make. It was a full spectrum dominator of a performance. A kaleidoscope of shades and tones that were all ultimately so emphatically red.
Liverpool have been back for a while. We were kind of back in the style with which we 'conquered (nearly) all of Europe' back in 2018. We were, like, sooo back in 2018-19 and as we romped to 97 points in the league and blazed another red trail across the continent, ultimately bagging our sixth European Cup in Madrid.
Last season, we ended all conversations with the superlative nature of our 99-point league title season. And yet. And yet, there was something so definitive about the manner in which Chelsea were put to sleep a week ago, that in some sense tops the lot. To my eyes, I was watching the 1980s Liverpool of my youth and my dreams at Stamford Bridge. The air of pure superiority Liverpool exhibited was rare and very, very old school.
Arsenal come to Anfield as the latest in a series of pretenders to the crown. Mikel Arteta's men started brightly with a 3-0 opening day win at Fulham but were less convincing in edging a 2-1 win over an unlucky West Ham.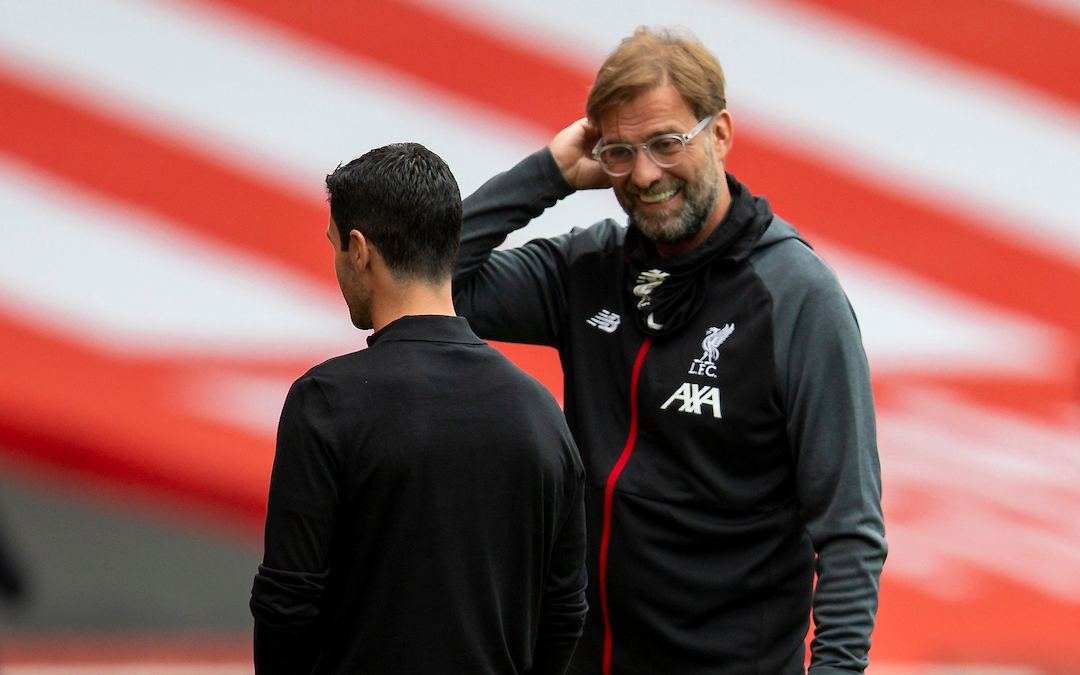 Jurgen Klopp and his scouts know all about the potency of Arsenal's main man Aubameyang, but will have been encouraged by the flakiness of the team's display in London last weekend. While the three points were secured, Arsenal did not look the impressing work in progress that some were beginning to view them as.
The same can not be said of Liverpool. The style and level of control exerted over Chelsea at the Bridge was not only reminiscent of a glorious past but emblematic of the authority Klopp's team now exerts. It is obviously too early in the campaign to be crowning Liverpool, but as statements go Liverpool's was some rallying cry.
The symbol of the new red dawn came to be embodied in Thiago Alcantara. Again, at the risk of fate tempting and burdening with overexpectation, it was hard to not read everything into his commanding second-half cameo at Chelsea. Thiago had the arrogance and class to pick up the baton and conduct an orchestra that didn't realise it had an even greater repertoire.
Klopp all but hinted that Thiago will start against Arsenal. "We will see," was his non-denial when asked if the new signing would step in for injured captain Jordan Henderson. As Fabinho is likely to again be needed at centre half (with Joel Matip out and Joe Gomez only back in training on Friday), the manager will be all but forced to pick a midfield three of Gini Wijnaldum, Naby Keita and Thiago if the latter comes through his late fitness test.
There were close to zero selection dilemmas for the boss prior to that Thiago and Alisson news, but his head will surely have been turned by the showings of Curtis Jones and Takumi Minamino in midweek victory over Lincoln. While neither is likely to start, both will vie to be the manager's first change from the bench.
With The Blues from across the park blazing a trail at the top of the table, Liverpool are unlikely to be surging ahead from the front of the pack in the immediate future. Arsenal, though, should still be treated with the respectful disdain The Reds routinely attribute to opponents of their ilk.
Set to work on these, Reds. We are once again, men in a hurry, hurtling back to the future.
Predicted 11: Alisson; Trent, Fabinho, van Dijk, Robertson; Wijnaldum, Thiago, Keita; Salah, Firmino, Mane
---