HERE'S to Liverpool, the Champions of England.
Here's to the team that never knows when it's beaten, that could never accept that it was futile to try and find a way to muscle past an infinitely greater resourced adversary. Here's to the lads who can never be sated, who danced till dawn after winning the Champions League, went to bed, woke up and asked 'what's next?'.
Here's to us, the red people from the great city on the sea, and to the fulfilment of a dream that for 30 years was never allowed to die. Here's to The Reds around the lands who watch games at all hours and trek across oceans and continents just for a sense of a greater connection and proximity.
Here's to the kids who never knew what we knew but have sensed the legacy in the sights, sounds and smells of Anfield, in the books and in the playground battles for a mantle of supremacy they'd never known but instinctively know how to fight for. Here's to your first taste, your first gulp. Neck it down, because we go again.
Raise a glass to our past.
It all only makes sense in the context of all that has gone before. It makes sense because of those figure heads profiled on our flags. It makes sense because of Kenny and his winners, because of the glimpses of the promised land that men like Houllier and Rafa and Gerrard and Carragher and Suarez and Torres gave us. It makes sense because of all of those wild nights like Istanbul, Chelsea and Dortmund at Anfield, Barcelona last year.
You'll find me in a bar with best friends and family on Wednesday night. Socially distanced but hearts beating together in perfect time. You'll find me where we will all ultimately find each other, through the portal of a TV screen. Those whom we can't be with, will be on the other side of those lenses. When Jordan Henderson lifts the big one, millions of smiling, laughing, crying faces will be reflected in the glass.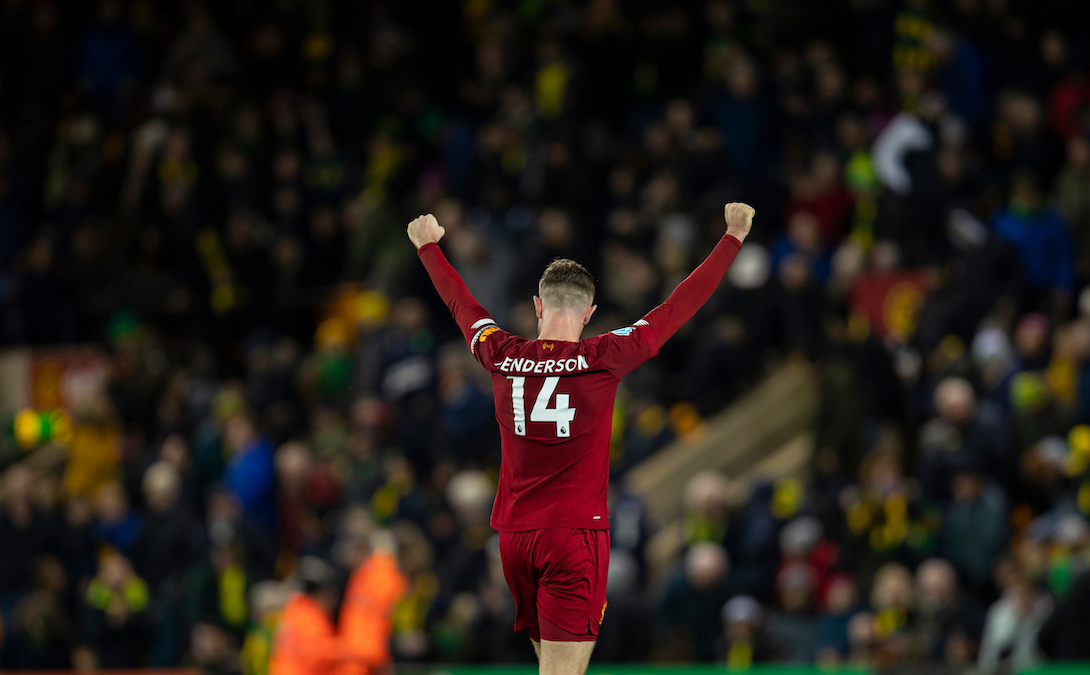 Tell ya ma, ya ma. Except you won't need to tell her. She already knows and has known all along just by looking into your stupid dopey hopeful eyes all of these long yearning years. Promise you I won't cry, mum.
Mums will call sons, dads will hug their girls and their boys, partners will neck and babies will be made and named Sadio and Trent. Raise a fucking glass to the madness and hope it's all the good sort, it certainly will be in our hearts.
Here's to Jürgen Klopp and the 'never, never stop'. Here's to Andy Robbo, Millie, Virgil, Mohamed and the gang. Here's to that irrepressible spirit, to that class and to that guile. Here's to the next three points, may they go on forever.
Raise a glass to our boys and to all those that they have made so truly happy and to those whom, we can be certain, they would've made proud. Bow heads to the past and the friends we had to carry on without, and raise our arms to the future and to the stories we will tell those yet to come about how we felt on a muggy Wednesday night in July 2020.
'Who were Liverpool playing when they lifted that massive great Premier League trophy, grandad?'
'Fucked if I can remember kidda, but let me tell you this: they were only half a football team compared to the boys in red…'
Predicted 11: Alisson; Trent, Gomez, van Dijk, Robertson; Fabinho, Wijnaldum, Keita; Salah, Firmino, Mane
---
Feeling lucky this week?

⚽️ Test your skills with @footballpools 👉 https://t.co/q692pZs84D pic.twitter.com/Rdy1PWnNsD

— The Anfield Wrap (@TheAnfieldWrap) July 14, 2020