IT has been a very long time since we've been able to talk about Liverpool fixtures being meaningless.
The title was secured three games ago and in near absolute terms, the remaining games have very little tangible worth.
Obviously, it is not quite this simple, as football people are adept at contriving meaning where none apparently exists. Heck, it's the whole raison d'etre of the sport, in a sense – to render the unimportant hugely important.
I can cast my mind back to many multi-limbed celebrations in grounds over goals that secured scorelines, and in turn results, that ultimately counted for very little.
Adam Lallana's last second winner in the 5-4 win over Norwich at Carrow Road in 2016, that moved Liverpool up in the league from ninth to seventh, was greeted only marginally less enthusiastically than Divock's late clinching goal in the 2019 European Cup final in Madrid.
When you love and follow your team, you catch yourself constantly being reminded that 'we are where we are'.
I'm watching bits of Manchester United social media and tracking their building excitement about the prospect of scraping a fourth-place finish. It seems like yesterday that their ambitions were so very much loftier.
Yet, they are where they are, and grudgingly, I can't begrudge them their new-found positivity. What else are they meant to do? They can't mope about it 'not being like when Fergie was here' on a day-to-day basis. It would just be so draining.
Poor old Liverpool. Nothing left to play for. We've spoilt it all for ourselves by winning four trophies in 13 months. The party is over but I don't think any of us are ready to go home quite yet. Jürgen Klopp won't be open with the media about what he thinks can be gleaned from the remaining meaningless games, but we can make sage guesses as to what's being asserted behind closed doors.
Primarily, I think Klopp will want to be reiterating the mantra revealed in an interview this week. "I love the line 'we're never going to stop'," he said in reference to the refrain in the 'Allez Allez Allez' terrace anthem. "That is my message to the players," he added.
The manager has built a team that has become an unstoppable force. It has accomplished its mission by being relentless. Klopp's team may come to be seen as unique in the sense that it doesn't just not know when it is beaten, it can't accept that it won't win.
The boss was hurt by the big defeat at Manchester City a week ago, and was pleased and relieved by the swift return to winning ways at the weekend. He will preach that the winning tap cannot just be turned on and off to order and that 'never stopping' means just that.
City's Pep Guardiola threw down a gauntlet of sorts by suggesting that the restart also meant just that too. He all but inferred that there was a mini (nine-game) league to be won. He clearly wants to win and convince his players that they are the coming force when thoughts turn to the 2020-21 season in September.
Liverpool will take up the challenge and use it to prolong the quest to beat City's 100-point record set in 2017-18. They'll need four wins from the remaining five games to achieve that and it is a tall enough order that Klopp will not want his players to feel like relative failures should they fall short. It is a task made easier by winning the winnable games and Brighton certainly represents one of those.
Brighton manager Graham Potter still needs a few points to stave off the threat of relegation but will be sleeping more soundly lately after securing two wins and a draw from their four games since the restart. It is a record identical to Liverpool's over the same period.
Brighton have beaten Arsenal and taken a point at Leicester and although Potter will appreciate that he will need his men to defend for their lives against Liverpool, he will not be ruling out the prospect of any outcome.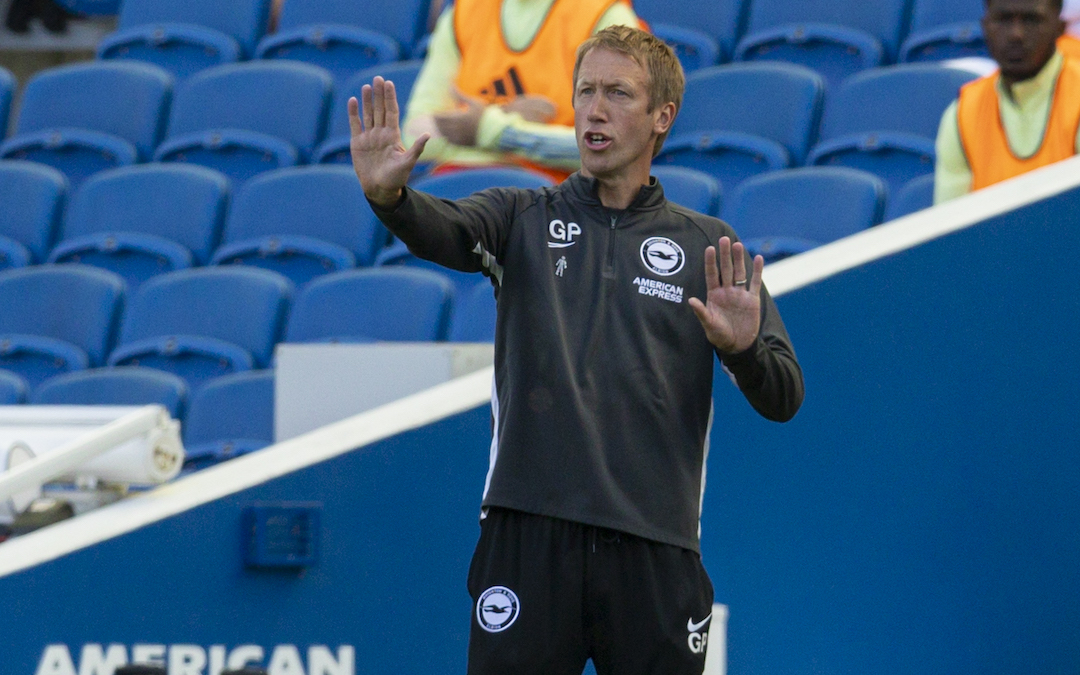 Liverpool are still Liverpool but they are having to work that bit harder to 'find their motivation'. Potter will tell his players that it is better for them to be facing The Reds this side of clinching the title.
The reset has bundled the season's last few games very tightly together and therefore managers have no choice but to rotate 11s from game to game. For Aston Villa, Klopp focused on refreshing his front six, making three switches, and he is likely to do similar again.
Keita, Chamberlain and Origi were drafted in on Sunday, but perhaps only Naby, of the group, will retain his place. He should be joined in the midfield by weekend substitutes Jordan Henderson and Gini Wijnaldum.
In attack, Firmino also didn't start and will surely do so at Brighton. We should expect one of Salah or Mane to drop to the bench with either Curtis Jones or Takumi Minamino coming into the front three.
Whatever starting selections Klopp makes, the availability of five substitutes and the dissection of the game effectively into quarters makes the prospect of significant in-game personnel switches inevitable.
The Aston Villa game was won in its final phase from Klopp's bench and he will be preparing to win that way again if required.
Predicted 11: Alisson; Trent, Gomez, van Dijk, Robertson; Henderson, Wijnaldum, Keita; Mane, Firmino, Jones
---