THERE'S a part of me that would quite like this season to move out of the way now so that we can focus fully on the next one.
It may seem crazy to come across as ungrateful in the face of the greatest Liverpool season in modern memory, but what little remains of the current campaign feels only important within the context of the defence of our next title.
It would be great to finish off with a bang, three wins and a points record likely to stand for all eternity. Who wouldn't want that? If I'm to commit fully to this ideal, personally I'd like it first more fully recognised what has already been achieved in terms of record breaking.
Liverpool won the 2019-20 Premier League title with 28 wins, two draws and a single defeat over the course of the 31 games it took them to get across the finishing line. The 86 points taken to achieve this were collected at a rate of 2.77 points per game. The next best points per game average was Manchester City's. City sealed the 2017-18 title after 33 games, with 87 points and 2.63 points per game.
That Manchester City team went on to finish its season with 100 points, but it was fully motivated to operate at maximum intensity to collect points for 33 matches, not the 31 in which it took Liverpool to become Champions. Points gathered after the competition is won are not the same as when the prize itself is actually on the line.
Liverpool may end this season just short of City's 100-point record haul of 2018, they may well match it, or even beat it. Either way, we're talking fine margins between two of the greatest forces of the sport in England.
In the modern era, football people speak of three great teams – Alex Ferguson's 1999 Treble winners, Arsene Wenger's 'Invincibles', and Pep Guardiola's 'centurions'.
I dare the hive not to admit Jürgen Klopp's 2020 Liverpool to the pantheon. What should they be called? 'The winning machine'? That would suit. No team has ever won Premier League football matches at a more voracious win rate in pursuit of the championship.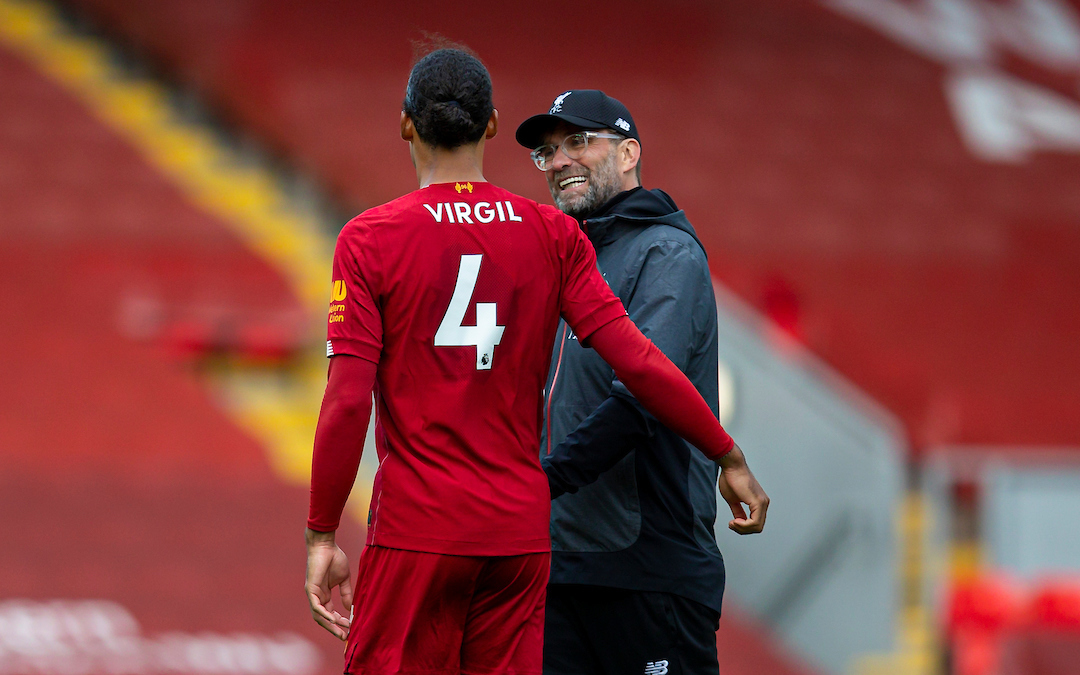 I'm talking us into Wednesday night's game at Arsenal being the biggest of deals. As I've endlessly restated in this column, to the point I'm boring myself, football is very much a pleasure that realigns to immediate realities. We're Champions, sure, but that's three weeks ago's news. Now we're gunning for City's points record. At the very least, it would be satisfying to equal it.
Arsenal warmed up for a fixture that has little at stake for them but in restoring battered pride, by losing their derby 2-1 to Spurs. They are very much a side in transition, and have been, more or less, since 2004. New manager Mikel Arteta dearly wants this season done and dusted. He is well thought of but he's done next to nothing yet to convince Arsenal people that he represents a fresh dawn.
We, Liverpool fans, know exactly what fearing the present in the hope of a better tomorrow feels like. We had 30 years of checking the tea leaves for prophesies, of wishing away seasons, of longing for long hot transfer window summers.
Arteta could do with a sign posting performance over the 'The Winning Machine'. He'd like a display that they can dine out on until the resumption for the 2020-21 season.
The surprise home draw with Burnley at the weekend will have stung Liverpool. Andy Robertson's anger and frustration with the referee at the final whistle told all we knew already about the winning mentality in Klopp's team. I'm expecting a reaction at the Emirates. It will need to be a measured one because the home side still have potency in their attacking positions.
Liverpool will be strong, though. Being checked by Burnley will further motivate. Jürgen Klopp's selection should reflect the team's ambition to take all of the points and set up a grand finish and challenge to the points record. It's hard to see further than Liverpool starting with their acknowledged first 11, save for Naby Keita deputising for the injured Henderson.
One last hurrah then, Reds. In a season of a thousand cheers.
Predicted 11: Alisson; Trent, Gomez, van Dijk, Robertson; Fabinho, Wijnaldum, Keita; Salah, Firmino, Mane
---
Feeling lucky this week?

⚽️ Test your skills with @footballpools 👉 https://t.co/q692pZs84D pic.twitter.com/Rdy1PWnNsD

— The Anfield Wrap (@TheAnfieldWrap) July 14, 2020