THE blip became a jolt.
That morphed into a slump, and could come to be viewed as a full-blown, old-school 'crisis' if Liverpool fail to beat both Bournemouth and Atlético in the next five days.
Hey, don't talk like that man. Stay positive, stay grateful.
Liverpool, Liverpool, still very much top of the league and by an enormous number of points. The players need to cut a copy of that table out of a newspaper and Sellotape it to their pillows. The lads need to look long and hard at it, and think about what is taken to sculpt the masterpiece that is the current Premier league standings.
In short, The Reds need to remind themselves who they are and how they got here.
As fans, conversely, I don't think it does any harm to look into the mouth of the demon. It is right that we contemplate what further disappointment could look like, could make us feel like. We need to be reminded just where we have come from, to park our newfound privilege well away from view of Anfield.
We have lived for 30 years without the league title, a few more weeks now are to be savoured not sweated over. Liverpool are not in crisis and two further setbacks wouldn't make that the case either. From where we have grown used to standing though, it would very much feel like it.
I've heard talk all week about how The Reds really need to put on a show against Bournemouth. Nothing short of a four-goal feast will satisfy. As if it works like this. Players experiencing a dip in form are not collectively able to meaningfully tell each other: "You know what lads, let's go out and win 4-0, 'cause that'll sort our heads out."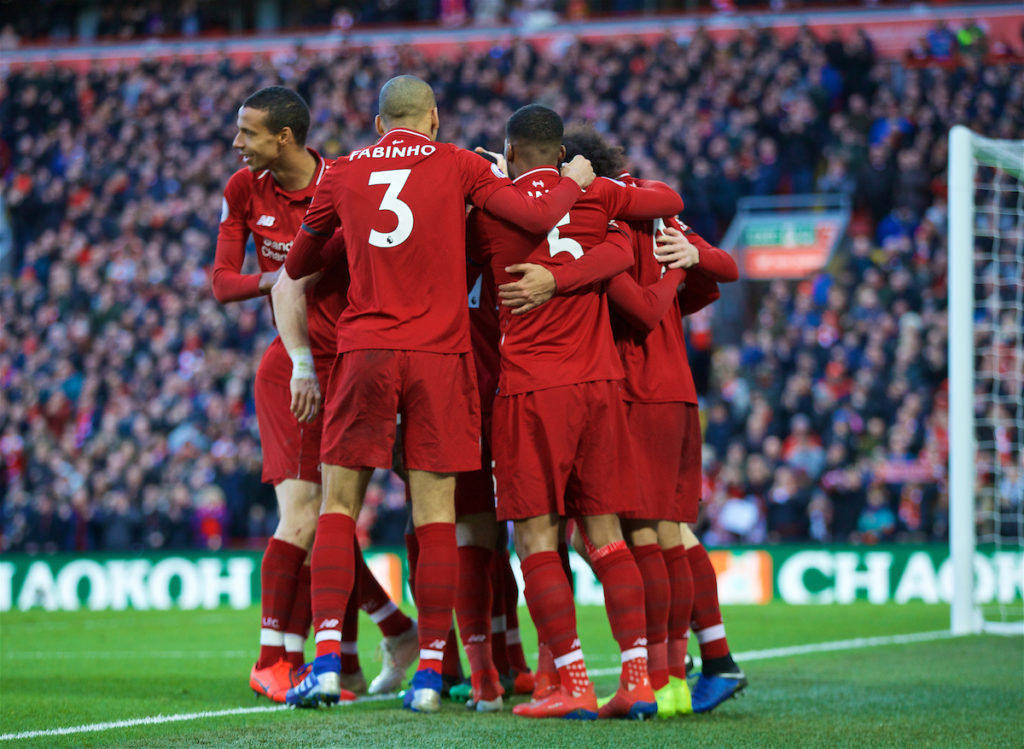 Firstly and correctly, the boss, a zealous preacher of the 'one game at a time' faith, will emphasise to his men that he in turn worships at the altar, or 'just play for the next goal' and take life from that point. Lads, you can never score the second or third goal, you can only bag the next goal.
The problem with football as an exercise is that it's too emotional. Sane assessment and planning only comes from working past the emotive elements. Paradoxically, the game is nothing without its emotions.
Jürgen Klopp has said, without supporters – and by implication their passion, and anger, and love, and irrationality – the sport is merely 22 men on a field. The hopes and unreasonable expectations of the, apparently powerless, thousands spectating make the enterprise into the magnificent totality that we all adore.
I met up with a very good old friend this week for a much overdue drink and a catchup. He's a lifelong Liverpool fan who first stood in the boys' pen in the late '60s – the Shankly era. We rarely do hard analysis when we talk football. Mainly we text each other exuberant nonsense when the results are extreme.
I was heartened that his purely emotional reaction to Liverpool's recent travails was as wild as a fan's should be. I think we sometimes get lost in the world of sober analysis these days, and forget who we are.
"Liverpool are crap," he told me. "And they have been all season. Apart from the Leicester game, we've been shite."
I started to protest but stopped short. What was the point? He's a supporter, he has earned his stripes and his right to feel utterly emotionally bereft and angry. Without him the game is meaningless.
Ben Johnson hosted a show that I was a guest on this week, and talked about how all great plots require a moment or phase of 'peril' before they can be satisfactorily resolved. He was talking about this phenomenon within the context of Liverpool's apparently seamless and near trouble-free march towards a first title in 30 years.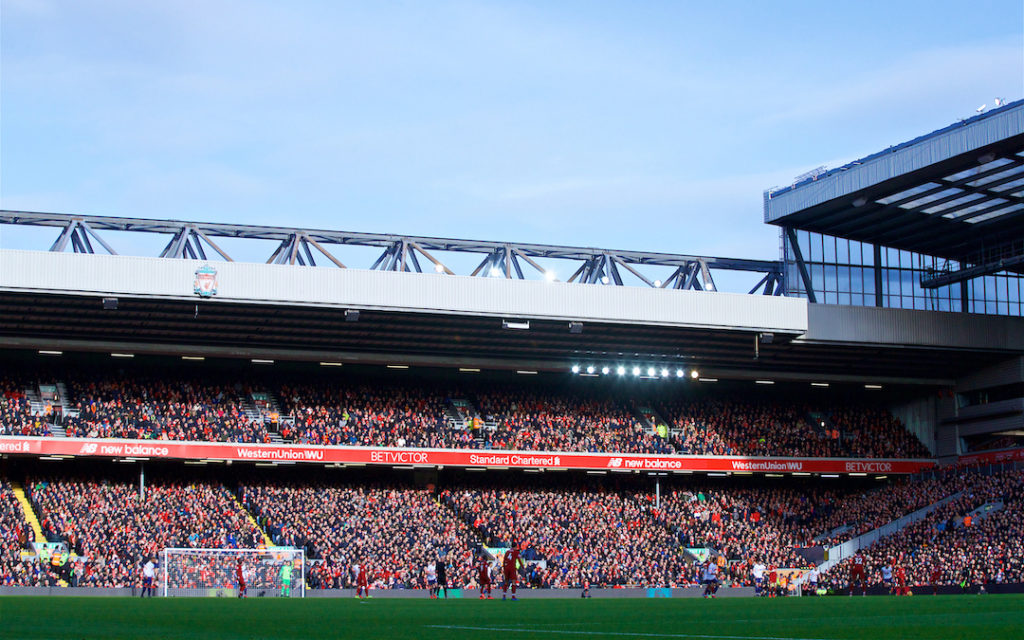 Ben felt that the story of the great season still required an element of 'peril'.
My mate, who thinks Liverpool have actually been shite all season, needs the peril too. His mad take is his way of injecting friction into a story that has needed it. Those clinging to a weird kind of purity would deny him his share in the glory when it finally arrives. As though the act of doubting invalidates membership of the tribe.
I think it's probably OK for supporters to be angry, to be irrational, even apparently disloyal, at times.
As I took my seat at Anfield last May, before the Barcelona game, I sneered that Liverpool had no chance and that if we were losing I'd dart early to beat the traffic. Then all those goals went in and Anfield's greatest redemption played out. I have never known greater happiness than that night. Doubting, disloyal, unworthy old me.
Eddie Howe just thinks that Liverpool aren't playing very well at the moment and that makes it the proverbial 'best time to play them'. His likeable team are having a bad season, but they checked their slide with a very creditable draw at home to Chelsea last week. The same Chelsea that beat Liverpool in the FA Cup in midweek.
On the road, Howe's boys have been shaky for a while. Five straight defeats since they (kind of symmetrically) beat Chelsea at Stamford Bridge a couple of months ago.
Liverpool do not need to beat Bournemouth 4-0 and 'put on a show'. Liverpool just need to win a football match. The trench of the sporting slump is rarely escaped in any style. It is usually a crawl, not a leap. Any kind of win will serve to help rebuild confidence hard won and all too easily lost.
Jürgen Klopp's inclination will be to go with a creative side designed to dismantle any defensive trap Eddie Howe may be planning.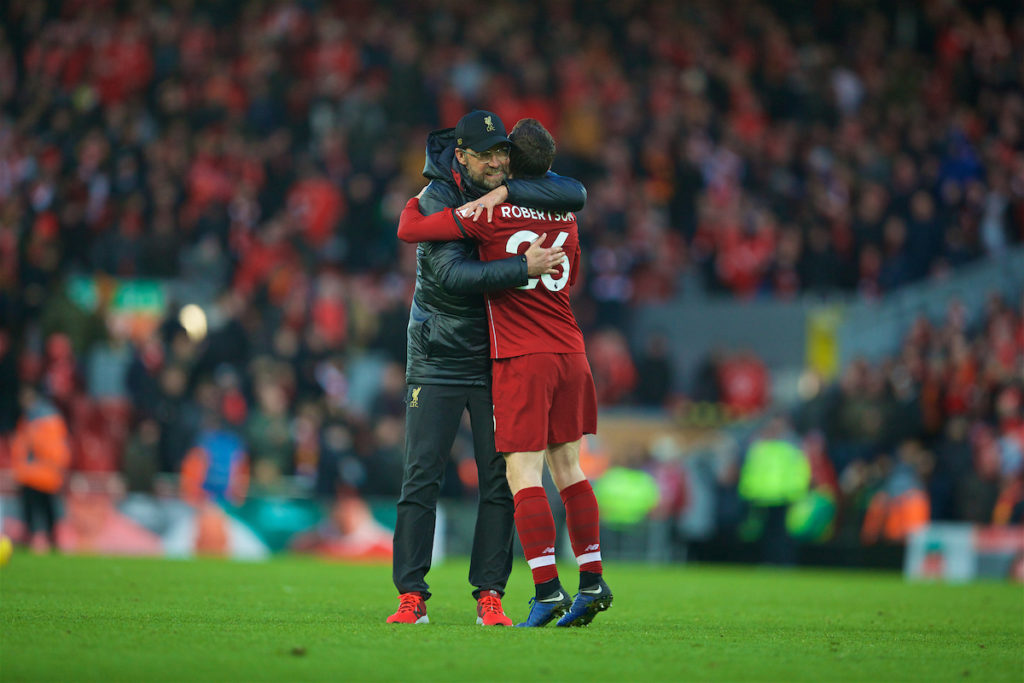 Fabinho started in the week and may be rested for Saturday, with Gini Wijnaldum stepping into the number-six berth. Klopp might then play Alex Oxlade-Chamberlain and the fit again Naby Keita as dual 'number eights' ahead of him.
Trent Alexander-Arnold will return in place of Neco Williams, and I have a hunch that James Milner may get Andy Robertson's left-back slot. That would serve to sharpen up the recently injured Milner and refresh the overplayed Robertson.
In the forward positions, everyone is having a bit of a sticky time, so I think Klopp will simply default to his best front three and hope to give more minutes later in the game to Takumi Minamino.
A 12.30pm kick off on Saturday afternoon is always the worst start time for a football match, and The Reds will need to be sharp from the off if they want dazed and confused supporters to get back on side.
Time to get emotional. We all need each other more than ever this week.
Predicted 11: Adrian; Trent, Gomez, van Dijk, Milner; Wijnaldum, Keita, Chamberlain; Salah, Firmino, Mane