AT this stage of the European Cup, a year ago, Liverpool eliminated Bayern Munich in exhilarating style.
It was the performance that set Liverpool on course for Champions League glory, at a moment in which a hitherto majestic league campaign had begun to slightly falter.
Approaching the second leg against Atletico there are symmetries between last season and this. Liverpool's task in turning around a one-goal deficit against the continent's best joy killers feels that bit more onerous than the prospect of knocking Bayern out did.
That was the point at which Liverpool's focus arguably begun to shift subtly, more towards European than league success. Now, the league title is by far the likelier prize that Liverpool will attain.
No one is giving up on the European crown just yet, but there is a peace in knowing that the season's primary objective is all but completed. To this end, overcoming Atletico Madrid would represent something of a delicious bonus.
The bookies think Liverpool are likely to beat the Spaniards but still be eliminated. This was not the case two weeks ago, but The Reds' form since then has provided grounds for concern and recalibration. Seemingly, they were not overly convinced by the return to winning ways against Bournemouth (2-1) last Saturday.
I was convinced, I'll confess. Liverpool were hardly majestic in that narrow victory but there was a corner-turning feel to it. Mo Salah and Sadio Mane were back among the goals, and in some style. Their sharpness, if and when the limited opportunities arise on Wednesday, is key.
Their front-three partner, Bobby Firmino, although still hugely influential, isn't on the same plane, in the goalscoring stakes. This may sound like heresy, but if I were Klopp, I might be tempted to hold him back until the game's final third.
There is much talk about Liverpool needing a traditional Anfield fast start against Atletico. I think this underestimates Diego Simeone's side's powers of resistance. It is too crude to think that Liverpool can simply blow away such artful dodgers.
Their gamesmanship in Madrid was something to behold. I haven't seen a side so committed to destroying the spectacle, by any means necessary, since the notorious Wimbledon 'Crazy Gang' setup of the late '80s/early '90s.
The bottom line is that Liverpool will need to be hugely patient. This game and tie can be won by lulling Atletico into a false sense of security. They will not simply become overawed by Anfield and our magnificent team, and give up three goals. They will need to be dismantled systematically.
To prevail, it is likely that Liverpool will need extra time. Every available minute may count.
Simeone is too crafty to be overtempted to send his team hunting for that killer away goal. If it's all but offered on a plate, he'll take it, but will not search for it at the risk of opening his team up to our counter press, not for one solitary second.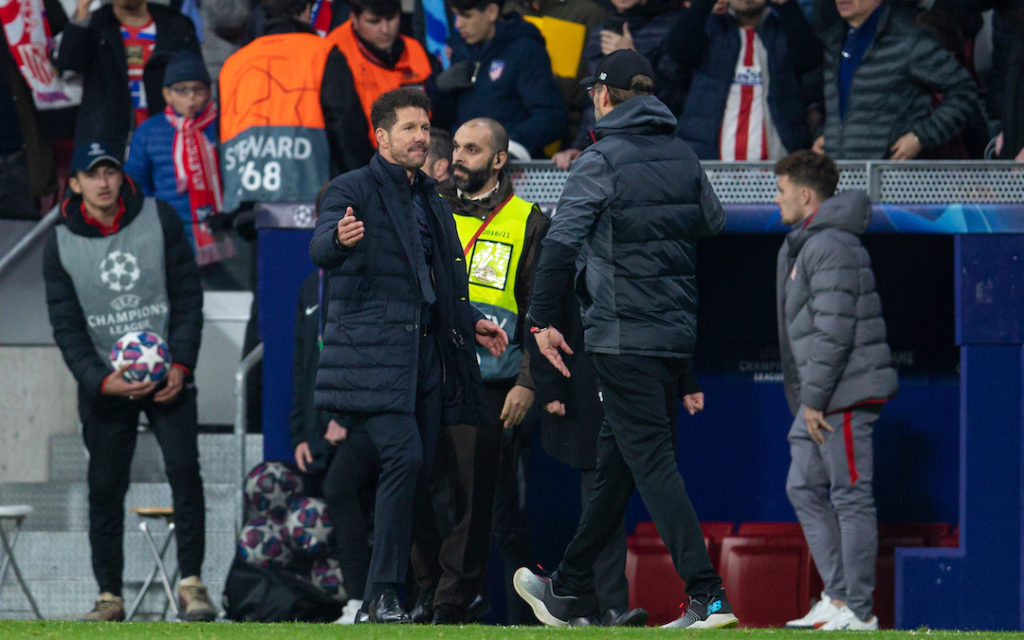 Set pieces were a feature of the first game. Liverpool had many of them and used them all terribly. Atletico had clearly been prepared to face dead-ball threats. Klopp's side are a deadly set-piece outfit, but only when in the mood. Or at least, it often seems that way.
I think Klopp will need to surprise Simeone, and that's why I'm advocating for starting Firmino from the bench. Atletico definitely will not expect that. I'd commence with a front two of Salah and Mane, and then play two further banks of two behind them.
The two number 10s might be Alex Oxlade-Chamberlain and Naby Keita. If they've looked sharp enough in training, I'd go with them. Behind them could be Henderson and Wijnaldum, offering security but also some license to support the full backs.
My feeling is that we are better off trying to overload the middle and draw in all the Atleti resources to a narrow 20-yard central channel than trying to make the pitch bigger. They will be planning on negating our wide threat, but might find that intention compromised if they have to face so many bodies running at them from largely central positions.
Since beating Liverpool, Atletico have won one (against Villarreal, 3-1) and drawn two (versus Espanyol and Sevilla). Interestingly, they have conceded four goals in these three games, having let in just 17 in their previous 24 league fixtures. Their relative new-found defensive porousness may just have arrived at the right time for Liverpool's purposes.
Of course, they could say similar. Liverpool have been shipping goals lately. However, Atleti's need is not for goals but to prevent Liverpool from scoring them.
I think the ultra cautiousness of Simeone's team will embolden Klopp into leaving Fabinho on the bench. His form has not been right since his return from injury and he may be better utilised as an additional shield later in the game, should Liverpool make the early breakthroughs of dreams.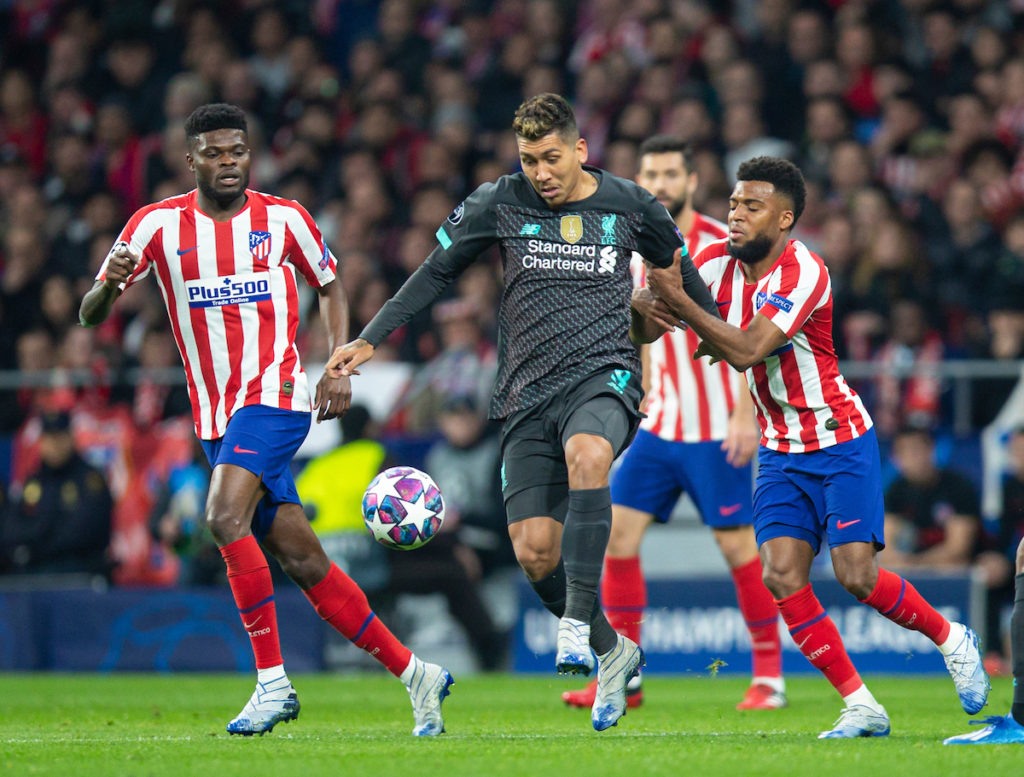 Klopp may feel that 0-0 on 70 minutes is no bad scoreline. Dragging Simeone's defenders around for over an hour will tire them.
To then be able to augment his attack with the guile and ability of the likes of Firmino and Minamino, or even Lallana, with their ability to find pockets of space in the penalty area, may be enough to earn the precious first goal, however late it might arrive.
Of course, I'm probably overthinking this. Klopp would tell me that I am, and that Atletico are beaten by the best version of Liverpool harnessing a baying Anfield and playing to their optimum. No tactical blanket can keep out this Liverpool at the peak of its powers. We know this from a cursory glance at its European and league record over the past couple of years.
If Klopp plays safer (and saner) than me, he'll go for a midfield of Henderson, Wijnaldum and possibly Milner ahead of Fabinho. The rest pick themselves.
Either way, patience will remain the watchword, for the crowd as much as the team. As supporters we need not shoot our bolt too early, but must come at them in waves and keep the momentum with our boys, however frustrating the evening gets.
Predicted 11: Adrian; Trent, Gomez, van Dijk, Robertson; Henderson, Wijnaldum, Milner; Salah, Firmino, Mane