"SELF-isolate," they said. "Avoid mass gatherings and stay indoors" they said.
"Great," I said. "That'll give me more time to write about football… Cancelled, you say?!"
Yes, in these uncertain Coronavirus times, the football has been suspended. It is absolutely the sensible and correct thing to do, but that doesn't make it any less rubbish, particularly when Liverpool were on the cusp of celebrating 'the thing' for the first time in three decades.
Surely, 'the thing' will still happen. It's just a question of how, where and when. For the time being, while no one has any idea how long this will last for, there is no need for any of the powers that be to commit to timeframes or finite actions.
As for us footy obsessives, what on earth are we supposed to do?
I had planned to do an ode to Alex Oxlade-Chamberlain after his performance in the heartbreaking loss to Atletico Madrid last week. It was the first time arguably since his return from a long-term knee injury that he looked like the pre-injured Ox.
Fitness experts said it might take another year for him to get back to full speed on the pitch. It has more or less been that year, so maybe Wednesday night was a sign that he is close to being the player that tore apart Manchester City in the Champions League in 2018 again.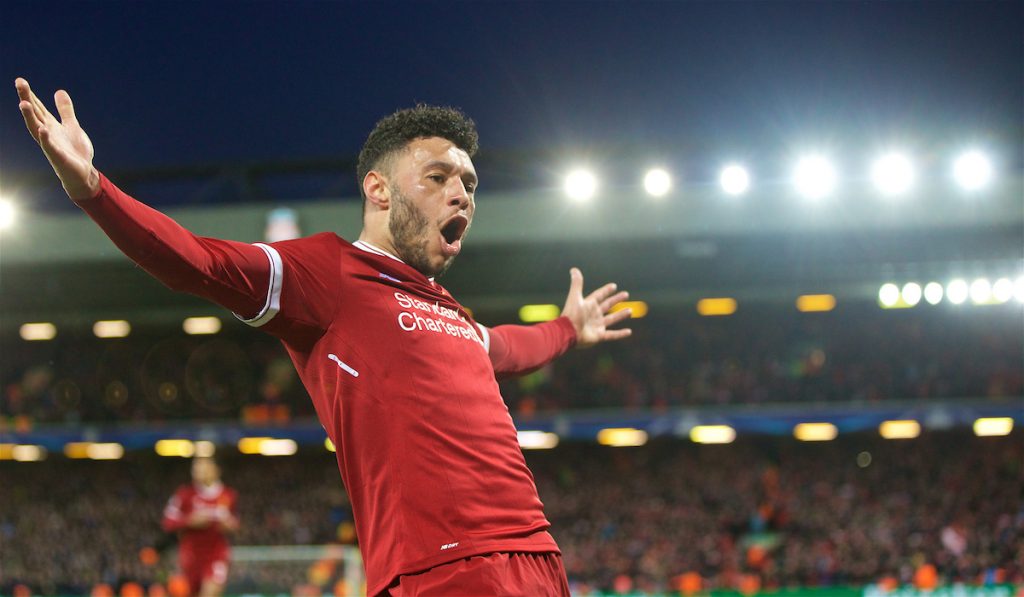 However, football was then kicked out of the window, so we won't know until things return to relative normality. At least Alex cheered himself, and the rest of us, up the other day by dancing in his socks with the lovely Perrie.
It was a nice video, but the anxiety of waiting until he trotted off to make sure he didn't slip and re-injure himself was a bit much on first viewing.
So what to write about, other than the obvious? I wanted to avoid going into detail on COVID-19, just as Jürgen Klopp did.
I'm no virologist though, so speculating on this pandemic is pointless, just as you've not yet seen an article from Sir Patrick Vallance on whether Klopp should bring in a back-up left back for Andy Robertson, or give Adam Lewis a go.
Not to worry. The good and handsome folk at TAW Towers have lined up some themes to write about for the next few weeks, which seems eminently sensible.
This week, it's all about first games. Josh started things off yesterday with a belter about his first.
Now, this is a little tricky for me as I've been writing for TAW for so long that I've actually already written about my first game during a previous period of nothing else interesting to cover (probably an international break), which you can read here.
That piece was actually written only three weeks after Klopp arrived at Liverpool, so I'm not sure why I wasn't writing about him. Perhaps I was saving all my Klopp stuff up to start writing my book on the former Borussia Dortmund gaffer, which came out in 2017.
Kloppite: One Man's Quest To Turn Doubters Into Believers covers the German's first two seasons in charge at Anfield, but just to thwart me, Klopp decided that the following three seasons would be even more interesting, so I have updated the book with some extra chapters right up to Jordan Henderson lifting the Club World Cup in December.
Available in most good book shops.
Anyway, shameless self-promotion aside, as I've already written about my actual first game, I thought for this piece I'd go into more detail on my first Anfield experience.
If you didn't read my previous piece above on my first game, I'll quickly bring you up to speed. It was away at Chelsea, in the posh seats thanks to one of the big cheeses at my dad's office finding out he was one of the very few Liverpool fans working there, so offered dad his tickets as he couldn't go.
We travelled down to London for the game, I nearly headbutted John Motson in the balls, and we went straight back to Liverpool afterwards. Routine.
It was all a bit surreal, but brilliant. I had been bitten by the live Premier League bug. It had taken a few years to get there though, so who knew when the next taste would be?
Literally two days later.
Anfield, for the first time ever. The famous stadium had been driven past and walked around many times, but never entered by this little southern boy and his pocketful of dreams.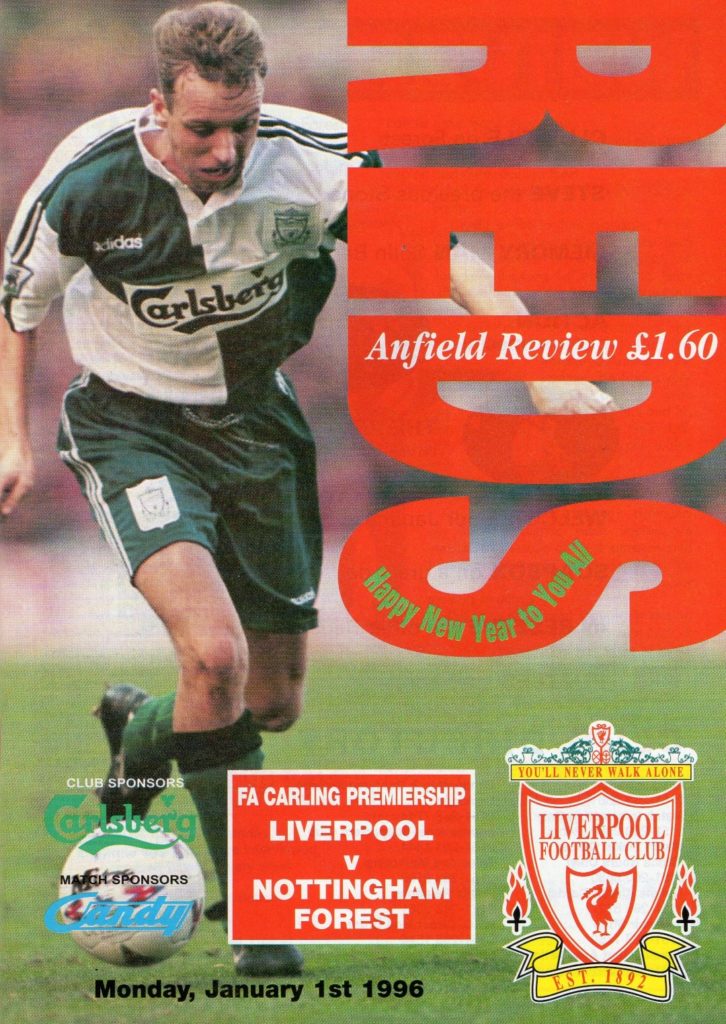 It was New Year's Day 1996, my brother's birthday, and dad had managed to get us tickets for the clash with Nottingham Forest. Not quite the posh seats this time, though. In fact, back of the Annie Road End (may have been the actual back row), but it was still Anfield.
It was the moment Sir Bobby Robson famously summed up. He must have been behind me, observing those first strides into live football.
"It's a small boy clambering up stadium steps for the very first time, gripping his father's hand, gawping at that hallowed stretch of turf beneath him and, without being able to do a thing about it, falling in love."
It was a good job for Liverpool that I fell in love before kick off, because early in the first half it was 2-0 to Forest.
Liverpool were a funny team at the time. Roy Evans was nearly two years into his reign and had The Reds playing attractive attacking football, with Steve McManaman doing bits, and a front pairing of Robbie Fowler and (on occasion) Stan Collymore terrorising defences.
Collymore never really reached the levels at Liverpool that he had done in his first top-flight season at, ironically enough, Forest before his record £8.5m move to Merseyside. He was unbelievable in the 1993-94 campaign, firing Forest to third in the league in their first season after promotion back to the top flight with 22 goals.
Perhaps he struggled not being the big fish at Anfield, playing second fiddle to Fowler most of the time.
On this day though, he was magnificent.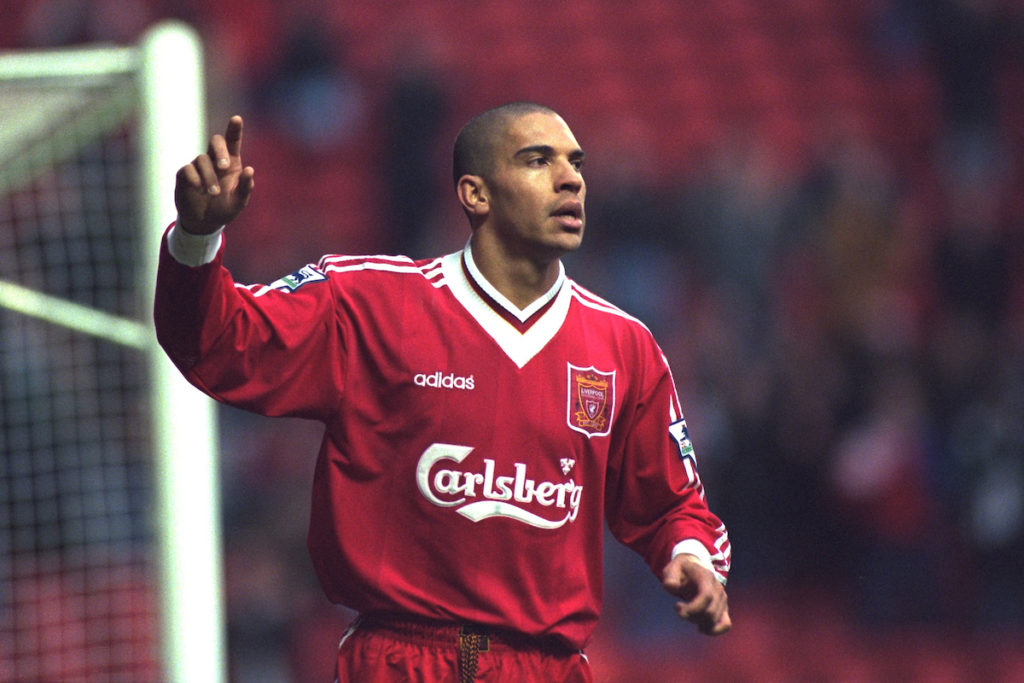 Liverpool's defence was often leaky to say the least, and so it actually wasn't all that surprising to see the visitors race out to an early lead. Steve Stone got the first off a through ball, before Ian Woan grabbed another, celebrating in front of the visiting fans with Erling Haaland's old man.
Not content with playing together and having rhyming names, Stone and Woan are now both on the coaching staff at Burnley. Maybe it makes Sean Dyche's job easier. Probably insists on the tea lady being called Joan. "My name's Colin." "Pipe down, Joan!"
Despite the early setback, Liverpool stepped it up. John Barnes started to dictate in the middle, Collymore was creating chances left and right, and Fowler was getting on the end of things, and should really have had about five goals on the day had it not been for Mark Crossley in the Forest net.
A Collymore cross for Fowler to head in was my first Liverpool goal experienced at Anfield. That roar from those around me, either side and opposite in The Kop, all drowned out by me according to my poor dad, who got an earful.
Shortly after, another Collymore cross, another Fowler header. 2-2. Another burst ear drum for papa.
'Stan the Man' got on the scoresheet himself in the second half from a Barnes through ball, before a Colin Cooper own goal off, yes, a Collymore cross made the points safe. A 4-2 scoreline, and a first live victory for my little young eyes.
Although it wasn't technically my first game, it felt like it. The game at Stamford Bridge was a great experience, but it wasn't 'being at the match'. It was being in the same ground but surrounded by suits and prawn sandwich munchers. Moments of joy from me led to noses being stared down by them.
That was attending a game of association football. This was 'going the match'. This was being in amongst it. This was Anfield.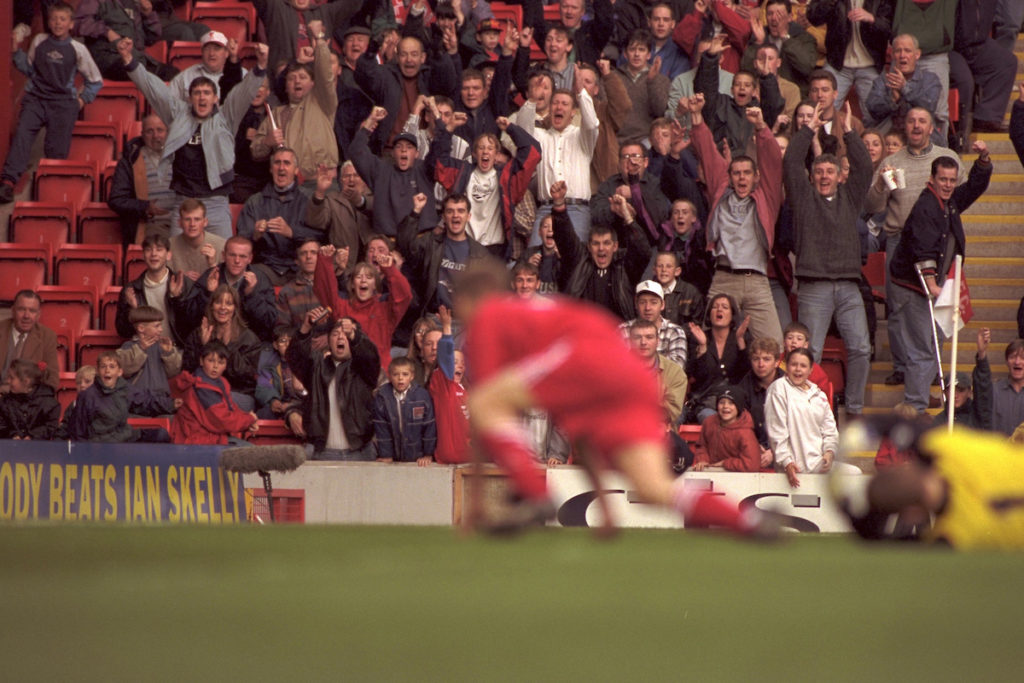 From then on, dad always tried to take me and my brother at least once whenever we came up to visit family. I always looked at him in puzzlement when he suggested we visit family during June or July. Almost as if the match wasn't the main reason for driving 250 miles up north.
I don't get to Anfield as often as I'd like these days, partially through work commitments, but primarily because Liverpool are so good that tickets are like gold dust.
Dad is there every game though, or at least, his commemorative stone is, in the Steven Gerrard section outside the Main Stand. I like to think it allows him to look down on every game, without me screaming in his ear at every goal too.
It's actually a shame to be writing about the wonderful experience of going to the game at a time when there are no games to go to, but who knows? Perhaps missing the football might lead to us appreciating it more when it eventually returns.
In the meantime, look after your loved ones, help your elderly and vulnerable relatives, friends and neighbours where you can (from a safe distance), and stay safe yourself. These are strange times we are living in, but don't forget, when we emerge on the other side, we get to see Henderson and his happy feet lift the league title.
As for me, I'll mostly be keeping an eye out for any potential content for future articles.
Have you seen that marble racing video on Twitter? Next week, I plan to do 2,000 words on why the light blue one is an absolute fraud.
"I don't want to be *handed* the title, I want the players to get their moment on the pitch." 🏆

📱 Download our app here and watch today's Talking Reds in full 👉 https://t.co/v3xcfwjq7C pic.twitter.com/M8GGc2sK8z

— The Anfield Wrap (@TheAnfieldWrap) March 16, 2020