SIX wins from a heaven so eased towards, it defies description. "What just happened", as the kids say.
Let's spell it out.
Liverpool topped a 97-point season with a 24 wins from 25 streak and stand on the precipice of immortality. Manchester City, reprised a 100-point title campaign, followed by a 98-point one, with this season's thoroughly mediocre effort, which will see them now doing well to hit around the 87-point mark. They, unlike Liverpool, are mortal once more.
The net of the above is effectively Liverpool's 22-point lead atop the Premier League. This country has never seen the like. Pundits and folk are flip flopping between praising Liverpool and grasping at reasons why The Reds' success may all actually be mirage. The scale of the enterprise makes sense to few, least of all us.
I recall going to Norwich's Carrow Road on matchday 35 in 2013-14. Then, we were 10 points from the title with four games to play. We were definitively in the box seat. The title was ours to lose. I've never seen a Liverpool team as nervous as that day, as they came face to face with destiny. We won, just, 3-2, but disastrous, heroic, failure was just around the corner.
The world is a very different place now. This 2020 Liverpool vintage are nerveless and peerless. I suspect it will take a while before we can all fully appreciate what we and our team are going through together this season. I could say it's all been too much too soon, but that would ignore the fact that the red storm has been brewing for some time.
In hindsight, my sense, as far back as 2015, that Klopp could make magic happen, was correct. We didn't pull up any trees in his inaugural season but there were definitely hints at what was to come.
The 4-1 win at the Etihad in 2015 was the most important sign-posting moment. Klopp showed us, that day, that all that we dreamed of could be achieved without trying to win an 'arms race' with the league's biggest guns. The win at City was a clue that Klopp has the 'cheat codes' we would always require to win an 'unfair game'.
Since 2015, we have been moving inexorably towards the status we enjoy today. The progress has almost been linear. Each six months an improvement on the preceding. Each season clearly a step better than the previous. Liverpool have very much earned the right to be where they now are.
Norwich away is a long-standing favourite of mine. The city is underrated. It's quietly very easy on the eye. The portfolio of old boozers is solid and the city centre is tangible, negotiable and crucially, walkable from Carrow Road.
Unfortunately, this will be the last Norwich away for the foreseeable. The Canaries are going down.
Quite how it has come to this is something of a mystery. Norwich aren't bad. A tonking at Man United aside, they've remained in all of their games over the past two months or so. Teams are not getting to thrash Norwich. That United game excepted, they haven't been beaten by more than a solitary goal since November 8 last year.
Daniel Farke has masterminded the taking of some serious scalps. Well, they beat Man City, beaten 3-2 at Carrow Road early in the campaign and managed draws with Spurs and Arsenal.
Yet Farke's team find themselves rock bottom having conceded the most goals in the division. They may point to a season of near misses but their reality is that they've almost been the inverse of Liverpool. However tight the game, Norwich seem to always find a way to lose.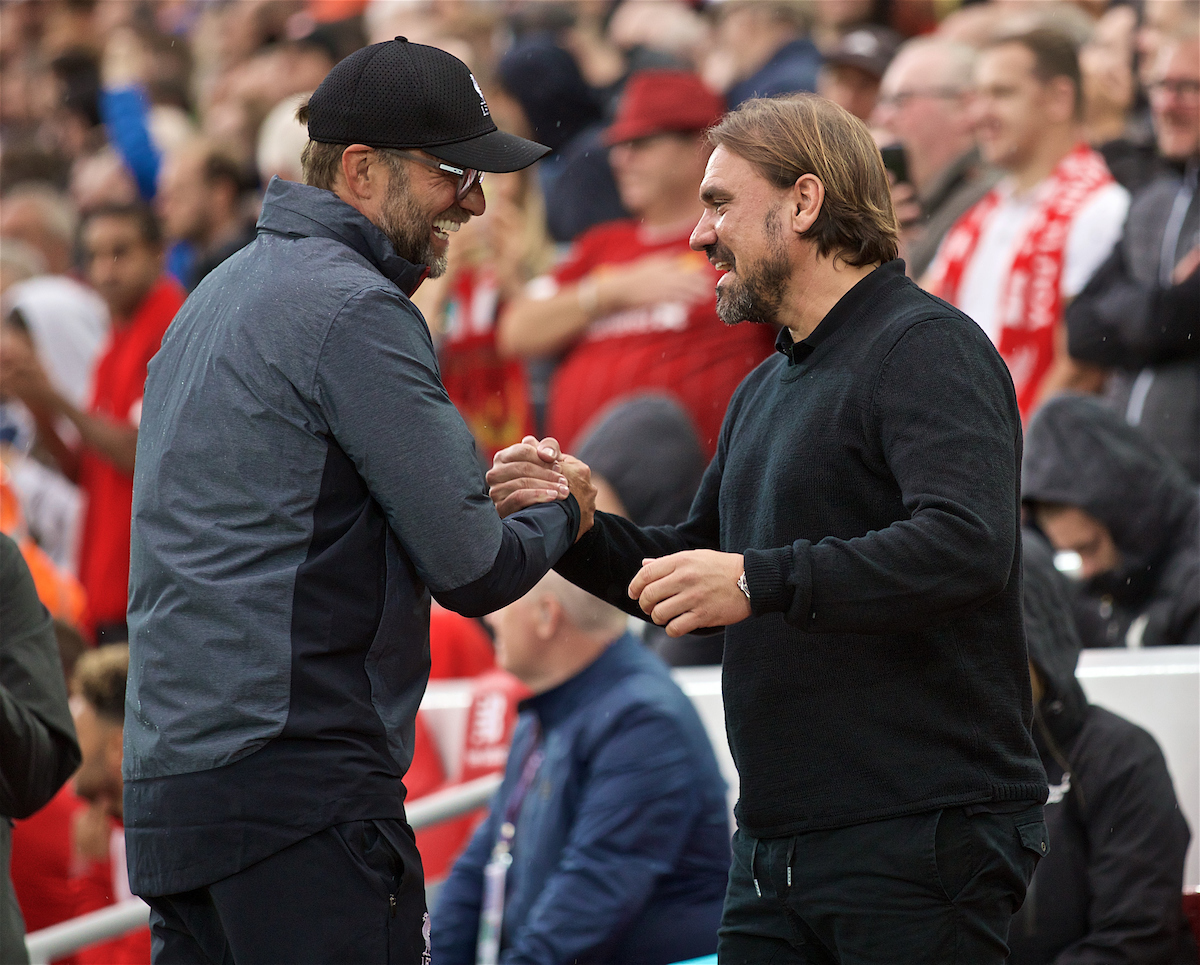 Liverpool's season is now moving into its third act. In the first two, Liverpool took on and decisively went past Manchester City, setting the scene for the grandest of finales. We are now officially the other side of the winter break.
While Jürgen Klopp will respect Saturday's opponent, he will know that the greatest threat to his team will be them having been knocked out of rhythm by the hiatus.
In some senses, Klopp will use the Norwich fixture to recalibrate his finely tuned machine so that, even if it can't be at its best in the league game, it will be purring in time for the Champions League showdown in Madrid next week.
I expect Klopp to pick two near identical teams for Norwich and Atletico Madrid. The team he will hope to put out, arguably, represents his strongest 11. To say Liverpool's bench will look tasty, at the weekend, will be an understatement. Those kicking their heels will include Naby Keita, Takumi Minamino, Alex Oxlade-Chamberlain, Divock Origi, James Milner, Joel Matip and Dejen Lovren.
Eighteen points is Liverpool's immediate concern. Six wins and that 30-year wait is capped. Norwich should feel honoured to be one of the chosen half dozen. We haven't come this far and won so very many games to be stopped in our tracks by the league's bottom side.
Hurt these, Reds.
Predicted 11: Alisson; Trent, Gomez, van Dijk, Robertson; Fabinho, Henderson, Wijnaldum; Salah, Firmino, Mane
"Jürgen said that he feels like we haven't played for half a year… and we feel the same.

"I'm so excited to watch the Reds again."

📱 Download our app here and watch today's Talking Reds 👉 https://t.co/v3xcfw1OJ2 pic.twitter.com/bzyaBMlGPM

— The Anfield Wrap (@TheAnfieldWrap) February 14, 2020
Recent Posts:
[rpfc_recent_posts_from_category meta="true"]
Pics: David Rawcliffe-Propaganda Photo
Like The Anfield Wrap on Facebook