I'LL be honest here, lads. I pretty much presumed that I'd be getting a winter break like the rest of the first teamers.
Fucking legs are tired, the mind is definitely fatigued. Nice little couple of weeks off without the distractions of the cup, rest and recuperate, come back all guns blazing a week on Saturday. Fucking left it all out there last week on this fucking basis.
The problem is, though, that the TAW bigwigs didn't see it the same way. I realised with abar half an hour gone that I hadn't let them know I couldn't do the ratings tonight and there they are, sending the boys round to get some fucking words off me.
Cracking the fucking whip they were. Tried to explain but they weren't fucking interested. Words, dickhead. But lads, my bird's away, I spent the first half pretty much grafting. Ratings, dickhead. Alright then, but here is what I was up to first half an hour:
a) making me lad some toast: 8/10. That well-fired loaf from the Sainsbury's, well done, loads of butter, cherry jam.
b) watching Captain Underpants: 9/10. Belter, the one where they make the animals smart but they take over the world so they have to go into the future.
c) Reading him a chapter of his book, my lad that is, not Captain Underpants. Tra la laaa. Anyway: 6/10. The beast of Buckingham Palace, not his best work, if we're honest with ourselves. Also, my reading performance is sub standard, if I'm honest. My bird does all the different voices and that. When I read it all the characters are baldy Scouse men.
d) Cooking myself some tea. Bubble and squeak: 9/10. Was absolutely flames, better than the roast.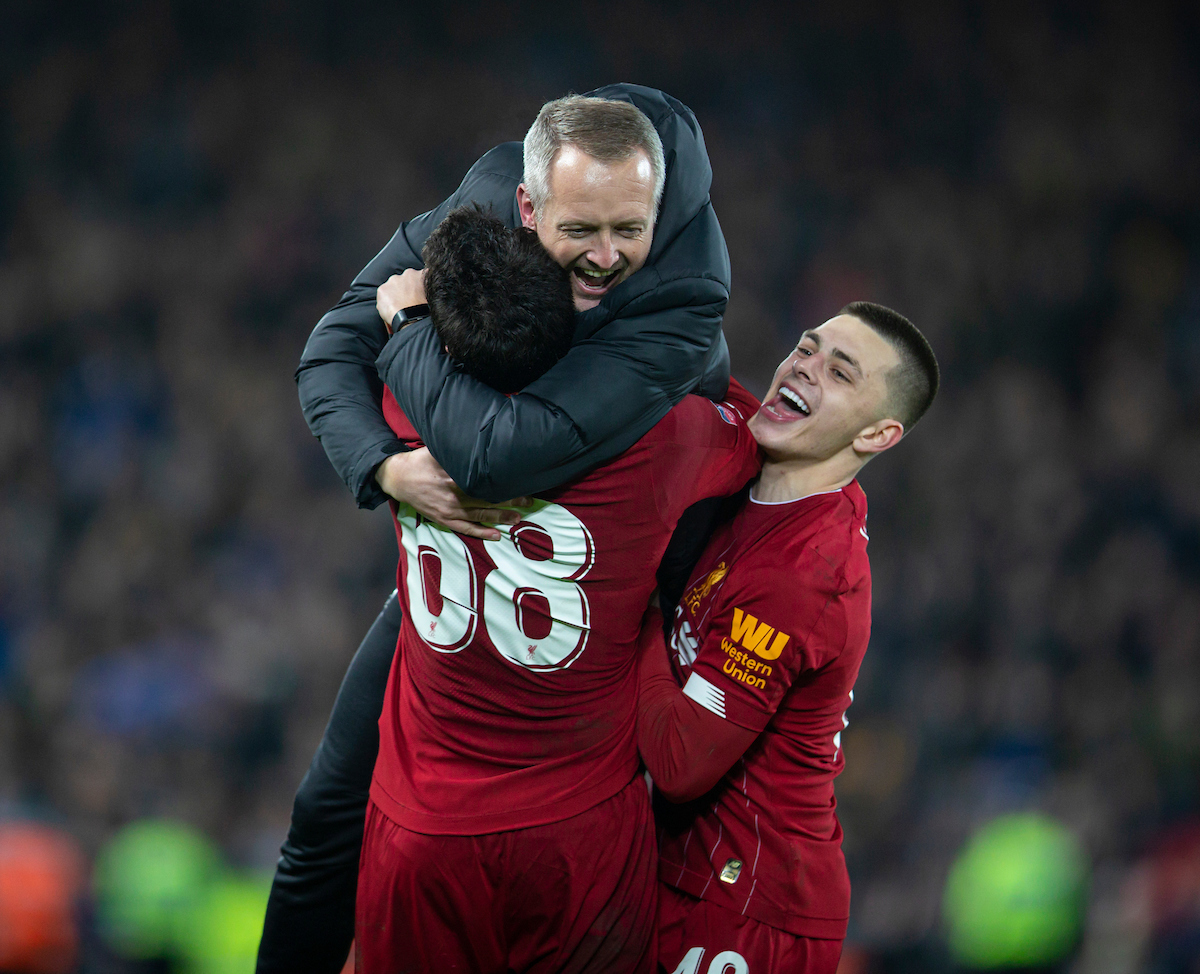 That is an unreal performance, you know. This club, from top to bottom at the minute = perfection. Imagine The Blues there, though. Hahaha, VAR goal disallowed, absolute Sandy Brown of an own goal. Spawny Rednose cunts aren't we, aye?
The Keepeher: 8
Unlucky for their VAR goal as the save is pretty good. Went a bit berserk after that though and went for a walk out of his box right after. The catch in stoppage time when it was floating in had disaster written all over it. Takes it no bother. Well in.
Williams: 9
The standout player on the pitch for the mini Reds. Was unlucky not to score to cap that lovely move at the start of the second half. Couple of decent attempts after that and a couple of shit ones, by the way.
Looks like he belongs in the first team, which is some going seen as though they are the best in the business. In any fucking business, by the way. Show business, the lot.
Get them on The Royal Variety performance. Reckon Divock could do 15 minutes as a magician, no bother. Cut Degsi in half with that body guillotine thing. Fuck off putting him back together. Hahaha. Only messing, Big Dog.
Does really well for the goal, although that poor lad, God bless him. Shady, that.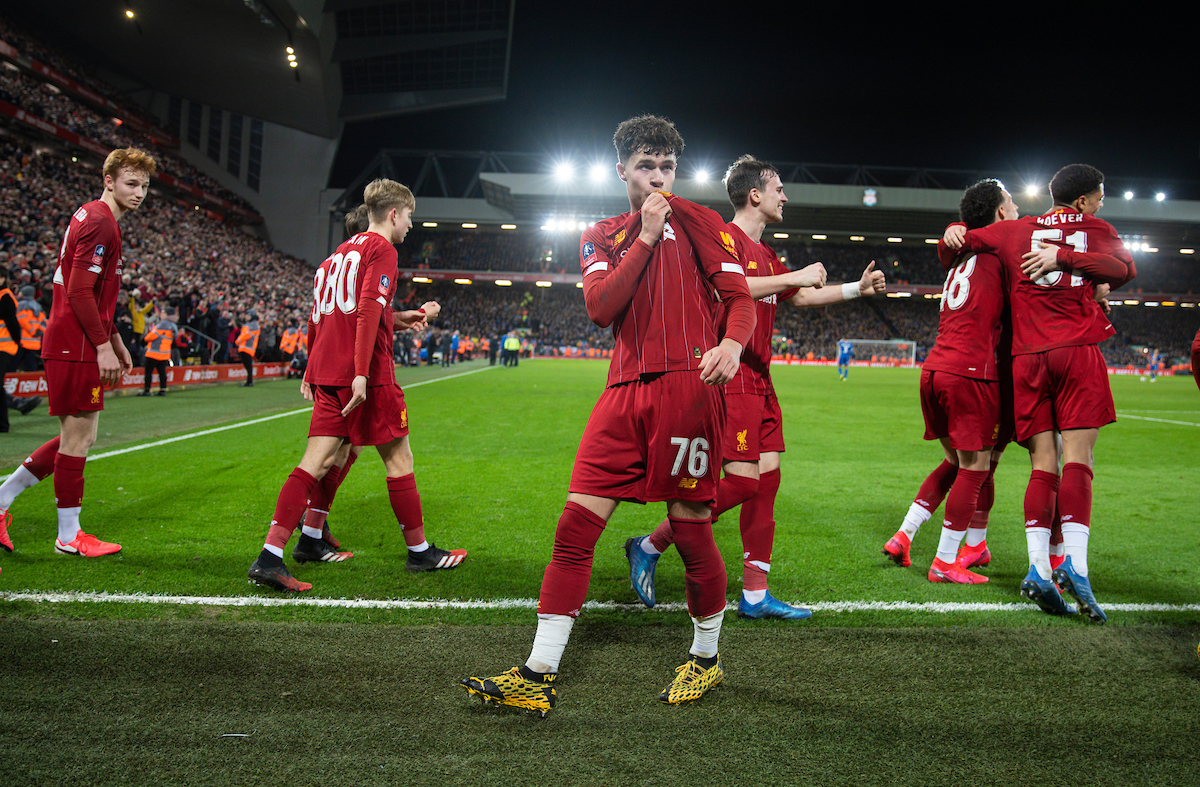 Hoever: 8
Melia text me before, said his brother had just text him. Was listening to the game on 5live or something, Rob Green was commentating on it and said that one of the players had got caught in nose man land.
Hahahahaha.
Nose man. An alternative universe where there are just massive big nose fellas bouncing round, with feet and a hat on. Hahahaha. Honest to god, I haven't stopped laughing for about an hour. Nose man land.
Anyway, did Hoever get stuck in Nose Man land? Fuck knows, but if he did he managed to find a way out. He played here tonight. Did well. Nose man land. Fucking hell.
Sep Van De Burgh: 8
Made up for him really, as he has got a bit of a legging off everyone for a couple of performances, but showed real promise here. Won his battles, no one really run away from him, even that ming with the hair who made a show of the Lov and Joelly last week.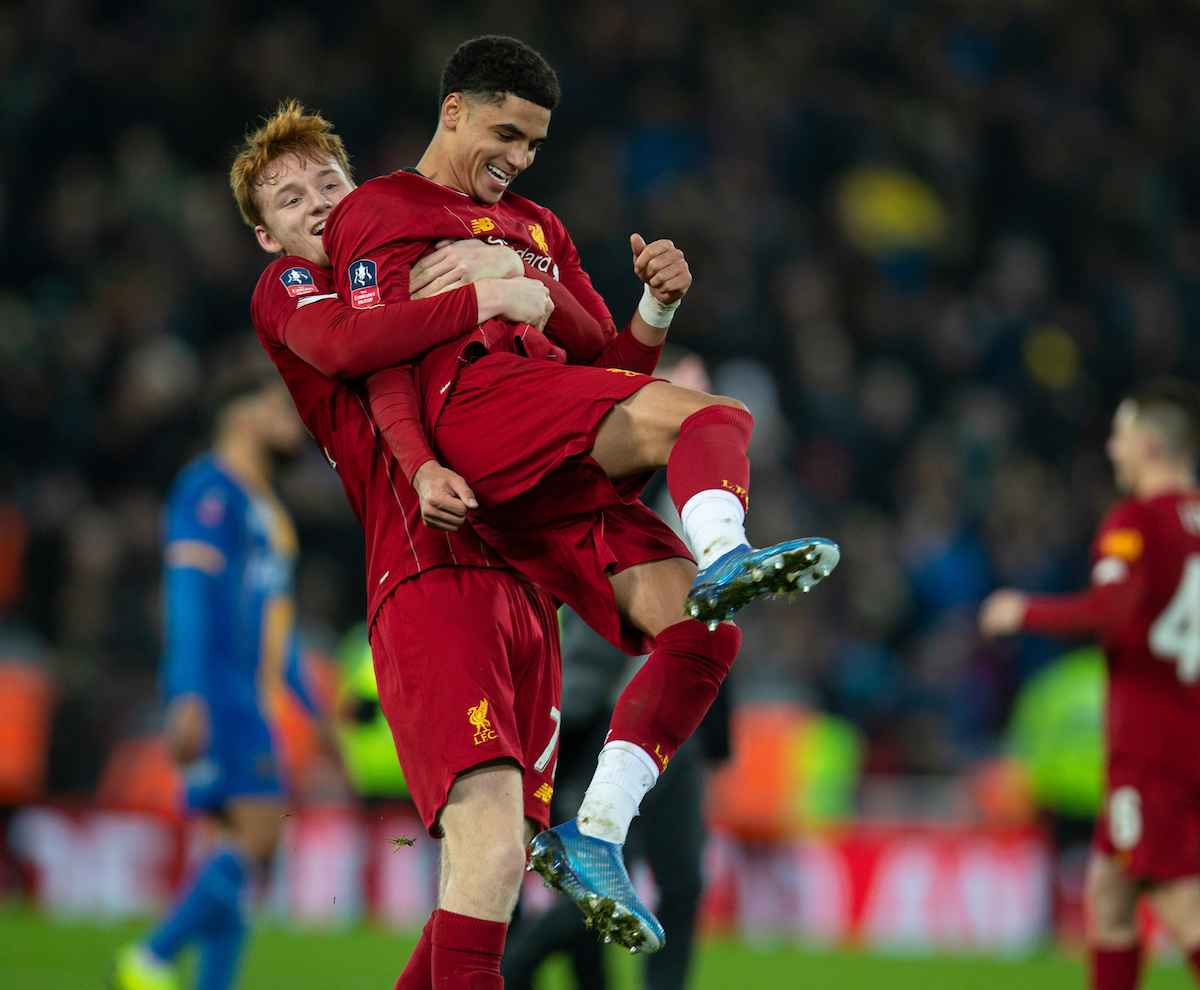 Lewis: 8
Did well again, good in the tackle, good on the ball. Like all of them really, did themselves proud.
Cain: 8
Reckon his auld fella is called Adam and is a massive Springsteen fan there, you know. Soz. I thought he was really good. Kept the ball and fucking battled all night.
The Chirifella: 8
GIbbo reckons he has the intellectual property rights to The Chirifella name there, you know. I'm not sure, you know. I think I was the first to write it down, you know. Would be a real shame if he got off in the summer, seen as though he is the best centre mid in fucking Europe.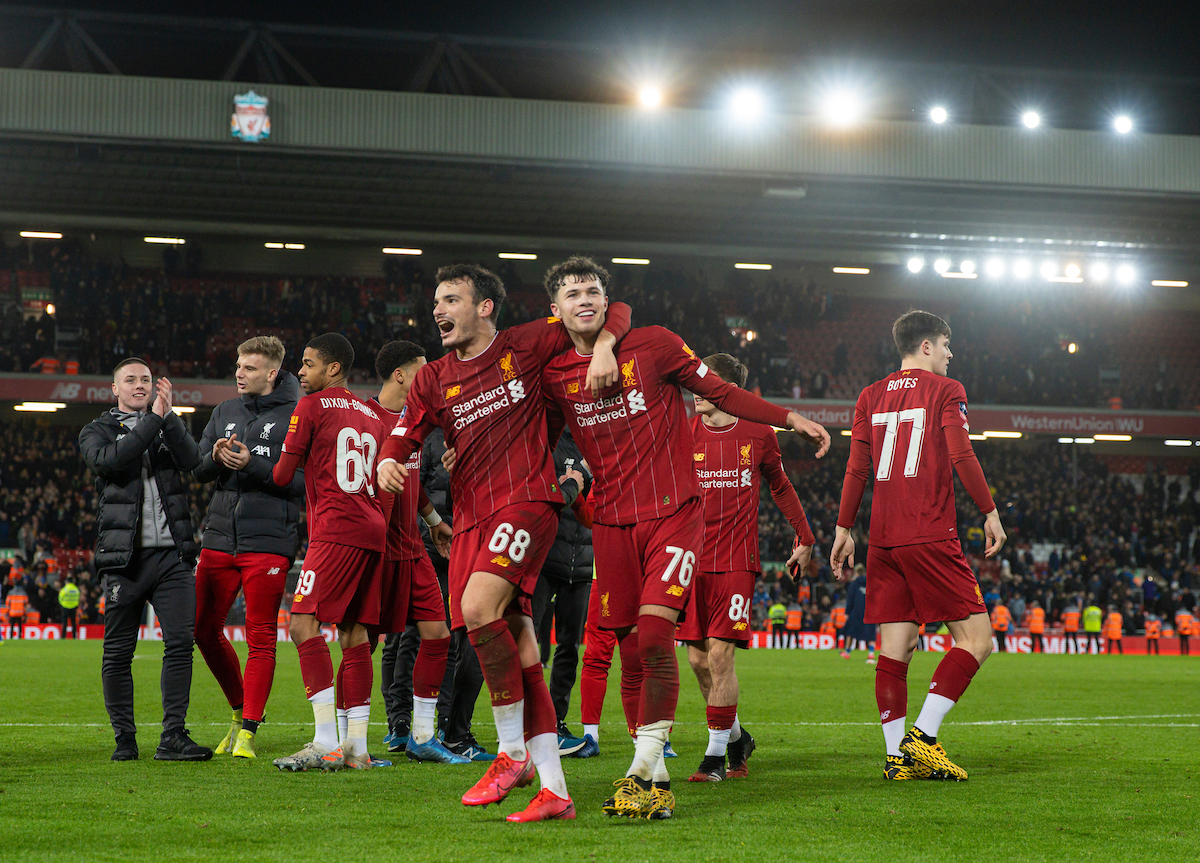 Clarkson: 8
Like his midfield mates, was pretty impressive. Great pressing, closing, composure on the ball.
Elliott: 9
Was made up he overhit that one in the end, as it unintentionally hit his hand and would have been a VAR diddle. That little scoop left-foot dink of a pass he plays is lovely to watch. Uses the ball so well.
Jones: 9
Like Williams, looks destined for the first team, pretty fucking soon. So much swagger and belief on the ball, but also a constant threat, while keeping it where necessary. Absolute Scouser.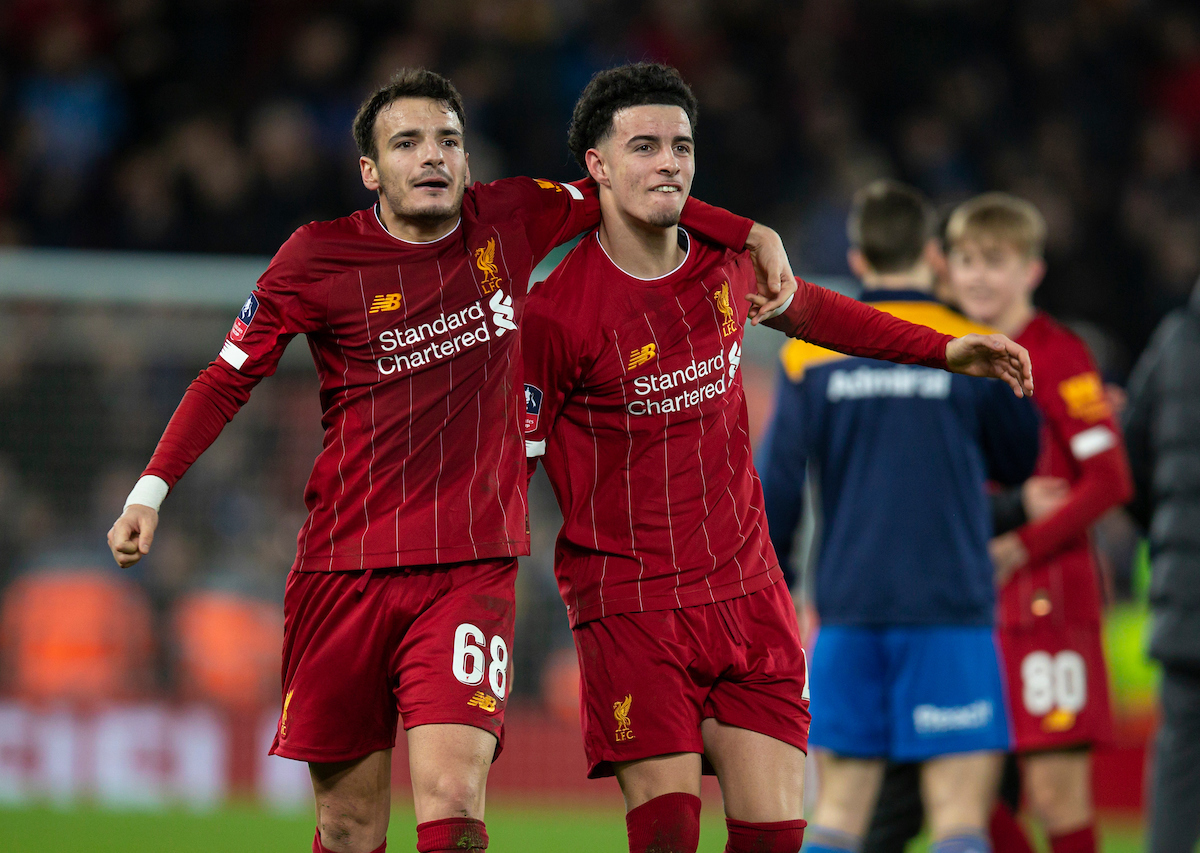 Millar: 8
Worked his absolute bollocks off, at times on his own, running channels, closing down all night long. A little bit lightweight but that's because he is still fucking growing, lad.
SUBS
Some come on. One of them, Hardy, was one of them kids in school who was shaving in second year. Used it really well when he come on.
Some more come on.
"I'm so proud of them all, what a night." ❤️

All of our immediate post-match reaction will be available FOR FREE tonight

📱 Get involved here 👉 https://t.co/v3xcfwjq7C pic.twitter.com/wbPuWFejES

— The Anfield Wrap (@TheAnfieldWrap) February 4, 2020
Recent Posts:
[rpfc_recent_posts_from_category meta="true"]
Pics: David Rawcliffe-Propaganda Photo
Like The Anfield Wrap on Facebook