IT'S funny, but Manchester United coming to ours just doesn't really feel like 'a derby' anymore.
Maybe it's just me, but that sense of it all being 'personal' is fading. The Liverpool-Man United rivalry never had that feuding-family flavour to it that Liverpool-Everton had and still retains, and was born more of a decade's long technical quarrel over who was English football's greatest team and club.
When we were imperious in the '70s and into the '80s, there was something of a dialling down of the rivalry then too. United were, in the main, just too lightweight and no threat to us. The rivalry with Nottingham Forest was fiercer.
Spikier United managers like Ron Atkinson and then Alex Ferguson began to fan the flames of renewed animosity between the clubs to serve their own ends, but (until Ferguson's success in the '90s) Liverpool people were largely unconvinced. Don't get me wrong, the needle was there, it's just that we didn't define ourselves by each other in the way that us and The Blues did.
The two decades from 1992 onwards were very different. We played second fiddle to Ferguson's all-conquering teams and our games with them became wars masquerading as sports events. It's strange that even though roles were reversed – the same juxtaposition that had existed previously, one on top, the other way behind – the enmity between the clubs peaked.
We were rarely a direct threat to Ferguson's sides but taking us down became the highlights of their calendar, behind trophy gathering. We were counter obsessed by their relentless success, and while we might be loathe to admit it beating them was often season defining.
Personally, I could only rarely bring myself to do the Old Trafford away because the hostility in that ground was intoxicating in a way that went far beyond the realms of the usual fan-to-fan cut and thrust. I'm sure there are many on the United side who may recall Anfield in the same way.
The pendulum has swung again. Just how far remains to be seen, but United have been in a new wilderness for six seasons now, and Liverpool have been resurgent for going on three.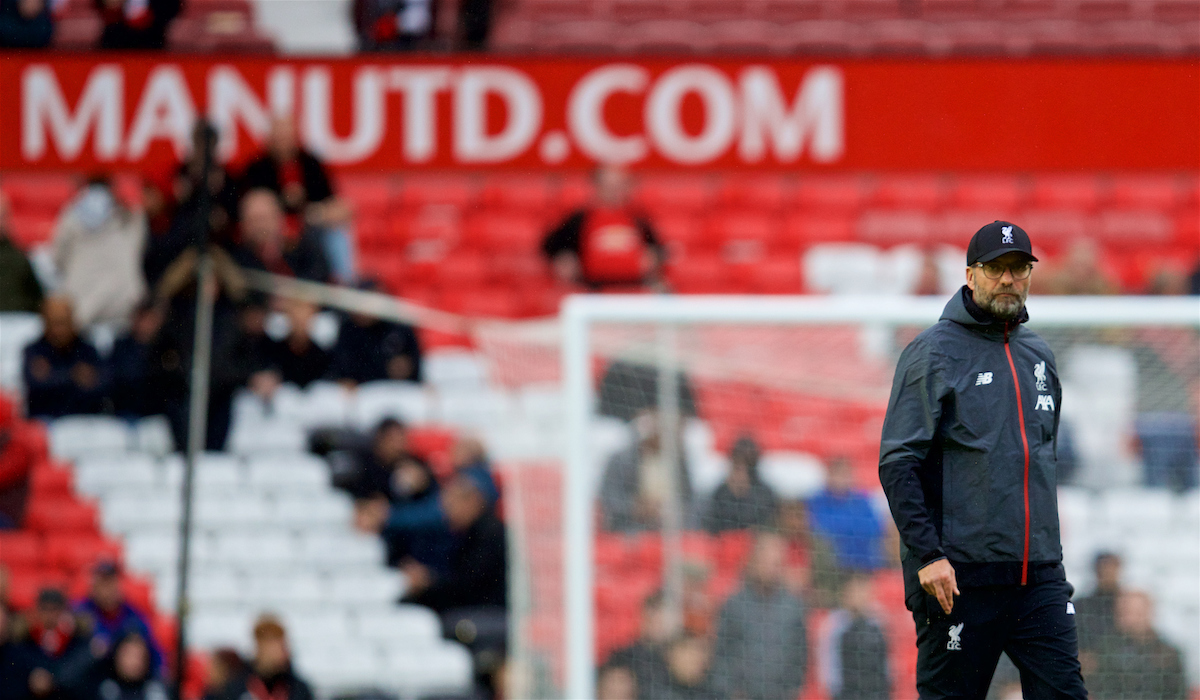 As Liverpool close on the league, the first in 30 years, you're not hearing Reds talk about it within the context of chasing down United's 20-title haul. None are saying that the potential of Liverpool's 'number 19', draws United in. Simply put, United, as per the '70s and '80s, are 'not our business'.
Liverpool want to be the best again. The past is the past and the time for reflecting on the present's relationship with the past will only come about once the present has passed – if that makes sense.
Much of the wider mindset has come from the manager. I don't know if anyone has ever asked him if he'd like to become the Liverpool boss to overhaul United's 20 league titles, but we can be confident of what he would say if questioned…
"I am only interested in winning the next match, never mind looking three trophies and years down a line."
It is this mentality that makes the possibility of Liverpool eclipsing previous records an achievable aim.
Why did United seem to care more about a non-threatening Liverpool back in the day, more than a now renewed and mighty Liverpool feel about a mediocre Manchester United now? I think the answer lies with the respective leaders of the clubs.
Ferguson spoke early on to his main men about his desire to "knock Liverpool off their fucking perch". He made dethroning Liverpool the focal point of the club's purpose. That infamous 'perch' quote was nothing short of a mission statement, and fair play to them all, it fucking worked.
Klopp, like Ferguson, wants his team to retain an anger, a burning sense of desire and injustice. Klopp's approach is more abstract than Ferguson's, though. He tells his lads things like "they've got our three points, lets get them back". It's smart, because it constantly puts the players in the here and now, stops them looking ahead or behind and becoming distracted.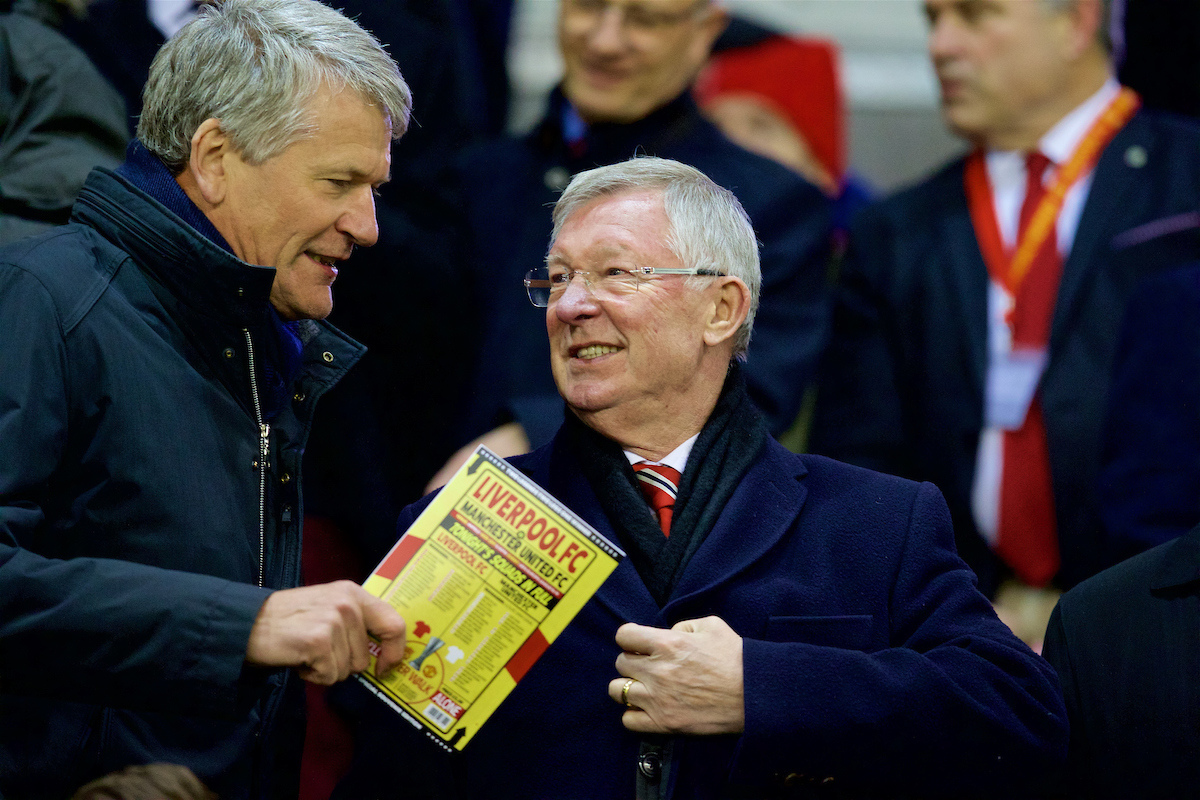 Ferguson used Liverpool as his yardstick, because they were the yardstick. Liverpool, in 1986, when Ferguson arrived at Old Trafford, had far more leagues and European Cups than United. Liverpool were unequivocally the most successful team in the history of the English game.
Jürgen Klopp has been in England nearly five years. He's never directly known a successful Man United. They aren't the barometer. Not in any sense. If you match United and Liverpool's trophy hauls up today, there's little in it. They've won two more league titles than us, but we've won three more European Cups than them.
Klopp's challenge is not to make Liverpool better than Manchester United, or to consign their successes to history. Klopp, if we're honest, will succeed because he has conquered our past, removed the burden of the decades.
The current crop clearly do not feel the weight of the shirt hangs heavy on them. They are history makers with no energy or appetite for looking backwards. The Manchester United rivalry is not an obsession for modern Reds. Manchester United belong to Liverpool's past and they have no part to play in our future.
Ole Gunnar Solksjaer's 'transitional' Manchester United will rock up to Anfield this weekend more in hope than expectation. Ole knew the rivalry at its bitterest and may try to use memories of it to stir his players. The current United crop are clearly as burdened by the shirt as the Liverpool counterparts Ole faced were.
United's best approach would be to try and summon up the muscle memory of their December win over Manchester City. They were at once patient, hungry and aggressive. They utilised pace and power to hurt City on the counter. It was their best performance in recent seasons.
United have good players, just not enough of them. Their best two are arguably their forwards, Rashford and Martial, but Liverpool will limit their time near a football to a bare minimum.
Solksjaer knows that his team will be dominated at Anfield just as Jose Mourinho and Tottenham knew that they would spend much of the game in their own half last weekend. There's knowing and planning for this inevitability, and then there's working out how it happens in a way that you don't end up well beaten.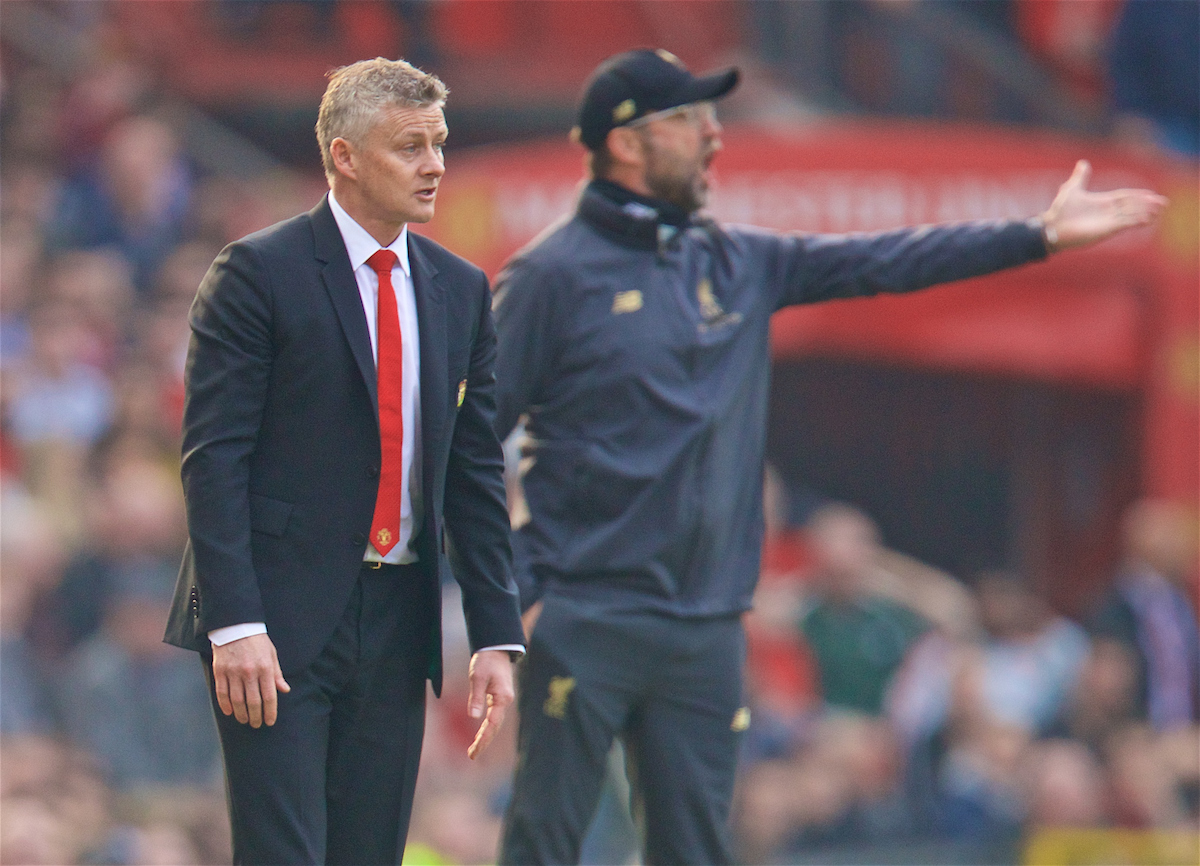 Second guessing Ole's team isn't easy as he's flipped and rotated in a seemingly endless quest to find a blend. We can know that he'll probably set his side up in a nominal 4-2-3-1 formation, but he's going to need to select personnel within that who can defend a bit in the front positions.
His go-to 'attacking defender' has often been Lingard. He's missed United's last two games through illness, but I'd expect him to play at Anfield. In centre mid, McTominay's out, which is good news, and it seems likely that Matic and Fred will attempt to shield their back four. Further forward, I'm going to guess that Lingard is joined by Daniel James as well as Rashford and Martial.
Liverpool will again have had the luxury of a full week to both rest up, but also put in valuable time on the training ground. While United navigated an FA Cup replay with Wolves in midweek, The Reds had eyes only for them. Unless injury or illness intervene, I can only see Jürgen Klopp sticking with the same 11 that won at Spurs last Saturday.
A 4.30pm kick off in a floodlit Anfield on Sunday is a prospect to savour. Liverpool no longer need to approach fixtures like this one with any sense of trepidation. The 'derby' factor is an irrelevance, and the opposition a fading myth of a team that should be grateful to share a stage with this Liverpool.
It's Premier league football though, and the 'no easy game' cliche still abides. It is in respecting this that The Reds have got this far. They are always ready, to win 1-0 or 4-0, and will treat either outcome with equal nonchalance.
Manchester United have enough about them to pull off a shock, let's face it, somebody has to one day. All comers know this, though; to beat this Liverpool you will need to be simultaneously very good and very lucky. And it's tough to be both.
Predicted 11: Alisson; Trent, Gomez, van Dijk, Robertson; Henderson, Chamberlain, Wijnaldum; Salah, Firmino, Mane
Recent Posts:
[rpfc_recent_posts_from_category meta="true"]
Pics: David Rawcliffe-Propaganda Photo
Like The Anfield Wrap on Facebook