THIS season is blowing minds. It's revealing that Liverpool fans may have trust issues.
I listened to caller after caller on the radio post Sheffield United on Thursday. People from everywhere, all Reds, all wouldn't say definitively that Liverpool have won this league. The show hosts all but pleading, asking for the facts to be faced square on. Fans were having none of it.
I thought about this later. I think the consensus isn't about deflection, or superstition, or even overcaution. I think it's about the connection between supporter and team. It's about us. We feel we're in this together. We don't expect Andy Robertson to say "yeah, it's over, we've won this". If we don't expect him to say it, why would we say it?
We, the fans, the people, are indivisible from the team. It can't be overstated, really. This is what 'they' don't understand. I rotated between phone ins, dial twitching, and each pundit tried to draw a Liverpool fan into a complacency that is anathema to our cause.
All grades of red get the key premises of being a Liverpool fan. We are not vainglorious, we are not self entitled, we are not cunts. 'They' may project that onto us but it doesn't make it so.
Of course we think and know that Liverpool are magnificent. Obviously we want Liverpool to win everything and are convinced that they are good enough to do so. None will count a single chicken, though. No one will set off a firework until the race is run and the deed is done. Winning is in our DNA, and 30 years of denial has not evolved that out. Winners don't stop. Winners are relentless.
Hello. Hello. Blue and white shite.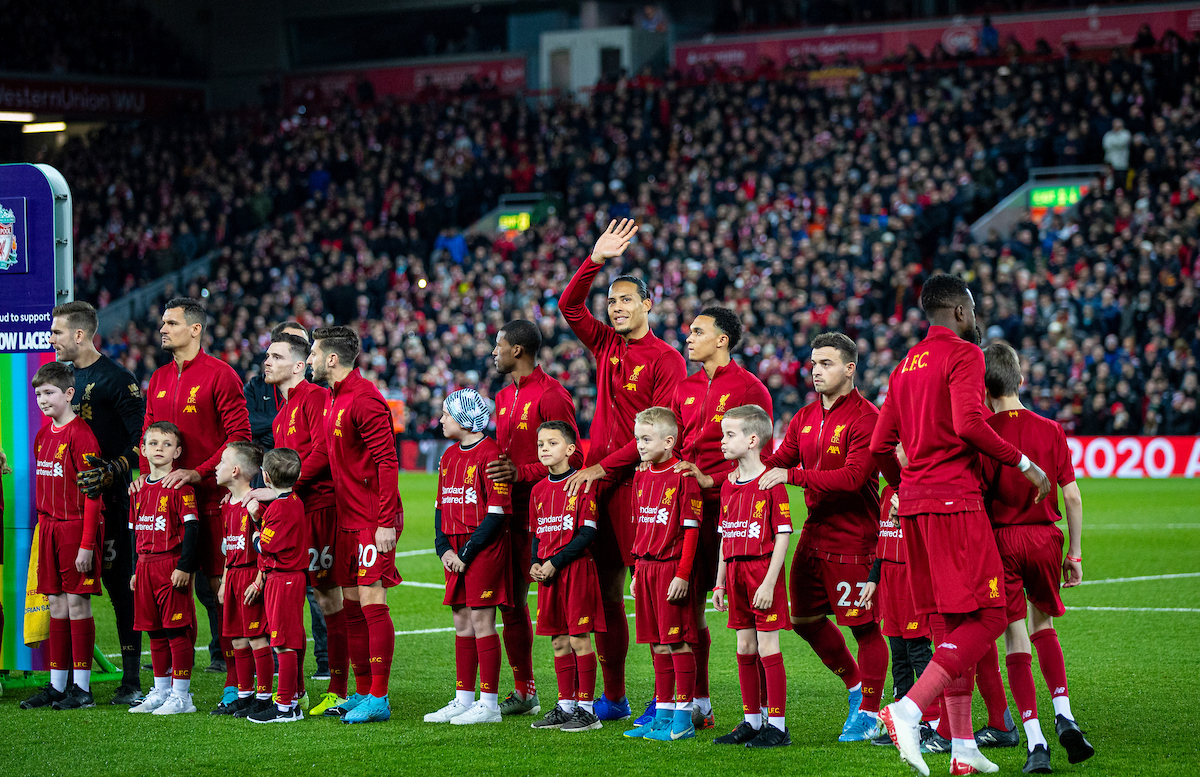 Everton haven't been winners for a long, long time. I don't really care about that. They are like us and yet a million miles away from getting us.
It's weird because we share the same turf. We talk collectively about the uniqueness of the city's spirit and personality, and yet in football it's so polarised. We each see each other as establishment or rebel, as wool or Scouse, as Irish or nationalist, as hardcore or lightweight, as good or evil, as red or blue.
One thing that binds, though, is a dignity that feels uniquely Liverpudlian. If Everton were where we are now, they would be similarly keeping their own counsel.
The Blues will view Sunday as a near-unique opportunity. Liverpool's important work over the festive period is done. The Reds spanned the New Year by winning the Club World Cup and winning three tough league games. While Everton don't exactly represent light relief, the outcome on Sunday will not be season-defining for the home side.
Evertonians will be nudging their new super-coach Carlo Ancelotti and reminding him that this is their moment, their main chance to get one over a distracted enemy. Ancelotti will be the coolest Blue in the room, though. He didn't get to be the behemoth of the game that he is by getting overexcitable.
Everton's form was improving markedly until checked by Man City on New Year's Day. Injuries are mounting for Reds and Blues, and both lineups will contain compromises of sorts. Ancelotti's will be his strongest, though. This is Everton's game of the season and no risks can be taken.
Jürgen Klopp must weigh up wanting to not yield to the arch enemy, with his team's need for rest and respite after a testing period. Much of the Liverpool manager's hand will be forced by injury. The back five could remain unchanged but there's a possibility that James Milner deputises for Andy Robertson at left back.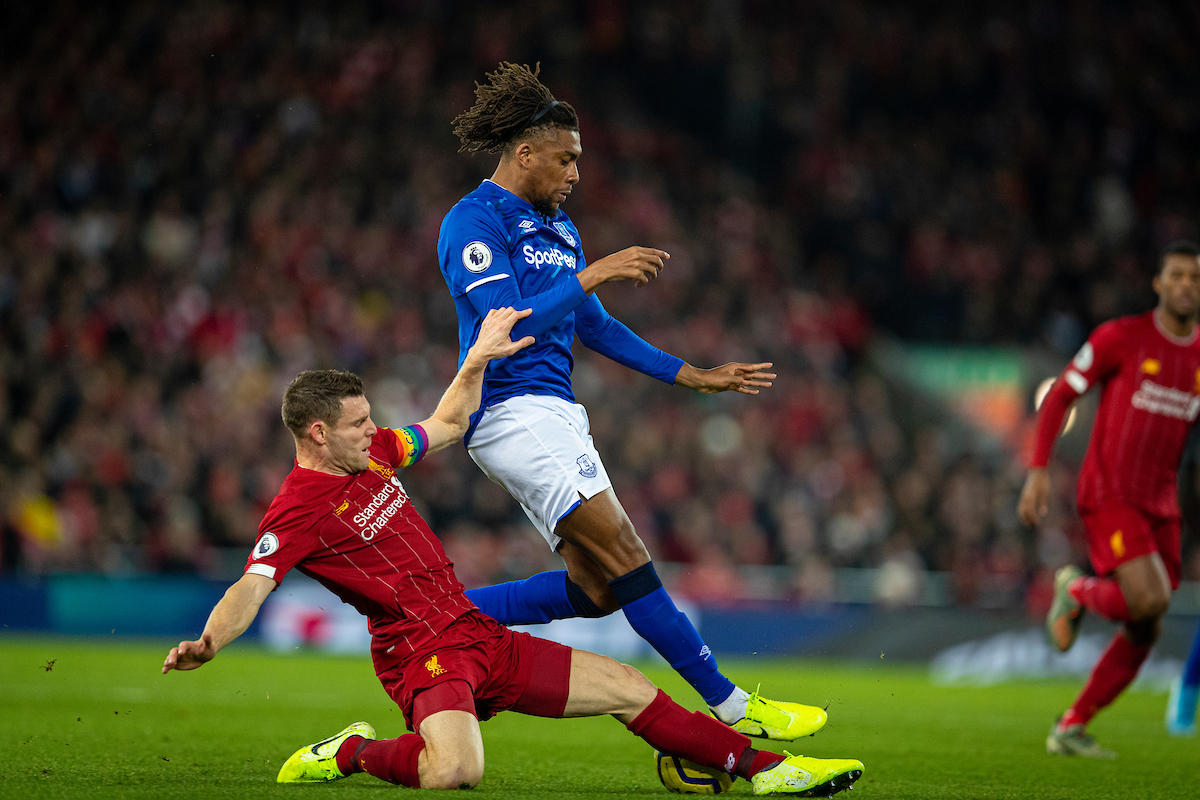 Klopp wasn't shy to face up to The Blues with his squad men during December's meeting and he may be similarly bold again. Derby doyen, Divock Origi, will all but demand a start and he is very likely to be appeased. The manager has also hinted that new signing Takumi Minamino could feature which would mean at least two of the normal front three being rested.
In midfield, the injured Keita, Chamberlain and Fabinho are not options. Stalwarts Henderson and Wijnaldum might play because there are no fit deputies. Adam Lallana is likely to be invited to support them as the most attacking arm of a central three.
There is a parallel universe where Jürgen Klopp is bolder still and backs his 'League Cup team' to be good enough to give Everton a game.
If that's the manager's path then we'd see Adrian in goal, perhaps Neco Williams in for Trent and the recalled loanee, Nat Phillips replacing either van Dijk or Gomez. In this scenario, Curtis Jones and 16-year-old Harvey Elliott might also expect starts.
Liverpool are winning admirers by the week, and the less-involved players are getting hungrier and hungrier to join the party. I expect The Reds to be bold and front footed, and to have the confidence, spirit and quality to give ever-anxious Everton a game, whatever side is fielded.
We all know everything is possible now, even if we aren't ready yet to shout it from the rooftops.
Predicted 11: Adrian; Williams, Gomez, van Dijk, Milner; Henderson, Jones, Lallana; Elliott, Origi, Minamino
Recent Posts:
[rpfc_recent_posts_from_category meta="true"]
Pics: David Rawcliffe-Propaganda Photo
Like The Anfield Wrap on Facebook