THIS is unchartered territory.
The vagaries of our fixture schedule have all but forced Jürgen Klopp into sacrificing a competition. The League Cup is the fall guy.
To be fair, it's used to being the ugly duckling trophy in which the big clubs field their squad players. This year, Liverpool have got one step further in terms of disrespecting this once not great, but valued competition.
By prioritising the imminent club World Cup competition in Qatar, and electing to field a youth side – not just the squad players and a few promising kids – against Premier League Aston Villa, Liverpool have all but conceded the tie. It is an almost unprecedented call by a major club in a major competition, in this country.
Virtually all fans understand and back the move. There was no choice but to sacrifice one of the two trophies on offer this week. The overly familiar and tired League Cup is probably coveted less by the majority of Liverpool supporters than the exoticness of the task facing The Reds in Qatar.
One of these tournaments is dubbing itself a 'world' prize, while the other has the prefix 'Carabao' attached to it.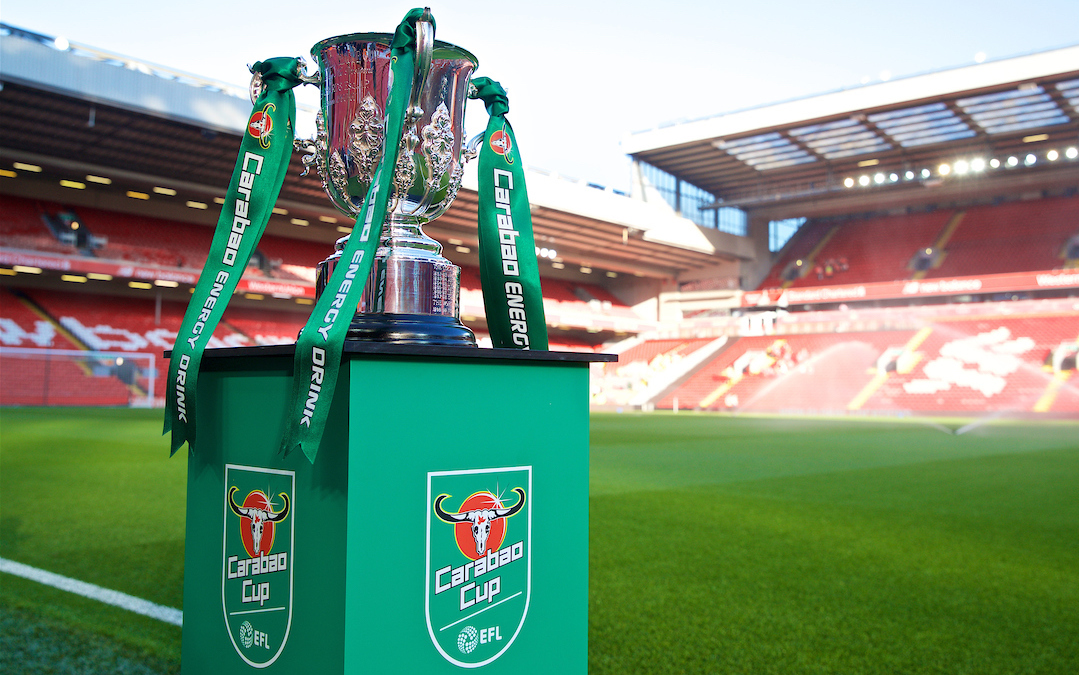 A cynic (me) might note that, in reality, the two game 'World Club Championship', which Liverpool and others have declined to enter in the past, has all the global cache of the misnomered baseball 'World Series' or the 'Miss World' beauty pageant.
Folks, it's not the actual best thing in the world just because it uses the word 'world' in its billing.
The humble League Cup looms large in Liverpool's history. Its prestige remains sufficient for Manchester City to include it as an essential component of their heralded 'domestic treble' last season.
The League Cup may be the crappest of tournaments for a big club to win but it remains just that, an actual tournament. The WCC doesn't suddenly become one just because it now features an extra fixture. Previously a one-match exhibition game, it has in recent years added a near formality 'semi-final' element.
But heck, I'd like to win both the League Cup and WCC. On balance, I'm on board with letting the League Cup go at its quarter-final stage. Had this Qatar game-and-a-half clashed with a Wembley League Cup final then I think many thoughts on the week's dilemma may be a touch different.
We are where we are. I'm offering up a silent prayer to the god of footballing miracles to provide the bunch of Red rookies, that will take on a team of men on Tuesday night their equivalent of the senior side's 'miracle against Barcelona' moment.
Jürgen Klopp, I suspect, would prefer honourable defeat to hugely unlikely victory. He has all but ceded the Villa tie, not solely because of the fixture clash but also to avert the possibility of a future set of selection dilemmas should Liverpool do the impossible and reach the semi finals of the League Cup.
It is one thing asking fans to buy in to sacrificing a quarter final against Aston Villa, it's another to ask people not to want to take a semi against Man City or Everton seriously. In short, Kloppo wants us out of the competition now and with the minimum fuss.
His judgement is right, of course. I'm a fan and I'm programmed to think differently, however. I'll watch the young Reds take on Villa and want to see Harvey Elliott and Rhian Brewster both score and have the game of their lives.
Fans are romantics, hard wired to want red shirts to win, whatever the consequences.
Into these, baby Reds.
Predicted 11: Kelleher; Not Sure, Hoever, Van den Berg, Larouci; Chirivella, Don't Know, Nope; Harvey Elliott, No, Brewster
Recent Posts:
[rpfc_recent_posts_from_category meta="true"]
Pics: David Rawcliffe-Propaganda Photo
Like The Anfield Wrap on Facebook