FOR an optimist, I can't half talk myself into some negative mindsets.
We're eight points clear at the top of the league with bookies close to closing bets on us for the league. We are beating every thing that moves, and yet Salzburg away terrifies me.
Perhaps it's part of the optimist's mindset that preparations are made for disappointments. No one around me seems ready for the ramifications of defeat in Austria this week. No one thinks the worst will happen. They're likelier right than wrong, but a defeat and elimination for Liverpool would not represent a freakish outcome. The odds of it happening are, going by the betting, around 25 per cent.
What would an early exit from the Champions league mean to Liverpool and its faithful? In a practical sense it would free us up to concentrate on our title tilt. All resources could be allocated towards bringing number 19 home. The Reds overworked squad would enjoy a very leisurely fixture schedule from January till May. It might even change perspectives on the domestic cups.
I feel we may be chucking the League Cup under a bus too lightly. If, IF, Salzburg do their worst, we may find ourselves scratching our heads on Wednesday morning, realising that chasing down Manchester City's domestic treble may not be a terrible idea. If that idea dawns then what of the World Club cup dates in Qatar, later in the month? Would we like to finish the season as possible double winners with a WCC too or emulators of City's treble?
These are of course very 'first-world' problems to have. We should be so lucky as to worry about how many trophies we may bag this season. There surely are few Reds alive who wouldn't just sign off on the Premier League trophy, and that alone, right fucking now. I might not be part of this consensus, I confess.
This Liverpool could be the greatest Liverpool side of all time, maybe one of the best teams of all time, and I really want to find out if this is true. Winning both the league and European Cup would be the verification.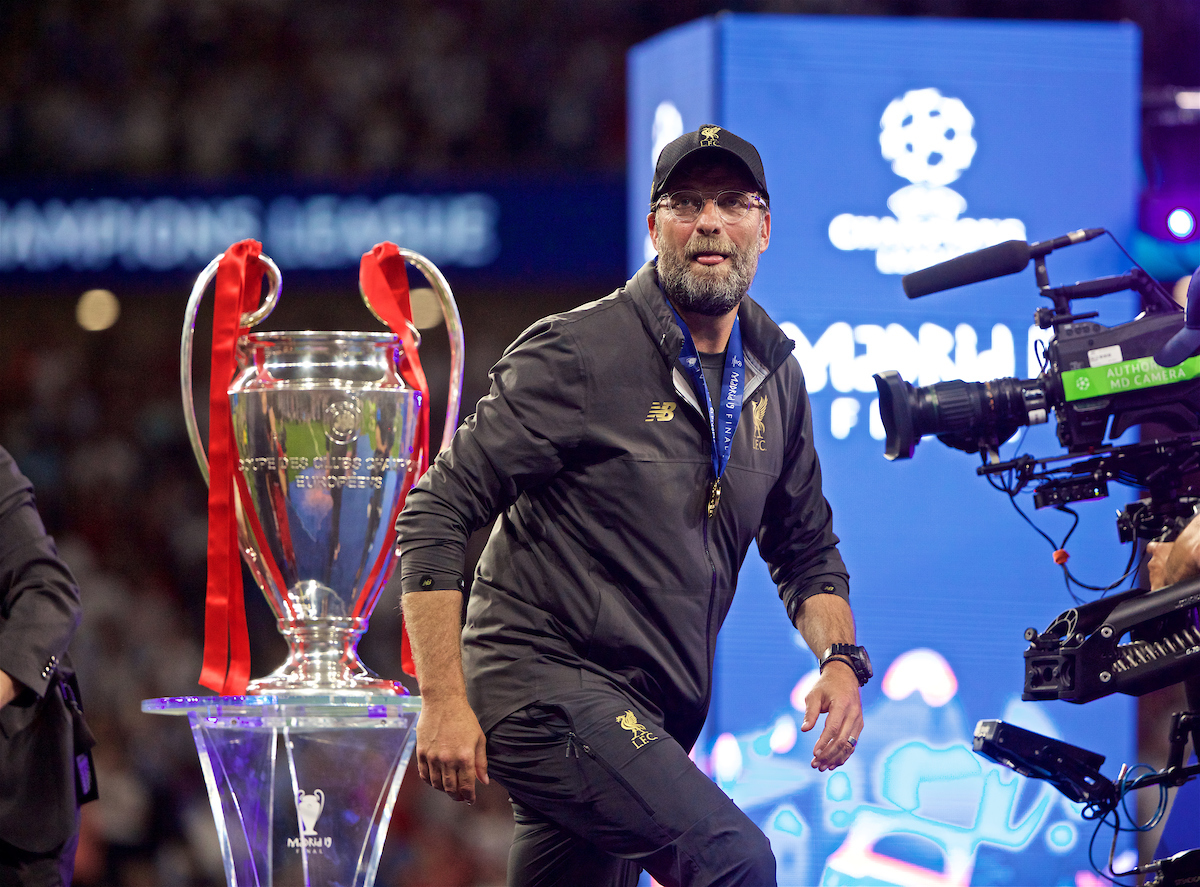 I worry that going out of the Champions league at this group stage may be something of a psychological hammer blow. It would be a major test for Klopp to lift a team that has come to identify itself by its success on the European stage.
I don't want these Reds closing in on our title dream tinged with regrets and a feeling that they had fallen short when matched up against their continental peers. In the knockout phases, the season is nearly done, and defeat can be dusted off, but at this preliminary juncture there's an ignominy about not getting through, a sense of humiliation that we don't want this mighty team to experience. If ever a group didn't deserve that, it is these lads.
Salzburg are a wild team and that is what heightens the anxiety. They showcased all their fabled attributes and deficiencies at Anfield in November. They were crushed by a Liverpool steamroller for half an hour, but had the character and quality to pull themselves back down from a 3-0 deficit to parity. Only Mo Salah's second-half strike at The Kop end served to get The Reds over the line to the three points.
In their last six outings, Salzburg have drawn three and won three. They aren't quite as all conquering as they were domestically, but they continue to pull up trees in Europe. They held Napoli at home and thrashed Genk away. Liverpool is now a shit or bust game for them, where only victory will suffice.
Given Liverpool's pedigree and ruthlessness on the counter, do the Austrians risk completely taking the game to The Reds, with all the attendant risks, or do they plot to stay in the game for an hour and then seek to exploit inevitable nerves in the final 30 minutes? Attack first, think later, is more in Salzburg's DNA than containment, but they did have the street smarts to keep Napoli at bay so they should not be underestimated tactically.
Jürgen Klopp's challenge will be to focus his team on winning a football match, to play a game not an occasion. Liverpool are experienced and brilliant tightrope walkers. Liverpool don't look down.
The proximity of fixtures that are tumbling upon each with a relentlessness that won't ease until the jaunt to Qatar, is forcing the manager to profoundly rotate his squad. Klopp changed half a dozen for Everton last Wednesday and shifted another seven in and out for the game at Bournemouth. There is no reason to think he wont do the same degree of pruning and refreshing again.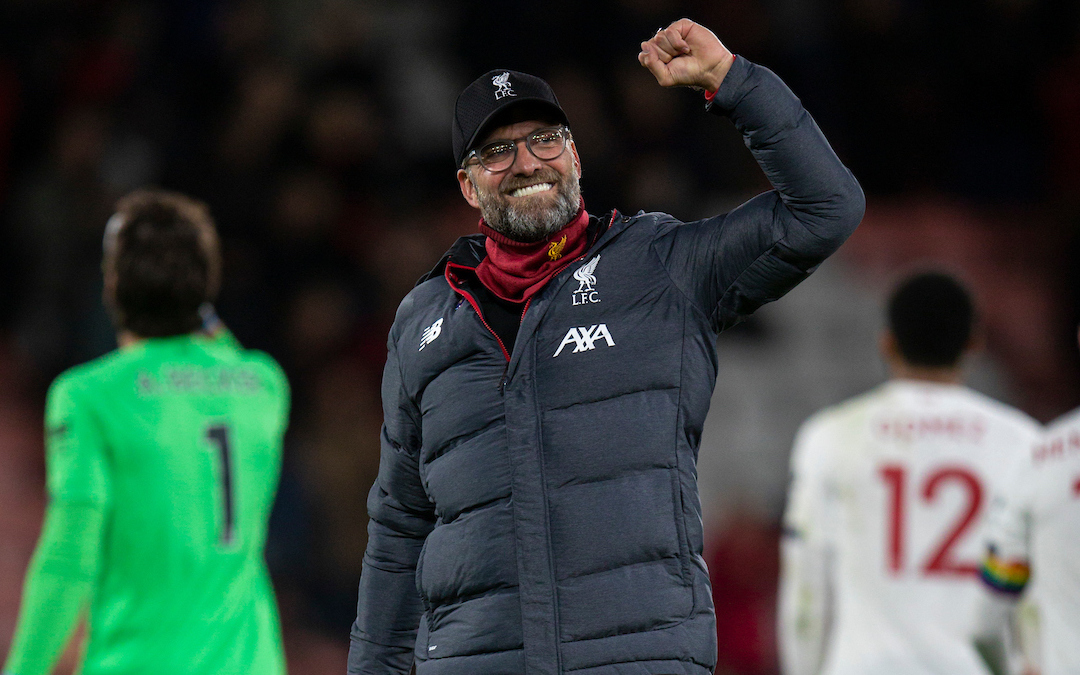 Those rested or not starting at Dean Court look inevitable picks for Tuesday night. In, therefore, come Trent Alexander-Arnold, Gini Wijnaldum (fitness permitting) and Sadio Mane. Klopp also hinted that Divock Origi was being being held back for the Champions League, which suggests that it may be Firmino's turn to be benched.
At the back, Lovren's injury, regardless of degree, will mean Joe Gomez partners van Dijk in central defence. James Milner's role will be an interesting one. He could deputise at left back for the overplayed Robertson, he could help form a robust midfield with Henderson and Wijnaldum, or he could be rested, having started the previous two matches.
My best guess is that Milner won't start and that Naby Keita will have an opportunity to continue his rehabilitation despite the fact that, while still rusty, he is something of a risk from a defensive perspective. Keita improved after a nervy first half hour at Bournemouth was possibly Liverpool's best player for the last 60 minutes of the game.
I'm calmer now. Getting all of this down on paper has been therapy, of sorts. I'm on a journey towards learning to trust a Liverpool team. Salzburg away on Tuesday night is probably more of a test for me than it will be for Jürgen's marauders.
Let's lay waste to these, Reds, and know then that all of the foundations are finally laid for what we more than hope can be the season of our life times.
Predicted 11: Alisson; Trent, Gomez, van Dijk, Robertson; Wijnaldum, Keita, Henderson; Salah, Origi, Mane
"Naby Keita absolutely ran the show.

"He's shown before that he's an intelligent player, that he can link things, that he can score goals… he just needs some consistency."

🗣 Listen to this week's FREE Anfield Wrap show, in full, here 👉 https://t.co/2ThWBCoqi1 pic.twitter.com/svJKCaeORc

— The Anfield Wrap (@TheAnfieldWrap) December 9, 2019
Recent Posts:
[rpfc_recent_posts_from_category meta="true"]
Pics: David Rawcliffe-Propaganda Photo
Like The Anfield Wrap on Facebook