THERE was a moment when it was suggested that Liverpool wouldn't even enter this year's World Club Championship.
It would clearly represent a distraction from the main objectives. There will have been pressure from above to make a go of it though, with commercial considerations uppermost.
I imagine Jürgen Klopp soul searched and discussed with his lieutenants the merits of participation. I suspect what swung things was the moment he canvassed his players. Liverpool are a team of nations and what binds them are the prospect of international rather than domestic adventures.
The CWC is an extension of the glory that was Madrid and the lifting of the European Cup last June. It was a party we all wanted to last forever. In a way, its sequel offered up in Qatar this week, however token, is an extension of that celebration.
Loving your team, you learn to persuade yourself that what may have previously seemed trivial is, in the moment, the most important thing in the world. We talk ourselves into shit. It's part of our process.
I've always daydreamed about how I'd feel if Liverpool were shit. I don't mean fifth/sixth in the league, disappointing level crap, I mean relegated to, say, the third tier. That would test loyalties.
I'm a loyalist, though. Red till I die. Nothing can break or dilute my bond. I tell myself I'd support as hard in League Two as I do when we're on top of the world, as we currently are. I think it's important we tell ourselves this. It makes sense of our day to day reality with our team.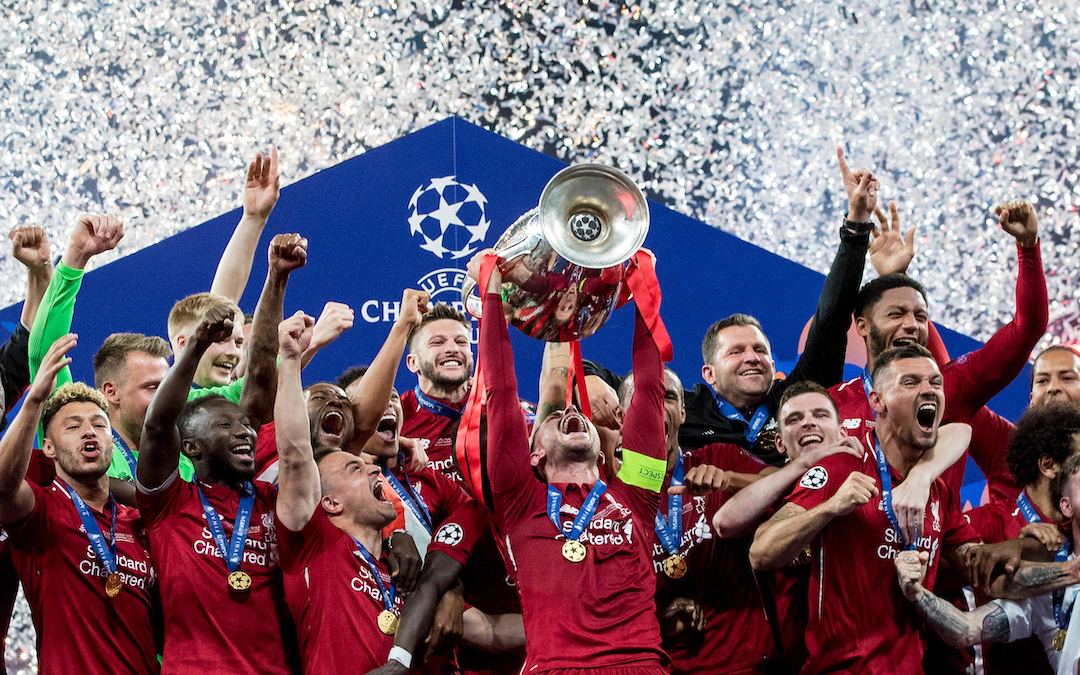 If you celebrate winning the Champions League like it's the greatest day of your life there has to be an important context attached to it. That context is that you love Liverpool and that the love is true and deep and could survive any test. You make a pact in silence that no circumstance would ever divide you.
I'm saying we construct our reality. Our truth this week, is that the CWC is a very important trophy for Liverpool to win. That Liverpool will be aggrandised by securing it and that as a consequence we will be prouder and happier.
It's all illusion but then isn't every step we take with our beloved team? Ours is not to overly reason why lest we spoil our own fun.
I don't know or care to know much about Monterrey until kick off and the engagement that will follow. Hopefully they are mere bit-part players in our story. This is a season so far dripping with the prospect of silver and glory.
Qatar is the last hour of our Madrid on a hot night in June party. Let that night last forever.
Predicted 11: Alisson; Williams, Gomez, van Dijk, Milner; Lallana, Keita, Chamberlain; Shaqiri, Origi, Mane
"Liverpool are 10 points clear, could be World Champions by next week and have a Champions League last-16 tie with Atlético Madrid to look forward to.. we can't take this for granted." 👏

📱 Download our app here and watch today's Talking Reds in full 👉 https://t.co/v3xcfw1OJ2 pic.twitter.com/F5lg9cNpxB

— The Anfield Wrap (@TheAnfieldWrap) December 16, 2019
Recent Posts:
[rpfc_recent_posts_from_category meta="true"]
Pics: David Rawcliffe-Propaganda Photo
Like The Anfield Wrap on Facebook