THE divide has become a chasm.
Where once we nipped and tucked with them, but always emerged top dog, now we are as estranged cousins rather than warring brothers. Everton are not our business and we should not be theirs.
Most of my mates though, just can't let go of The Blues. They still derive as much pleasure from every last Evertonian setback as they ever did. For many Reds, Everton's current trajectory has been as entertaining as Liverpool's. I'm not made that way. I'm all business.
Fretting or getting giddy over the travails of the likes of Everton or Man United is a luxury we should only afford ourselves when the meaningful objectives are not realisable. Now Liverpool have the biggest fish to fry and, personally, I have no time for minnows.
The Blues are relevant this week, however. They bring they insecurities, anger and angst to our door, and we are therefore forced to engage.
I'll confess my lofty heir will dissipate pretty quickly when I ascend those concrete steps and emerge into our floodlit green and red cauldron on Wednesday night. First sight of that baying blue mob and I'll be thrown back to days when getting one over them mattered more than anything.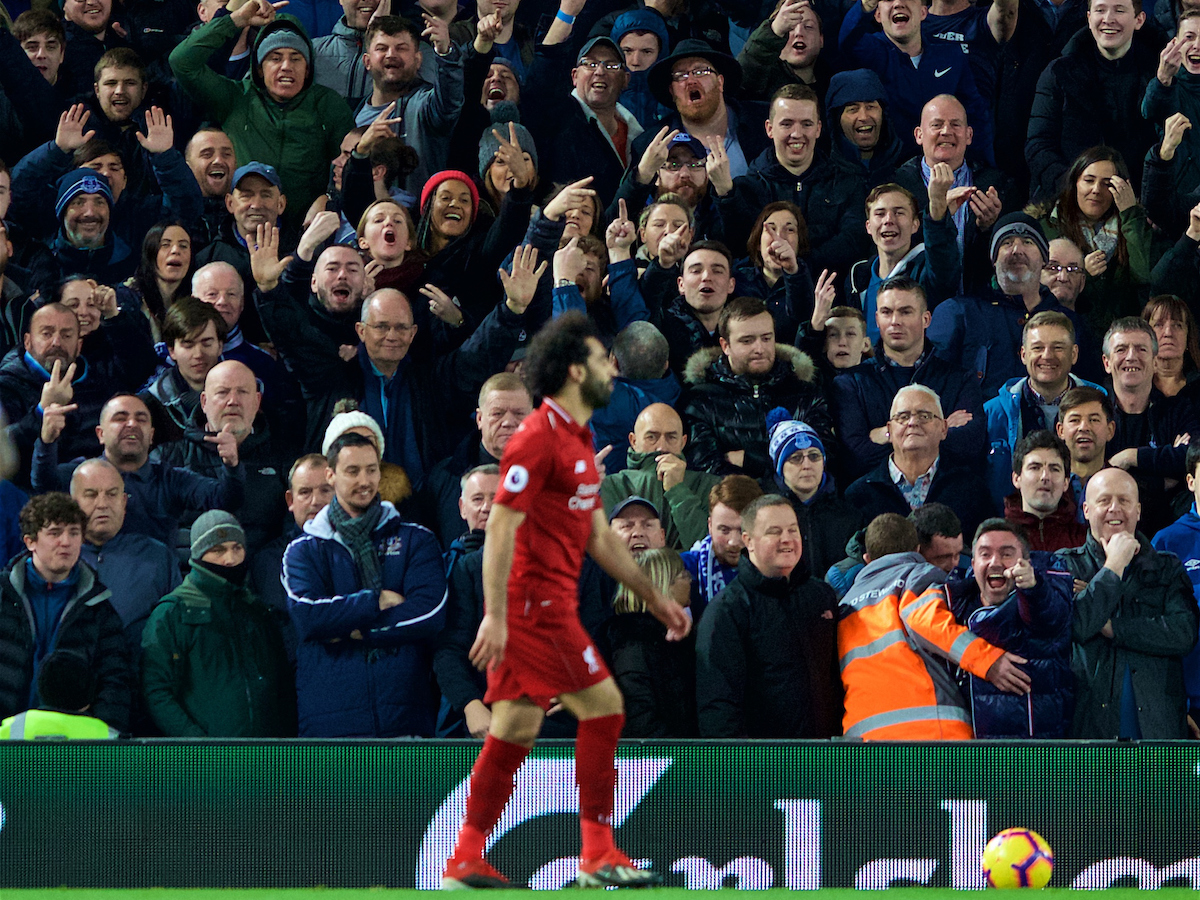 It wasn't pretty at Goodison in March when some of theirs celebrated a 0-0 like a trophy and chanted songs and waved flags in tribute to the only rivalry I've got time for right now – the one with Manchester City.
I don't think Everton will go down this season – they've too many half decent players – but they won't be missed if they do. I'd not be one of those who'd lament the passing of the derby. I hate going to Goodison, and the removal of the derby distraction would only benefit Liverpool Football Club.
Everton's desire for us to fail is possibly the only force in the universe that is greater than ours to succeed. It's not a pretty sight, but fortunately we don't have to look it full in the face too often.
We've all got blue mates in Liverpool and can, in the main, have civilised conversations with them about the game and our respective teams. Online and in grounds though, that Everton-ness surfaces and we are forced to regard them as hated foe rather than family.
Jürgen Klopp has an interesting relationship with the derby. He seemed to have nailed it with good wins in his early phase at the club. In more recent times, the games have been closer affairs and prompted a feeling that perhaps the Liverpool manager shows the neighbours a touch too much respect.
Everton currently sit well below the team we've just beaten, Brighton, and really should be treated with the same controlled disdain, as a minimum. I'd like to see Klopp set Liverpool up, not to match Everton's rage, but to simply throw the kitchen sink at them.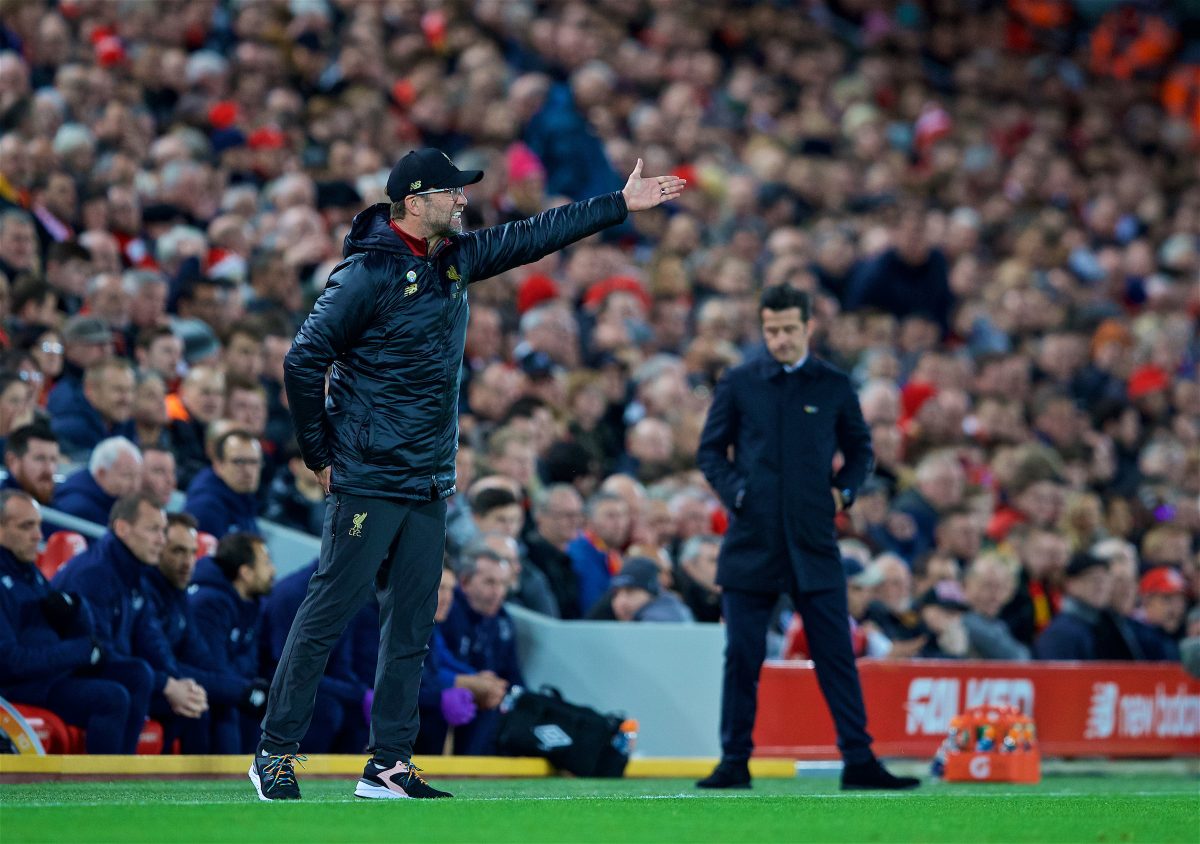 I may be doing Klopp a very much undeserved misservice. He may take an entirely different approach and look to surprise the beleaguered Marco Silva.
There's a case for resting a front-three player given the schedule. I could see Firmino being benched and the manager going with a kind of 4-2-2-2 formation, with Henderson and Wijnaldum anchoring behind an attacking quartet.
Keita and Chamberlain might be tasked with playing between the lines behind the forwards (Mane and Salah) as they did against Genk twice and in the two League Cup games.
My suspicion, though, is that Klopp will go with a battling midfield of Henderson, Wijnaldum and Milner, with our normal front three ahead of them.
It's hard to call which way he'll turn. I hope he'll prepare his team to dominate as they were able to do from the off against the likes of Arsenal, Spurs and Leicester at Anfield. Pedal to the metal, feet to the throat from the off Reds.
These wouldn't piss on us if we were on fire, so let's show them our fury.
Predicted 11: Adrian; Trent, Lovren, van Dijk, Robertson; Henderson, Wijnaldum, Milner; Salah, Firmino, Mane
"The Origi derby last season might never be topped, but beating them while we're eight points clear and bulleting their manager would be nice." 👏

📱 Download our app here and watch today's Talking Reds in full 👉 https://t.co/v3xcfwjq7C pic.twitter.com/EbiSaNnSis

— The Anfield Wrap (@TheAnfieldWrap) December 2, 2019
Recent Posts:
[rpfc_recent_posts_from_category meta="true"]
Pics: David Rawcliffe-Propaganda Photo
Like The Anfield Wrap on Facebook