I'VE always measured out my happiness in points and prizes.
If Liverpool are winning, things are generally more right than wrong with the world.
As a young man I supported a Liverpool team that broadly kept us in a state of perpetual bliss, but down the decades reality has bitten hard.
Post 1990, I've never entirely trusted a Liverpool side. I've loved them all, with every fibre of my being, but I haven't allowed myself to ever entirely yield. They've always left us sleeping with one eye open.
We could be a on three or four-game winning streak, in any given season. I'd try to enjoy it while it lasted. With Liverpool, you could always see into the future.
I'd always depress myself with the inevitable projection that in just a week or three, we'd lose or draw a game and I'd be trudging out of a ground somewhere hating football and my life. The reverse, also applied.
However dark things became, I'd be consoled by the knowledge that some time, as surely as day follows night, that there would come a day where I'd again be running down some stadium concourse, jumping and punching the air like a daft kid.
My fantastic and wise, late father in law was fond of a quote, I can't recall where from – a 1940s American movie, I'll guess – which served to correct virtually all anxieties and senses of foreboding.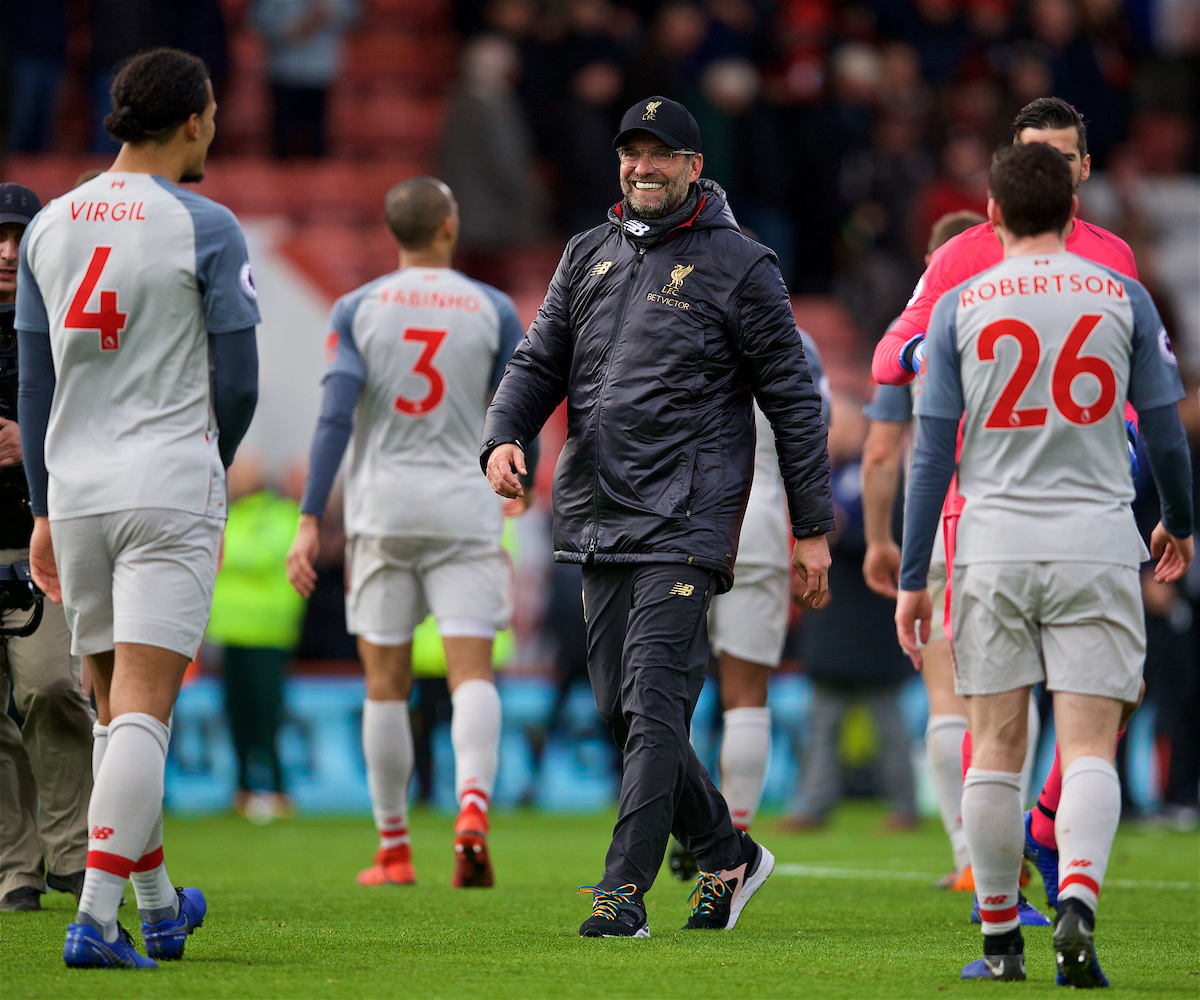 "Don't worry kid… Something will always turn up."
It was a statement of faith from a man who held his dearly, and something that troubled and simultaneously always reassured me.
I've never been one to trust faith, on any level. I don't believe in shit. Except Liverpool. Liverpool is the closest I've ever been to religion.
This current incarnation of The Reds are so good that I feel its making profound demands upon me. Klopp once asked us all to just "believe". It was a madly ambitious request. Believe? In what, Jürgen? In you, another Liverpool manager? Did he think we were soft?
Yet a strange thing happened. We actually did believe in him, and from a very early stage. Not all were convinced as easily as others, but I'd say a large majority were.
I recall saying to my brother in law, Steve, in that first year that I'd rather fail with Klopp than succeed with anyone else. A mad thing to think and say. Steve agreed with me. So did most.
Looking back, I think there was a sense that he was perfect for Liverpool, and that if it didn't work with him in charge then it certainly wouldn't work with anyone else. If not Jürgen then no one, so nothing to do but to make it work with him. Nothing left but believing.
Jürgen, a man of god, would say that our believing has been its own reward. As abstract/ bullshitty as that sounds, the only solid conclusion is that he's correct. Klopp is always correct.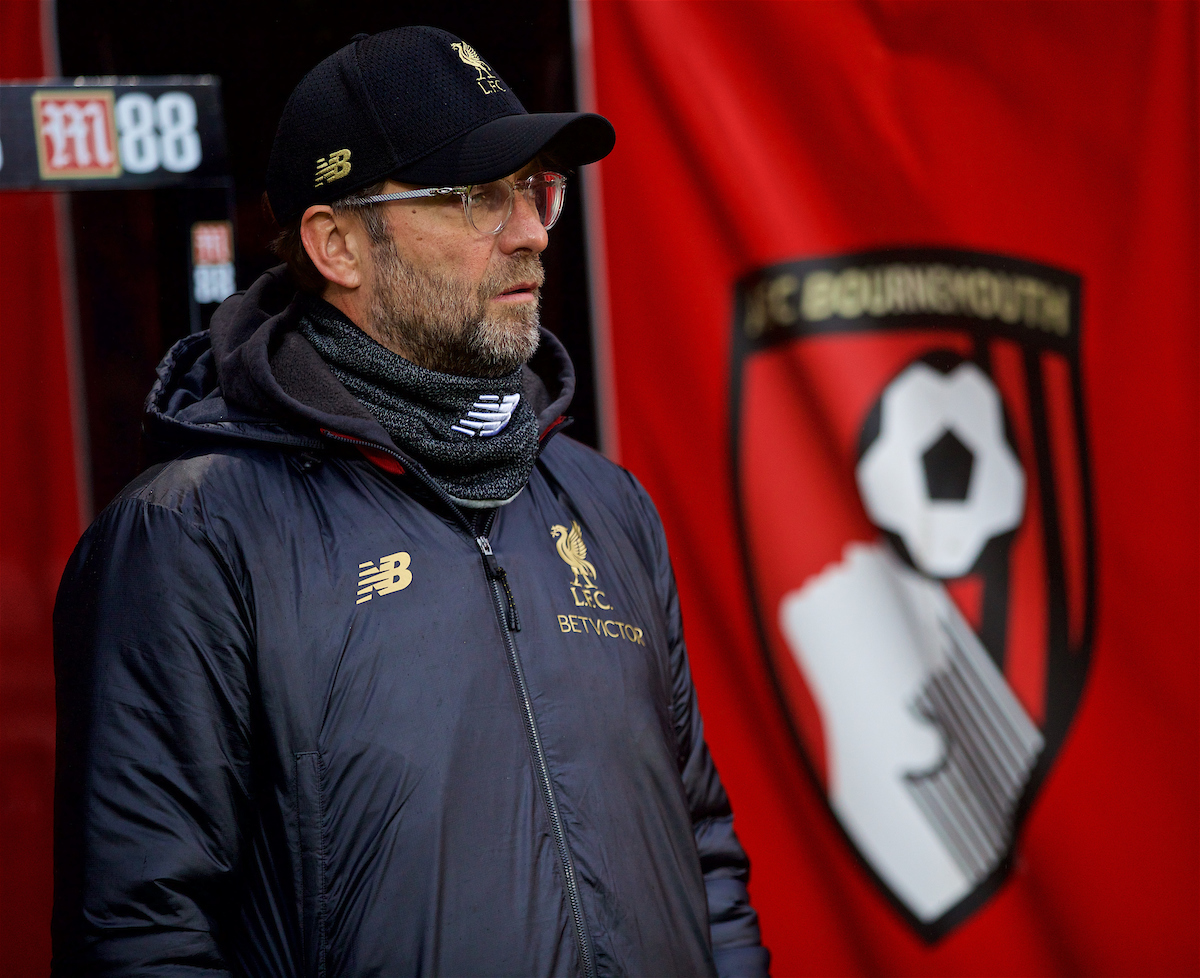 He tested us in the week, with a team selection for Everton that looked cursed to hand The Blues more of a chance than they deserved.
The second you thought about that team and the decisions Klopp had taken, though, the more confusion gave way to excitement. The boss had clearly thought this through. He had a plan.
It was not for us to doubt but to strap in and enjoy the ride. Football tastes better when you just go with it, what else are you going to do? We are powerless, so just yield.
Liverpool are three games from a break of sorts, from a kind of halfway marker. If they can all be negotiated as conclusively as they should be, then a platform will have been established from which great things will surely be achieved.
First up are Eddie Howe's Bournemouth. Cliched as feisty opponents – because they have their moments – Bournemouth are a bottom-half team and are usually in the midst of a bottom-half style run of form. For The Cherries that currently means a sequence of four straight league losses. It all feels a bit stale down there, just right now.
Having said that, prior to a recent Dean Court defeat to Wolves, Howe's men had been unbeaten in four home games and taken Man United's scalp in the process.
The home side's task against Liverpool will not be aided by a lengthening injury list. Adam Smith is now a serious doubt, while Stanislas, Daniels and Brooks are already ruled out, alongside loanee Harry Wilson. A further four are hopeful of returns but aren't guarantees yet. They are: Cook, King, Surman and Kelly.
Jürgen Klopp admitted, post Everton, that he prizes intensity and fitness for purpose above reputation and will not be shy to again bench several of those who ran their hearts out in the derby.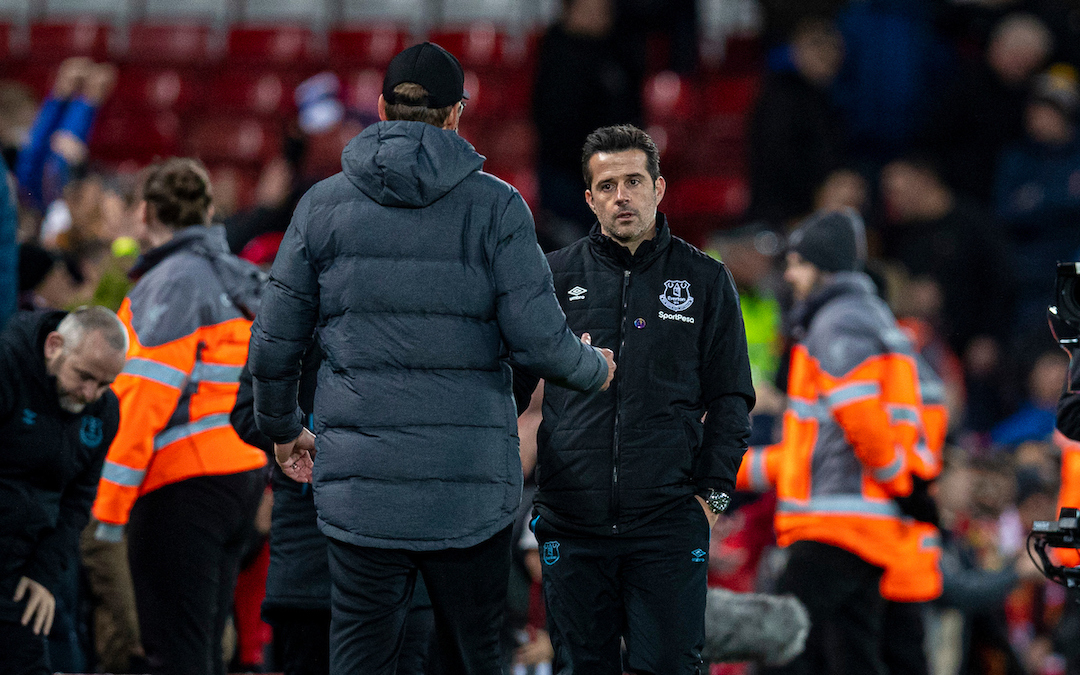 Saturday is too hot on the heels of Wednesday night's exertions and too close to the big game in Salzburg on Tuesday for the manager to not shuffle his pack.
Those that sat out midweek are the first obvious changes, so let's be confident that we'll see Alisson, Henderson, Chamberlain, Salah and Firmino start at Dean Court.
I think Klopp may bench current best player Sadio Mane and possibly left back Andy Robertson too, allowing Origi and Milner to stay in the team and to possibly facilitate a recall for Naby Keita.
It is also surely time Deggsy Lovren caught a break, so expect the likely return of Joe Gomez.
Klopp lamented again in the week that he lived in a world where his Liverpool were simply not allowed to draw or lose games. That was perhaps as much a commentary on the ridiculous standards his team has set for itself as it was on the pressure of battling perennial 100-point Manchester City for league titles.
No pressure from us though, Kloppo. If you had us at "believe", you can have faith that on a European Cup, 14 wins in 15 and an eight-point lead at the top of the table, that we remain yours from here until eternity.
Predicted 11: Alisson; Trent, Gomez, van Dijk, Milner; Henderson, Keita, Chamberlain; Salah, Firmino, Origi
"Liverpool are 32 games unbeaten, Bournemouth have lost four on the bounce, we should be getting a result down there." 👏

📱 Download our app here and watch today's Talking Reds in full 👉 https://t.co/v3xcfwjq7C pic.twitter.com/OhaWv3Z9Qy

— The Anfield Wrap (@TheAnfieldWrap) December 6, 2019
Recent Posts:
[rpfc_recent_posts_from_category meta="true"]
Pics: David Rawcliffe-Propaganda Photo
Like The Anfield Wrap on Facebook