THE weeks before the game that follows the international break fortnight are nervy affairs.
Continuity, for better or for worse, is broken. The season, pre Christmas, is like watching a movie with numerous, needless, elongated intermissions. They would make little sense to the audience and frustrate far more than they entertain.
Then there is the anxiety induced by waiting for the news on the wires as to the fates of our absent heroes. Like fretful parents we pace our homesteads, never resting until all our charges are home safe and healthy.
I've spent much of this week putting the words 'Salah' and 'injury' into online searches. Mo sort of tried to keep us in the loop in the early part of the week with an Instagram post that was ultimately far too enigmatic to calm the nerves.
Our main man proffered two images: the first of his ankle having white grease applied to it – so far so good, nothing serious ever got treated with the sort of cream you get in any Boots on the high street.
The second, though, was a selfie with Mo pulling a face. It was unclear what reaction he was going for, his expression resembling one of someone who had smelt a fart and was caught midway between finding the situation awkward and amusing.
I'm telling myself that Mo wouldn't post 'a funny', however dry. If he thought there was something badly array with that ankle. I'd like to think that, while he embraces his home country and Egyptian team colleagues, he was all but winking at us, his Liverpool lovers, over their shoulders. As if to say "don't worry kids, I'm not really injured at all, I'm just making it look that way so I don't have to play in any crappy internationals".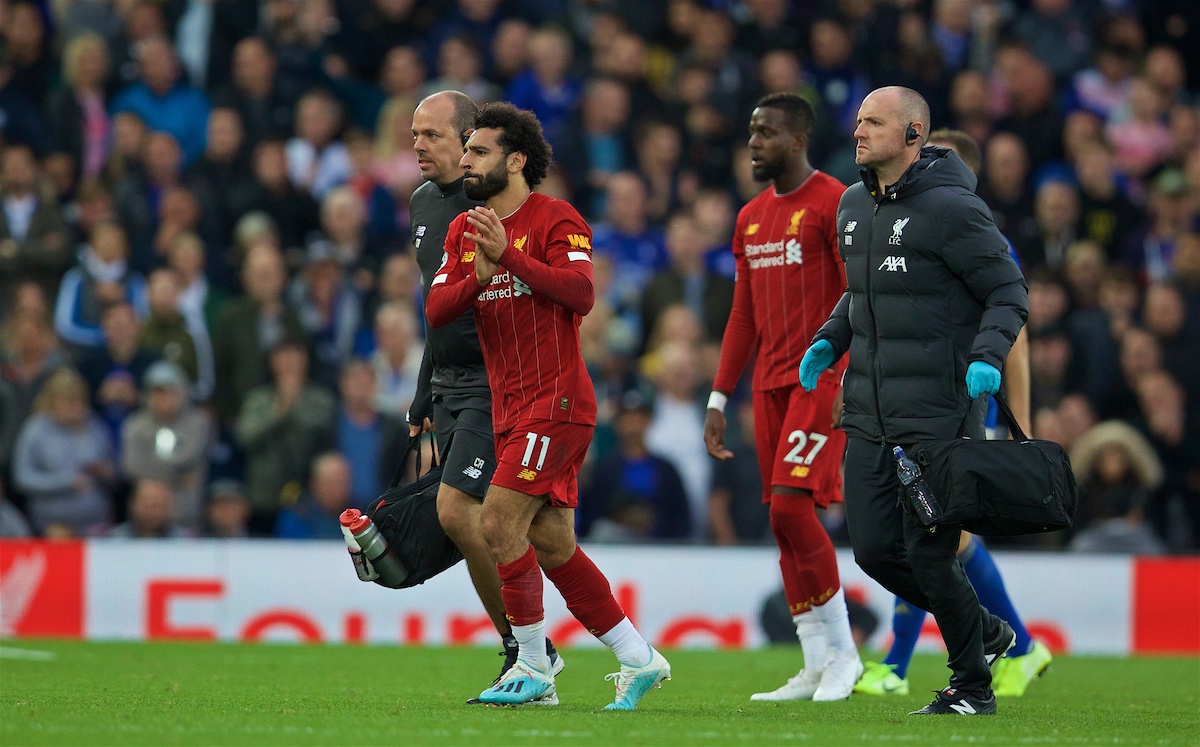 Then there was the Sadio Mane saga. Sadio started for Senegal at the weekend but was hauled off at half time. He'd been booked just before the break and it seems that he may have been spared the second half to prevent him receiving a second yellow card, and a consequential suspension. There's no chapter and verse or any firm detail, though. For all we know Sadio is yet another of our walking/limping wounded.
Hopefully by the time you're skimming through this, many of these concerns will have proved ill founded. I liked this week's Virgil van Dijk story. It rose like a salmon and then, well, fell like a salmon. "Van Dijk leaves Dutch squad…" the headlines alerted us. Within an hour, the addendum "for personal reasons" relieved Reds everywhere.
Platitudes abounded "hope Big Virg is OK," but secretly all we had an interest in were his limbs and their ongoing readiness to be cast into Liverpool service. Being a devoted football fan is a wonderful thing, but it rarely makes you a better person. C'est la guerre.
Jürgen Klopp too will be spending the week head counting. He knows that Saturday's venture to Crystal Palace heralds the start of the big push, of our winter offensive. Like Napoleon, He's taken his army to the gates of Moscow. Survive this winter and everything is possible.
Unlike Bonaparte, Klopp is well prepared and less daunted, the same of which can't quite be said for main rivals Manchester City. Having fallen at Anfield a fortnight ago, City now trail Klopp's Liverpool by nine points and face a festive programme of fixtures that will surely test. Our paths our beginning to diverge and this weekend's schedule – with City facing high-flying Chelsea, while we take on a flaky Palace side – has the potential to widen this separation.
Roy Hodgson's Crystal Palace are rarely fun to play against. For Liverpool they are perennially more of a test than they need be. Of course we usually beat them, but it's never quite a comfortable afternoon's work.
Palace have drawn one and lost three of their last four in the league, but all of these have been against the division's better sides. They have threatened none but Arsenal (in a 2-2 draw), but they haven't been obliterated either (losing each of their three defeats 2-0), and at the very least will have themselves in something of a grove in terms of being battle readied for sterner tests.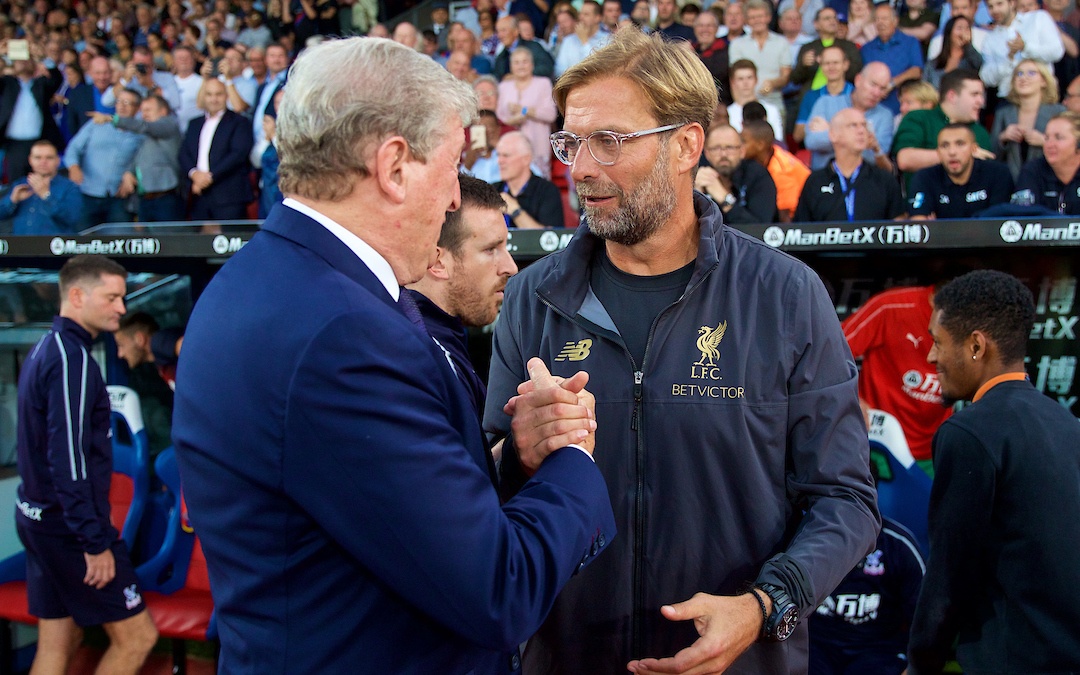 Hodgson's main injury concern for Saturday is over his star man, Wilf Zaha, who pulled up at Chelsea and subsequently missed the international break.
Liverpool's biggest doubts coming into the game are ankle injury victims, Mo Salah and Andy Robertson. Neither have as yet been ruled out but given the labours that lie imminently ahead, Klopp may decide that there is little point in risking either man. If we work on the assumption that neither will play then the Liverpool manager's options are clearer in defence than attack. If Robbo misses out, then surely James Milner simply drops into his left-back slot.
Divock Origi will feel that he is Salah's likeliest deputy but Alex Oxlade-Chamberlain continues to bash at that metaphorical door, and there is a possibility that he is given a chance to reprise his 'false nine' role (premiered at home to Genk in the Champions League) with Bobby Firmino shunted left and Sadio Mane filling Salah's void on the right.
Like you, I've been fair climbing the walls again during this latest international fuckabout. We've conquered all of Europe, beaten City and are eight points clear atop the Premier League, the last thing we want is breaks and distractions.
There is little left to rattle our nerves or to daunt us. The likes of Palace are mere skittles waiting to be scattered.
Predicted 11: Alisson; Trent, Lovren, van Dijk, Milner; Fabinho, Henderson, Wijnaldum; Mane, Firmino, Origi
"People still think that Crystal Palace are a 'bogey' team for Liverpool.

"We've won six of our last seven against them and the last four in a row."

📱 Subscribe here for all of our buildup and reaction to the Reds' trip to Selhurst Park 👉 https://t.co/TEMh9r97WH pic.twitter.com/uo2Lgw9T9Q

— The Anfield Wrap (@TheAnfieldWrap) November 22, 2019
Recent Posts:
[rpfc_recent_posts_from_category meta="true"]
Pics: David Rawcliffe-Propaganda Photo
Like The Anfield Wrap on Facebook