THE game before the game is a dangerous game.
Liverpool have eyes only for Aston Villa, legs ready to run through brick walls in Birmingham on Saturday, but hearts that are surely beating faster knowing that the day of reckoning with Manchester City is ebbing ever closer.
The clash with City is as big as any final, but the prize at stake is somehow only bigger if Liverpool can swat Villa aside first. There is an opportunity to all but take City out but it's a right that needs to be earned.
My instinct tells me that to win this league liverpool need to effectively finish City by Christmas. It's a big ask but equally there's a massive opportunity to do so. Going into this weekend's round of fixtures, The Reds are protecting a six-point lead. That's a key fact but it masks a more interesting reality.
Liverpool's march to 28 points from the first 30 on offer has been achieved largely at the expense of the division's stronger outfits. By contrast, Man City's 22-point haul has been harvested from the league's lower echelons.
A home draw with Tottenham is the sole test City have faced against a 'big six (or even 'big seven' if we count Leicester) team. Liverpool, however, have had to display the mettle required to take down Arsenal, Tottenham, Chelsea and Leicester and to fight out a draw at Manchester United. The two fixture schedules couldn't be more contrasting.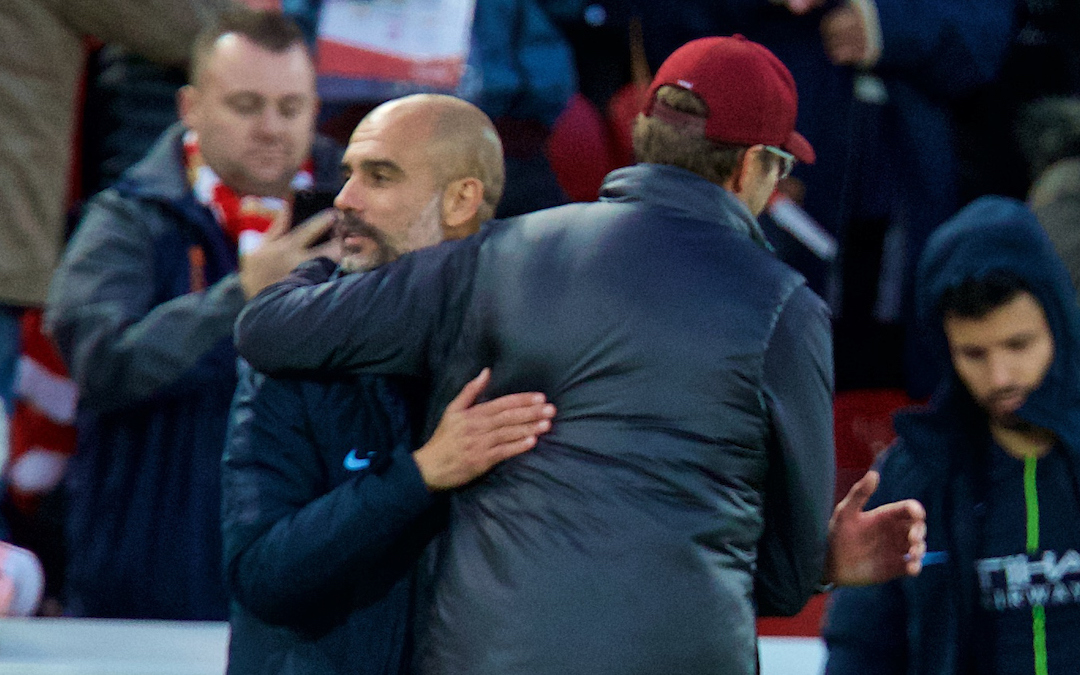 Liverpool boss Jürgen Klopp will doubtlessly be aware that after their trip to Anfield, a week on Sunday, that City face a six-game league Premier programme that could yet define their season.
After Liverpool, and before Christmas, they play Chelsea, Man United and Leicester at home, while travelling to Arsenal, Newcastle and Burnley. Liverpool face none of the country's best seven sides during this phase.
Do you see where I'm going with this? Despatch Villa, beat City in the showdown game and then take all the expected points in the other pre-Christmas games, and the table would have a sheen to it beyond our most hopeful dreams. Stay with me.
Man City would need to drop points just once more than Liverpool in their significantly tougher raft of fixtures and Liverpool could be travelling to Qatar, for the World Club Cup, with a lead of – wait for it – 11 points.
This is not a pipe dream, not a drill, this is a very real world scenario. The main variable, of course, is the direct matchup between the sides, on October 10.
My overriding contention is this – how do Man City react if the above transpires? Where do they see their season going in this eventuality?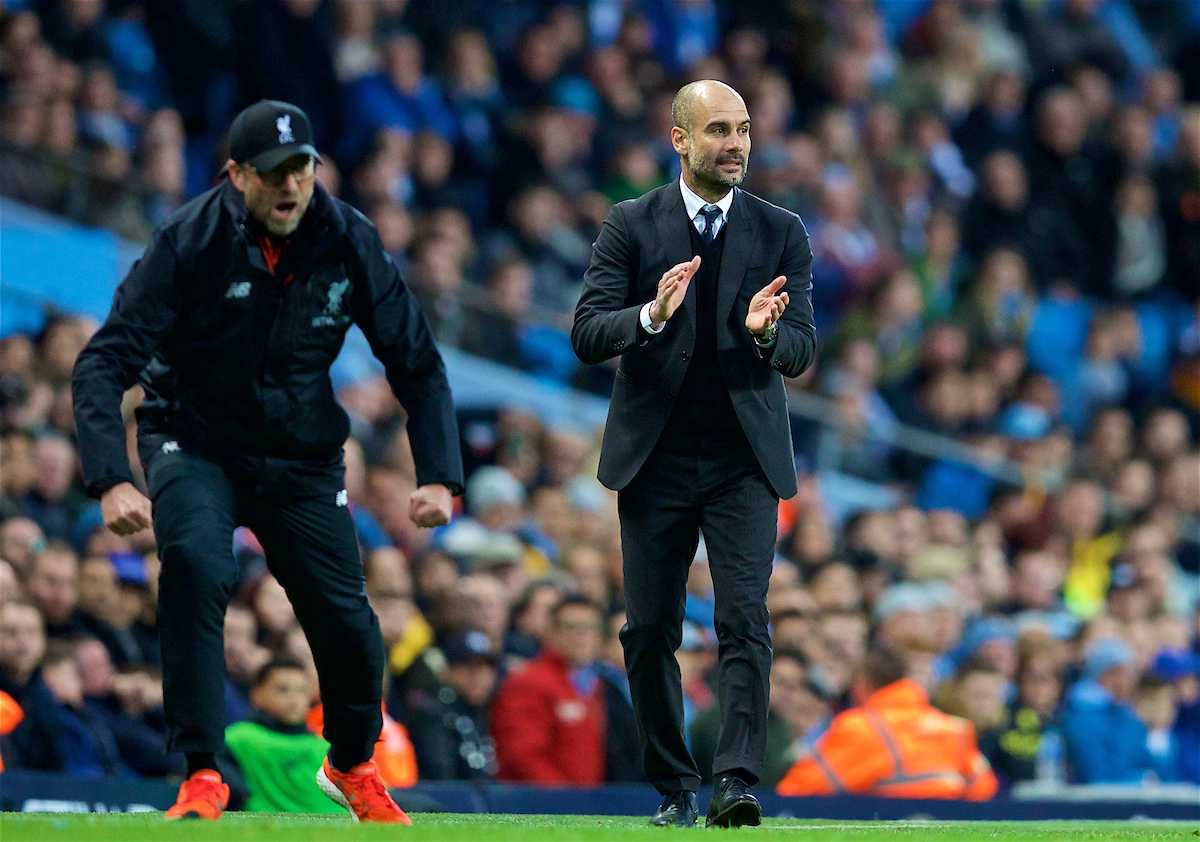 Obviously they don't literally give up and announce their retirement from the competition. They are very good, professional and focused and will set themselves to dig in and just try to keep winning football matches.
But to see off a team of Liverpool's power and resolve, and with a (hypothetical) lead will be an Everest, not that far recessed in their subconsciousnesses, that they may fear to scale. I'm saying that an 11-point gap could not be assailed.
Sound easy-ish? It isn't. It requires a superhuman effort by Liverpool over a six-week period and it most definitely starts at 3pm on Saturday in Birmingham. The big push begins here.
By the season's end we'll be concluding that Aston Villa were the best of the promoted teams. They are definitely the biggest and most equipped to reestablish a residency in the top flight.
I always go to Villa away and it always feels like a big game. The Holte End at Villa Park are an underrated force. They never take their team going under lightly. In short, winning there always feels big.
Jürgen Klopp rested all 11 of his starters in midweek that had faced Tottenham at home last weekend. The squad men's League Cup penalty shootout triumph over Arsenal was quite a ride, but once the adrenaline subsided, those that featured will have come to realise and accept that they have not yet played themselves into the manager's immediate plans.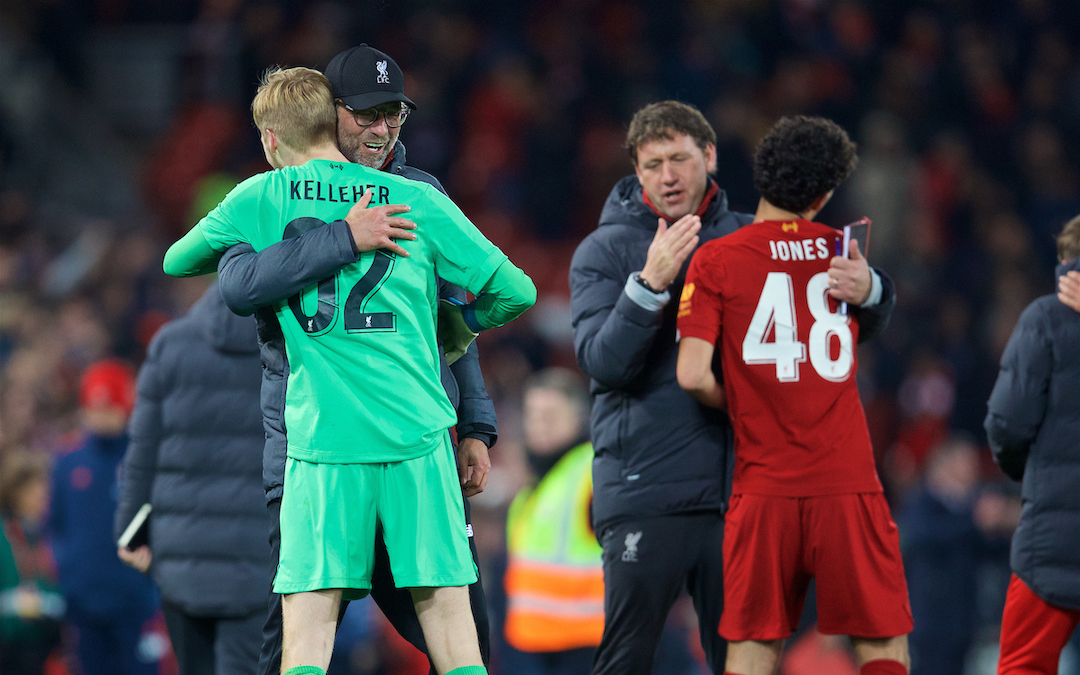 Assuming all aches and niggles have cleared up, it's safe to assume that the Champions League final winning team will be the one that starts at Villa (save Lovren in for the injured Matip).
Jürgen Klopp, though, will have scouted the hosts more comprehensively than me, and may just sense that he needs an additional attacking influence. If he does, he has two obvious options.
Firstly, he could swap out one of Henderson or Wijnaldum for Alex Oxlade-Chamberlain. Secondly, he could revert to a 4-2-3-1 setup and find a place for midweek two-goal hero, Divock Origi. Few would begrudge Div a start.
Villa is a great away, if you win. I'm contemplating nothing but three points for The Reds. A week at Melwood and the light relief of the second string's midweek antics will be perfect preparation. The machine will have been thoroughly reoiled.
Fire her up, Jürgen. We're going for it now.
Predicted 11: Alisson; Trent, Lovren, van Dijk, Robertson; Fabinho, Henderson, Wijnaldum; Salah, Firmino, Mane
"After losing in Kiev, to come back and win the European Cup and get 97 points was unbelievable.

"It shows the quality and the character that we have in the dressing room." 👏

🗣 Listen to this week's FREE Weekender show in full here 👉 https://t.co/SgdvaKeZLB pic.twitter.com/am30RmS7oT

— The Anfield Wrap (@TheAnfieldWrap) November 1, 2019
Recent Posts:
[rpfc_recent_posts_from_category meta="true"]
Pics: David Rawcliffe-Propaganda Photo
Like The Anfield Wrap on Facebook