I GO through phases of swerving Old Trafford.
It's logistically the second easiest away jaunt of the season but also the most potentially stressful. It's the one with the most edge. I'm going to say I can't remember seeing us win there. It's probably best I don't go.
Yet we're team Klopp now. We're the men without fear. We must all walk taller, ever more fearless. Jürgen has looked doubt in the face and collapsed, doubled over and laughed maniacally at it.
At eight points clear at the top of the Premier League, it really is time to puff out chests and march into the belly of all beasts and take the piss.
Liverpool arrive at Old Trafford a marauding barbarian horde ready to take down and ruin Rome. The Man United empire Alex Ferguson built is in its Byzantine phase and is truly fucked. It will continue to command attention, to entertain on all levels, but its days of calling shots are well and truly over.
The Reds must retain their dignity. Not crow, but just continue to move ever forward and dismiss United. They are simply not our business. Their modern incarnation is merely a facsimile of something long past that was once worthy and dangerous. They are now, respectfully, to be disrespected.
We arrive, we push aside, we walk on.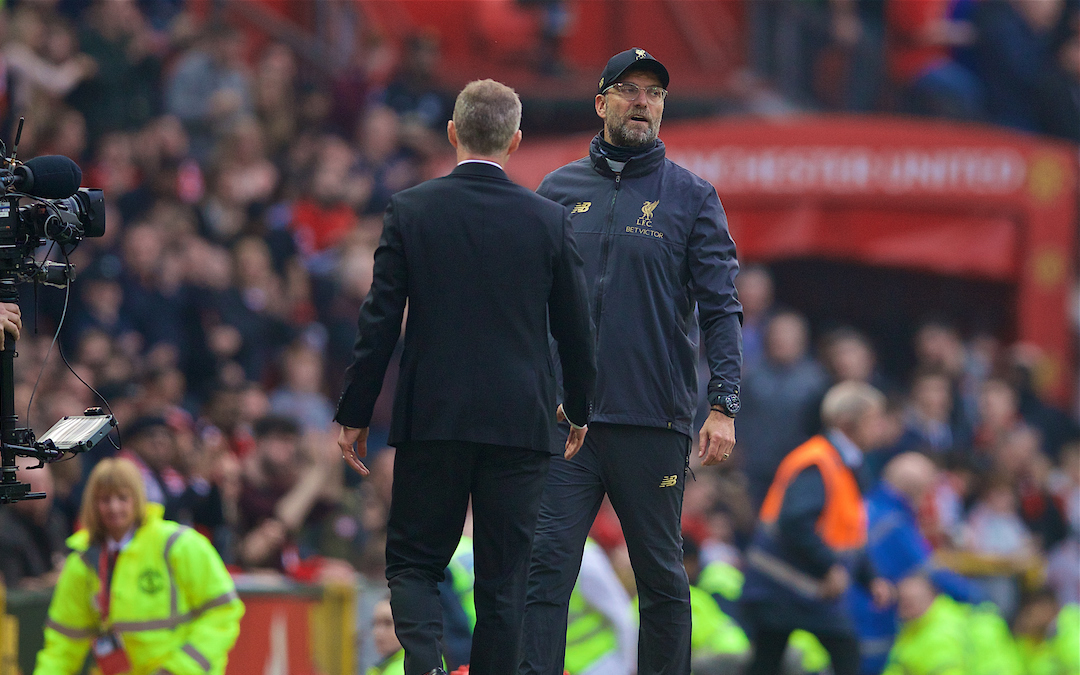 Sounds good, yeah? The reality is that a desperate and inadequate United coach, Solskjaer, will simply resign his team to bus-parking, away-side status and look to frustrate Klopp's attacking power.
Against the bottom 13, low blocking isn't an issue. Against the more resourced sides it is. United may be a dog's dinner of an outfit, but they still have a world top three keeper and have spent £120m on defenders last summer. They haven't done much right but they don't ship goals all that readily.
The headline numbers don't lie, though. United are 12th in the table with one win in their last seven league games. Three defeats in their last six. They're bona fide garbage this season.
Liverpool need to rise above the 'but it's a derby' factor and boot these into oblivion. No logic says United can prevent The Reds doing what they need to do. History, though, hangs heavy – in life and in football. Liverpool have won trophies and matches they shouldn't have won 'cause history.
Klopp will know his task is to convince his team more psychologically than tactically in the approach to this fixture. Ironically, the key to success may be to focus minds on the technical as distraction from the emotional. Liverpool must look to be systematic in dismantling the home side.
International breaks are now routine in the rhythm of seasons and harnessing their effect is a key to ultimate success. They can knock you off tempo or they can be used to recharge and refocus.
This particular sojourn is interesting in that it concludes earlier than others. A key Liverpool player will not play for his country past Monday night. United await a full six days later. Conditions for preparation are decidedly better than usual.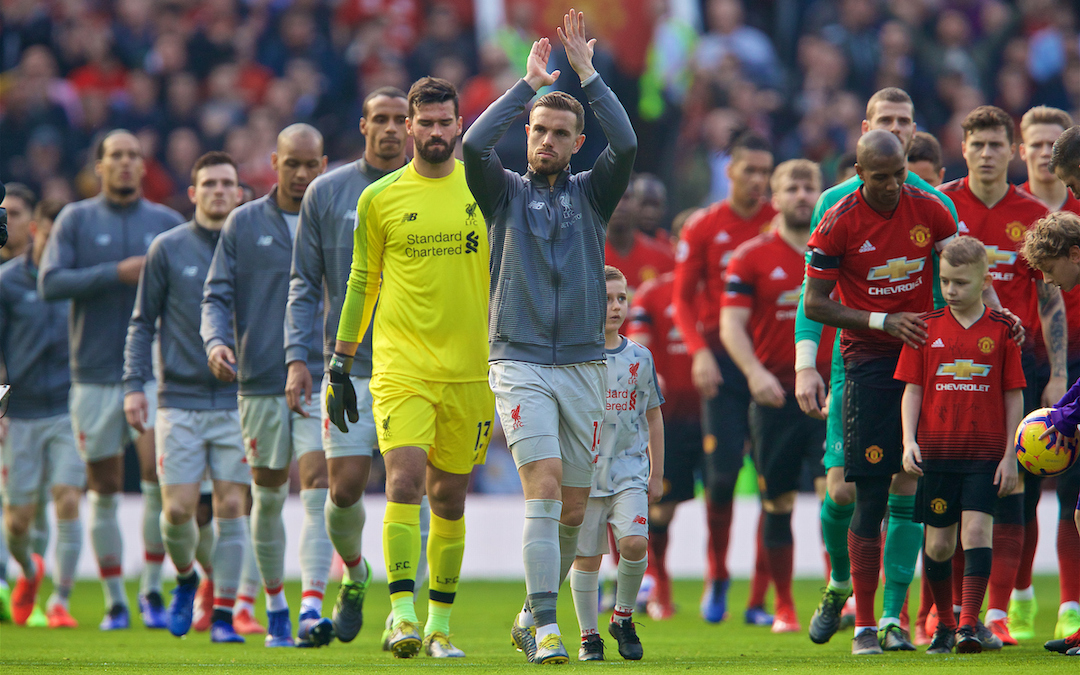 Homed at Melwood and excused international football for various reasons are (from the first-team squad): Alisson, Gomez, Matip, Milner, Keita, Chamberlain and Salah. If all seven were to line up at Old Trafford, Liverpool would not appear weakened. It may be tempting for Klopp to use as many of these players as possible.
However, fitness permitting, Alisson and Salah are the only sure starters. Milner made his case in beginning and finishing so impressively at home to Leicester. Matip, if he recovers from a minor injury, is near certain to begin in Manchester.
Klopp has shown a tendency to protect Roberto Firmino after busy journeys away with Brazil, but Bobby may have to wait for the trip to Belgium in the week following for his rest.
The same may be the case for Henderson and Wijnaldum. Both played twice for their countries but equally they will have six/seven days to get over their exertions.
If in doubt, Klopp has virtually always defaulted to picking 'the Champions League-winning team', bar a change or two this season. At Old Trafford we might literally get sight of the side that became kings of Europe four months ago in Madrid, wholly reassembled.
Man United may well come to witness and feel what other home teams have sensed recently.
They are playing hosts to the next champions of England.
Predicted 11: Alisson; Trent, Matip, van Dijk, Robertson; Fabinho, Henderson, Wijnaldum; Salah, Firmino, Mane
"If we turn and up and are the best version ourselves, then we'll win. It's as simple as that." ✊

📱 Download our app for all of our buildup to Liverpool's trip to Old Trafford 👉 https://t.co/v3xcfwjq7C pic.twitter.com/evTkzT5IOy

— The Anfield Wrap (@TheAnfieldWrap) October 17, 2019
Recent Posts:
[rpfc_recent_posts_from_category meta="true"]
Pics: David Rawcliffe-Propaganda Photo
Like The Anfield Wrap on Facebook