WE'RE at one of those junctures already.
One of those proverbial fork-in-the-road moments.
Last season we built a lead on City but once we allowed it to slip, the margin just withered as if it had all been so illusory.
Liverpool had two spells last campaign in which points were lost. Arguably both were products of the vagaries of the fixture list. In each instance the more competitive fixtures were clustered together. In the autumn – Chelsea, Man City and Arsenal. In the spring – Man United and Everton.
It's all a question of form. When we're ablaze, bring all comers. When wobbling, you want relegation fodder, ignore the cliched clarion calls for tougher games to correct slides.
Taking out Genk emphatically in the week was the correct remedy for the hint of a malaise in the below-par performance at Old Trafford. The game in Belgium was a strange one but it was important to score goals again. Liverpool have not really cut loose since the opening day. Scoring and winning big begats scoring and winning big. It's a great habit.
Last season, Liverpool were at times unfortunate to be facing certain sides at the wrong time.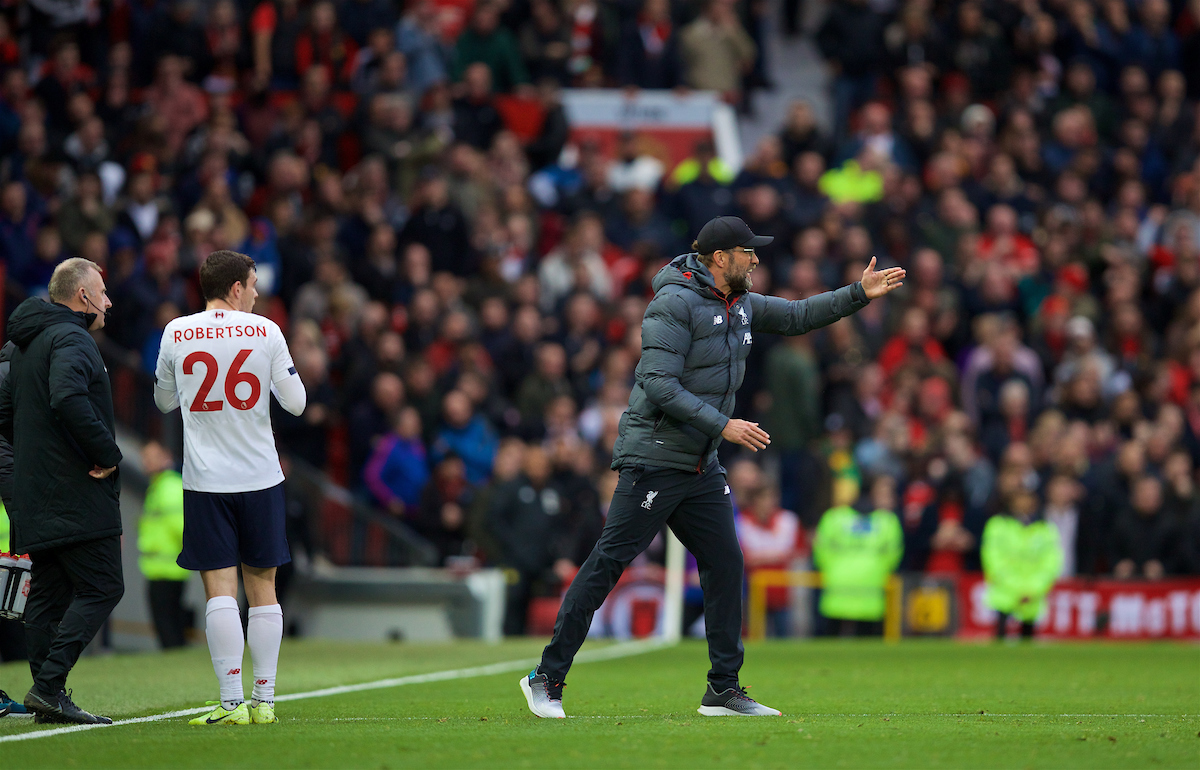 Chelsea away, on the back of straight wins from the season's start; Arsenal at the Emirates in the midst of a lengthy unbeaten run; Man United away during Solksjaer's early winning honeymoon phase; even this weekend's opponents, Spurs, had been buoyed by a Champions League win over Man City before they came to Anfield in April.
And history likes to repeat itself. Tottenham have been a shambles since about February. They are currently seventh in the league with 12 points from nine, but in the calendar year they're posting the numbers of relegation fodder.
They're an interesting mess because unlike other floundering 'big six' sides, they're still very well stocked with good footballers. Those men reminded the world of this in a return to form and a 5-0 thrashing of Red Star Belgrade on Tuesday night.
Therein lies the rub from a red perspective. Will Liverpool be facing the angst-ridden Tottenham, crumbling and at war with themselves? Or the unified, hard-working team of talents that on their day might actually be the closest approximation to Jürgen Klopp's side out there?
Spurs boss Pochetino was reportedly unable to deal with the blow of losing the Champions League final to Liverpool in Madrid. Apparently, he just couldn't handle it. Couldn't make sense of how things had turned out.
Liverpool are correctly mystified by this. Spurs can be good but they weren't on the same planet as – 97 points in the league, best team in Europe – Liverpool. They weren't in May and they aren't now, whatever transpires on Sunday…
Jürgen Klopp and Pochettino will have done more homework on each than on any opposition. Neither man is likely to be able to surprise the other.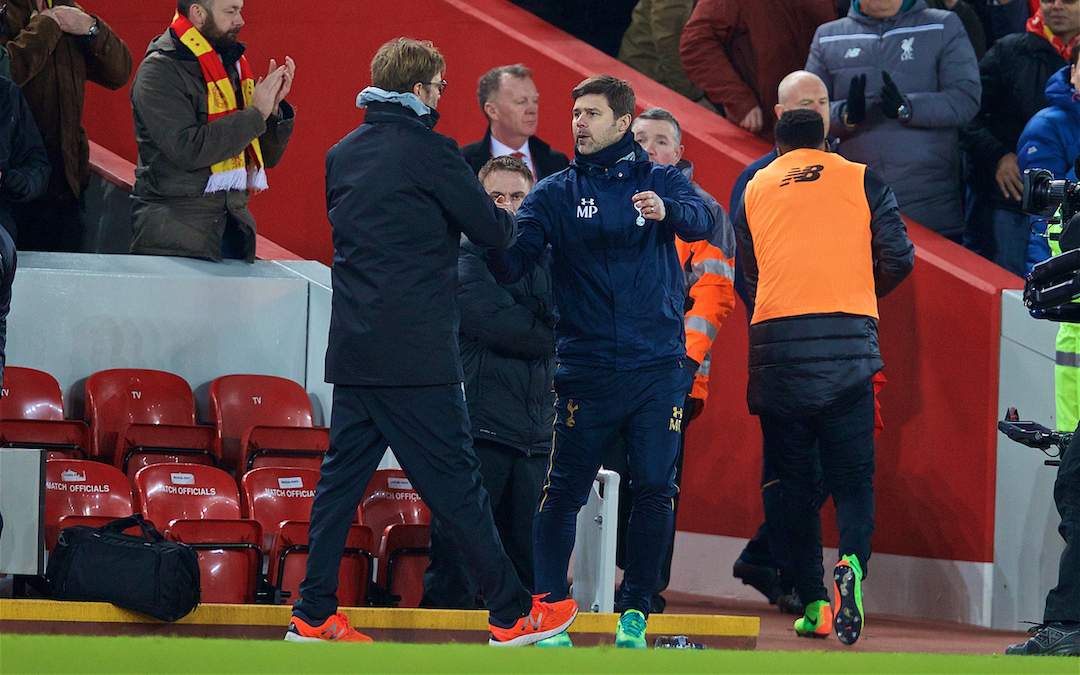 Having said that, Spurs have flirted between three at the back and 4-2-3-1 formations of late. At Anfield in the spring, Pochettino started with centre centre backs but switched to a 4-4-2 at half time. So Poch, the arl snarler, still has some moves.
Not as many as The Reds have, though. Four changes in the week in Genk but the same outcome, another Liverpool win. Klopp experimented with his midfield on Wednesday and unleashed a fantasy he has kept repressed for some time.
In 2017, shortly before Alex Oxlade-Chamberlain's ACL injury, and already knowing that Fabinho and Keita were about to join the club, the Liverpool manager will have daydreamed about the potential of a Fabinho-Keita-Chamberlain axis in his midfield.
Fate had kept this combination apart, but Klopp's dirty secret dream finally became a filthy reality on Wednesday night as Fabinho dominated and Keita and Chamberlain probed and teased between the lines. It was effective and exciting.
The only reservation will be that an even higher defensive line was demanded as Fabinho required bodies closer to him given the offensive forays of his two midfield cohorts. At times, it appeared that very simple balls over the top of centre backs would be enough to create strong goalscoring opportunities.
Tottenham, in whatever mood, are stronger opponents than Genk. Klopp will be more guarded in his tactical approach. He will be pleased to welcome back Trent Alexander-Arnold at right full back, but Joel Matip remains touch and go.
Dejan Lovren, at fault for the goal conceded in the week, played the worst game of his career at Spurs two years ago so Joe Gomez is likelier to make the cut ahead of him should Matip not pass a fitness test.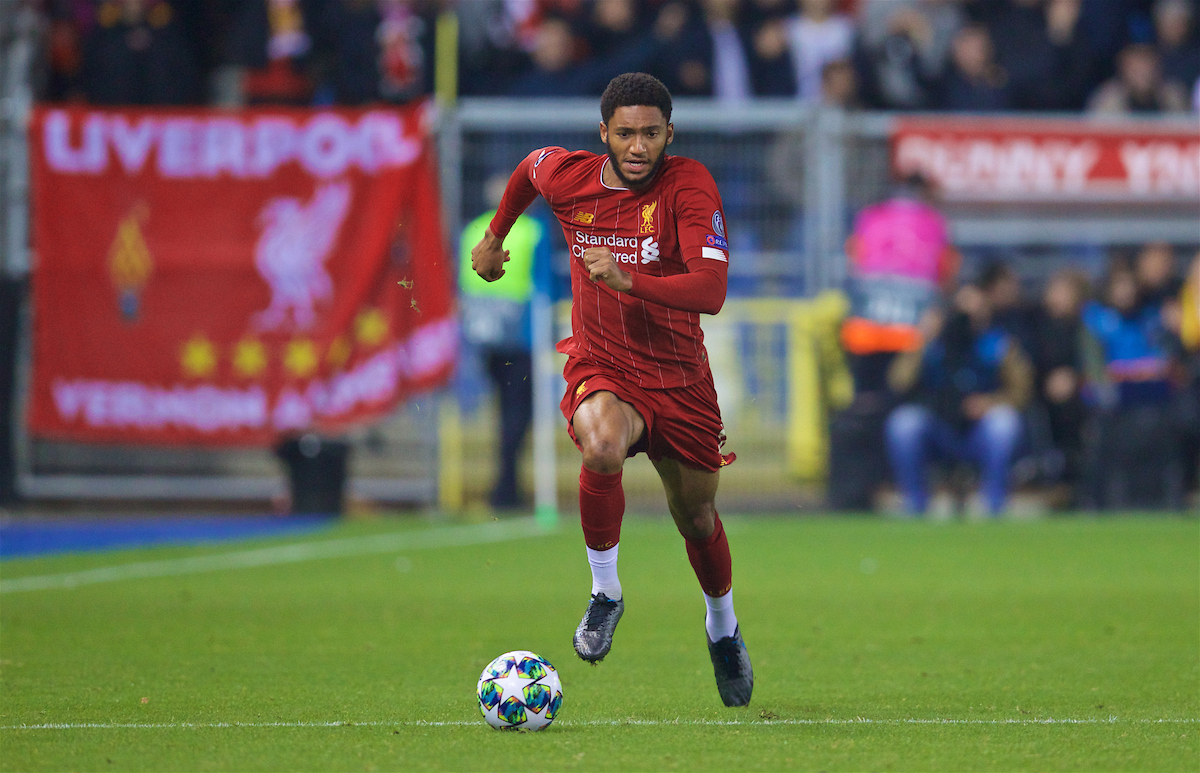 In midfield, both Henderson and Wijnaldum will expect recalls and as recently as a week ago they'd have been certs for a fixture of this nature. A week on, Henderson, a relatively poor performer at Man United, could now be favourite to lose his place to one of Keita or Chamberlain.
The clever dough is probably on Naby Keita to get the call up. Chamberlain scored the goals in the week, but Naby gives a midfield more balance. At his best he can be the jack of all midfield trades that Liverpool's central third could use.
Liverpool must show Tottenham the minimum respect. These sides parted company as direct rivals a while ago.
May the very best team win.
Predicted 11: Alisson; Trent, Gomez, van Dijk, Robertson; Fabinho, Wijnaldum, Keita; Salah, Firmino, Mane
"Sunday is massive.

"I'd love to see a statement of intent from Liverpool." ✊

📱 Download our app here in watch today's Talking Reds in full 👉 https://t.co/v3xcfwjq7C pic.twitter.com/JmcwGb6Kpf

— The Anfield Wrap (@TheAnfieldWrap) October 25, 2019
Recent Posts:
[rpfc_recent_posts_from_category meta="true"]
Pics: David Rawcliffe-Propaganda Photo
Like The Anfield Wrap on Facebook