I DON'T think I've ever been to Bramall Lane.
It's one of the few important grounds in the country I've not been to. Probably.
Maybe I went there in the '90s. I used to guard my trove of football memories so securely. Every game, every goal, every experience filed – via scrapbooks and programme collections as a child, and by the reenforcement of constantly reminiscing as an adult.
Eventually though, the mind's hard drive becomes very, very full. Some files have had to go. The one where I've logged all my away ground appearances may have been a casualty.
I was looking forward to the trip across the Pennines this season but fate has decreed that I will go (possibly) one more year without getting into Bramall Lane. My youngest boy, has an 11-plus type entrance exam to get into a school this Saturday. He's not pleased about this, on a few levels, the main one being that he misses Bramall Lane too.
He is very much at an age where he is meticulously filing his football-associated experiences. He's my right-hand man for all the facts and figures about the game. My hard drive may be long overdue for wiping but his is like a brand new machine. It works fast and can process huge quantities of shite.
He knows what grounds he's been to. He knows what the stands are called in those grounds, he knows when they were built, what their capacities are.
Neither of us will be in Sheffield, though. Life gets in the way of football sometimes and I really resent it for doing so. Having said this, I'm a forward planner and very much work hard on denying life the opportunity to get in the way of football.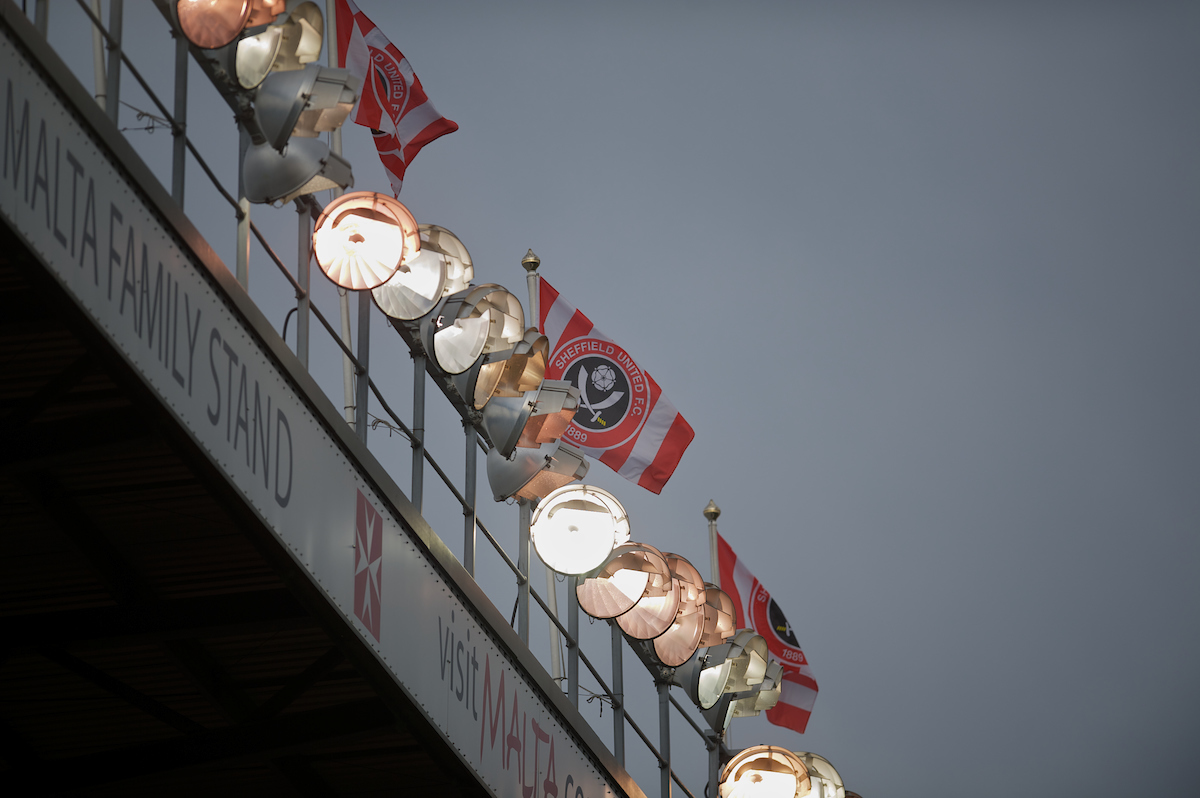 I've largely conditioned most of my nearest and dearest to accept that football only ever really loses out to death for me. Everything short of that, can more or less be dodged. I hadn't seen a school entrance exam as a potential threat to me getting my Liverpool FC fix. Just didn't see it coming. Still scratching my head about this turn of events.
Raffy's exam finishes at midday on Saturday and The Reds kick off at 12.30pm. I'll be ensconced in the boozer from about 10.30am. Thinking about how Raffy's getting on, worrying about how The Reds are going to do.
The plan is that his mum will pick him up from his exam (I can't as I'll be in the boozer, remember?) and deliver him to me at the pub. He should join me and his big brother Danny by about 12.25pm. It's going to be tight.
There'll be about a 30-second debrief on his exam and then we'll be strictly business. He'll want to know what the team is, and I'm going to want to tell him what it is. We will be as one mind. He's pissed off that we won't be in Sheffield but I've taught him to understand that it's The Reds and the winning that matter, not our needs. We subjugate to the cause. No "I" in team.
This campaign, we are more focused than ever. Me, Raffy and Jürgen's mighty Liverpool. Six league games and six league wins so far. Wow, as the boss would say. There's some toughies coming up on the horizon – Man United away, Spurs at home – so beating newly promoted and not highly fancied Sheff United, is something we really must do.
I always get slightly nervous when we as fans start looking over the heads of immediate fixtures to the bigger challenges looming in the future. I think, what if the lads were as complacent as fans? Imagine if they took beating Sheff Utd as for granted as many supporters do. No, Klopp and the lads are too professional for this. They will only have eyes for The Blades.
To this extent, Jürgen Klopp rested an entire 11 in midweek for the trip to play the MK Dons. We're used to seeing managers make eight, nine or even 10 changes for a domestic cup tie, but 11 felt unprecedented.
Not only did Klopp not risk his first 11 starting the League Cup match, he didn't even include a single one of them on his bench. These are the actions of a manager with tunnel vision. The moves of a man who wants the big prize and will not be diverted from a course.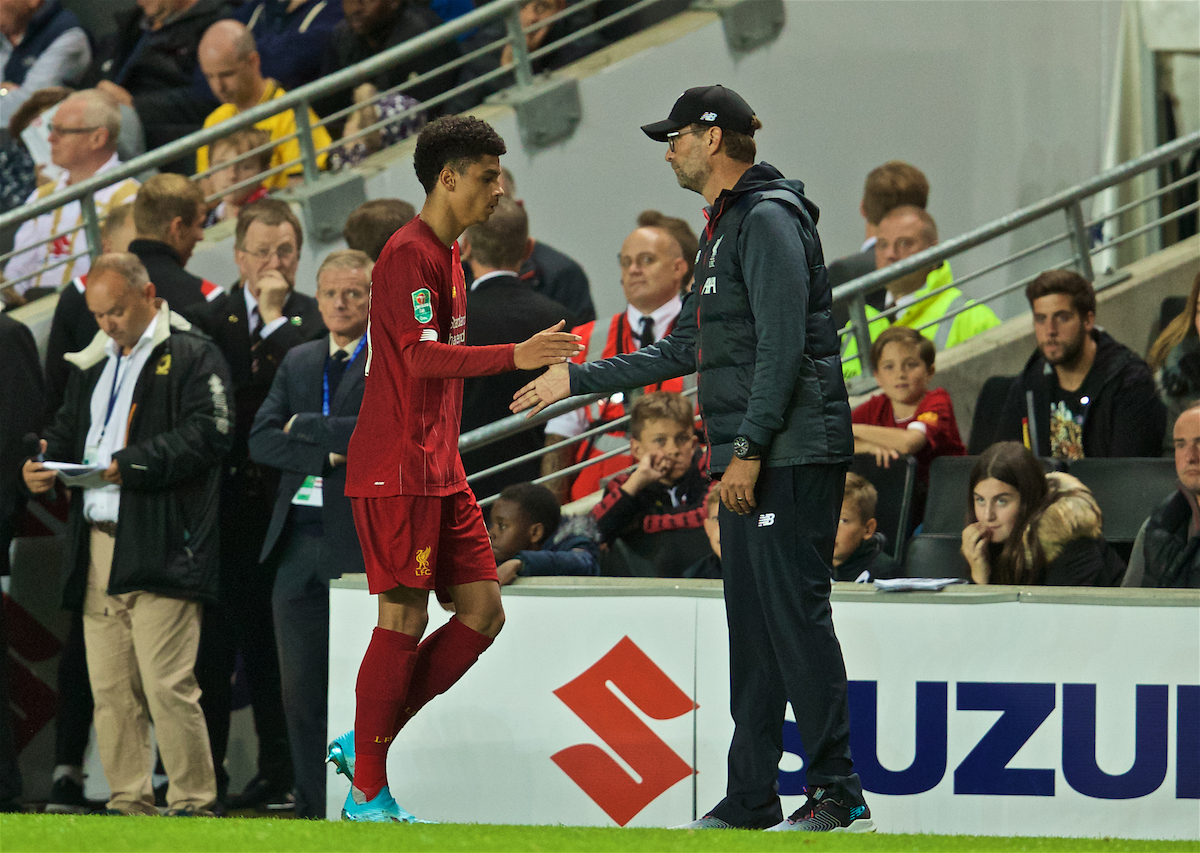 The ruthlessness of the midweek selections indicate that the team that started at Chelsea will most likely be the one that kicks off in Sheffield. If there is rotation in the pipeline it is perhaps more likely to come in the following week when limbs are less fresh.
Sadio Mane was excused training in midweek to allow bruises from that bruising encounter at Stamford Bridge to heal. He should start at the weekend, but if he doesn't it will be interesting to see what moves the manager makes.
Shaqiri, the natural deputy, is out injured. Divock Origi, who would also ordinarily be in the running, is also an unlikely weekend starter as he works his own way back from an enforced absence. That leaves 19-year-old Rhian Brewster as potentially the next cab off the rank.
Brewster made his first-team debut in midweek, and although he performed competently, he did little to suggest he should be thrown into a Premier League game just yet. The standout performer in the week, who could play in a wide attacking position, is Harvey Elliott.
He'd bite Klopp's hand off for a start in Yorkshire on Saturday. Klopp would think about it for half a minute then snap to reminding himself that although Elliott is "fucking brilliant", he is also just 16 years old. He was doing the exam my Raffy was doing just five years ago.
Same again then in Sheffield, I reckon. Same result as all the other six in the league this season would be nice too, boys.
Up and at 'em, Reds. Let's make some unforgettable memories.
Predicted 11: Adrian; Trent, Matip, van Dijk, Robertson; Fabinho, Henderson, Wijnaldum; Salah, Firmino, Mane
"Milner is a cultural architect within the squad, someone that ensures everyone is at 100% in every single session."

"I think he's our best free signing, he's been on the same journey we have with Klopp." 🙌

📱 Listen to our FREE 'Weekender' podcast 👉https://t.co/iO9YzClQFC pic.twitter.com/ZlbE7FbQdF

— The Anfield Wrap (@TheAnfieldWrap) September 27, 2019
Recent Posts:
[rpfc_recent_posts_from_category meta="true"]
Pics: David Rawcliffe-Propaganda Photo
Like The Anfield Wrap on Facebook