DID you know the Super Cup was invented by a Dutch journalist in 1972?
He pitched the idea to UEFA and after some deliberation they eventually went "what the hell, let's do it".
"A super cup, you say…"
I like the idea that early '70s UEFA lads were up for this kind of free thinking. I'm picturing them as post-60s hippies, maybe Silicon Valley-types; relaxed, creatively receptive, up for anything and everything. It was only about 15 years prior that they'd launched the European Cup.
In 1962, the Cup Winners' Cup became a legit tournament and in 1971 they cracked open the first UEFA Cup. Wild, heady times. Since 1972 there have been no new European club competitions forthcoming from those cool cats at UEFA. Sure they've rebadged and tweaked things, but no more real blue sky thinking.
These days, UEFA are more likely to ditch a competition than invent a new one. RIP the long lost and lamented Cup Winners' Cup. The Super Cup has hung in there though, despite little love. Some years, teams actually just swerved it. In the early '80s Liverpool passed on the chance to play Dinamo Tbilisi. A year lost in which we never got to find out who was the most super team.
I badly want us to win this Super Cup. I think, despite deep-seated cynicism about it, our two victories in the early '00s sort of made winning the trophy a bit of a Liverpool thing all of a sudden. Houllier's Reds beat Bayern Munich to take the cup in 2001 and Rafa's team of 2005 beat CSKA Moscow to claim it in 2005.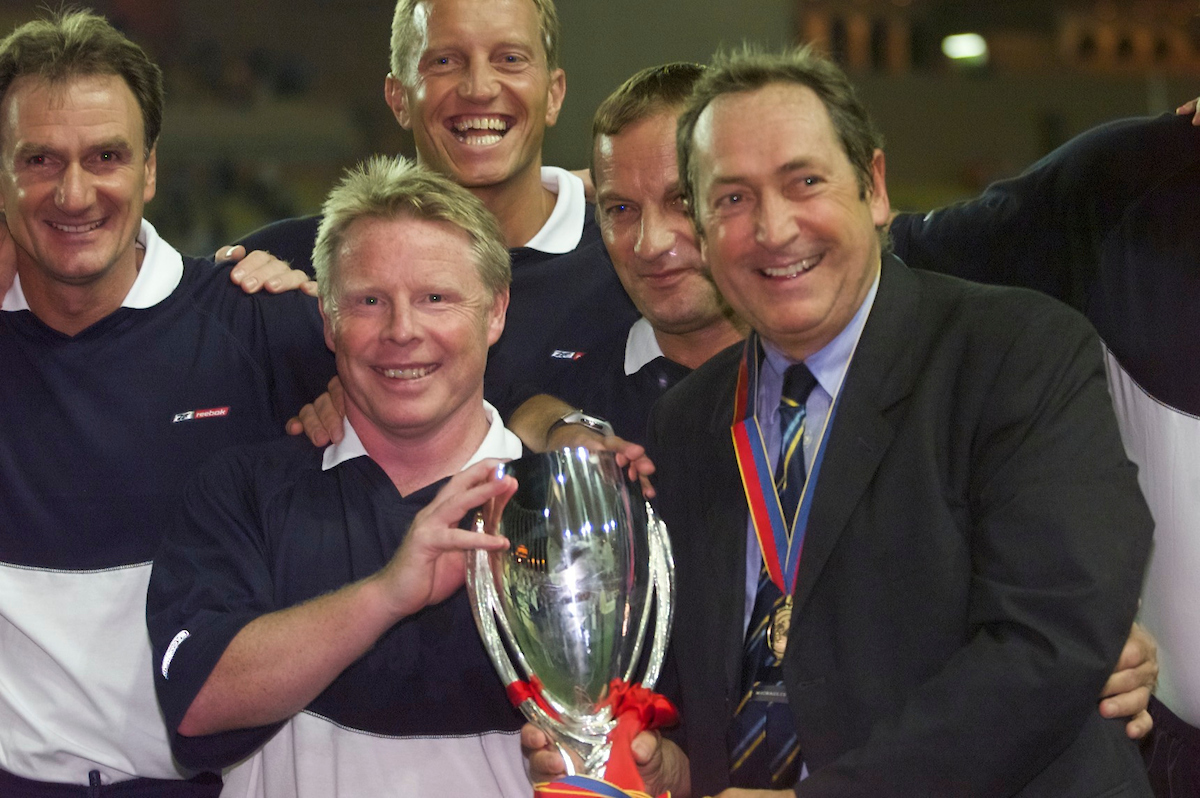 Thereafter, both of these managers had the habit of routinely name checking the Super Cup when reminding journalists of their prodigious trophy hauls. I'm picturing Gerrard Houllier, arm stretched at 45 degrees, leaning against a wall, talking to a young friend – as per that Harry Maguire meme…
"I won the Super Cup y'know, which makes me a pretty big noise in the trophy-collecting game."
Jürgen Klopp is convinced that the Super Cup is worth winning. I think most managers rate it enough. They trot out that it's "good to be in the trophy-winning habit" line, which seems a bit meaningless but may have some merit to it.
Is there a "muscle memory" factor in terms of trophy lifting? Is it like when those life coach-type fellas tell people to visualise the prize? Must help if you keep winning these prizes to do the visualisations.
Frankie Lampard knows all about lifting about oversized silver vases. His was the proverbial glittering career. Now, as Chelsea's gaffer rather than star turn, life isn't so straightforward.
He dreamed of picking up the cudgel from the legendary bosses, like Jose Mourinho and Carlo Ancelotti, that guided him and shared with him those Abramovich ruble-fuelled glory years. They weren't actually so long ago but there's a creeping feeling that they will soon feel as if they were.
Lampard may be taking on Chelsea at the best or worst time, depending on which way round you hold the glass. Their stock is the lowest it's been in, say, 16 years. The only way is up.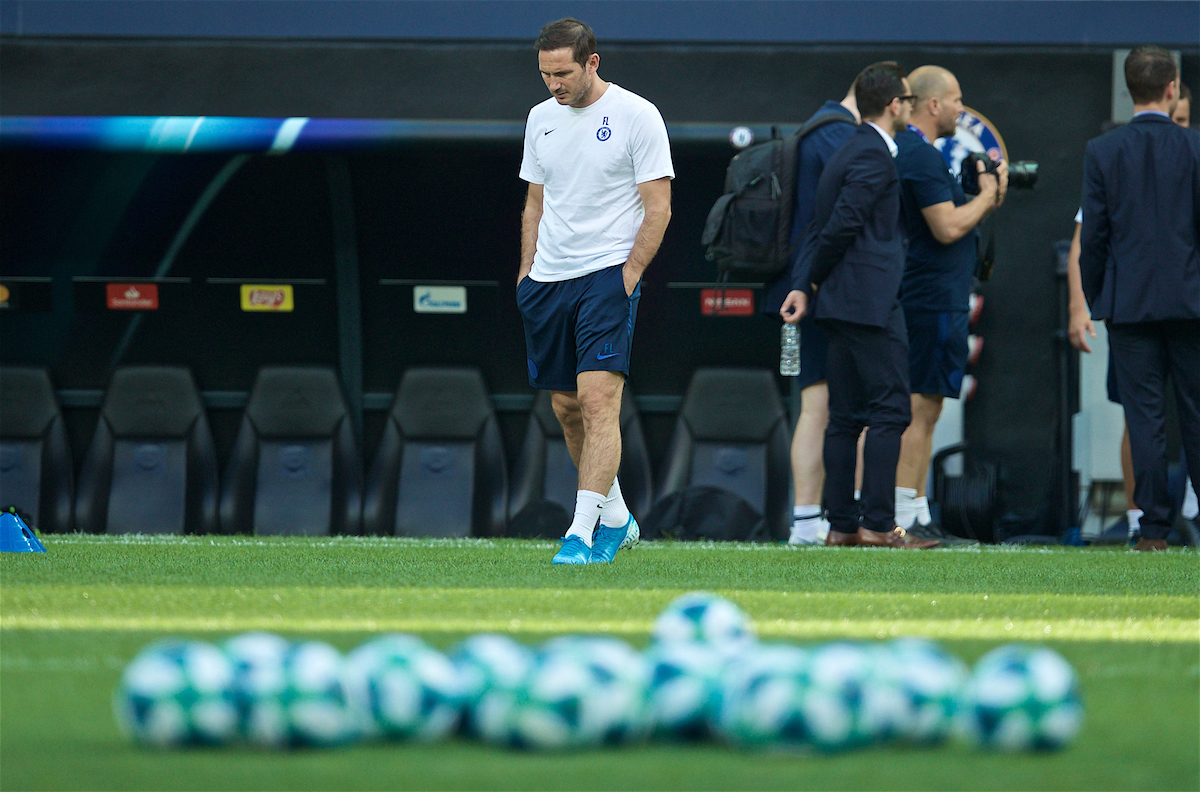 Except it isn't. The rot has set in. The exit of the talismanic Eden Hazard threatens to represent a watershed, of sorts. The Chelsea Lampard inherits are still stocked amply with good footballers but there are no obvious stars. Yet.
Lampard needs the best version of Kante. He needs his young keeper, Kepa, to justify his crazy transfer fee. Kovavic must deliver on his promise, as must baby-faced newboy, Christian Pulisic.
Experienced pros such as Willian, Pedro, Alonso, and Azpilicueta need to resurrect fading reputations. In short, Frank needs all of his planets to align. If they do, his nascent managerial career will truly be up and running.
Liverpool, though, have other ideas. Comprehensive winners in the key encounter in late May, only the now departed Hazard stood between us and a more comfortable win.
The Reds opened strongly with a 4-1 thrashing of Norwich who were lucky not concede double figures. Liverpool were sublime, old-school rampant but the evening was marred by the injury to Alisson Becker.
First name on Klopp's teamsheet, therefore, will be newbie Adrian, our new first-choice keeper. As full debuts go for debutant goalies, this one could be a bit lively. Chelsea may be "in transition" but they remain a threat.
The Liverpool boss's other big calls will be to do with the conflicting desires to both improve early season fitness in his players while also being mindful that he won't want them tired for the weekend trip to Southampton.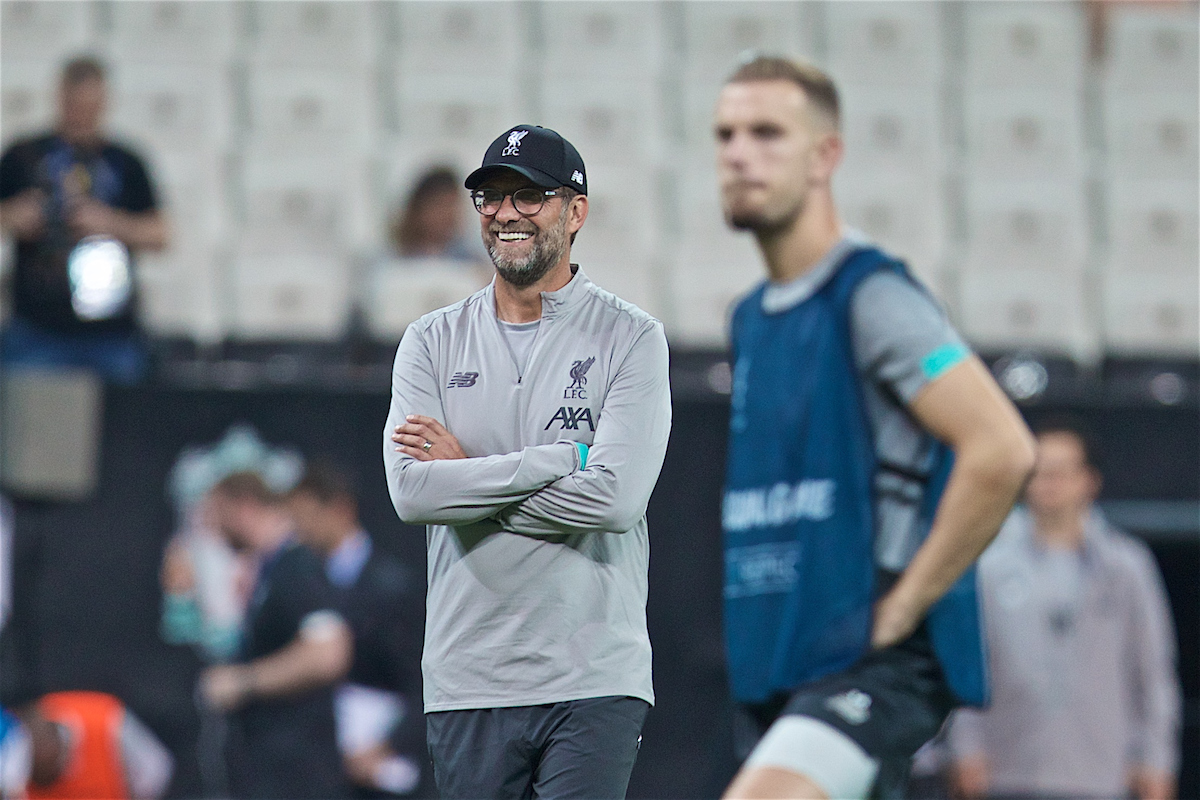 Divock Origi is in a rich vein of form and he should and will be rewarded. Sadio Mane may still play too, though. Perhaps Bobby Firmino will be restricted to bench duty and held back for Saturday.
Klopp's back four should stay unchanged but in midfield there will be a temptation to give one of Naby Keita or Alex Oxlade-Chamberlain a start. Keita in particular will have been earmarked for a big role this season, he needs reintegrating into the first 11 sooner rather than later.
It feels very early in the new season to be talking about trophy winning but we're in this for the prizes.
Here's to Klopp's super Reds starting as they mean to go on.
Predicted 11: Adrian; Trent, Gomez, van Dijk, Robertson; Fabinho, Henderson, Keita; Salah, Origi, Mane
Recent Posts:
[rpfc_recent_posts_from_category meta="true"]
Pics: David Rawcliffe-Propaganda Photo
Like The Anfield Wrap on Facebook