SOMETIMES I think I'm just wishing my life away.
Last season has done strange things to me. Maybe you're the same. I'm catching myself wanting the year to move along faster because I'm impatient to find out how this all ends up for the Mighty Reds.
It's funny but I'm not sure if football, if Liverpool, have ever had this effect on me before. Is it me? Is it The Reds? Are Man City part of the problem here? Either way, as with all the best things in life, football is best savoured in the moment.
One of the things to always be enjoyed about winning, about the win, is how it allows you to really look forward with relish to the next game. On Saturday morning whilst making plans for my trip to Burnley, I suddenly stopped fretting about how this excursion, or at least the prospect of it, could yet be spoiled, if Liverpool failed to beat Arsenal.
Mercifully, The Reds delivered. They won so that I might get to truly look forward to my Saturday a week hence in Burnley. So rather than deal with the test that Arsenal would present that afternoon, I allowed in the relative irrelevancy of my future sojourn to Burnley. As human beings we are extraordinarily adept at wasting our own time.
It's interesting, though, to dwell on why we want something to happen in a football match. Why we might want it so very badly that the prospect of it not happening is too terrible to imagine. I've always thought that we can never really enjoy a win or a moment in football in isolation. We win to give meaning to the next potential win.
The issue now, though, is that Liverpool are very, very good. This brings with it new pressures and refreshed existential crises.
Watching Liverpool sides over the past two or three decades, I could enjoy a win in a slightly purer way. Only quite rarely have I truly believed that Liverpool attaining three points might be part of a journey towards them actually winning the league title. For the most part, our targets have been a bit vague.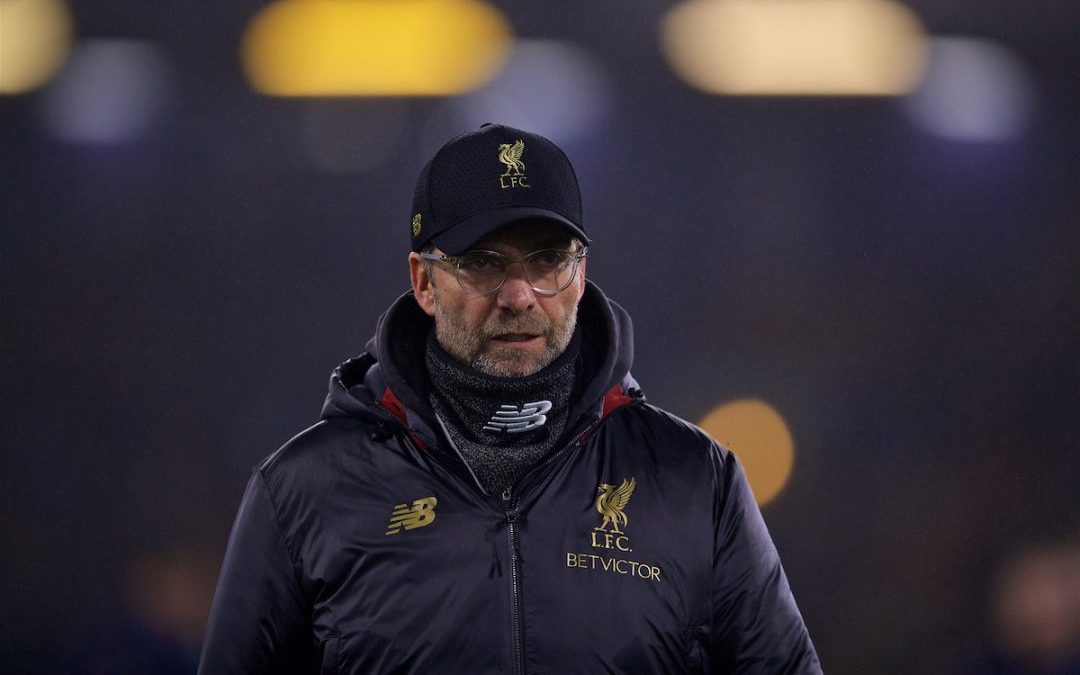 Maybe we'd want to finish top four, or challenge for the top four, or be tentatively spoken of as title contenders, at least till Christmas. These fairly intangible objectives meant that no one result ever felt pivotal. There would always be tomorrow and the prospect of regaining enough form to give a campaign a hopefully positive-ish conclusion.
Last season though, it became clear very early on, that we were in it to win that league title. No merely commendable achievement was going to suffice, only staying on course for winning the big prize.
At the pace Manchester City insist on setting that means that each victory feels like only a small portion of the whole required to outlast them. Winning our next game isn't enough. They'll win their next one too. Liverpool must win their next 10. Sometimes hunting down that kind of staged target feels wearisome. Sometimes it impairs the ability to live in football's moment.
Mo Salah delivers moments. As do his attacking partners in crime, Sadio Mane and Bobby Firmino. These lads are relentless in their pursuit of personal excellence and glory for the collective.
We are a few games into this season's schedule but already the boys are showing no signs of letting up. It's as though they're taking it in turns to showcase their talents. Like they're in a dance-off. "Here's Sadio. That boy is a whirlwind. Look what he's doing there. Now here's Mo Salah. Wow. That's possibly even better. Your turn Roberto…"
Liverpool's football reached something of a new high watermark in victory over Arsenal last weekend. The Reds have played better, won more comprehensively, but this was different, more important.
In imperious form Liverpool under Klopp have generally been a berserker. Now they are killing machine. Arsenal were systematically dismantled. The goals took their time coming but they were never in doubt. Liverpool's victory was never in doubt. Liverpool are now doing exactly what they want, when they want.
Burnley's Sean Dyche could pin my last para on his dressing room wall, if so minded, as if to say: "See these, boys, they think we're not worthy of them. Show them that we very much are."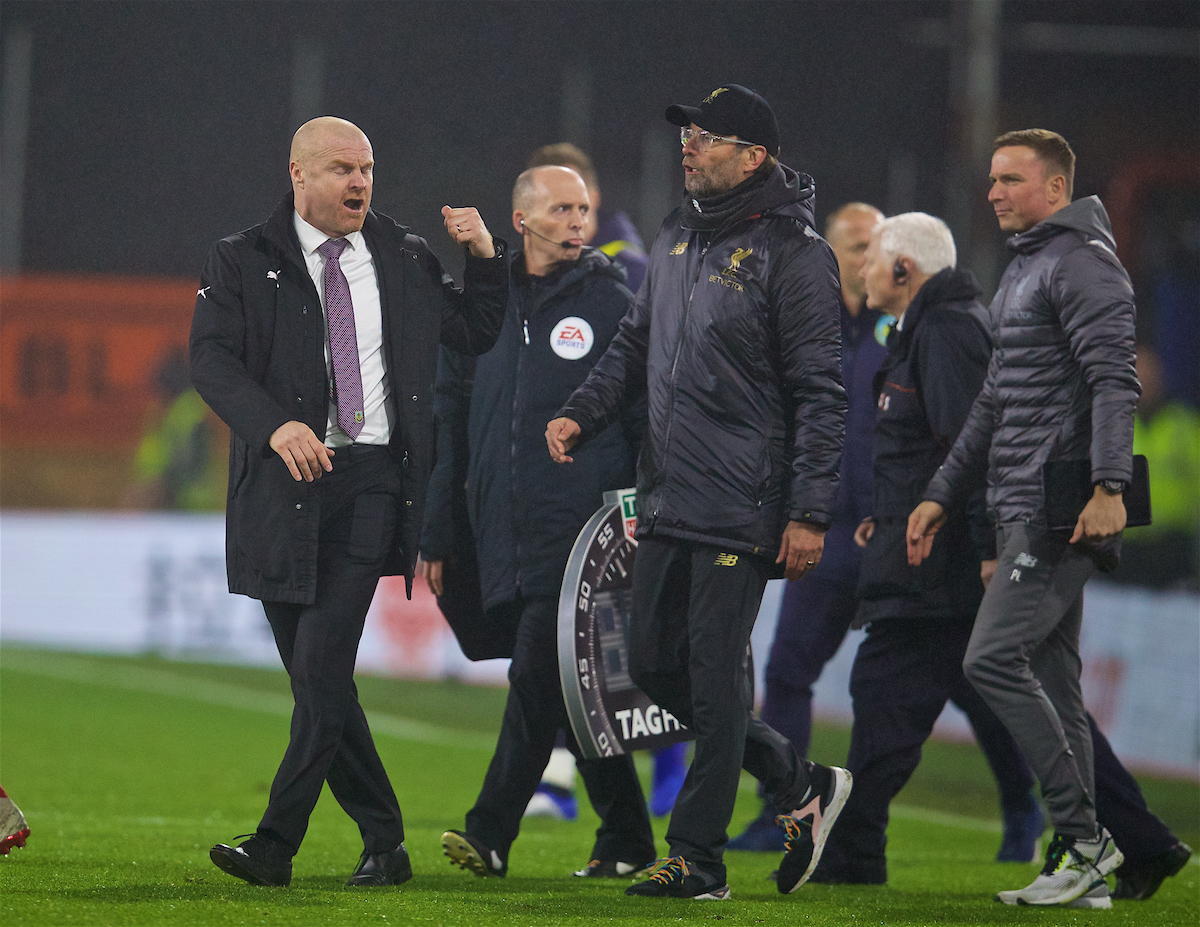 Burnley are that type of team. Dyche has infected them with his DNA as profoundly as Klopp has his coursing through his Liverpool FC. Burnley had a poor start to 2018-19, so poor that it threatened to subsume them. They showed incredible character, it must be acknowledged, to steal themselves and fight back against a tide that seemed so inexorably be against them.
They've won one, drawn one and lost one, so far, but will feel the four points could have easily been seven. Their confidence will be high and they will undoubtedly represent dangerous opponents, even to a Liverpool side in the form that it's in. But for a late Wolves equaliser, Saturday's game would've been another top of the table clash – first versus third.
Jürgen Klopp might have noted that Arsenal's 4-4-2 provided a degree of preparation for Dyche's favoured system, albeit the similarities between Arsenal kind of end there.
Nevertheless, Liverpool were able to bring full backs Trent Alexander-Arnold and Andy Robertson into play, time and time again, as Arsenal effectively ceded the flanks. Dyche may similarly choose to encourage Liverpool to play aerial crosses into the box in the hope and expectation that his centre halves will be robust enough to deal with such a threat.
Liverpool, though, should prove too cute for anything Dyche can prepare. There are simply too many ideas and the experience now to improvise at will, that Klopp's side cannot be contained by anything bar mental restrictions they might unwittingly place on themselves.
Burnley will be respected by Liverpool, but they are in our way. We shake hands, we beat you, we move on.
Saturday is just another moment in our time.
Predicted 11: Adrian; Trent, Matip, van Dijk, Robertson; Fabinho, Wijnaldum, Henderson; Salah, Firmino, Mane
"I expect us to go with the Champions League final team again, and I fully expect another Liverpool win." ✊

📱 Subscribe for all of our buildup and reaction to Liverpool's trip to Turf Moor 👉 https://t.co/TEMh9rqIOf pic.twitter.com/bvdVk4XiWT

— The Anfield Wrap (@TheAnfieldWrap) August 30, 2019
Recent Posts:
[rpfc_recent_posts_from_category meta="true"]
Pics: David Rawcliffe-Propaganda Photo
Like The Anfield Wrap on Facebook