MADRID Airport. Sunday, June 2.
I mean, I was up at 6.45am, not a mark on me. No hangover, no nothing. Mine was an unusual Champions League final day. Friday night, you see, got a smidgen out of hand. European Cup nerves and that, the ale flew, bevied twice in a day. Shapes were thrown.
Saturday morning breaks and I'm a mess. A fat baldy mess of a man, with no ticket, no plan and no hope of either.
Oh yer, and me body decided to choose June 1, 2019, the Champions League final day, the greatest day of our lives, to try a new experiment which involved me being sick on the hour, every hour, regular as clockwork, like the news on the radio. You are listening to Ben Johno's digestive system. It was a nice touch.
I particularly like how it waited to spring this on me until I was in a taxi on the way to the fan park. I'll get out here, lads. Being sick in the street, Spanish people tutting at me and that. I know, love. I'm a disgrace to my family.
I went for a lovely, big, long walk while the lads had a lovely, big, long meal, stopping to be sick in between cars, like a dying dog. Opening me mouth like a coughing cat, half my head of hair in its throat. Well you don't need it anymore, dickhead.
All hope of a ticket long gone, the lads go to a boozer and I decide to have a kip under a tree in the park. Parque de El Retiro. Honestly, it was idyllic. Locals having a little siesta under trees. People in rowing boats. Young lovers canoodling in the shade, a lovely Spanish lady playing the ukulele to her fella, singing Queen in English.
A fat, bald, horrible, English pig lying on his back occasionally rolling on his front to impart some orange substance, which I'm saying tasted like it had come straight from hell. Think battery acid, mixed with the devil's undie juice, onto the grounds of this pristine park before rolling back, inches away to doze.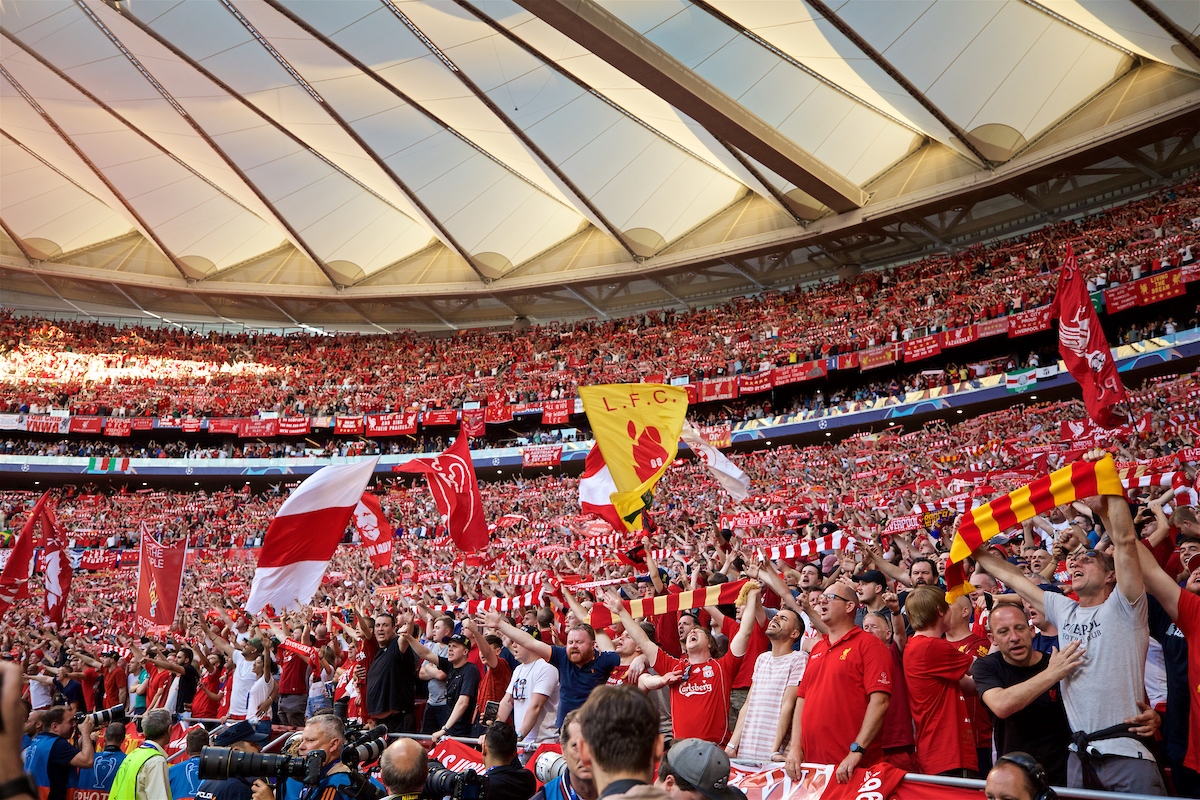 I mean, I'm not sure if I was upsetting the mood and that, but when I looked up occasionally the canoodling seemed to have stopped. Better than nodders, lad.
Couple of hours before kick off I went to meet the lads in what can only really be described as a fucking butty shop with the ale in, a fucking subway, to watch the biggest game of our lives. A fucking butty shop. Think about that.
I spent the hours leading up to kick off with my head in the sink. Like at The National when a horse is sweating that much they have to lash water on it. There was salt crystals forming in my beard. There was an unusually big queue for the bogs but no one was having a piss. Weird that, init?
The telly went off. There was nearly a riot. The telly come back on. The Reds had a pen. What the fuck. The Reds were shite. The Reds were shite. The Reds were Shite. We score the second. Nothing else matters. Mayhem. The leccy goes in the gaff. Mayhem. We watch the last five minutes on a phone. Nothing else matters.
With love from the bottom of my heart.
Alisson: 10
We don't win that game if he isn't in goal. He was just so good. His footwork. His fucking saves. His positional sense. His fucking sense. His frame, his everything. Best I've ever seen and I seen Westerveld, mind you. The save from the freekick is unbelievable. The save from Son when he pure twatted it then the one right again from Lucas Moura. Unreal.
Holding the European Cup with one hand. Souness.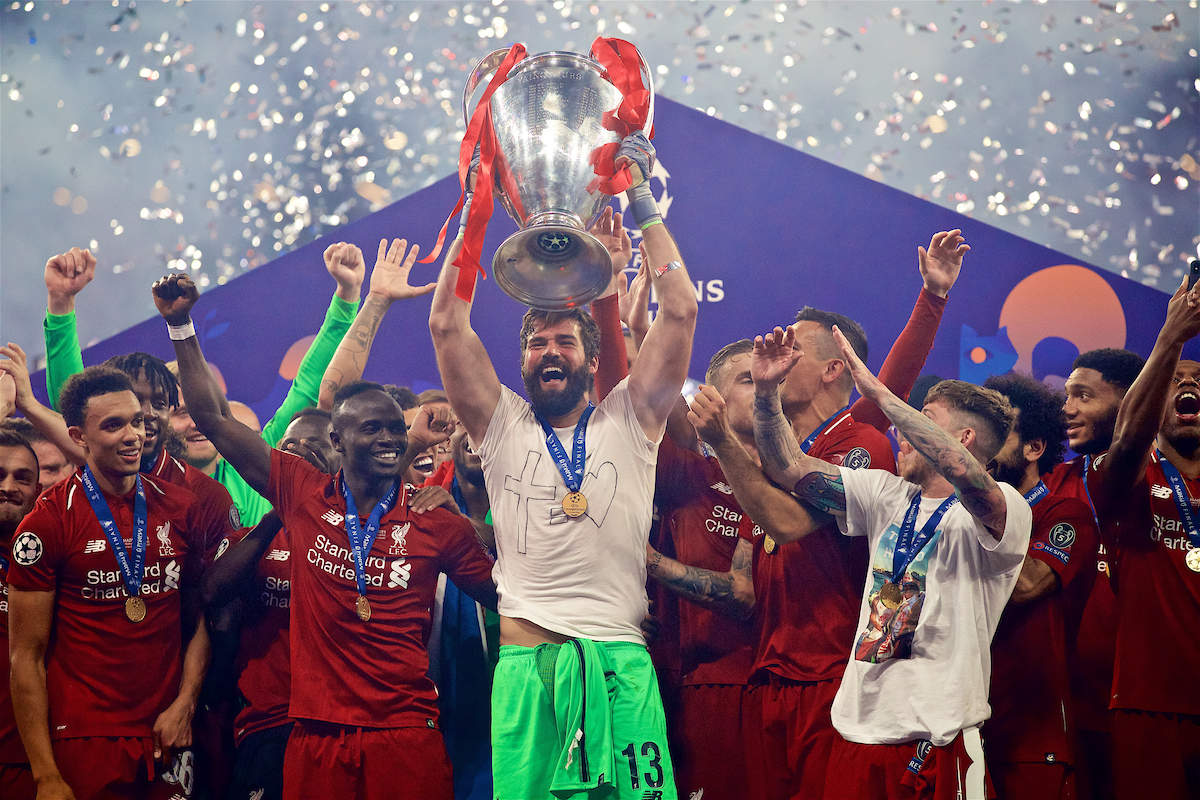 Trent: 9
What can you say about him that hasn't already been said? Twenty years of age and he's winning European Cups. Imagine that one goes in when he did his best Ste Gerard impression, there. Gave it away with some mad decisions first 20 but fuck me, it's the European Cup final. I'd be trying to score with every touch.
Was great defensively. But honestly we won, nothing else fucking matters.
Big Joel The Leccy Conqueror: 9
Mad the way he was fourth choice, everyone is binning him in the summer and a couple of lads get injured and he turns into a really, really, really good player, and ends up better than van Dijk for a bit.
Still does mad shit with his body now and again, like has involuntary twitches and that. Scousecharms has got a mate who got struck by lightning while he was stood under a tree. Two of his mates exploded. Literally exploded. He lost 40 per cent of his body weight, and can now turn the telly on and that without touching it, like a fucking X-Man.
Reckon it might be Joel, you know. Zapping his way to glory.
Virgil: 9
I have heard a rumour that he cried before we lifted the cup. I mean, Jesus Christ that would have broken me. I'm glad the telly went off. His recovery run when Son was in was incredible. He looked for the first time in his life like he weren't getting back and then he just lashed the burners on and boxed it. An unbelievable footballer.
Made up for him that his decision to sign for us has been vindicated. What a hero.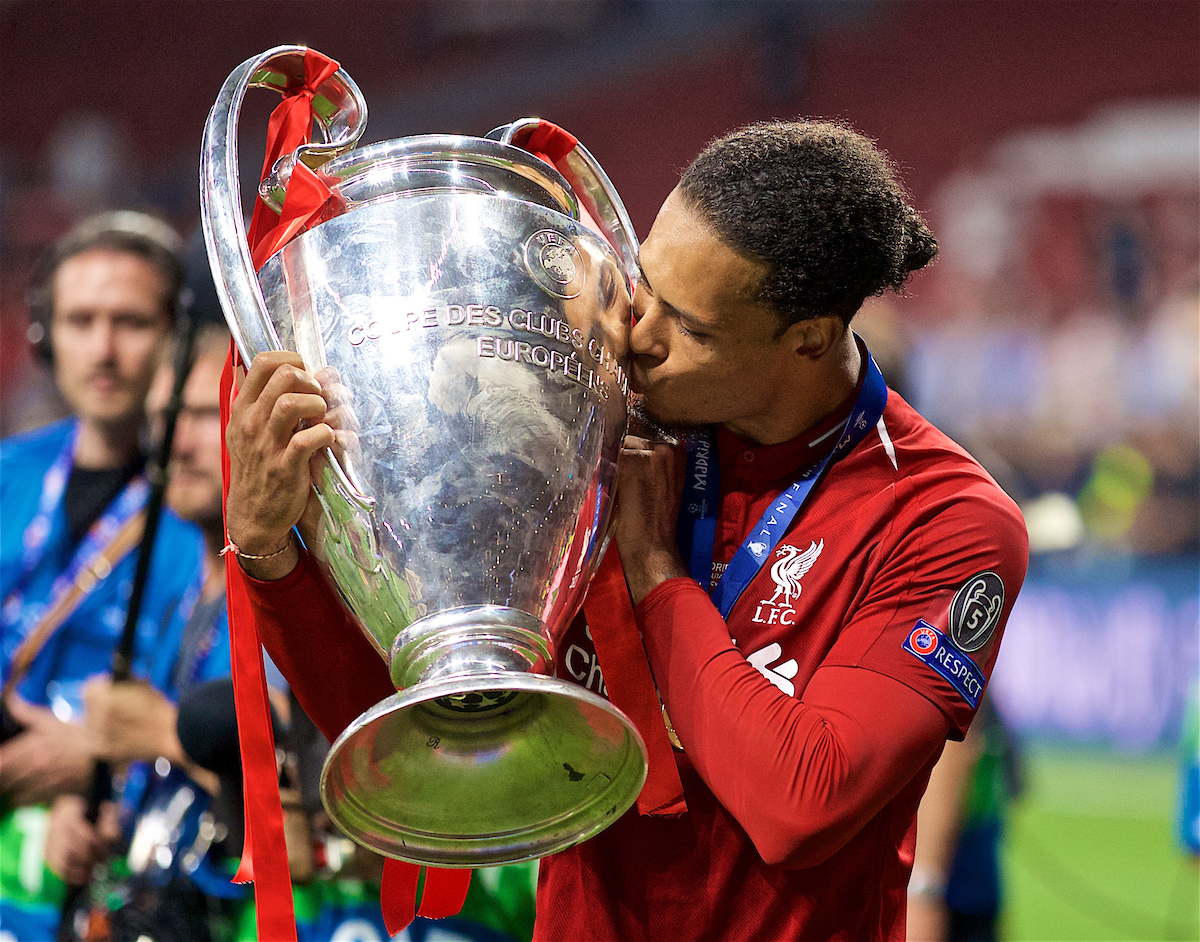 Andy Robbo: 9
Cope was obsessed about his body shape. It was pretty fucking good, to be fair. Some of them balls he put in were unreal. Great effort. Didn't stop running and that takes some doing in that heat. A fabulous footballer. One of the best.
Gini: 8
Struggled to have an impact really, but then in fairness he fucking got us here. The right sub to take him off, but so fucking what? Nothing else matters. Harder job than it looks that midfield shuffler. Shows how good Henderson is that he could keep going.
Jordan Henderson: 10
I'm not even rating his performance. I'm rating him as a man. I reckon I'm happier for him than I am for me. A wonderful, wonderful human being. The video with his auld fella was pretty cry-y, wasn't it?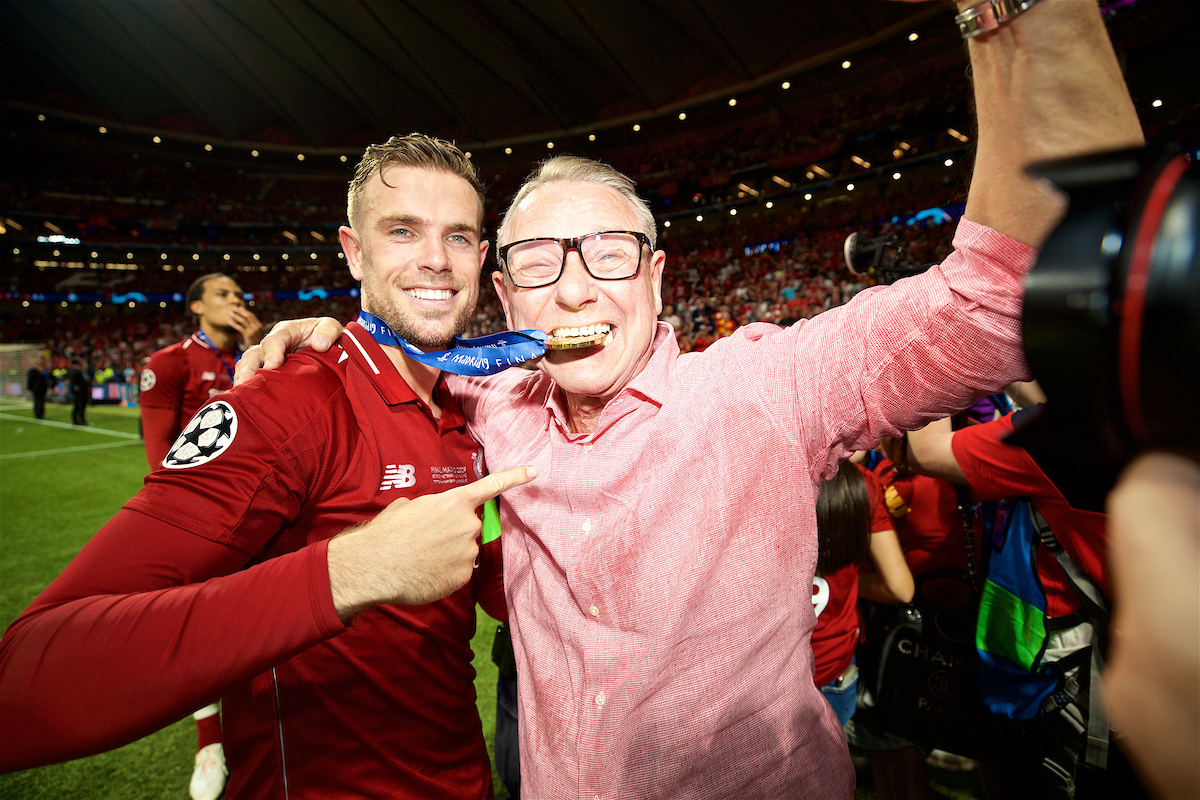 Fabinho: 9
What a tremendous signing. Absolutely steel. As in as hard as steel and a bargain. Seriously impressive in them little holes, isn't he?
Sadio Mane: 10
Unbelievable, wasn't he? We had a really big discussion yesterday about what we would do if our birds get sick of us and fuck us off. It was decided that I was moving to Senegal. Heavy that, isn't it? I mean I would miss my wife and family and that because, you know, I love them, but Senegal would be pretty nice, I reckon.
Unbelievable ability to kill time/take fellas on, get The Reds up the pitch and nearly set up a goal in one move. Just pipped to man of the match by me and Alisson.
Mo Salah: 9
Redemption song. I mean, it was pretty nice, wasn't it? I hope Sergio Ramos was watching it in his gaff with a bit of a cob on. He twats that pen in fairness and it's a fucking good job cause it's only the speed that beats the 'keeper. Made some poor decisions really, and wasn't at his best, but he's sat in his gaff with a big gold medal round his neck.
Nothing. Else. Matters.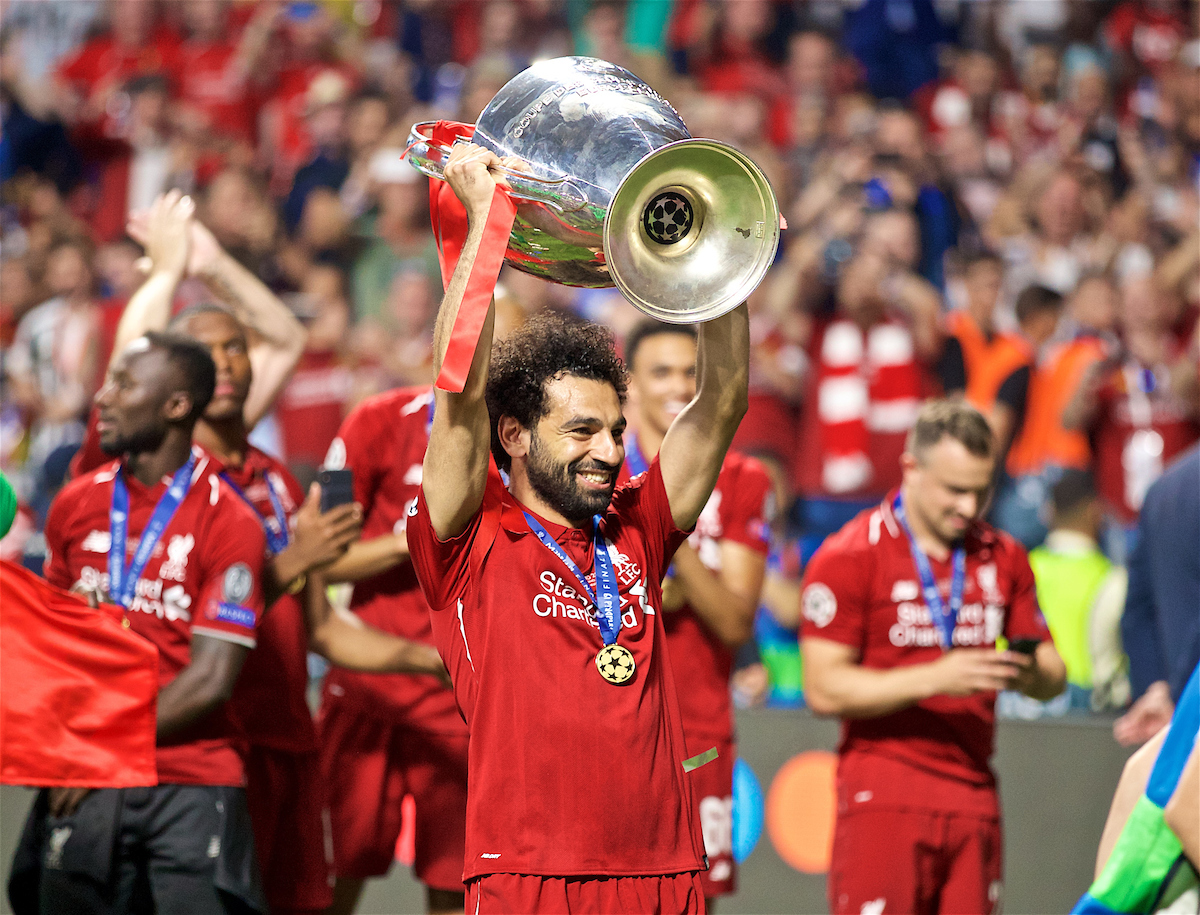 Bobby Firmino: 7
Was nowhere near fit, was he? Couldn't press, couldn't control it, couldn't really do much, in fairness. The right decision to sub him obvs, but so fucking what? We won. Nothing else matters.
SUBS
Milner: 8
Made up for him, you know. Absolutely come on and got The Reds through. What a fella.
Div: 10
Was absolutely shite for 20 minutes there, wasn't he? Shite. But then, that little shift onto his left, bang, the only place it could go in. Want to watch that again for all eternity. Wish I was in that end for it but never mind.
I got to watch Adam Melia, sat down, watching his timer on his phone instead of the match, unable to see the telly, look up with little hopeful eyes, as all hell broke loose around him, look straight into my eyes for confirmation, with a little smile on his face, start laughing and crying and celebrating all at the same time. I will never forget that.
It's 11am in Paris as I write this and he still hasn't seen the goal.
Jurgen: 10
I don't think I have ever been happier for anyone in my life. He is a remarkable man. A true leader of men. Unbelievable what he has pretty much done single handed for this club. He wouldn't have a word of it being just him, though. That's the marker of him.
I hope to meet him some day, maybe on a plane, on the way back from a European final, and I can tell him how much he means to me and maybe say thanks.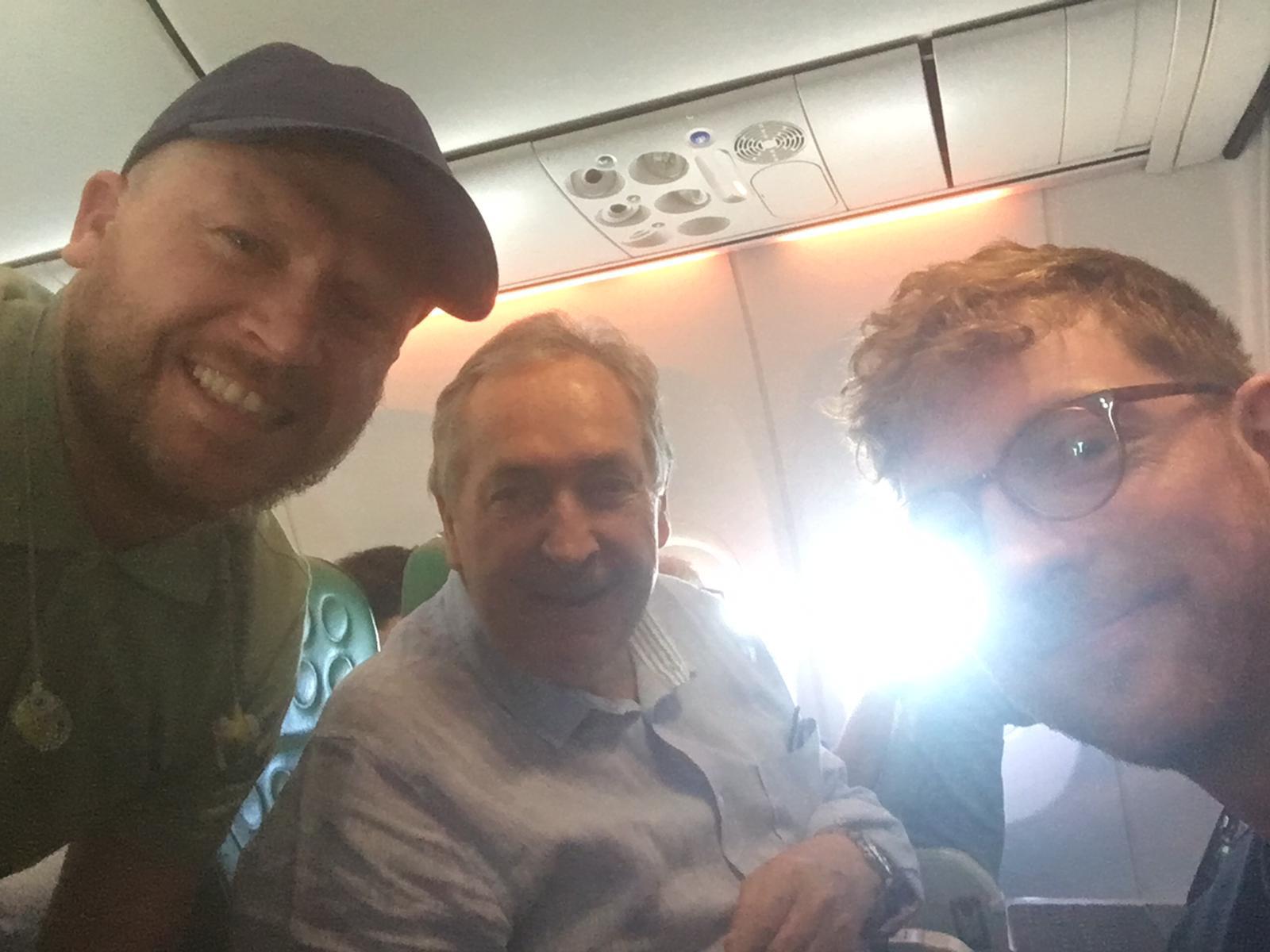 "LIVERPOOL HAVE WON THE EUROPEAN CUP.

"These are the best moments of all of our lives." ❤️

🗣 Subscribe for all of our reaction as The Reds are crowed European Champions for the SIXTH time 👉 https://t.co/XZAK9veWt7 pic.twitter.com/le8ythbzm8

— The Anfield Wrap (@TheAnfieldWrap) June 1, 2019
Recent Posts:
[rpfc_recent_posts_from_category meta="true"]
Pics: David Rawcliffe-Propaganda Photo
Like The Anfield Wrap on Facebook