I'M on the top of the world,
Lookin' down on creation,
And the only explanation I can find,
Is the love that I've found ever since you've been around,
Your love's put me at the top of the world…
(R. Carpenter & J. Bettis, 1972)
THERE'S Gini Wijnaldum on Tuesday night, at the final whistle, on his knees, covering his eyes.
He's looked into the face of god. Can't take in what he's witnessed. He's seen pure bliss.
There's Trent Alexander-Arnold in the 79th minute prowling by the corner flag. He feigns to leave the kick to another but then in a blinking of an eye he's spun on a heel and into the ball. He whips it into the path of Divock Origi, who in turn sweeps it into Ter Stegen's goal.
Anfield erupts, manager Klopp later hails Alexander-Arnold's ruse as a moment of divine genius. But Trent's done that before. In the playground, in PE, in his back garden. The boy who just loved the game. The genius is that he's always the boy.
James Milner. He's got his arms around his comrades, tears streaking his features. He's openly weeping and all the world can see. James doesn't care. James is a real man.
Anfield, five minutes to kick off, Champions league semi final second leg, Liverpool v Barcelona. The ground collectively aches as every man, woman and child belt out You'll Never Walk Alone.
Liverpool's timeless anthem can be rendered in many different ways. Sometimes it is defiant, often joyous, other occasions angry but tonight it is a lament, a song of collective sadness and togetherness in the face of great disappointment. A Liverpool team, arguably the best the club has ever been represented by, looking increasingly like seeing out a magnificent campaign with little prospect of tangible reward.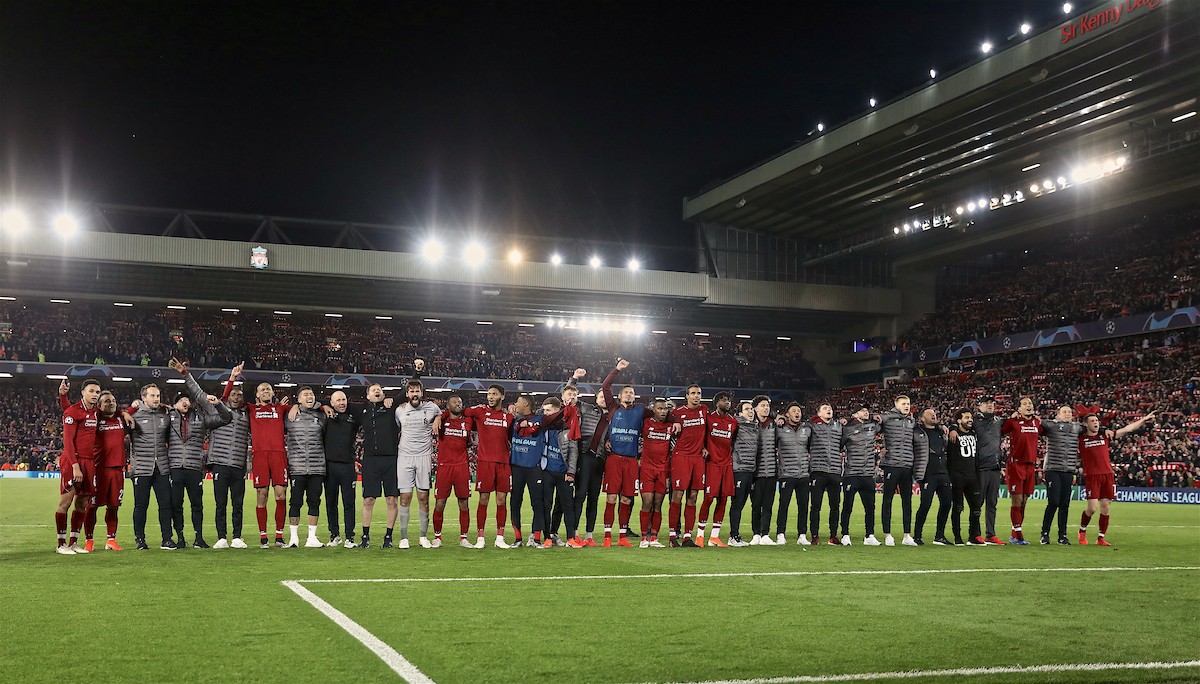 Only at Anfield is everything possible. Only there could Tuesday night happen. The team that couldn't be broken lifted itself from a canvas it had never deserved to be prone upon, raised its guard and started to swing and jab.
The footwork was electrifying as Liverpool danced through and around the self-styled best football team on the planet. Barcelona were tenderised, dizzied and then floored, blows raining down, an onslaught they were powerless to resist.
Now Liverpool are ready. Finally, Jürgen Klopp's Liverpool are ready. Ready to step forward and accept the mantle of champions. Thus far they have been imperious, kings of all they've surveyed but kings without a crown.
The team that Klopp built deserve to be league title winners for the 2018-19 season and to step up and claim that prize by beating Wolves on Sunday. The record would show that the team that took 97 points from 114 on offer were the best team in the land.
Liverpool may not become league champions on Sunday because it is extremely likely that another incredible collection of footballers, Manchester City, defeat Brighton and finish top of the Premier League, ahead of Liverpool by the narrowest of margins.
At the beginning of the week, as a ridiculous Vincent Kompany goal took City back to the top of the pile, it seemed Liverpool's match with Wolves would be consigned to footnote territory. Heavy defeat in Barcelona a week ago looked likely to compound Liverpool's misery and to provide a sad conclusion to what has for so long been a story worthy of having a glorious finale.
Then Tuesday night happened. Anfield happened.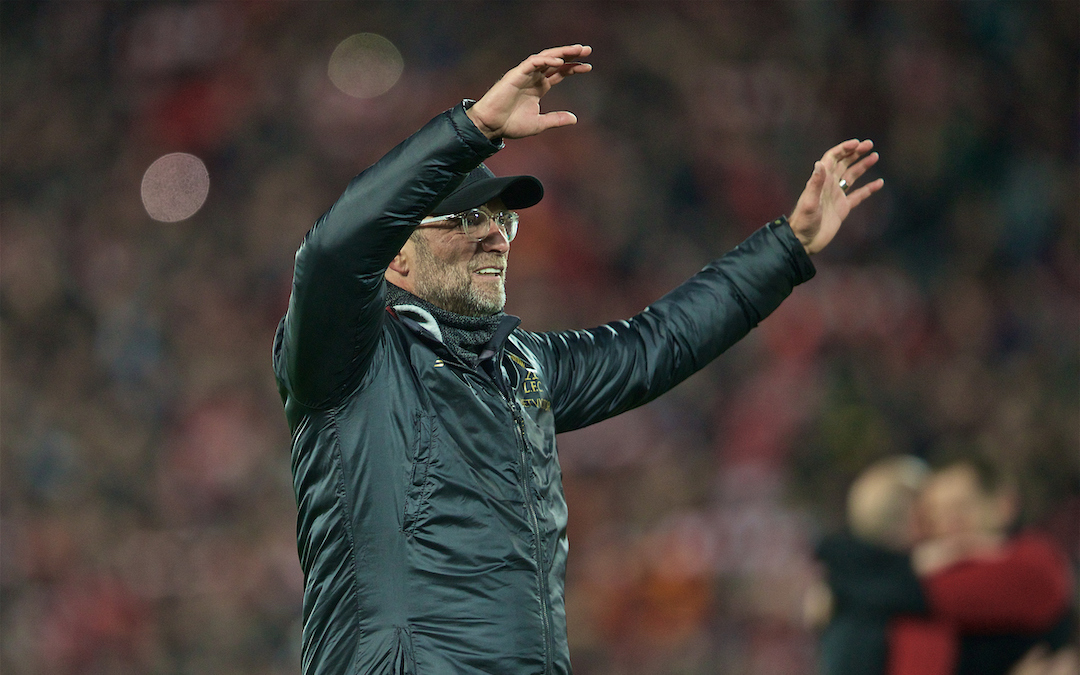 Now everything has changed.
We'll be positively strutting down Walton Breck Road on Sunday. City really can't hurt us now. We have travelled two steps further than them in the competition they coveted the most. We are favourites to be crowned at last and crowned as kings of Europe.
Of course, it may not happen and we may not win the league either but the landscape has changed. We have more than a puncher's chance of real silverware. Sunday can now be treated as a potential incredible bonus. City can pip us to the title and we can shrug and wave them off as we pack our trunks for Madrid.
We haven't reached the summit yet, but it's very much in sight.
Regardless of what happens next, the view from up here is wonderful.
Predicted 11: Alisson; Trent, Matip, van Dijk, Milner; Fabinho, Wijnaldum, Henderson; Salah, Origi, Mane
Kick off: 3pm, Sunday
Referee: Martin Atkinson
Odds by RedsBet: Liverpool 20-67, Draw 9-2, Wolves 37-4
Recent Posts:
[rpfc_recent_posts_from_category meta="true"]
Pics: David Rawcliffe-Propaganda Photo
Like The Anfield Wrap on Facebook