GREETINGS from Barcelona. Where the sun is shining, and the weather is sweet, yeah.
Football aside, we've had a lovely time of tapas, sangria and cerveza. The city was hospitable and we were very open to hospitality. Between rooftop bars, beaches and tavernas, we've sampled it all. What a city it is. Everything you could want in one place. Perfect.
Some Liverpool supporters chose to enjoy themselves in a different way. Videos of locals being pushed into fountains are as frustrating as they are embarrassing. People are desperate to have a go at people from the city so I wish we didn't give any further ammunition.
We sing about "conquering all of Europe" but this shouldn't be taken literally.
There seems to be an attitude in England, which Liverpool is part of whether we like it or not, of going abroad and "conquering". Find an area and take over. Maybe we are all guilty of fuelling that mentality. We travel like no other set of fans but occasionally the "take over" mentality can spill over into hostility. And then police respond with their own.
It's not hard to get right. The vast majority manage it. For everything you might have seen on social media there are bars round the corner full of songs, laughter and ultimately respect. Liverpool enjoying Spain and Spain enjoying Liverpool. As I say, it's not hard. There is so much of both to enjoy.
On the pitch, unfortunately, Barcelona were anything but hospitable. Ruthless in front of goal and miserly at the back. Liverpool had plenty of the ball but none of the goals. We arrived with so much promise but leave with just regret and disappointment. What ifs and maybes.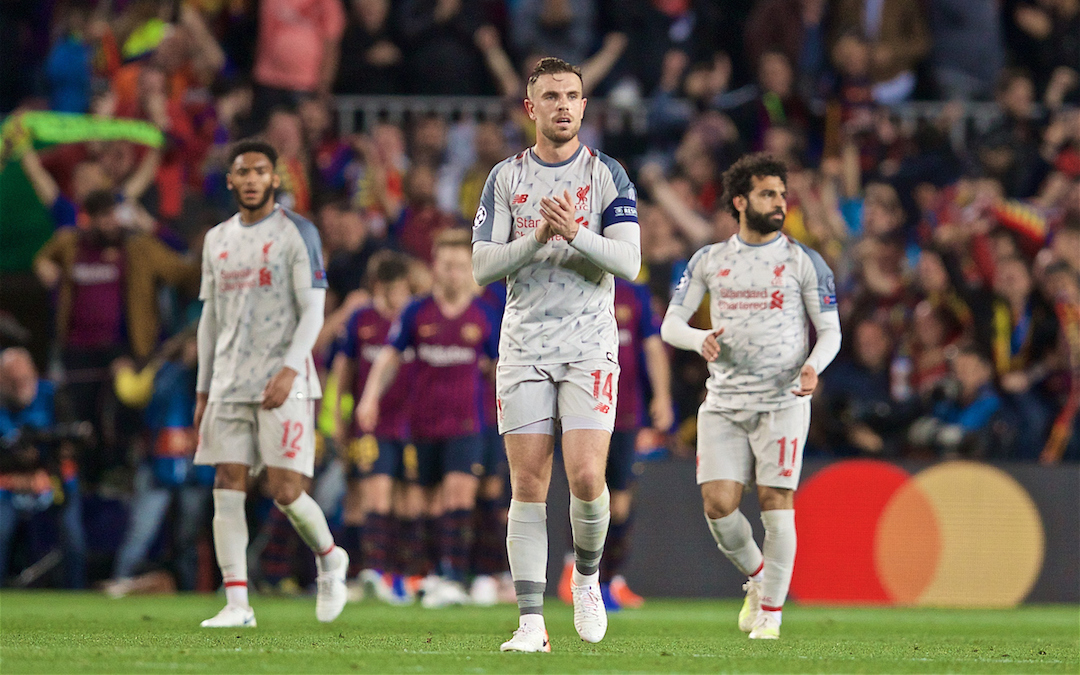 For all the positives, it now feels more likely than not that this season will end without a trophy. We all hope for a miracle on Monday or Tuesday, and it is possible. But more likely not.
I'm not giving up. What's the point in that? But I'm not ignoring the probabilities either. That Barcelona and Manchester City prove to have too much, even for this great side. That we are beaten to the line.
Tonight we fly home and reintroduce ourselves to our partners and then text friends asking what time the bus leaves for Newcastle. A season which felt like it would never end at one point now feels it is ending too soon. A week or so and it could be over. Should be over. Just over a week and our fate will be clear. We'll have the summer to celebrate or regret.
But no point feeling sorry for ourselves yet. Tomorrow the hangover will be gone and the sun tan and memories of singing in bars and believing another famous night was ahead of us will remain.
This team has taken us on some amazing journeys. No point stopping just yet.
Make them work for it. All of them. The bastards.
"Liverpool have lost which is an unusual feeling."

"I don't know whether we're still in this."

🗣 Subscribe for all of our reaction, live from Barcelona, here 👉 https://t.co/sAYhSu6Qag pic.twitter.com/1bgKYBKP9c

— The Anfield Wrap (@TheAnfieldWrap) May 1, 2019
Recent Posts:
[rpfc_recent_posts_from_category meta="true"]
Pics: David Rawcliffe-Propaganda Photo
Like The Anfield Wrap on Facebook