THERE was always a possibility.
A possibility that Barcelona might dish out the kind of first leg beating to Liverpool that would render the second leg of this European Cup semi final all but redundant.
Liverpool had the capacity to have beaten the Catalans and beaten them well, but fate wasn't having it. I felt we'd either rock Barca in their own fortress and carry something like a 3-1 win back with us to Anfield or we'd be on the wrong side of a serious reverse.
No one imagined that Liverpool could both so comprehensively dominate Barcelona at the Nou Camp and yet take a proper hiding.
The bullish (deluded) among us think we can summon the spirit of 2005 and turn this tie around. But Barcelona are surely too good to be made mugs of, especially by a seriously weakened and distracted Liverpool.
The early news on the wires is that Mo Salah and Bobby Firmino are definitely out. I'm content with that if it increases the chances of them both starting against Wolves at the weekend. At the time of writing the odds are against us lifting the Premier League trophy next weekend but they're still better than our chances of yet being crowned European Champions this season.
Aside from Mo and Bobby, Jürgen Klopp will want to take as few risks with his main men as possible. I don't think that will extend to resting the likes of Virgil van Dijk or Sadio Mane but if anyone is nursing a minor niggle expect them to be benched at least.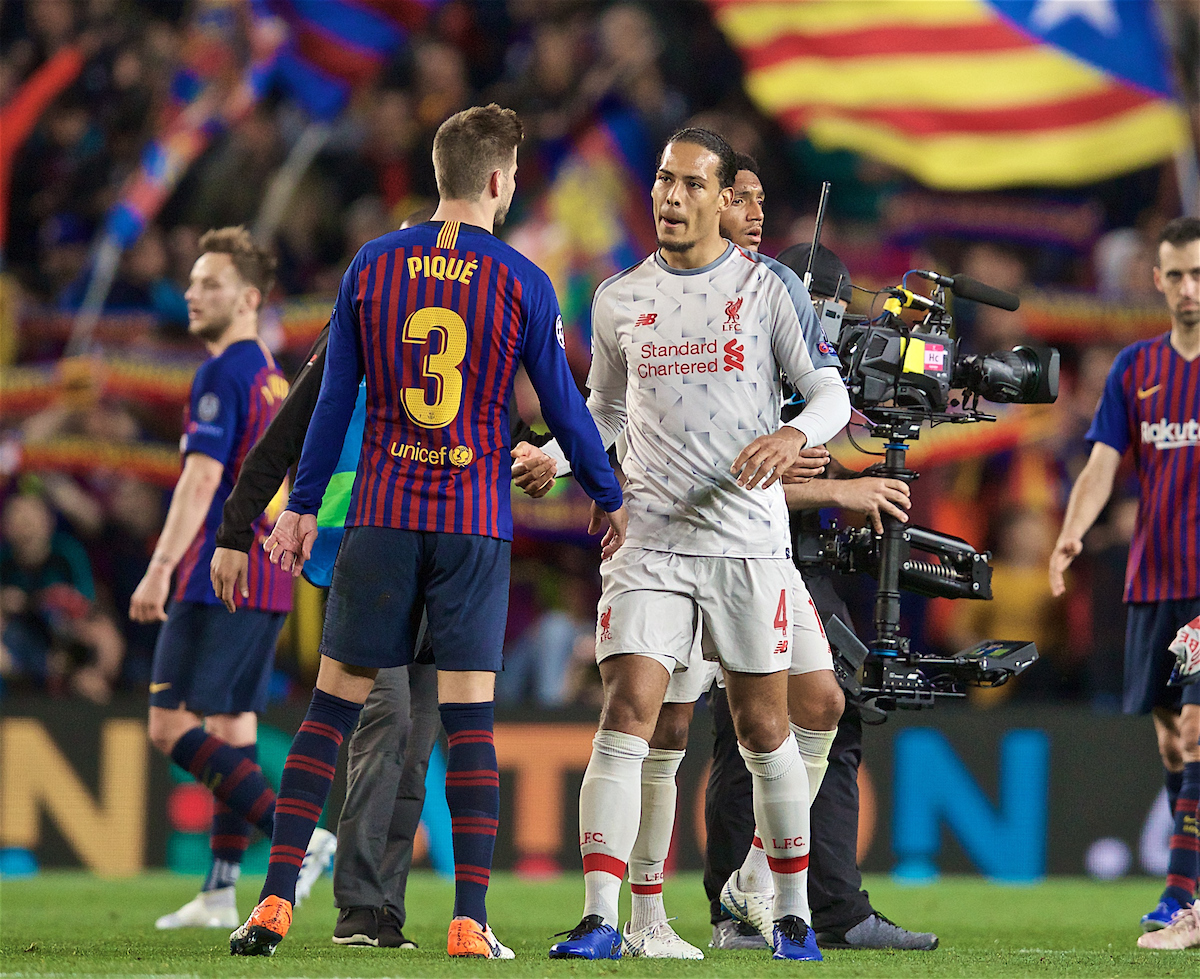 Hey, I'm not giving up on us knocking Barca out entirely. I will be in my usual perch at Anfield on Tuesday night. By kick off I'll have talked myself into believing that if we can just get a first half one-goal lead that anything will become possible.
In the corner of the multiverse where Liverpool do stage a remarkable comeback and reach the Champions League final, Klopp will pick a front three which will feature Sadio Mane as its spearhead with Divock Origi and Xherdan Shaqiri providing the pace down the sides.
The latter two were cameo stars of the breathtaking and emotional victory over Newcastle on Saturday night. If ever you wanted to contrive a scenario where you were able to properly warm up stand-ins to come in from the cold then it was provided at St James' Park.
From being cast aside and left only as witnesses to the unfurling of an incredible Liverpool campaign suddenly, from nowhere, the likes of Origi, Shaqiri and Sturridge found themselves centre stage. None were exactly world class on the evening but all contributed and each would've felt themselves reinserted into the story of the club and the season. All three would've slept very sweetly on Saturday night and maybe for the first time in a good while.
Jürgen Klopp will know this and look to channel the positivity of freer minds for the team cause.
In the dream where The Reds win, this new front three, with Sadio running wild ahead of a pumped up supporting cast, Klopp has selected his bulldog midfield of James Milner, Jordan Henderson and Gini Wijnaldum. These lads certainly know the ropes.
They collectively rolled up sleeves and ran Liverpool to last year's final. They were all lungs and sinew and Europe couldn't deal with them. If each soldier finds his highest level then maybe even Barcelona will be blown away by their hurricane.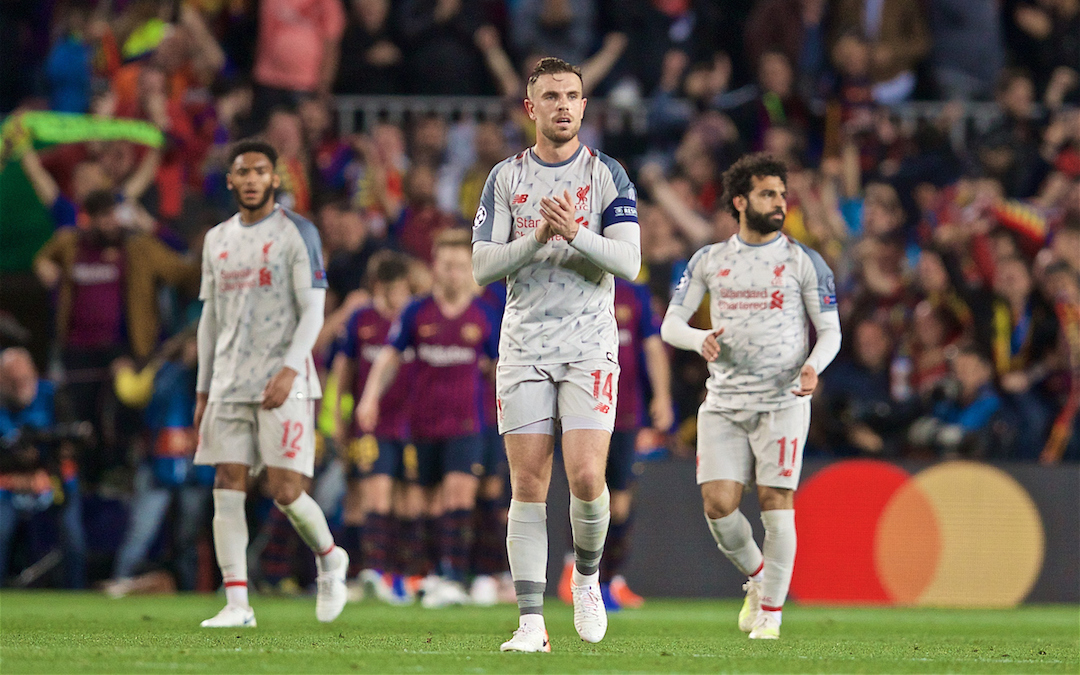 Of course, Barcelona will be the more rested side. Valverde put out the reserves in La Liga at the weekend. Liverpool won't care, though. Liverpool are brimming with adrenalin and ablaze with a burning sense of injustice that they will most likely end this campaign without silverware.
There may be a temptation to rest one flying full back but the clipping of attacking wings that the injuries to Salah and Firmino represent could lead Klopp to resisting. If he pulls Trent it will be for Joe Gomez. Andy Robbo would be replaced by Milner, with Fabinho then stepping into the midfield rather than being rested.
The other wildcard Klopp has to play is Alex Oxlade-Chamberlain. Out for a year but back in training and some first-team minutes under his belt against Huddersfield, it may be a case of "if not now then when?" with Chamberlain. There's an argument for giving him 60 as the surprise element that Valverde will not have anticipated.
My hope is that this game is, at a minimum, an enjoyable, pride restoring (not that we have really lost any) exercise and hors d'oeuvres for a much more pressing engagement at the weekend.
Let's remind Barcelona that they are mortal and that we are coming for their crown.
If not now, then most definitely soon.
Predicted 11: Alisson; Trent, Matip, van Dijk, Robertson; Henderson, Milner, Wijnaldum; Shaqiri, Mane, Origi
Kick off: 8pm, Tuesday
Referee: Cüneyt Çakır (Turkey)
Odds by RedsBet: Liverpool 6-4, Draw 53-20, Barcelona 7-4
Recent Posts:
[rpfc_recent_posts_from_category meta="true"]
Pics: David Rawcliffe-Propaganda Photo
Like The Anfield Wrap on Facebook