HERE we are again and here they are again.
It's 2014 all over again. Us on the edge of fulfilling our destiny and them cast in the role of spiteful dream wreckers. There was no need for them to take the title from us and hand it to Manchester City in 2014, and equally now, this is a contest that is all about us and simply not about them.
The parallels are unavoidable. Three games to go then, just five now. Anfield the stage, Man City waiting in the wings, willing us to fail.
Looking back, our greatest folly in 2014 was in treating a must-not-lose game as a must-win game. We were too greedy then. We were in a rush to get the job done, to be crowned champions.
Perhaps a more experienced team and manager (than Brendan Rodgers) would have done two things differently – firstly, the maths, and realised a draw was a perfectly excellent result and secondly, not underestimated the opponent. Chelsea had no skin in the game but it didn't make them not a very dangerous challenge.
I sympathise with Rodgers. He chose to face only forwards and wanted to channel the momentum of an 11-match winning run. He felt that we should remain fearless, even to the extent of showing a significant opponent a degree of disrespect. Klopp may face a not dissimilar dilemma. Chelsea are strong but deeply flawed, their 6-0 trouncing at the Etihad still fresh in the memory.
We could be bold and wild. We could blow them away. But they could resist us too. They could stay calm, and as in 2014, wait for their moment.
A win would be a fantastic step towards our goal but still with much work to do. A defeat, though, would be catastrophic. We could survive the draw. Yes, we'd then need two slips rather than one from City, but a defeat would mean we'd require them to fail to win in half of their remaining games.
Yes, of course it's a must-win game, all our games remain so until there is daylight between us and City. But it is in equal measure a must-not-lose game.
I'm not sure Jürgen Klopp will see this my way. He may have done a few weeks ago. I felt in certain games, maybe Everton away, that he felt we shouldn't risk turning one grudgingly attained point into zero. There was a sense of a "what we have we hold" mentality. It has helped keep Liverpool unbeaten in 12 and fearing no team because of it.
Against Tottenham at Anfield a fortnight or so ago, Klopp changed tack. He could've taken the point on offer. Spurs had equalised and it clearly gave them the belief that they could steal the win. The Liverpool manager had other ideas, though.
He threw Divock Origi into the fray and set four attackers bearing down on Spurs. It was a risky strategy that was ultimately rewarded but not before Spurs had broken on an undermanned Liverpool backline and threatened to score again themselves.
Although Liverpool's victory that day was scruffy and appeared fortuitous, secured by Alderweireld's last-minute own goal, it was a product of the attacking intent of a home side that wanted only to win, or die trying.
Enter Chelsea. Klopp will feel that this is the decisive moment and that all must be risked on taking the opportunity. If Liverpool win, they will have four left to play and the very realistic prospect of concluding this league campaign with nine straight victories.
From where we stand, ahead of Sunday's matches, Manchester City have only around a 20 per cent chance of winning all of their remains six matches. Think about that. In all probability, it can be classed as "extremely likely" that City will drop points in at least one fixture.
Of course this can also be said of Liverpool, but the odds of The Reds winning their last four games currently sits at about 50 per cent, if Liverpool can see off Chelsea. On paper the league title is not in our hands, but in probability terms it most definitely is.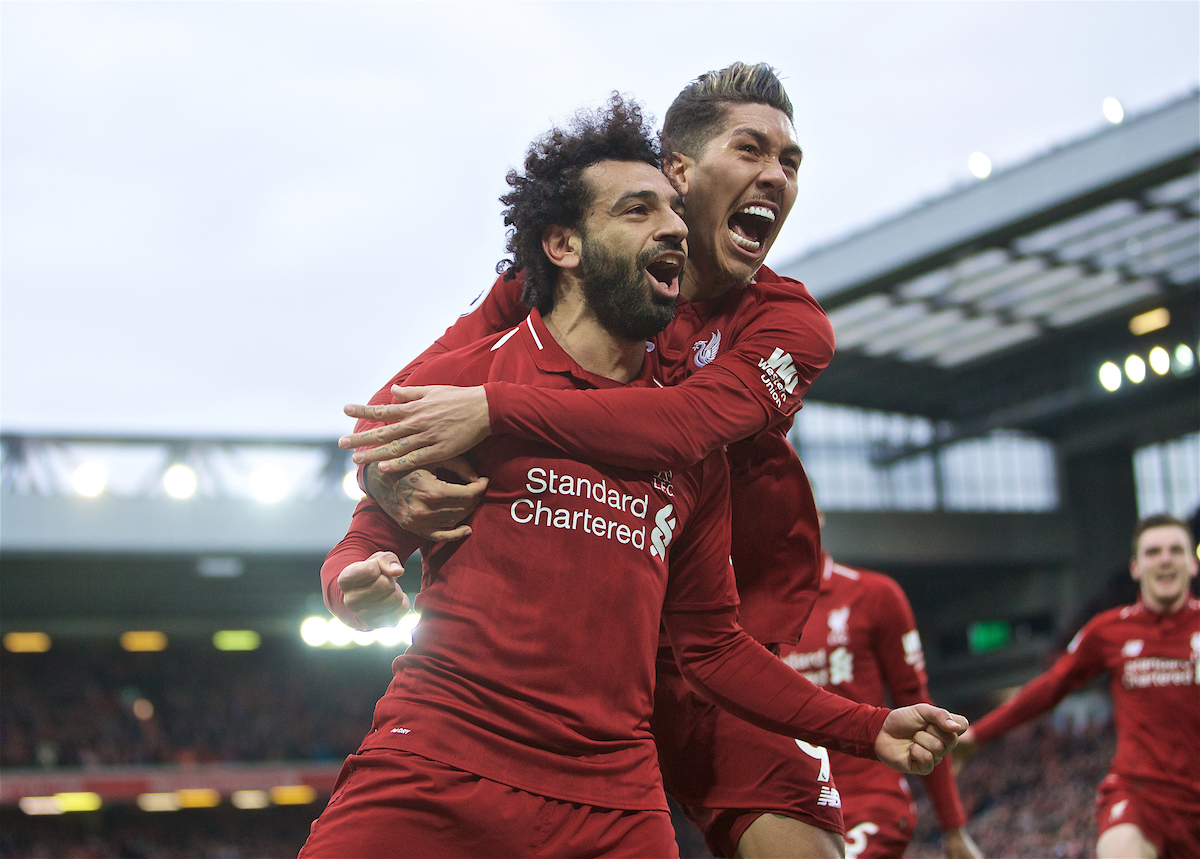 "City WILL drop points," is not a hopeful statement. It is a very sensible prediction. To this end, the destiny of the prize is for us to decide. Simply win all of our remaining five games and we will be champions.
Sounds easy. It obviously isn't but it will become a significantly more realistic prospect should we defeat Chelsea.
Let's not obsess about what Chelsea will do to resist us. I was up nights in that week in May 2014 trying to second guess Jose Mourinho's team selection. We must look within ourselves and find out how badly we want this.
The team has had moments requiring profound soul searching during the past six fixtures. All of these have been won, but all after moments when it looked like the result might be escaping us.
We have been tested and tested again. On each and every occasion we have found the answers. Let's make the numbers add up one more time.
Predicted 11: Alisson; Trent, Matip, van Dijk, Robertson; Fabinho, Henderson, Keita; Salah, Firmino, Mane
Kick off: 4.30pm, Sunday
Referee: Michael Oliver
Odds by Redsbet: Liverpool 2-3, Draw 3-1, Chelsea 4-1
"This game isn't about something that happened in 2014.

"It's about the best Liverpool team I've ever seen trying to win the Premier League." 👏

🗣 Subscribe for all of our buildup and reaction to The Reds' biggest game of the season 👉 https://t.co/lmNtBz4ADz pic.twitter.com/5Cu6guwRPH

— The Anfield Wrap (@TheAnfieldWrap) April 12, 2019
Recent Posts:
[rpfc_recent_posts_from_category meta="true"]
Pics: David Rawcliffe-Propaganda Photo
Like The Anfield Wrap on Facebook