THERE'S going to be a five-day stretch that spans from this Saturday morning until next Wednesday night in which the destiny of this season's league title will be decided.
In that space of time, Liverpool will play Cardiff City, and Manchester City will play Tottenham Hotspur and Manchester United. One side will emerge with the results having gone in their favour. In probability terms, that side will be 75-80% likely to then lift the trophy. It's as binary as that.
Chasing down titles is stressful and fun. If you're getting the results, every fresh conquest re-affirms your belief that you can be the ultimate champion. The future can be yours. But there comes a point when the future flowers into a present. It may smell of shit-or-bust, or the sweet perfume of ultimate success.
I'm crapping myself over the prospect of the next few days. This is the phase where the cards are flipped over. All hands revealed. It is this simple – if City beat Spurs and United, our goose is all but cooked. They would then have just three matches to play, with a strong likelihood of securing the trio of victories that would guarantee them the title, no matter we are able to do.
But, in a parallel universe, maybe not so far away, City draw… just the once. Liverpool, in this reality, beat Cardiff City. By Thursday morning, both combatants have played equal games, have three more remaining against lightweight opponents, and Liverpool lead by a solitary point. That is a world we want to live in. We would be overwhelming favourites to be bringing the title back home.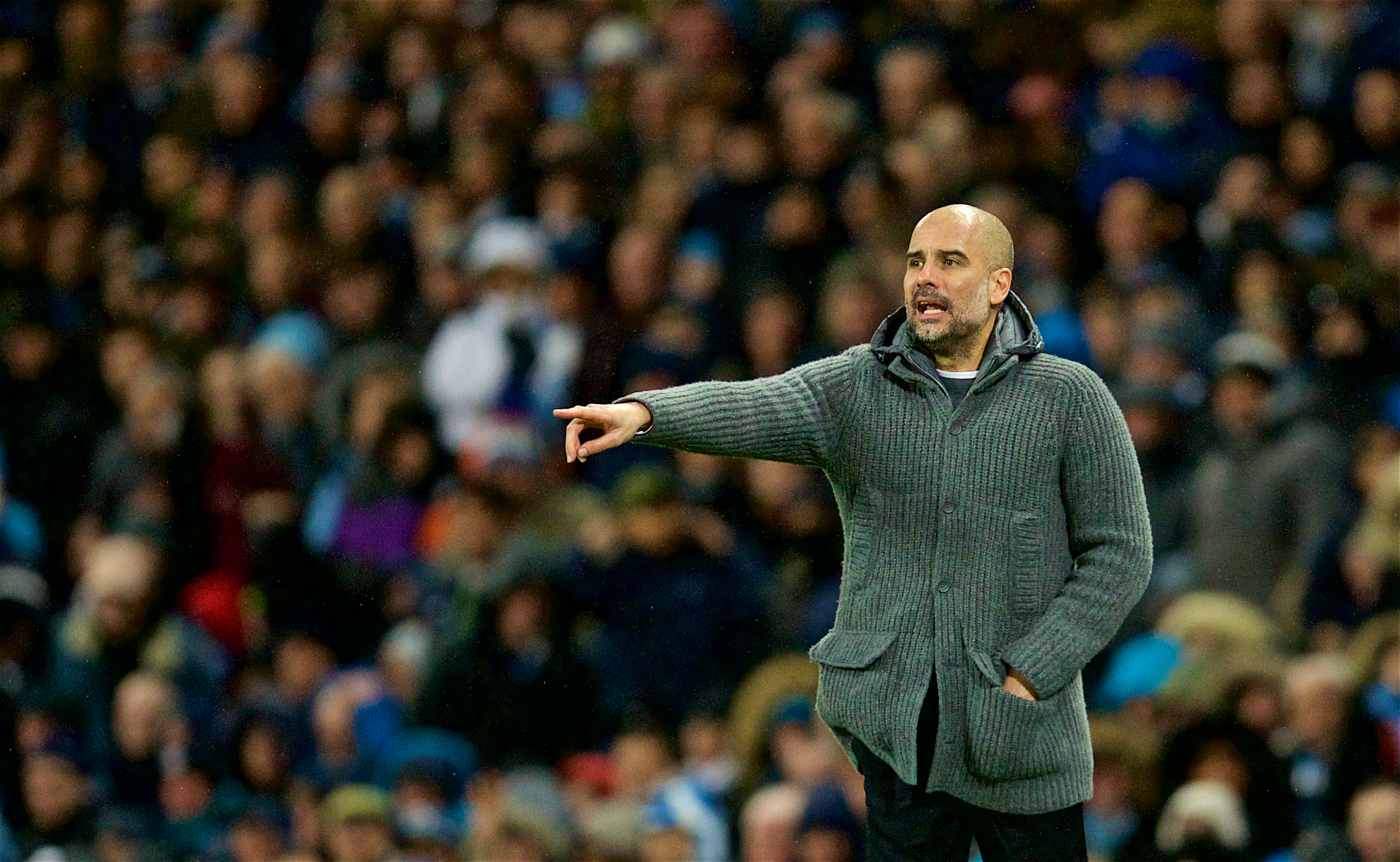 It's not over yet, and it won't be by Thursday morning. But, make no mistake, this is the end game. I'm old enough and sage enough to know that the giddiness of Wednesday night in Europe, where we won handsomely and City lost despairingly, could all be chimera, a misdirection ahead of the main event which is the coming five days' three fixtures.
Jürgen Klopp will be rebuking me now for worrying about what may happen in games not involving Liverpool. "We can only win our games", he will preach. He's right, he's right, of course he's right. But I can't win our games. Nor can you. This is our lot as supporters. We can tell ourselves that we are part of the process. We can even viscerally feel that we are at times involved in the biggest games. In the final analysis though, we can never be more than, at best, rabid cheerleaders. We cannot pick teams, we cannot play passes or make tackles, we cannot score goals.
All that remains for us is prayer.
That's why we do not think only of what Liverpool do, Jürgen. We are helpless and yet feel, delusionally, powerful. We can pray/wish for Manchester City to fail. Klopp and his team can remain aloof, but we can't. We are witnesses and we can no more turn our gaze from City as we can from our own team.
Je suis Tottenham. Nous sommes tous Man U-fucking-nited.
Depending on when you're reading this, City may have already rolled over Spurs. It's likely that they will. It will then turn to us to beat Cardiff and in doing so, make Man United versus Man City next Wednesday night a game that they should be showing in cinemas across Merseyside and on a giant screen on the Anfield pitch. Our club shop should be stocking up on United shirts. If you have any mixed feelings over this you are little less than a traitor to our cause. Liverpool's bond with the red half of Manchester this week is as dirty as the Molotov-Ribbentrop pact of 1938 (Google it), but more morally justifiable and definitely essential.
Cardiff, then. They need wins. Warnock's warriors just attained a massive one in their midweek 0-2 defeat of Brighton. They have a touch more than a ghost of a chance of avoiding relegation. It makes them dangerous opponents, of course it does, but it also makes them desperate ones. That's how we like them.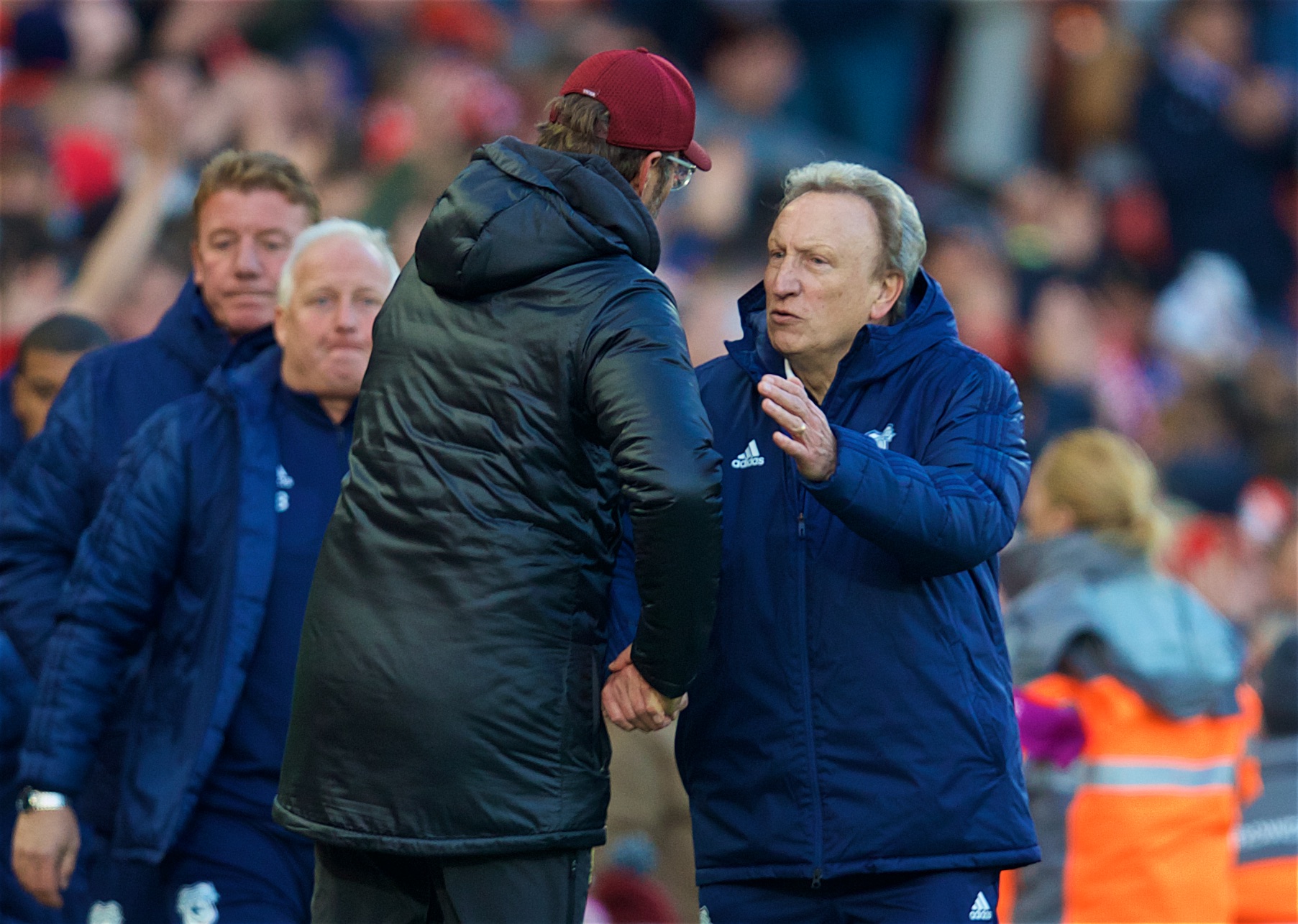 Klopp rested Jordan Henderson and Naby Keita for the Porto away trip and will surely start both in South Wales. Fabinho will probably be asked to go again, although the Liverpool boss may choose to put Henderson back in the number six position and start Wijnaldum ahead of the Brazilian.
It was interesting to observe Klopp's keenness to reintroduce Joe Gomez in Portugal. The manager knows that the best version of Gomez is a footballer we could really use at this crucial phase. Don't be shocked to see Joe re-introduced alongside Virgil at centre back in Cardiff.
It could well be that we see Liverpool's very best eleven on show at the Cardiff City Stadium. I hope so. This all feels emblematic of a team peaking at precisely the right time. It is not yet entirely in our hands to win, but it's in our hearts to summon the power for one last push.
Predicted 11: Alisson; Trent, Matip, VVD, Robertson; Fabinho, Henderson, Keita; Salah, Firmino, Mane
Kick off: 4pm Sunday
Referee: Martin Atkinson
Odds by RedsBet: Cardiff 12-1, Draw 11-2, Liverpool 4-21
Recent Posts:
[rpfc_recent_posts_from_category meta="true"]
Pics: David Rawcliffe-Propaganda Photo
Like The Anfield Wrap on Facebook