AND then there were seven.
Seven games, seven days, seven plots yet to be written. Seven beginnings, seven endings.
Our silent prayer must be that they all remain relevant. We've come this far that the minimum we're surely permitted is to be there to see how this all plays out, to be part of the story on the final day.
Liverpool can and should win this league. Liverpool have been more consistent than Manchester City. Liverpool have beaten Paris Saint-Germain, Napoli and Bayern Munich. Liverpool have been beaten only once, City four times.
Liverpool have had brief periods of mediocrity, in what has been an intense and complex season but never have we been on the ropes, not like City were in December and part of January. Christ, City weren't half bad. I'm talking like they're still fatally flawed. They remain the bookies favourites.
Both they and Liverpool should finish the campaign with over 90 points. That has never happened before in the history of top-flight football in this country. Liverpool and Manchester City are two incredible teams cursed to be in existence at the same time as each other. Put either in any other era and they would be peerless. Both without competition domestically.
City and Liverpool face a combined 15 matches to see the season out. I predict that there will be 10 wins, four draws and one defeat across those fixtures. There will be five games when one or the other of these sides fail to win. In these five matches the destiny of the title will be decided.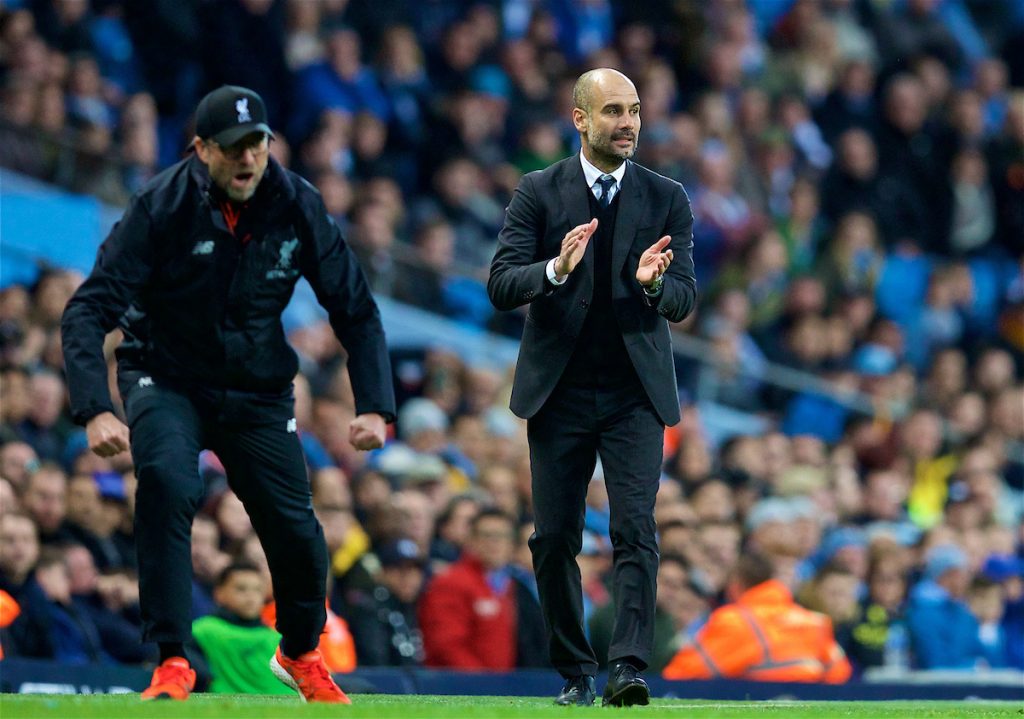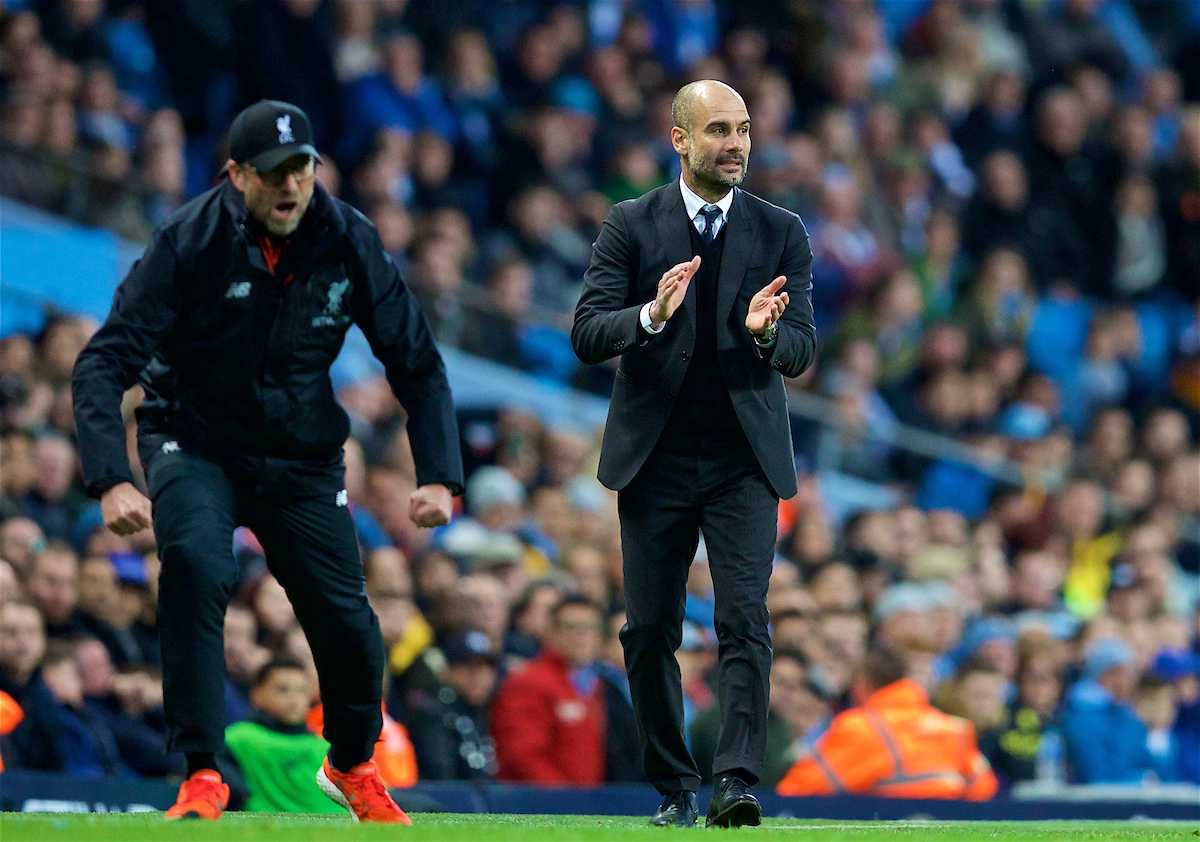 One of the games vulnerable to a be a "failure to win" is Liverpool at home to Tottenham Hotspur this weekend. Liverpool know that this is one of the higher fences they must yet hurdle on this final lap.
Until a few weeks ago, Spurs were in contention for the title. Heads were being scratched as to how that was still possible given the unspectacular and often underwhelming nature of their season. A sequence of poor results confirmed what most had suspected – that Tottenham are good, but not quite good enough.
Now 15 points adrift of the league's summit, Spurs cannot win the league but they can still decide its destiny. Both ourselves and Manchester City host Mauricio Pochettino's team before the season's end. I'm not happy that we have to face them first, but it is an opportunity to put serious pressure on City.
It is a fixture where, in effect, more than three points are at stake. Not literally, obviously, but City will look at games like this and count them as two pointers. They'll calculate that it if Liverpool were to play Spurs four times that they'd probably win two and draw two. That they'd average two points per encounter. If Liverpool win, therefore, they gain an extra point on the par expectation.
Jürgen Klopp does not need me to tell him that he needs to find a way to win this game. Of course a draw would be no disgrace. Even a defeat is more than possible when the biggest sides match up. Yet neither scenario is contemplatable within Liverpool's current context. A win will be deliriously celebrated but anything else will feel like a mortal blow to our title aspirations.
I now can't imagine what Liverpool winning this league will feel like. I know exactly what losing it looks like, though. For nine minutes at Fulham a fortnight ago I stared into that abyss. I want us to win this title more than I think I've ever wanted anything ever. But I'm also ready to forfeit it, should fate so deem.
Liverpool cannot live forever in the world of "now or never". I've always wanted us to do more than just win the big one. I want us to win the league so that we can win it again, and again.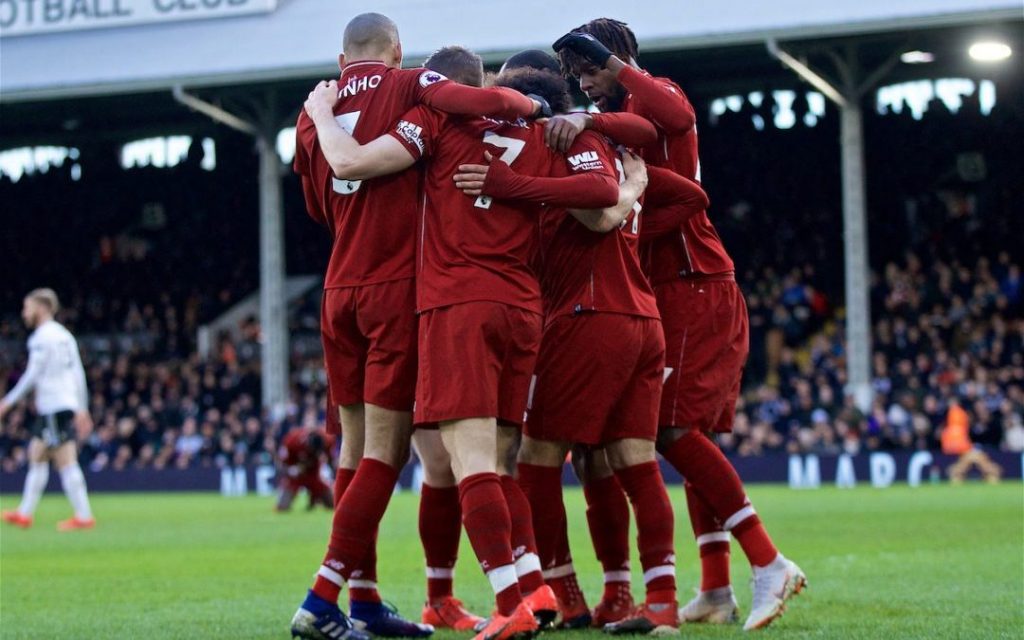 Leicester loved that they won it in 2016. We love that we won the European Cup in Istanbul. But we both love these things a little less with each passing year. Time makes them increasingly irrelevant to the here and now. I love our glorious past but I want to be excited about our future more. And right now, I'm very excited about it.
That we are almost as likely to win the European Cup as the league is an incredible thing. It is a signifier that it is not "now or never".
Liverpool may finish this season potless but when the dust has settled and we look forward to next season, we will reflect upon the huge possibilities that will lie ahead for a team (at least) good enough to have been top two or thereabouts in two successive Champions league campaigns and in our domestic league. Our average "placing" will have been as good as any side in Europe.
For now, we have eyes only for Spurs. No wins in four games Spurs. Season at a crossroads Spurs. Their boss Pochettino may have one eye on his own Champions league ambitions or he may have one eye on a bigger European job.
Spurs may yet have to decide if they are expending all of their energies attempting to finish top four in the league, or in pursuing unlikely European glory. In some ways, they are where we were a year ago.
Jürgen Klopp and his players know that they face the prospect of scaling the Everest of their sporting ambitions and that all dreams could be fulfilled within the space of a matter of weeks.
Klopp will look last year's footballer of the year and record scorer Mo Salah in the eyes and ask him to cast aside concerns about his goalscoring form and to subjugate himself for the cause. Mo don't need telling though. Nor will the on-fire Sadio Mane, or Bobby Firmino, or any of his men. They realise that together they are always stronger. Always greater than the sum of their parts.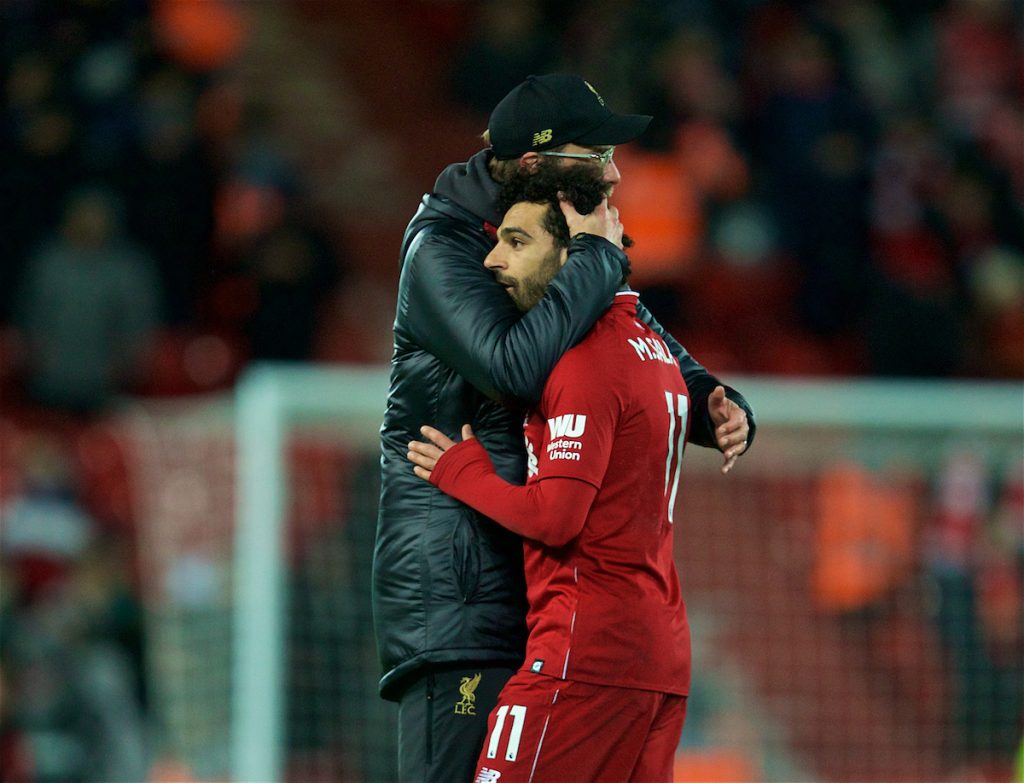 This is what sets Liverpool aside from Manchester City's travelling football show. City roll up to towns the length and breadth of the land and put on demonstrations. They provide precisely what was paid for.
Every point, every pass, every tackle, every goal is there within a balance sheet. Somewhere. Some place. The men in the offices in tall buildings planned exactly what could be achieved with their epic spending. They budgeted for a team that could regularly deliver 90-point seasons.
Liverpool could deliver a 90-point season too. It may not be enough to win us the league. Let's see. But it will be enough to make those fellas who plotted for City's eternal domination scratch their heads.
This weekend may be the one we come to see as the defining one in this season's title race. To this extent, The Reds have it all in their hands. Not just to keep the dream alive, but to knock the ball firmly over the net and back into City's court. To back foot them and make them doubt.
Spurs may have all the other ideas in the world but our time is now and we must seize our moment.
Predicted 11: Alisson; Trent, Matip, van Dijk, Robertson; Fabinho, Wijnaldum, Milner; Salah, Firmino, Mane
Kick off: 4.30pm, Sunday
Referee: Martin Atkinson
Odds by Redsbet: Liverpool 4-7, Draw 3-1, Tottenham 9-2
"Sadio Mane is our main man right now.

"He's scored 11 in 11… Tottenham are going to be terrified of him." 🔥

🗣 Listen to this week's FREE Anfield Wrap show in full here 👉 https://t.co/lmNtBz4ADz pic.twitter.com/Qg1cPYs6Le

— The Anfield Wrap (@TheAnfieldWrap) March 25, 2019
Recent Posts:
[rpfc_recent_posts_from_category meta="true"]
Pics: David Rawcliffe-Propaganda Photo
Like The Anfield Wrap on Facebook