Bad things,
It's a lot of bad things,
That they wishin' and wishin' and wishin' and wishin',
They wishin' on me,
Yeah, yeah,
Bad things,
It's a lot of bad things,
That they wishin' and wishin' and wishin' and wishin',
They wishin' on me,
Yeah…
(God's Plan — Drake, 2018)
TRUDGING out of Goodison, away from the lights, onto wet pavements, street lights reflecting in puddles, Blues singing songs of shameful joy. We walked on with less hope in our hearts.
I felt powerless. It was a strangely comforting feeling and I'm not entirely sure why. To this recent point there has been a sense of control. That this Liverpool team want to win the Premier League title as much as we are willing them to do it. That combined we are an unstoppable force.
For the first time since November, Liverpool no longer truly top the league. We've been cut adrift by a solitary but significant point.
So what happens next? It's in the lap of the gods. It truly will be what it will be, and I'm at the point where I think I might actually be able to let myself enjoy the whole process from here. The league title is no longers ours to lose. It's ours to win. And we can still very much win it.
Much of what I've always loved about football, about the game, is how it maps out the near future for you in terms of treats, things to be excitedly anticipated. I could get way existential on y'all here but having lived this life for half a century now I think the only truth I'm certain of is that there is no such thing as pure happiness, there are only things to look forward to.
Maybe I'm a dumb optimist but I've always been able to take solace – however dark shit gets – that there'll come a day which represents doing something fun. I've broken life down into a series of activities to be relished.
Football, its seasons, its competitions, provides a relentless rhythm of such occurrences. It doesn't matter if your team is good, bad, or indifferent, there's always an immediate objective. I look back on the crowd I was part of at Villa Park in 2015 which celebrated a Rickie Lambert goal like it was our last day on earth, for example.
What were we actually so jubilant about? I couldn't tell you now. Yes, it sealed the three points that day, but those points took us no nearer to any high pinnacle. At that time we must've built ourselves up to believe that a Liverpool win at Aston Villa could represent something truly momentous.
If Liverpool win something this season I think at the precise point of realisation of the achievement I could be no more ecstatic than I was that day at Villa, or than I was in chucking myself about in the wake of a 94th minute Ragnar Klavan winner at Burnley about a year ago.
I'm going to milk the ride from here on in. I'll be messaging mates coming into the weekend about a meet up to watch City play Watford. It's the day before our game with Burnley. It'll be something to look forward to. I'll loosely plan the day around it. It's a game of football I have a stake in.
Few things are more precious to me than this contrived construct. City can ruin the day with an inevitable early goal and and a near-certain win, but until they actually kick off they can't touch me. They can't stop me looking forward to the event – in highly unlikely circumstance – that should it go our way will make me deliriously happy.
A routine Saturday made up of a number of mundane rituals would suddenly become one of the most memorable Saturdays in memory. I'm prepared to get excited and look forward to this prospect.
Jürgen Klopp will have told his lads in sessions at Melwood all week to think only of Burnley. Klopp knows that Burnley are more complex challenge now than they might have seemed when looking at the fixture list a few weeks ago.
For one thing, they've stopped being crap. Although they were beaten at home by Crystal Palace last weekend and at Newcastle the week before, they were unbeaten in eight matches prior to then. In that run they beat Tottenham and were close to an incredible win over Man United at Old Trafford.
Still, we should take heart in the fact that Newcastle and Palace have halted their resurgence and hopefully tenderised them for our purposes.
The Liverpool manager has a fairly fit squad to choose from and he will be at a point where he may want to settle on a side that he'll feel can take the performances up a gear and get the team over some big lines.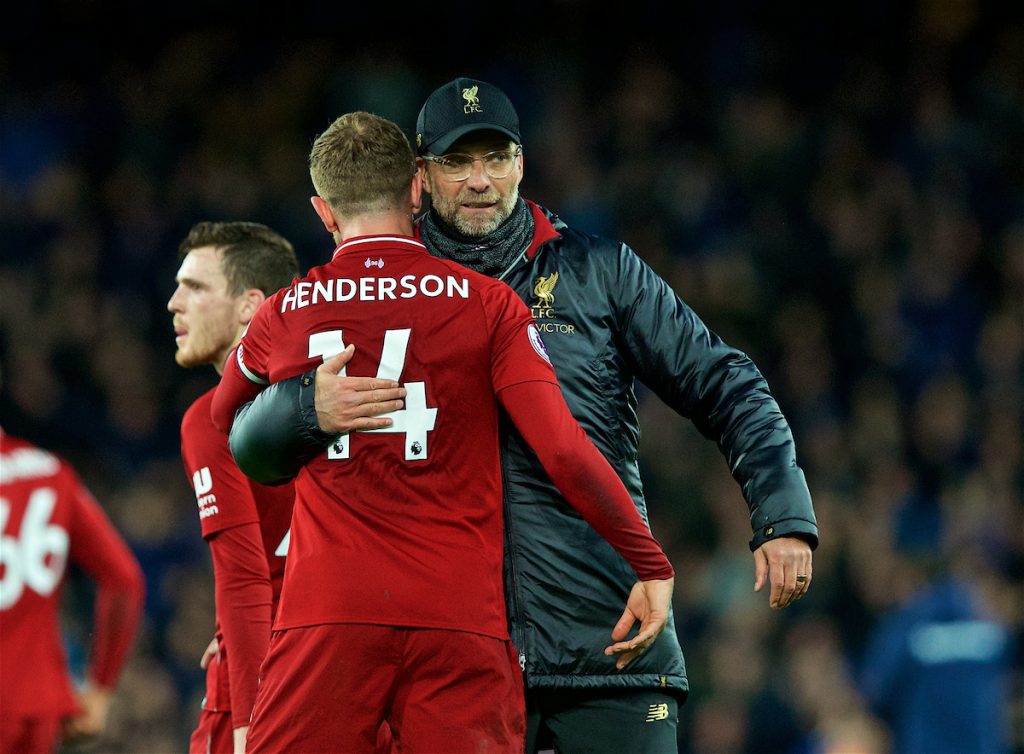 At the back, Dejan Lovren could feature after weeks out with injury, but Joel Matip has done enough to keep his place for now.
With the default front three picking themselves, all Klopp's musing will again be on how to set up his midfield. Fabinho perhaps the only certain starter. The imperious Brazilian has stepped up to very challenge set him in recent months and the midfield anchor role is now firmly his.
I hope and expect that Klopp will recall Naby Keita. I think that after Fabinho, he has potentially the highest ceiling of our stock of middle men. He had been played into form before a bout of illness knocked him out of the team. He must be reintroduced soon.
The third midfield slot could go to Jordan Henderson – he is the captain, after all – or to Xherdan Shaqiri, who must be wondering what he has done wrong to have not started a game for so long. The smart money, though, will be on Gini Wijnaldum making the cut, and so he should too. When we're talking about "men of the season" at the end of May, his name will be in most people's top three.
Midday Anfield kicks offs aren't ideal. They're not the best way to set up your day either. Getting out of bed and going straight to the game feels a bit rushed to most. Where's the opportunity to savour the buildup? It's breakfast and then boom! No time for thinking.
Maybe it's best in a way. Thinking about this title race is getting us nowhere. Better to enjoy the travelling because it's in god's hands as to where we'll arrive.
Predicted 11: Alisson; Trent, Matip, van Dijk, Robertson; Fabinho, Wijnaldum, Keita; Salah, Firmino, Mane
Kick off: 12pm, Sunday
Referee: Andre Marriner
Odds by Redsbet: Liverpool 2-11, Draw 13-2, Burnley 14-1
"You don't want to sit there and be tense every time the opposition cross the half-way line.

"We need to enjoy this. Enjoy the chase, enjoy going for the Premier League." 👏

🎥 WATCH our special with Andy Robertson in full here 👉 https://t.co/FsZ1aRIcxY pic.twitter.com/Tl98i7PI15

— The Anfield Wrap (@TheAnfieldWrap) March 7, 2019
Recent Posts:
[rpfc_recent_posts_from_category meta="true"]
Pics: David Rawcliffe-Propaganda Photo
Like The Anfield Wrap on Facebook
To get the latest Liverpool news straight to your phone, download the Football Flash app…