I'M saying that is The Reds' best win of the season.
It's not an understatement to say that the weather all but tipped the balance in favour of them. Balls in the air were a coin toss, the wind was howling in some bits of the pitch, but not others. If Burnley could have picked a set of circumstances to play us at home, a 12 bells kick off and the weather from The Day After Tomorrow, would have been first on the list.
The Reds were absolutely fantastic. Seriously. This was a battle of wills, and The Reds will is stronger than most, hopefully all.
Burnley are horrible. I mean, they are impressive, in a horrible way. Dyche is mental, a fella who could eat a pallet of bricks for his tea and yet you could see him in the beat hotel off his chops on garys.
If The Prodigy, god bless them, are going to continue after the loss of Keith Flint they could do a lot worse than to lash Sean Dyche upfront, in his Burnley suit…
"Commmee pllaaaayyyy myyyy gammmee."
"What is it Sean?"
"Well it's set in Atherstone and it basically involves people knocking shite out of each other."
Alisson: 8
Not sure from where I was what happened for the first goal, but given his reaction I'm saying the ref is a cunt who changed his name from Andrew to Andre, after the giant. Wears a set of his wrestling undies under his shorts.
He did give Joel a shout of man on in the lead up to him swallowing his kecks and heading it out for a corner but I can't be having that as something to criticise. Immense in the last minute. Seriously, immense.
In the equivalent of the Atherstone ball straightener — which frankly is the fucking maddest thing seen apart from news at 10 for abar five years — he just comes out, jumps 20 feet in the air and plucks one off the wind's head in the last minute. What a fella.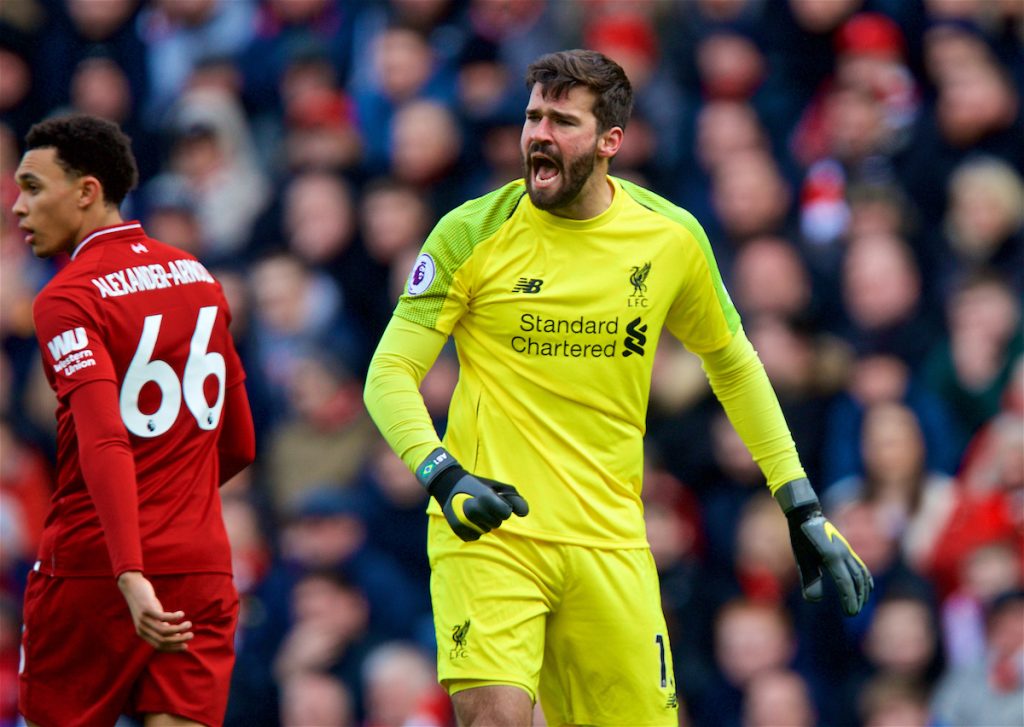 Trent: 8
Sublime. A world-class footballer. Only thing I couldn't work out was why he kept trying to float it first half in that tornado corner by the Annie Road instead of twatting it and letting the wind do the rest. Hope he is ok.
Joel: 7
I'm giving him a seven on the basis that that is as hard a task as you can get that, playing against a gang of giants who haven't eaten for a week and fancy a nice big bowl of Joel soup for tea.
That said, he was shite for the corner for the first goal. Running along got it boxed, Alisson shouts man on to him as he was deciding what to do, and he reacted like The fucking Gruffalo has jumped out of a portal and whispered in his ear that his favourite food was Joel ice cream. Shit his kecks and lashed it out for a corner.
Virgil: 10
That's as good a performance as I have ever seen. He is just so good. He is bigger, harder, faster and has got better positional sense than every other defender I have ever seen. One of the best of all time.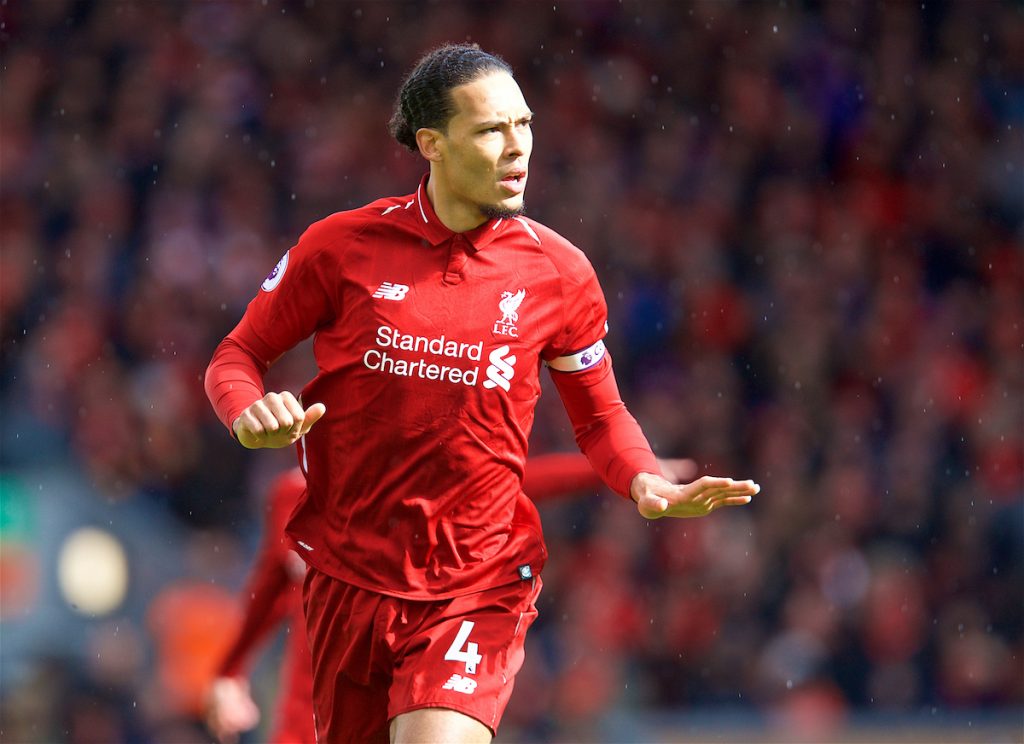 Robbo: 8
Unlucky not to score on a couple of occasions. Defended well, attacked well, what more do you want?
Fab: 8
His ability to play under pressure is great. Extra point for pulling out of that one that was such a nailed-on second yellow that Andrew the giant got a little bellend twitch in excitement and had already started rubbing his hand furiously back and too all over his yellow card.
Gino De Campo (typo that): 8
First sub off, I'm saying that means he's our most important midfielder for Wednesday. Remember saying superb Gini a lot first half but can't remember what for. Took one off Sadio's head.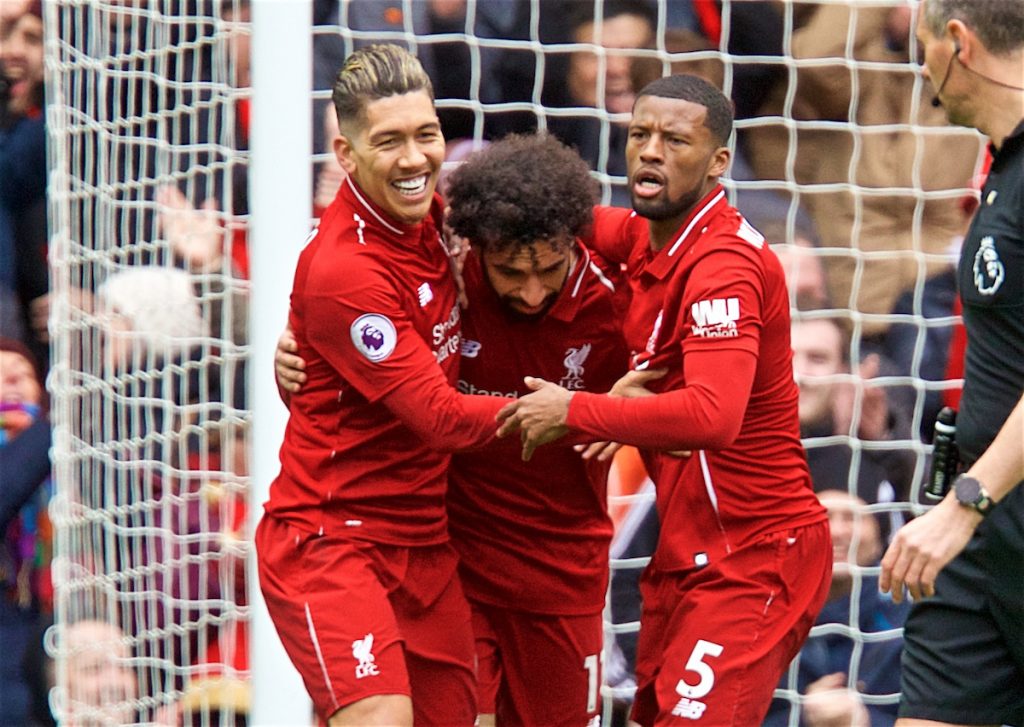 Lallana: 9
On the way to the game, the news he's starting breaks, and everyone I seen, to a man – myself included – was calling him and the manager for all kinds. Which, you know, is mental really. He was excellent from the first whistle, his work rate and touch got The Reds back in it. Great pressure for the first, a constant pain in their arse.
Mo Salah: 8
Thought he was excellent today, just not having much luck in front of goal. When he's in and about to slot, their lad wellies him and Firmino scores.
It was good of the ref to implement the rules version two, which is their team can kick shite out of us and we can't touch them. Always a pleasure to see that.
Set up most of our goals, which is sound isn't it?
Firmino: 8
Scored two which he probably should just give to Mo because it was like that Dirk hat trick when Suarez got given all the goals by the dubious goals panel after the fact. Would like a drum in the ground to slow his song down. Not sure how that happens without us being massively wool.
Sadio: 9
Hard as iron. Great finish for the first. Banging them in now, isn't he? Was so happy when he got that last one, I couldn't have coped with them having one more foray into our half.
SUBS
Sturridge:
Boss ball for the last.
Naby:
Hasn't been playing because he can't run backwards. Come on and didn't do much running backwards.
Hendo:
Was boss when he come on.
"I couldn't be arsed being a full-back playing against Sadio Mane.

When he's on it you can't stop him." 🔥

🗣 Subscribe for all of our reaction as Liverpool stay within a point of the top of the League 👉 https://t.co/XZAK9veWt7 pic.twitter.com/rpJqSqcs54

— The Anfield Wrap (@TheAnfieldWrap) March 10, 2019
Recent Posts:
[rpfc_recent_posts_from_category meta="true"]
Pics: David Rawcliffe-Propaganda Photo
Like The Anfield Wrap on Facebook