REMEMBER that article that these wrote the other week about Hodgson in their match programme?
That was weird, wasn't it?
Anyway, I am watching the game at home. It is incompatible with anyone having a nice time. I mean, people are trying to get on with their Sunday and are being all nice and that and I'm on the couch absolutely fuming and feeling like I'm having a heart attack.
"NO I DON'T WANT A FUCKING HOT CROSS BUN FOR FUCK'S SAKE. IT ISN'T EVEN EASTER. WHATS THE MATTER WITH YOU? PLUS ITS NOT EVEN HOT, ITS FUCKING COLD, I CAN SEE THE BUTTER JUST SITTING OFF NOT ARSED. FUCK ME."
If I ever say I am watching it in ours again can someone, anyone, bounce round and kidnap me and let me either watch it handcuffed in the back of a van or let me loose in town. I don't care if I have got clobber on or not. I reckon my bird will probably volunteer for that job maybe with not that much of a happy ending.
Alisson: 5
His touch is immense. I mean, you know that already, but still, every time you sort of forget how good it is, he does something else mad and keeps the ball.
That said, he's shite there for the goal, along with Virgil and Milner. He basically comes out and throws himself up in the air. He's probably amazed that Virgil has made half a mistake instead of balancing the ball on his head and slotting it to Mo back stick to break his duck.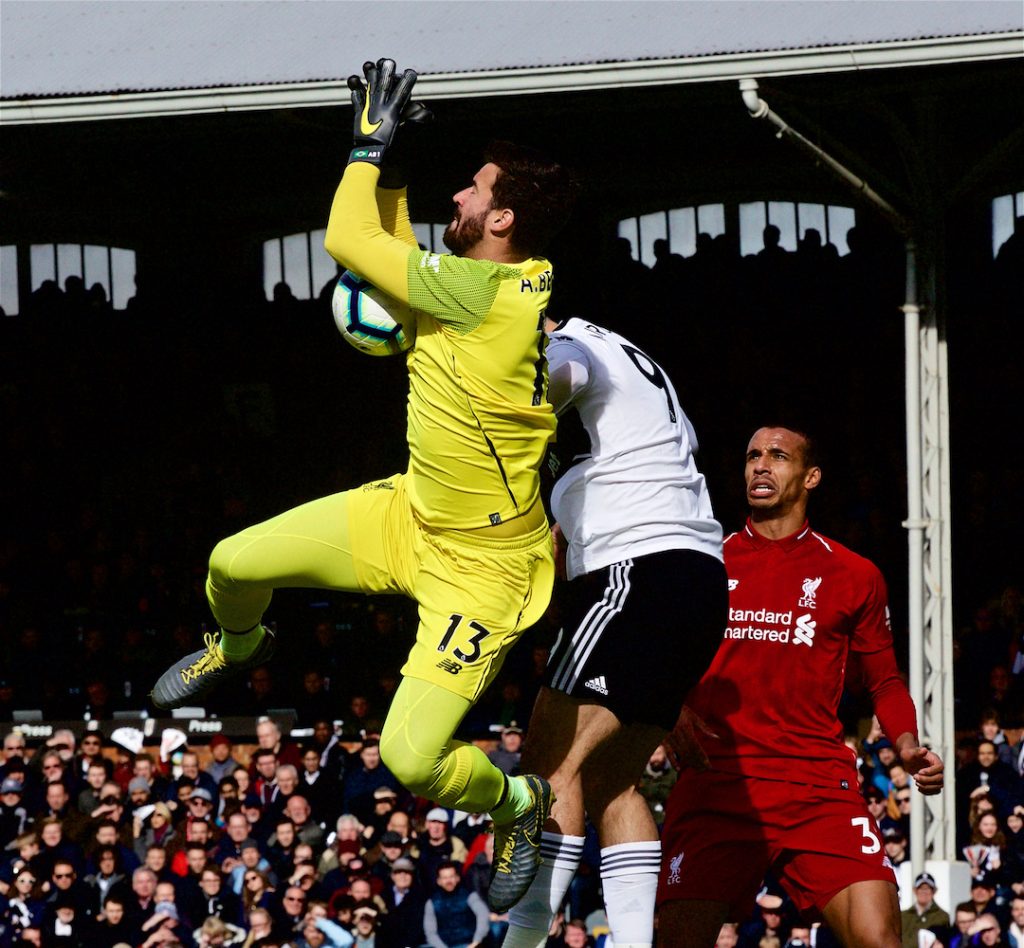 Trent: 6
Played on a fine line first half between absolutely backing himself and looking like he thought it was too easy. Couple of sloppy balls, couple of times we got lucky with them being absolutely shite on the break. He wasn't the only one, mind you. Some belter balls in second half but gave it away for them to break for the disallowed one. Mixed bag today, la. Looked knackered.
Joel: 7
Got a scolding off Virgil for not giving him a shout. Imagine how that would make you feel. Good God. You have let your team down, you have let me down, but worst of all Joelly, you have let yourself down. Go to your room.
Gave the ball away. Might just set a template up and leave that in every week.
Virgil: 7
I mean, I'm sitting here trying to find every excuse in the world not to say he has made a mistake but if he heads it further its boxed. That said, it doesn't look like he had a shout and that's some fucking backwards slice by Milner there, isn't it? Just watched his interview after the game and he is basically blaming everyone else so, so am I.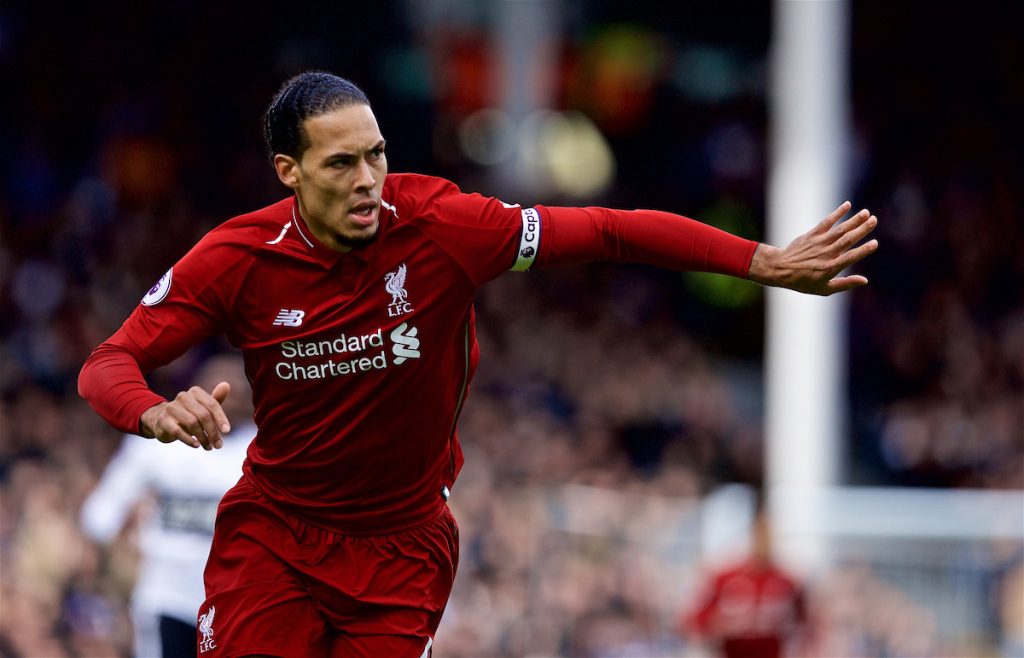 Robbo: 8
Does really well to get in after 10 minutes but should do well better with the final ball. Story of The Reds' first half, in fairness. Deffo going to score soon and was one of our better players all day long.
Gini: 8
I thought he was one of our best players. So unlucky with the effort that goes wide at 2-1. Kept The Reds playing when people around him were a) panicking b) strutting about.
Fabinho: 7
Does well not to get sent after the first yellow. He's good at that, isn't he? Did his job but looked like it might have been a game too far at times.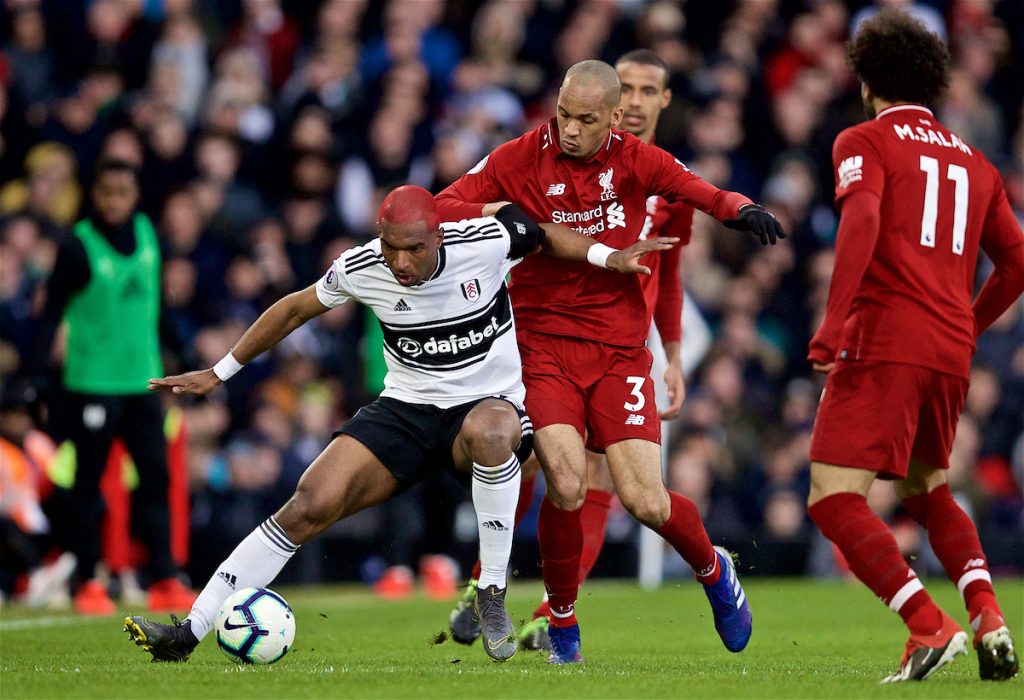 Adam Lallana: 7
Did a cracking job of blocking Mo Salah off when he was in first 20 and then followed it up by getting a chance to shoot and instead tackling it out for a goalkick and doing a nice fall over on the deck. Set the tempo at times when we didn't have the ball but by Christ he can slow a game down.
Mo Salah: 7
Absolutely got nothing going for him at the minute. Loads of half chances, loads of slightly off decision making. That said, when they broke with three against one, he does unbelievably to get back. That's why he's one of the best in the world. That work rate, that desire to help his side out. You can't teach character like that really.
Does well to keep grafting and getting shots off. Was fucking ecstatic when he wasn't on the pen because he was deffo missing with the luck he is having.
Sadio Mane: 8
Did a one two from the edge of the box and scored. Sounds simple, no? It was brilliant because it was so complex and yet so easy all at once. Pretty much what he is all about these days, isn't it? His movement is just so good. So unlucky with the header against the bar. The Reds' best forward again.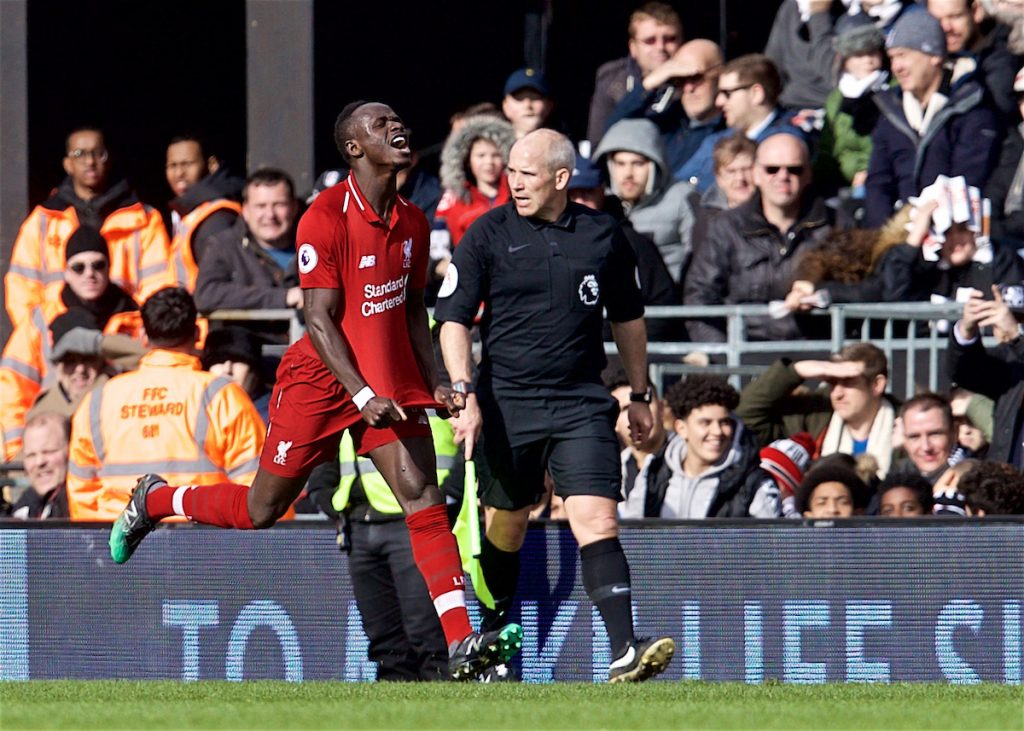 Bobby Firmino: 7
Started better than anyone. Popped up all over the place. His movement, touch and awareness for the first was sublime. Tired as the game went on.
SUBS
Div: 7
Did well when he came on. Love this left wing Div with a sublime mix of loads of end product and absolutely no end product. Backing himself at the minute which is good to see.
Milner: 7
Absolutely the opposite of what the manager wanted when he first came on; giving it away, setting up goals for them and that. That said, settled us down last 10 and some balls to slot the pen like that.
Fucking get in.
"Liverpool, Liverpool, top of the League." 🎶

🗣 Subscribe for all of reaction to The Reds' 2-1 win over Fulham, live from Craven Cottege, here 👉 https://t.co/XZAK9veWt7 pic.twitter.com/m80p4jcawE

— The Anfield Wrap (@TheAnfieldWrap) March 17, 2019
Recent Posts:
[rpfc_recent_posts_from_category meta="true"]
Pics: David Rawcliffe-Propaganda Photo
Like The Anfield Wrap on Facebook