BABY, life's what you make it,
Celebrate it,
Anticipate it,
Yesterday's faded,
Nothing can change it,
Life's what you make it…
(Mark Hollis, 1985)
AS Anfield let out into a mild early spring night on Wednesday at about 10pm, there was a lovely feel about the familiar scene.
There was no raucousness, defiance, or backslapping as is often the case after a big win. The throng simply oozed contentment.
Liverpool had demolished Watford with such composed ease that, after several weeks of uncertainty, the future began to look clearer once again. As people made their way back towards cars, trains, buses, town, thoughts were turning to a weekend filled with renewed promise.
This is no time for Liverpool to be getting caught up in Everton's narrative. The derby is always about them. Will they break their long winless drought? Can they do Manchester City a massive favour in the title race? Will they reenergise their season and set themselves up for an improved finish?
I think when we beat Everton, what we enjoy first is the spoiling of their narrative. "This is our year, Blues!"… "Was it fuck."… All that kind of thing.
Even in defeat they don't so much as retreat back into the shadows – like Homer in that Simpson's gif you've all seen a billion times – as get dragged off the stage kicking and wailing. There's never an acceptance that Liverpool might just be a much better football team than Everton. I suppose that level of vain pride has to be admired, to a degree.
In my lifetime, there was a spell when Everton were as good as Liverpool, and the prides of Merseyside shared four league titles in four seasons – 1985-1988. The Blues never got over those four years in the spotlight. In a sense, maybe Liverpool didn't either.
Our period of dominance – that had lasted best part of 25 years – was to fade shortly after theirs. Everton haven't won the league since 1987, but Liverpool haven't since 1990. There's not much in that, in terms of how long the respective title-winning droughts have lasted.
There is one massive difference between the sides since, though. Liverpool – in the 29 intervening years – have not unreasonably dreamt of titles at the beginning of seasons on about 10 occasions. Liverpool have actually mounted sustained challenges for titles five times (including this campaign).
Since 1990, I don't think there's been a single Evertonian who, if asked on August 1 of any given year, has honestly thought Everton could end the forthcoming season as champions.
The truth is, Everton's truth is, that the gap between the titleless Reds and The Blues, since 1990, has more often than not been a chasm.
Our title rivals Manchester City go to Bournemouth this weekend. Bournemouth are just two points worse off the Everton this season and have a better home record, yet the bookies can only see a City win, whereas their odds suggest the derby will be a fairly tight affair – albeit that Liverpool remain firm favourites.
Bournemouth are 12-1 to beat City, whereas Everton are 5-1 to defeat Liverpool. These odds varying across the two fixtures despite the underdogs being of an incredibly similar standard, as with the favourites.
So are the bookies mad, the punters mad, or is the derby still a unique "the form book goes out of the window" phenomenon?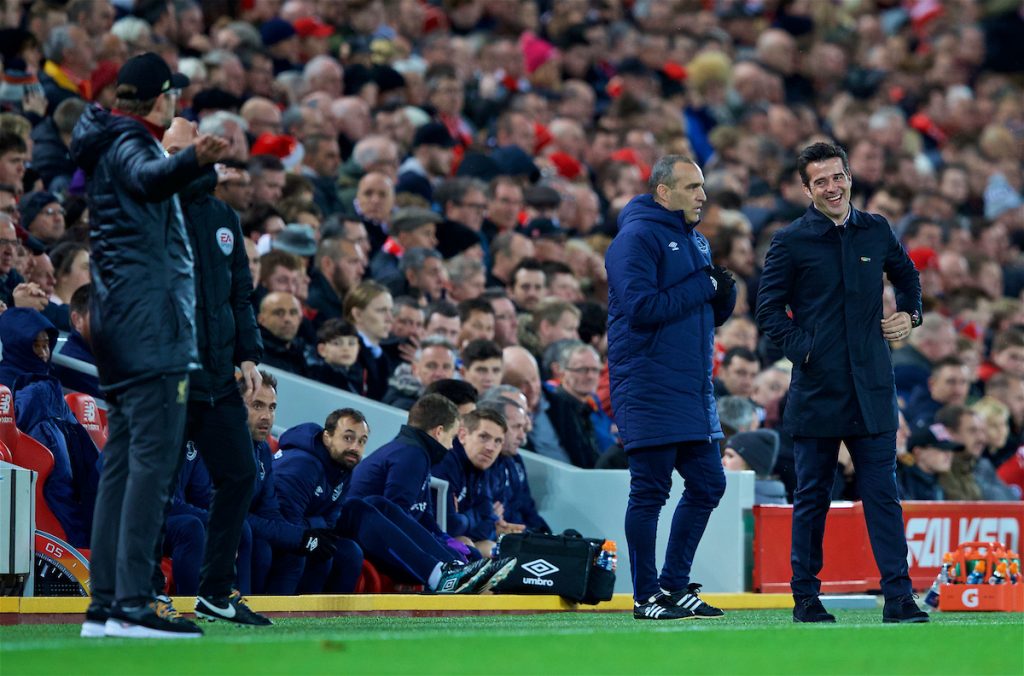 Jürgen Klopp is answering that question for his players. He's saying: "Lads, forget the bullshit, forget the blue narrative, forget the hoary old cliches, fuck the derby, the day will be yours to own. If you really want it badly enough."
Everton corrected their slide to a degree with a calming 3-0 win at Cardiff in the week. It should bolster confidence. Marco Silva would love to beat Liverpool and get his Everton career back on track, but he'd celebrate a draw like a trophy win just right now.
Although he was bold tactically at Anfield earlier in the season and will feel his side deserved more from that game, I think he'll be far more cautious for Sunday. Despite being at home.
Klopp will tell Liverpool to go for the throat. Liverpool are much better than Everton and there will be hunger to demonstrate that fact.
The manager will be mindful that, for many of his players, this will be their third fixture in eight days, though. He will want to put some freshness back in the team. Having said that, Klopp will equally be aware that after Sunday, Liverpool have a full week to rest up and prepare ahead of Burnley's visit to Anfield.
Expect the defence to remain unchanged but for there to be new faces in midfield. Keita and Henderson could well return, with Milner, and the possibly over-played Wijnaldum back on the bench.
That's if Klopp stays with the 4-3-3 that served well against Watford and in other recent games. There is a reasonable possibility of a return to the 4-2-3-1 formation favoured for much of the season. Xherdan Shaqiri will certainly hope so, as it represents his best chance of a recall.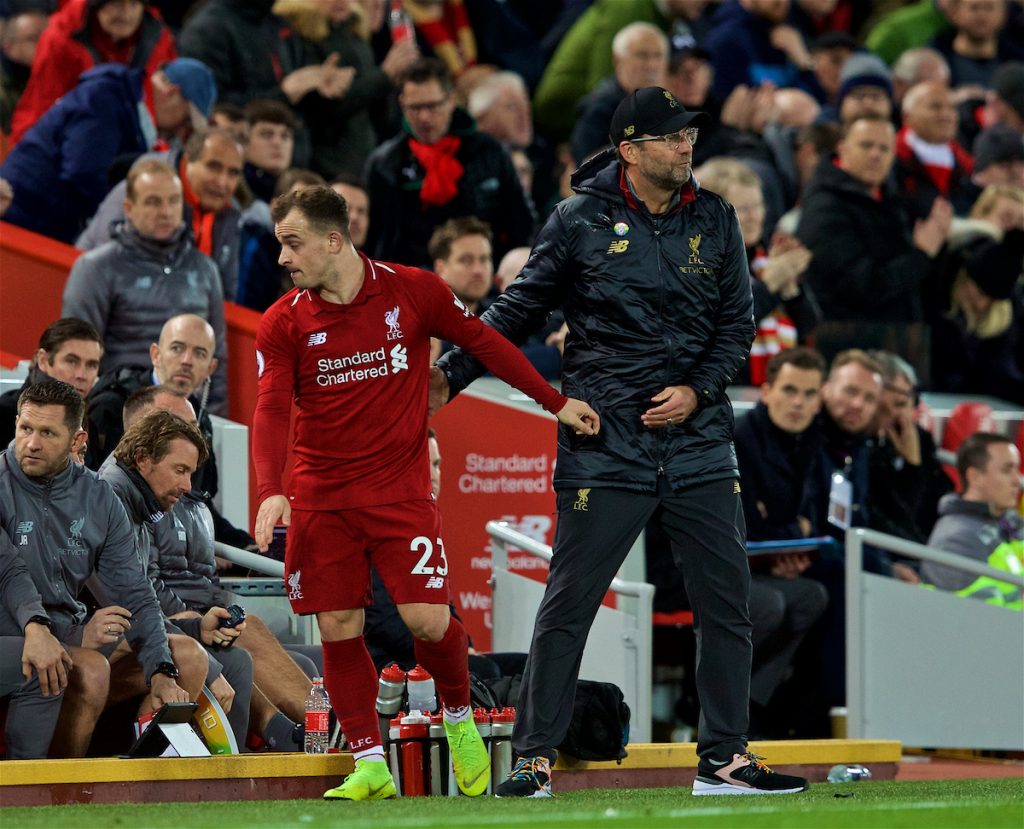 The clever money remains on the 4-3-3 and the manager sticking with a front three that scored three goals between them, and dovetailed exceedingly well in midweek.
Salah was goalless but back to his imperious best, while Mane revelled in the number-nine role. Surprise starter and scorer, Divock Origi, was something of a revelation and the manager should reward him with another first-team chance.
We've conquered all of Europe, we must treat blue imposters as we would Bournemouth.
Control the narrative, write the story. Live only our dream, not theirs.
Life's what you make it.
Predicted 11: Alisson; Trent, Matip, van Dijk, Robertson; Fabinho, Henderson, Keita; Salah, Mane, Origi
Kick off: 4.30pm, Sunday
Referee: Martin Atkinson
Odds by Redsbet: Everton 19-4, Draw 3-1, Liverpool 5-8
"We need to try and take the emotion out of it.

"This is just another game against another mid-table side." 👀

🗣Subscribe to #TAWPlayer for all of our buildup and reaction to Sunday's Merseyside derby 👉 https://t.co/lmNtBz4ADz pic.twitter.com/W96QOIENP2

— The Anfield Wrap (@TheAnfieldWrap) March 1, 2019
Recent Posts:
[rpfc_recent_posts_from_category meta="true"]
Pics: David Rawcliffe-Propaganda Photo
Like The Anfield Wrap on Facebook
To get the latest Liverpool news straight to your phone, download the Football Flash app…