I WAS chatting to my nine-year-old lad about the first time I saw Liverpool win the league. It was 1979.
I think I could still tell you the result of each and every single game, and probably most of the goalscorers in those matches. I'd even claim I could recall the starting 11s. Mostly, I'd be telling the truth.
"When was the last time you won it, dad?", asks Rafa aged nine. I catch myself reflexively choking slightly. I'm welling up a bit, too. For a moment I can't speak.
"I was 23, son."
He does quick maths. "So you haven't seen us win the league in nearly 30 years?!"
"Aye," I eventually answer. I don't want to talk about it anymore. I'd realised I've been in increasing denial about Liverpool and the not winning of the league, and its been a denial becoming more entrenched with each passing year.
I'm finding this season difficult. I have to confess this. To myself more than anyone else. Liverpool's current proximity to a league title is making me face the facts. Like a man who has been incarcerated for nearly 30 years.
He's lost the ability to appreciate what freedom would mean, what it would actually feel like. His release may come soon. Knowing that potential fact forces him to visualise what liberation might actually entail. Forces him to process what he has been living through.
Some folks say that they enjoy matches that are end-to-end thrillers, or decided by last-minute drama goals. Not me. I live for Liverpool being 3-0 up inside 60 minutes. For that moment when it is clear to all that a game has been won. Everything suddenly becomes right with the world.
When this happens it tends to happen at Anfield. I catch myself spending the rest of the game talking to my long-term, match-going mate and oldest friend, Giulio, about anything and everything but the contest in front of us on the pitch. These are special times. We really properly get to catch up with each other's lives. And it's all thanks to The Reds.
Looking back, nearly 30 years, this was also how I liked my title challenges. The near processions of '79, '80, '83, '84, '88 and '90 were like this. Some were technically in the balance till the season's last fortnight, but there was never real doubt that England's (Europe's) best team would finish top of the pile.
I've realised this week that I don't just want Liverpool to be league champions 2018-19, I desperately want us to win it in style and at a canter. That's why this week has been testing.
It's correct to observe that a round of fixtures that has seen Liverpool extend their lead on second-place Man City represents a good week. But the five-point lead we now enjoy was so nearly seven. And seven can so easily become nine, and then you're talking over the hill and far away country.
I'm craving Liverpool building a lead that will have me sleeping nights and whistling care-free, happy tunes on my way to work each morning. I want to be clicking my heels routinely like Jimmy Stewart in a feel good 1950s movie. I want us to reach that 60-minute moment. I don't want to have to be doing endless maths. I wish I didn't precisely know Man City's fixture schedule or the exact days of the week on which they'll play their remaining games.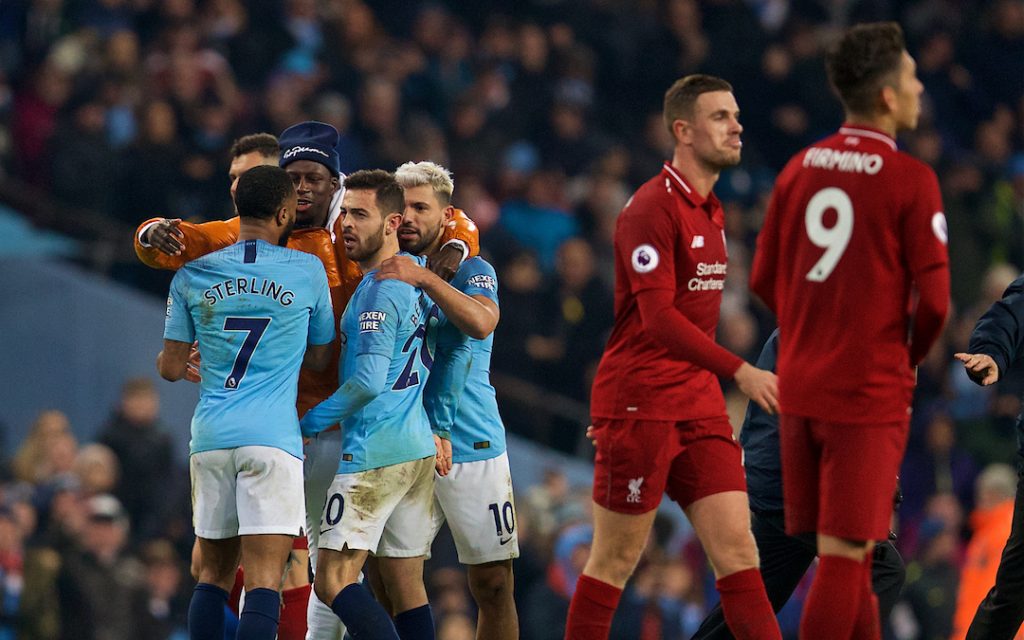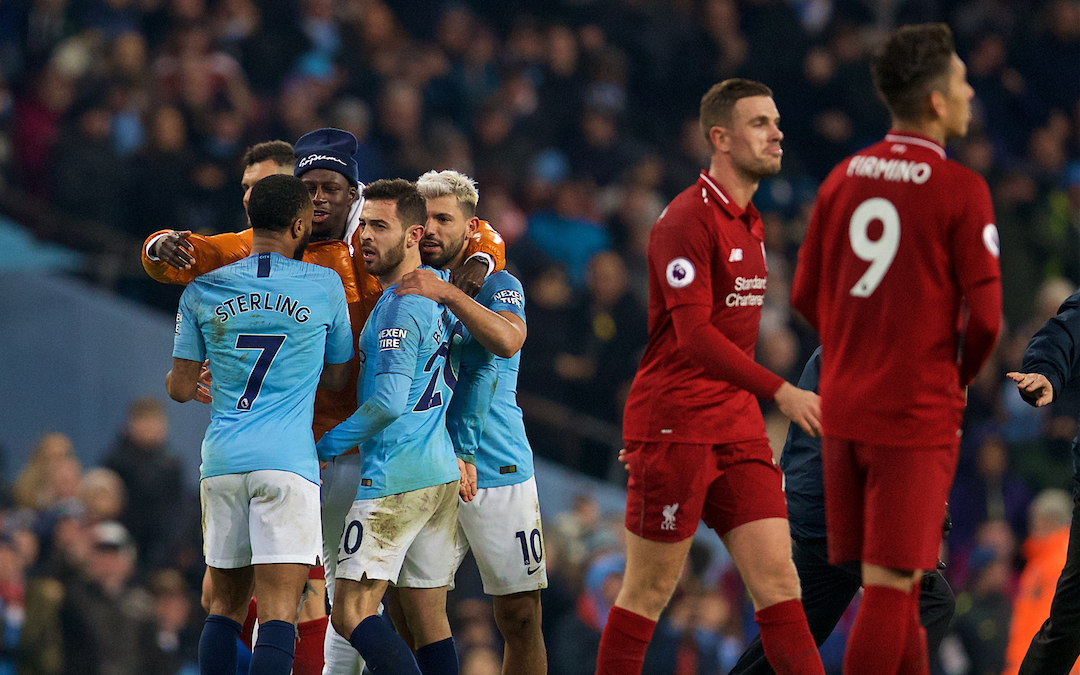 At the moment, I feel I'm living the life of that poor schmuck Brendan Dassey in the Netflix documentary "Making A Murderer". He's constantly being reprieved by judges and courts the length and breadth of that middle American county, whatever it's called, only to have liberty whipped from under him at 11th hours.
I've given up on that series because I can't go through anymore of it with Brendan. He's me, he's Liverpool, and Man City are the state prosecutors who just can't leave well alone.
The next 7-10 days feels epoch defining for Liverpool FC and all of us. City have three complicated games; Arsenal at home, Everton away and Chelsea at home. In that time we play two occasionally decent but eminently beatable sides — West Ham and Bournemouth.
There are three possible outcomes. We profit, they profit, or the status quo remains. The latter would be something of a win for us because it would take us that bit nearer the finishing line.
Jürgen Klopp will tell his Reds to ignore the likes of me. We're the fools who contribute to the kind of tense atmospheres Anfield and its team had to endure on Wednesday night.
Klopp will demand that his men block out Manchester City from their minds. He will assure them their lives have one simple reality — the task of beating Monday nights opponents West Ham.
Pellegrini's East Londoners are one schizophrenic outfit this term. They have lurched from awful to quite impressive on approximately a five-match cycle. It is to be hoped that they are currently firmly ensconced within one of their persistent troughs. They are presently 12th in the table having lost three on the bounce (including a shock cup defeat at Wimbledon) since besting Arsenal at the London stadium on January 12.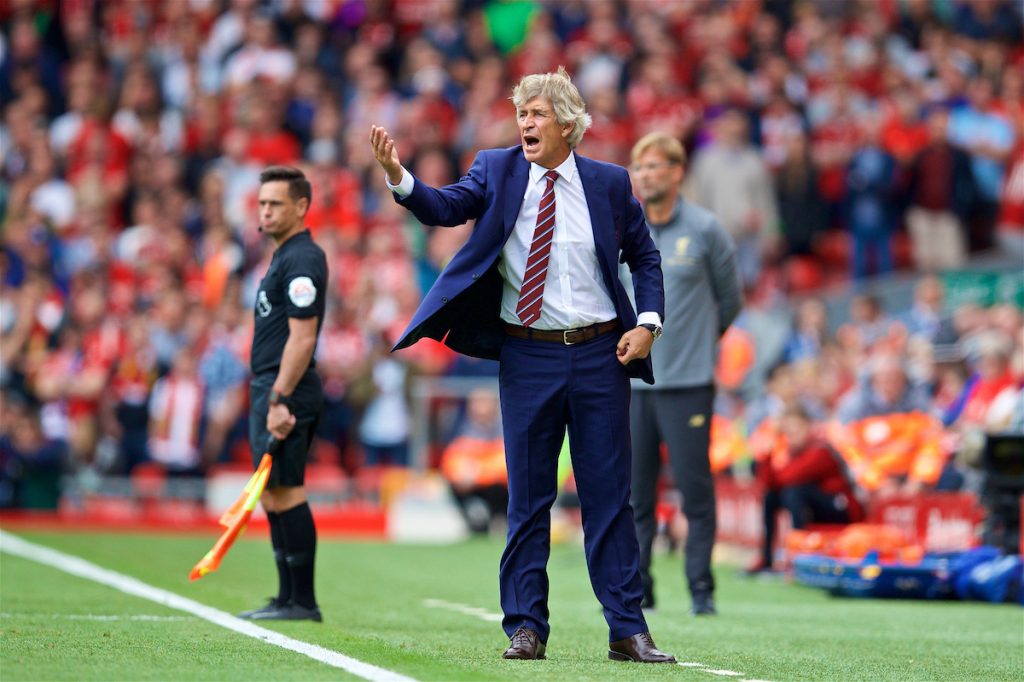 It is in Pellegrini and West Ham football club's DNA to attack teams. Liverpool prefer this. Stoic bus parkers, like Leicester fucking City on Wednesday night, are such joyless opponents.
Klopp's injury roster seems to be dwindling just at the right time. At the back now only Joe Gomez is a longer term absentee. This Monday's clash comes too soon for right back Trent Alexander-Arnold but he should be OK for the following weekend.
The midfield also appears to be in ruder health. Gini Wijnaldum is back, Milner returns after suspension, and even Adam Lallana has made himself available again after a seemingly endless rash of injuries.
I'm again going to back the selection of Naby Keita and hope for a return to a 4-3-3 formation that will most benefit him. Naby is being written off already by some Liverpool fans.
They should remember that Alex Oxlade-Chamberlain did not look to be the right level until around six months into his Liverpool career. Fabinho, everyone's current first pick in Liverpool's midfield, couldn't get arrested in the first part of this season. He wasn't even making matchday squads. Patience with Naby Keita shouldn't be a big ask.
Like Brendan Dassey, I don't want to imagine what liberty could mean. I want 60 minutes in on Monday night to be my happy place. It feels a vain hope that life could get that good again. Such is our/my lot.
Nothing to do but get on with it. Nothing to do but shout The Reds home.
Predicted 11: Alisson; Milner, Lovren, van Dijk, Robertson; Fabinho, Wijnaldum, Keita; Salah, Firmino, Mane
Kick off: 8pm, Monday
Referee: Kevin Friend
Odds by Redsbet: West Ham 27-4, Draw 17-4, Liverpool 2-5
"If Liverpool and Man City had both won this week then we would all feel a lot better, even though we would be in a worse position." 👏

🗣 Subscribe for all of our reaction after the Reds extended their lead at the top of the League 👉 https://t.co/lmNtBz4ADz pic.twitter.com/EM0u4Kkw48

— The Anfield Wrap (@TheAnfieldWrap) January 31, 2019
Recent Posts:
[rpfc_recent_posts_from_category meta="true"]
Pics: David Rawcliffe-Propaganda Photo
Like The Anfield Wrap on Facebook
To get the latest Liverpool news straight to your phone, download the Football Flash app…