THIS is the end game.
Not literally the end game but the beginning of the end game. We could really do with starting the beginning of the end game by winning.
It's fun to bill games as metaphorical cup finals. Often it's just a dramatic device. On extremely rare occasions, the cap fits. Man United v Liverpool at Old Trafford this Sunday afternoon is as bonafide a "it's like a cup final" game as it gets.
After this weekend there will be just 11 Premier Leagues to be fought out before the 2018-19 season is done. Liverpool have kind of let slip a clear initiative that they enjoyed for several weeks.
Defeat in Manchester this weekend will confirm a building feeling that champions City are not just back in the title race in a big way but comfortably in its driver's seat. A draw keeps the enquiry open but would please City's Pep Guardiola more than Liverpool's Jürgen Klopp.
The win though. A Liverpool win. That would be a tectonic shift. A Liverpool win would not just move The Reds three points ahead of City, it would position Liverpool to lead the run in from the front. City would know that Liverpool had opened up a clear length on them with the easier set of fixtures to play too.
Either team could recover from whatever plays out at Old Trafford, but there is an abiding sense that spirits will be broken if there is a clear winner on Sunday afternoon.
Sidebar: I continue to discount Spurs and, although it wouldn't surprise to see them finish ahead of either Liverpool or City, they will not finish ahead of both. Of that I'm near certain regardless of the fate tempted.
In this column, back in September, just before Liverpool travelled to London to play Spurs, I felt that to truly challenge for the league title this season, at some early juncture in the campaign, that Liverpool were going to need to put in a performance redolent of champions. Spurs were fancied themselves so to see them off in their own backyard would be a milestone of sorts.
Liverpool did indeed see them off and I don't think it's wrong to view that as a foundation result for all that has followed.
Liverpool performed like champions elect during an eight-match winning sequence that stretched across November and December. The landmark showing in that phase was perhaps the demolition of Man United at Anfield.
United were rendered so utterly ragged by a blood-sensing red pack that their manager Jose Mourinho was dismissed in the immediate wake of Liverpool's 3-1 win.
To be champions, Liverpool must now put in a champions performance. The time for accepting defeat as an isolated act, or a draw as a contextual "decent result", is truly over. Klopp's team must dig the deepest. They simply must find a way to win.
That Solskjaer's United are motivated to beat Liverpool this Sunday is not worth dwelling on. That Paul Pogba, formerly the world's most expensive player, is in the form of his life, is a distraction. United's recent long winning sequence is not our business. I'm beyond being arsed whether or not their form lads Lingard and Martial will be fit enough to face us or not.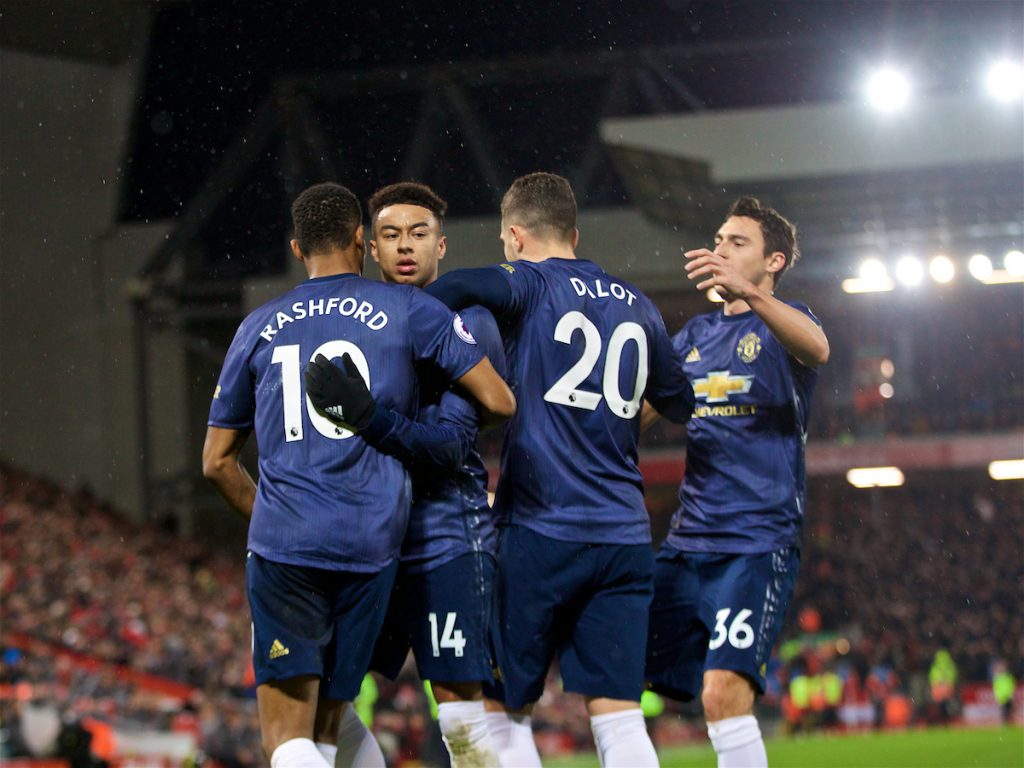 Our truth is bigger than Manchester United's. It would mean so much to them to beat Liverpool. It would mean more to Liverpool. It would mean the world to Liverpool. The whole world. All of it.
If Jürgen Klopp can harness the longing, the aching, the hunger within his team, within the club, with the fans, then only miracles will save United. Liverpool must find their power. It has been missing since the turn of the year.
Results have been manageable, moments have been impressive at times, but Liverpool have not shown as champions since demolishing Arsenal 5-1 at the end of December.
In his press conference, Klopp spoke of having decisions to make again as injury lists and illness based absenteeisms are diminishing. The manager longs to reinstate Fabinho at the heart of his team, in the number six holding midfield role.
He may well give the Brazilian the chance to run Liverpool's game from his favoured berth this Sunday but there is an alternative scenario. Fabinho, whisper it, could be the next best defender at Liverpool behind Virgil van Dijk. Make no mistake, there will be a temptation to pair the two in defence against United.
In midfield, I expect Klopp to persist with Naby Keita. Keita is improving with every appearance and if Liverpool are to seize their moment it may well be because Naby has decided to seize his. He will be partnered by Gini Wijnaldum in all probability and the pair accompanied in a three-man midfield by either Fabinho or Jordan Henderson.
Offensively, it will be fascinating to see if Klopp again adjusts his setup, as he did for United in December. Then Sadio Mane shifted from his left wing home to the right hand side of the pitch and was able to assist Mo Salah and Nathaniel Clyne in overloading in an area where United were more fragile.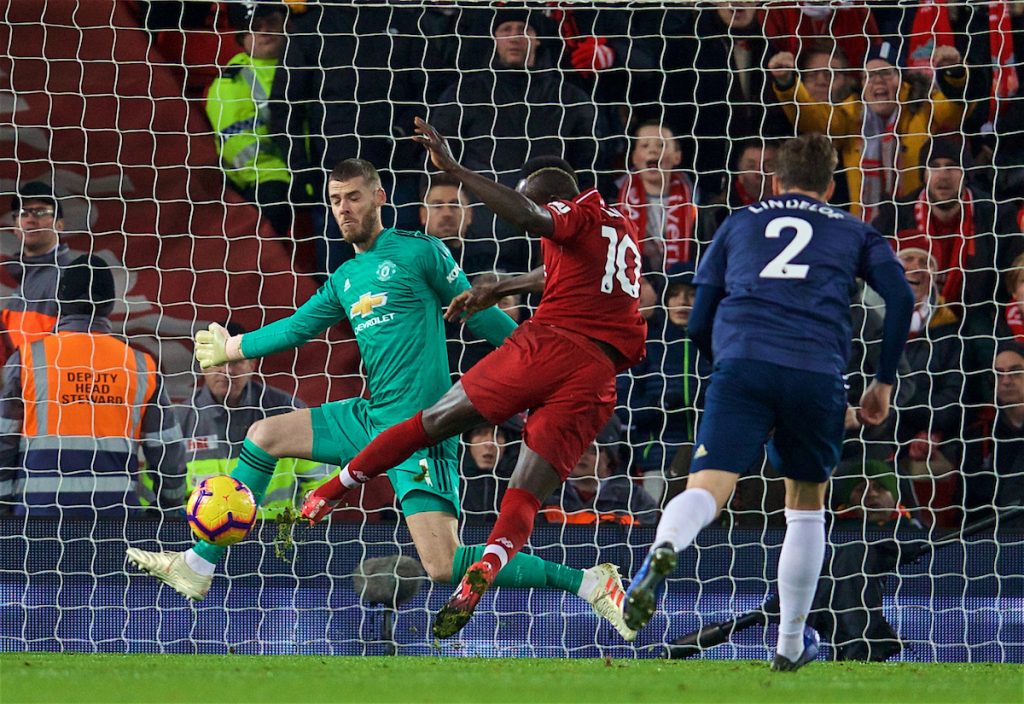 Now, perhaps more than then, all of United's attacking gifts play down their left. If Klopp matches them up against Trent Alexander-Arnold, Salah and Mane then we may be in for one lopsided game of football. It may well be decided by who blinks first, because these players can't all attack at the same time.
It's a game I both can't wait for and yet dread. I will be inside Old Trafford watching the game through my fingers.
No horror shows please, Reds. There's too much at stake now.
Predicted 11: Alisson; Trent, Fabinho, van Dijk, Robertson; Henderson, Wijnaldum, Keita; Mane, Salah, Firmino
Kick off: 2.15pm, Sunday
Referee: Michael Oliver
Odds by Redsbet: Man Utd 43-20, Draw 49-20, Liverpool 27-20
Recent Posts:
[rpfc_recent_posts_from_category meta="true"]
Pics: David Rawcliffe-Propaganda Photo
Like The Anfield Wrap on Facebook
To get the latest Liverpool news straight to your phone, download the Football Flash app…