SOMETIMES, you play the game out beforehand in your head.
You don't particularly want to, but you can't help it. You're doing the shopping, travelling to work, pretending to listen to your boss, your mind wanders, thinking about the big game, imagining what might happen, what should happen.
Sadio Mane cutting in from the left causing havoc, Mo Salah tying people in knots and slotting goals, Roberto Firmino with no-look finishes and roundhouse kicks aplenty.
Maybe that's why it feels like such a damp squib when it doesn't happen. Your mind's eye has suggested things that weren't fully delivered, and indeed, none of it was delivered as Liverpool drew 0-0 with Manchester United on Sunday.
Given the electric form of The Reds' notorious front three over the past two seasons, it doesn't seem all that unreasonable to expect such things. They have justifiably been tagged as one of the most potent and fearsome attacks in world football.
That being said, their record in the big games this season has been somewhat found wanting. In the Premier League, Liverpool have played eight games against other big six teams, with the front three bagging eight goals between them in those games.
Not too bad on the face of it, except that five of those goals came in the 5-1 demolition of an insipid Arsenal at Anfield in December. Take those away and you have just three in seven, made up of Firmino's strikes at Manchester City and Tottenham, and Mane's opener against United at Anfield. Salah's only goal in games against the big six this season so far was from the penalty spot in the Arsenal home win.
In the Champions League, Firmino's late winner in the 3-2 victory against Paris Saint-Germain and Salah's goal in the crucial win over Napoli are the only strikes managed in games against high-quality opposition (with all due respect to Red Star Belgrade).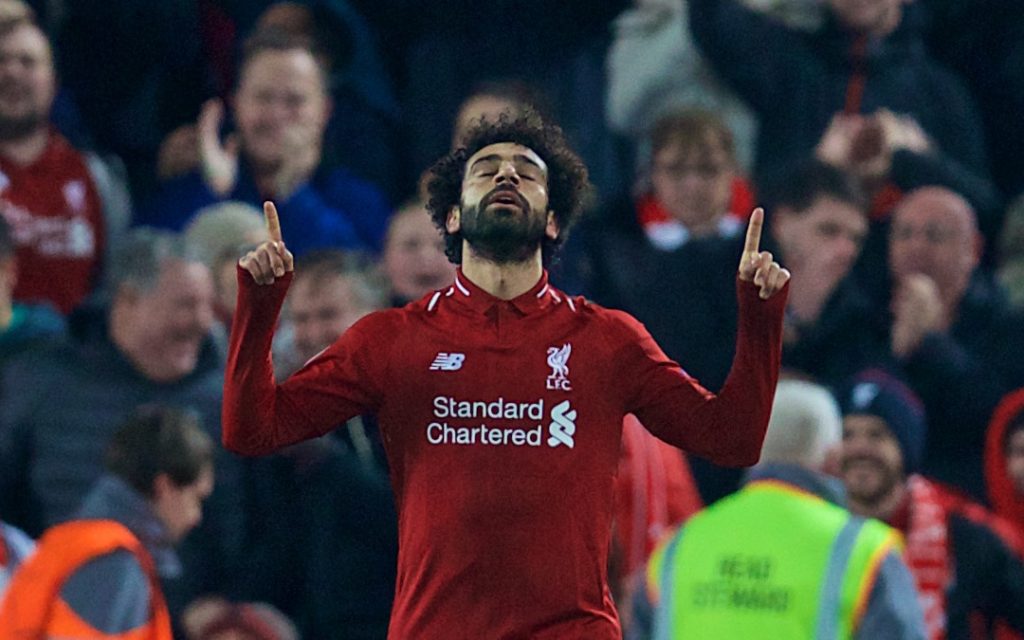 That is not to say that the trio are underperforming overall, of course. Across the season they have all been excellent, and their ability to decide games against inferior opposition has been a major reason for their team being top of the Premier League.
One thing that has been noticeable and a proverbial pain in the backside, though, has been Liverpool's inability to win games when the front three don't score. In 36 games in all competitions so far this season, there have been just 10 occasions where none of Salah, Mane or Firmino have scored. In those games there have been five draws, four defeats and just one victory (Everton, which of course relied on just a smidge of good fortune).
It is frustrating when the MFS misfire, particularly in big games, but rather than point the finger of blame at them it feels that, ultimately, they need a lot more help than they are getting.
With Firmino seemingly spending a bit (hopefully only a bit) of time on the sidelines after rolling his ankle at Old Trafford, and with such a small margin for error left in the title race, the need for others to step up to the scoring mantle has never been greater.
Liverpool's midfield has been impressive this season, at least at doing the main things that midfielders are meant to do. That said, the team's highest scoring midfielder at the moment is Xherdan Shaqiri, who has six strikes to his name, but hasn't netted in almost two and a half months.
It's also up for debate whether the Swiss maestro is considered a midfielder given his average position is often as high or higher than Mane and Firmino when he plays. Next on the list is James Milner with five, three of which have come from the penalty spot.
Of Jürgen Klopp's other regular midfielders, Gini Wijnaldum has two goals, Fabinho one, while Naby Keita and Jordan Henderson are still waiting for their first of the campaign to arrive.
Compare this to their rivals. At Manchester City, David Silva (nine), Bernardo Silva (eight), Ilkay Gundogan (five), Phil Foden (five) and Kevin De Bruyne (four) have all chipped in from midfield, while even Aymeric Laporte at the back has four.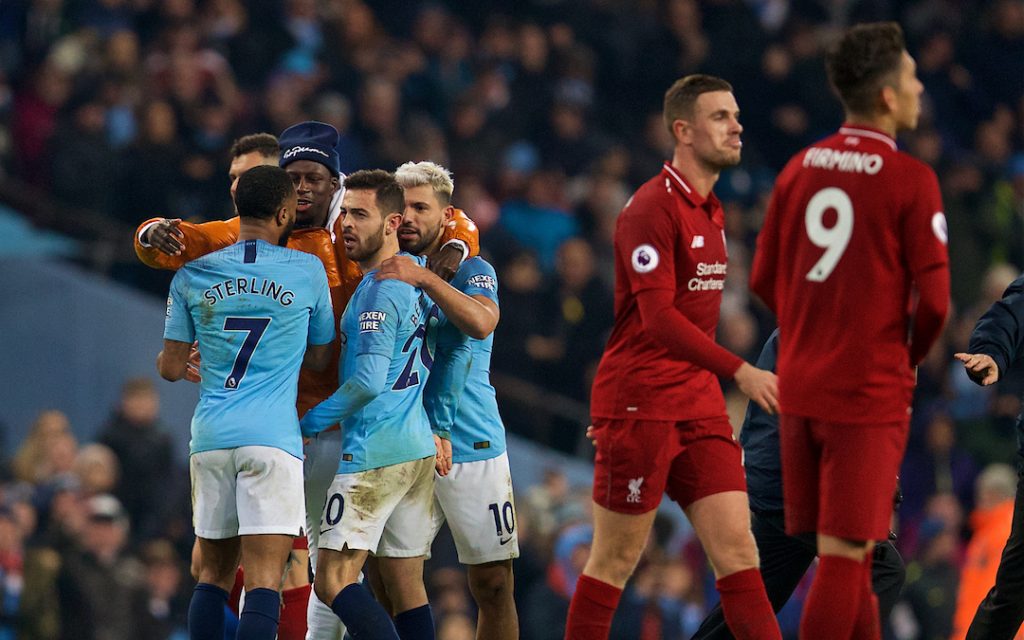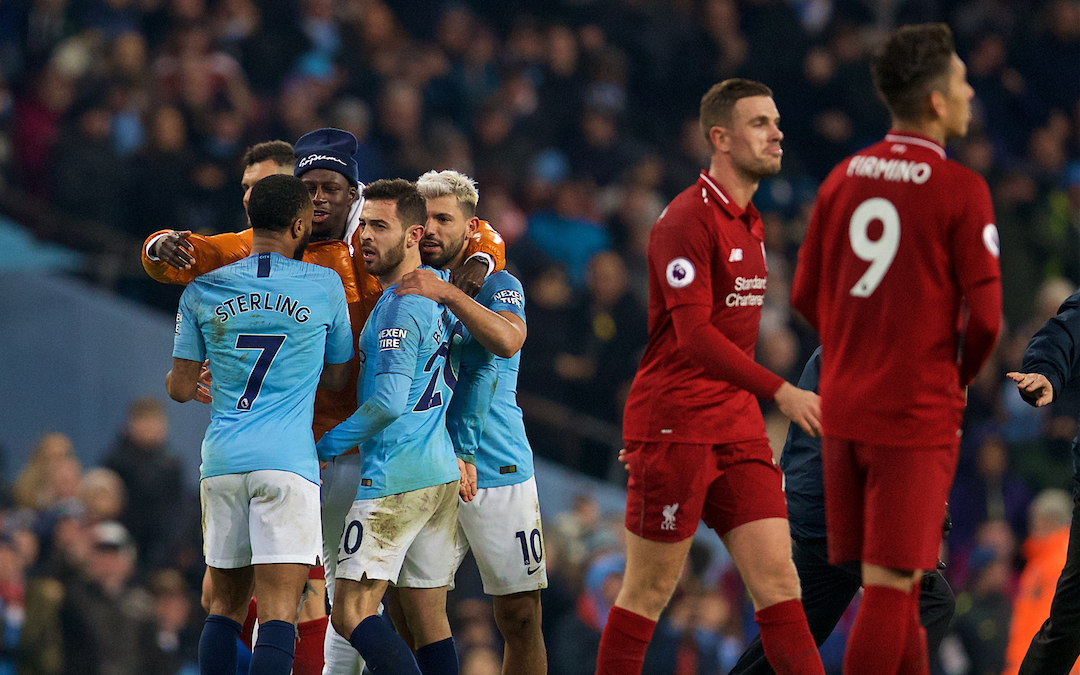 At Tottenham, Dele Alli and Christian Eriksen have bagged seven each from midfield, while the much-maligned Fernando Llorente has the same number as the backup striker (compared to Daniel Sturridge and Divock Origi, who don't have that amount between them).
Given Shaqiri and Milner aren't exactly certain starters, it becomes a slight concern as to where the goals might come from when the front three have a blunt day.
In defence, Trent Alexander-Arnold, Virgil van Dijk, Dejan Lovren and Joel Matip all have one goal each this season, but you feel could be contributing more. Van Dijk scored seven times in his two and a half years at Southampton, but has netted just twice in his Reds career thus far. Matip regularly bagged three or four goals a season in Germany when at Schalke, but has yet to score more than once in an English campaign.
You could argue that it's the way Klopp sets up his team, with everyone performing their function, which means the onus is almost entirely on the attackers to do the goalscoring. That may be the case, but it would mean that he's changed his approach from his time in Germany.
During his first Bundesliga win with Borussia Dortmund he could call on regular goals from Shinji Kagawa, Mario Gotze, Nuri Sahin and Mats Hummels, who all scored at least six times that year. In his second title-winning campaign, the potency of Robert Lewandowski was complemented by further goals from Kagawa, Ivan Perisic, Gotze, and even four goals from right back Lukas Piszczek.
Adding goals across the team also seemed to be an indicated aim judging by the transfers that never happened last summer. The infamous Nabil Fekir saga saw the club get as close as can be to bringing in an attacking midfielder who scores and makes goals, and would presumably have been the man to fill the Philippe Coutinho shaped hole left the previous January.
Watching the stalemates with Bayern Munich and Manchester United left the feeling that perhaps it was games like that which would have seen a Fekir prove invaluable, had the deal not fallen through.
The intention when Keita was purchased from the Bundesliga for £52m was presumably that he would eventually contribute on the goals side of things, but as yet he has just one assist to his name (though it must be noted has got a few "assists before the assist").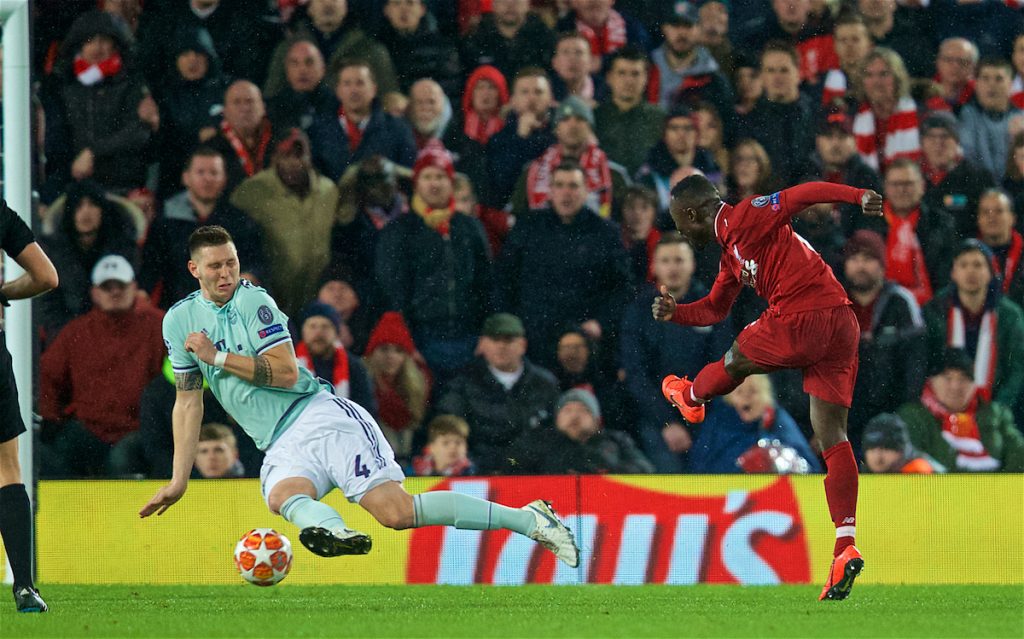 The Guinean scored 18 across two seasons at Red Bull Salzburg, then a further 17 in his two years at RB Leipzig, including nine in his supposedly off-form final year in Germany, so the ability to find the net is there. If he can rediscover it in the Premier League, he can start to chip in with enough to take some burden off the front three.
I did wonder if Klopp's flirtations earlier in the season with returning to the 4-2-3-1 formation he favoured at Dortmund might be his way of trying to spread the goals out. It brought Shaqiri into the equation, but no-one else who took on the roles really grasped it with both hands.
It might be something he's tempted to look at again though if Firmino is to be missing for more than a game or two, with Keita perhaps coming into the 10 role with Mane to his left, Shaqiri on the right and Salah up top.
There's a bit of negativity creeping into the air at the moment, with a few people believing that Liverpool have hit some sort of wall. That they went away on their mid-season training camps in Dubai and Marbella and came back shorn of their football ability, like some sort of warm weather Space Jam.
It's been a frustrating few weeks waiting for top form to return, but one constant at Liverpool since Klopp arrived has been the trajectory of overall improvement. It'll always feature bumps along the way, but ultimately the team has ended each season better than it started. It does that by learning lessons, and lessons will most definitely have been learned across the past couple of months.
It's up to Klopp, his attackers and the rest of his squad to evolve, improve and find answers.
They've done it before. There's no reason to think they won't do it again.
✅ The Post-Match Show
✅ The Post-Match Pint
✅ The Anfield Wrap
✅The Review Show
✅ The Second Look

🗣 Subscribe to #TAWPlayer for all of reaction from Old Trafford as Liverpool went a point clear at the top of the League 👉 https://t.co/lmNtBz4ADz pic.twitter.com/mNSOoZQLKb

— The Anfield Wrap (@TheAnfieldWrap) February 25, 2019
Recent Posts:
[rpfc_recent_posts_from_category meta="true"]
Pics: David Rawcliffe-Propaganda Photo
Like The Anfield Wrap on Facebook