YOU don't know you've been in love until someone breaks your heart.
You don't know just how much you support your team until they really piss you off.
My 23-year-old son was in the away end at West Ham. His allegiance is one reason that I take enough of an interest in Liverpool to want to write these blogs… Him and a lasting affection for a club that's always been good to me.
My boy's lasting affection was sorely stretched on Monday night. Love and hurt are a married couple. You can't have one without the other.
He works in London so he didn't have far to go to slam his front door shut on all the "wobble" talk. Most of the travelling support were still crawling towards the bottom of a motorway that was suffering a major roadwork infestation.
The Anfield Wrap's Andy Heaton didn't get home till 5am. The animal hospital says his cat is in a stable condition but won't be able to lick itself again for three months.
If Liverpool win the title this season, those long and miserable hours spent counting cones and cursing your own loyalty will be worn like a badge of honour. The low points are the first thing you fondly recall if you reach the summit.
There are a few "ifs" knocking about after Monday's pale showing, but nobody's about to tear their season ticket up just yet.
Despite the loss of the lead, the league table still offers plenty of consolation, but real football fans don't look for consolation in the hours immediately after a rubbish night. You've got to get angry first… Then go quiet… And only after one last aggrieved lash out at the world can your blood start to flow back to your optimism.
It's the hope that refills you.
One or two things have been said and written about the tumbleweed atmosphere at some recent games at Anfield, but true fans are allowed to go quiet when their team goes quiet. It's natural. It's part of the emotional connection you feel with your club.
Fans are not on the payroll. Nobody – not even Jürgen Klopp – has the right to tell supporters how to support their club. You respond when someone three rows behind you starts a song because you feel moved to, because you want to join in and be heard, because being a part of the unique communion of this common cause is as close to your heart as anything bar family.
Liverpool is not a club that needs to put flags on seats and tell its fans when to wave them. If he wanted cheerleaders, I'm sure John Henry could fly some in from Boston. Klopp may wave his arms in search of a volume surge from time to time but that is as much a release of his own nervous energy as anything.
Strangely, I didn't think Monday's display was particularly nervy or edgy. It actually could have done with a bit more edge if anything. It was almost as if the players were trying too hard not to appear anxious with their array of ill-judged flicks and backheels. Gifted individuals lapsed into bouts of careless passing and loose first touches. They never really got started.
Klopp started on the referee at the end but he was just letting off a bit more steam. There were no injustices. For the first time this season, Liverpool may just have been a little lucky to take what they took from a game.
In the Sky studio, Jamie Carragher was almost as restless as the manager. The now practised, polished pundit in him was carefully trying to pick words that criticised without condemning; the Liverpool supporter in him was silently screaming at David Jones to stop asking searching questions and let him go for a beer.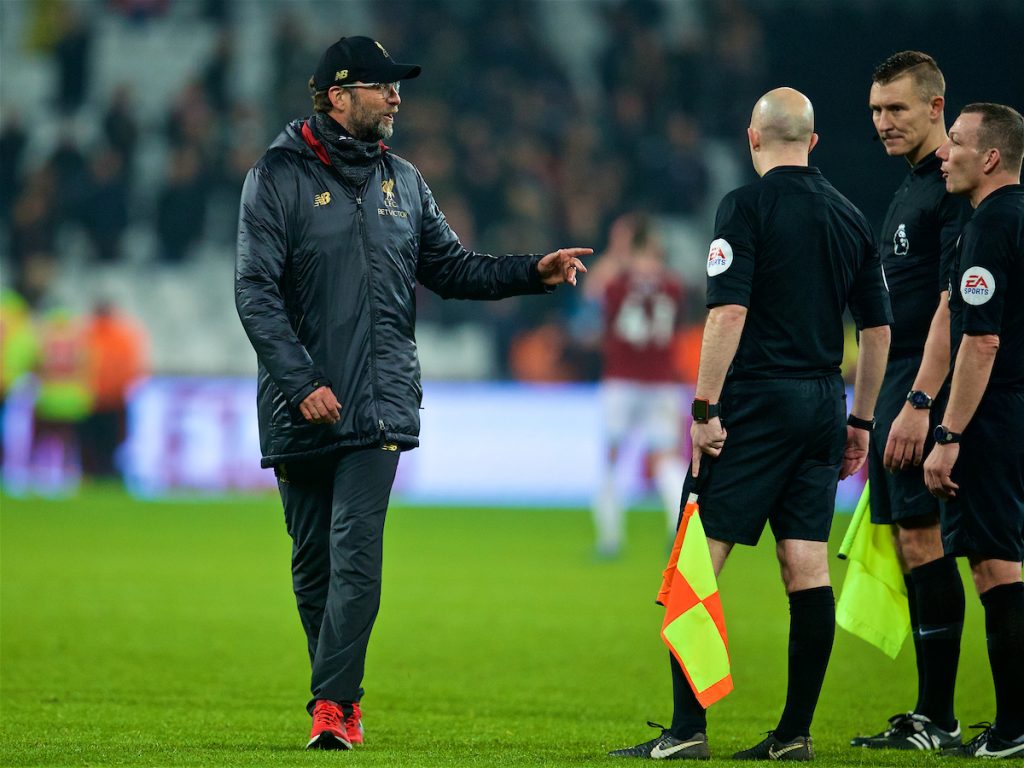 You don't want to talk to anyone after an off-colour, off-key performance like that. You'd rather be on the M6 car park with the fans, rather be among your own.
It felt like a defeat. Not because a point at West Ham is a bad result even in this breakneck title race, but because players as utterly brilliant as Bobby Firmino and Mo Salah couldn't keep the damn ball. Because the "given" that James Milner can play anywhere didn't look a "given" anymore. Because 4-3-3 has stopped working. Because the new boys still look like new boys. Because the missing players were so sorely missed. Because City have a few years' headstart in squad building.
It will have been a long week to be a Liverpool fan. At work, at school, at all four corners of the globe. And there are more of them to come. The "blessings" of the cup exits have left the team and the fans alike with gaps to fill… Maybe too many.
Somehow, fans have got to try to enjoy the journey with all its twists and turns. The only legally binding condition of supporting a club as unconditionally as you do is for it to add something to your life that nothing else can. Or you might as well take up golf.
It's for Klopp and his players to say all the politic, professional things, to take each game as it comes, to ignore the league table and the other results. It's for the supporters to do the complete opposite. You have paid for the ride. Scream and wave your hands in the air as much as you like.
If you want to get to your seat early on Saturday in order to cheer the team out for their warmup, then do it. Liverpool supporters were told 60 years ago that they had a part to play in the team's success. The spirit of Shankly lives on. Everyone can do their bit between now and May 12.
But if you were one of the 3,000 that found a way to the London Stadium on Monday night and came away – like my son – wondering whether your £30 plus Xs had been well spent, that's OK too.
It's not treachery, not a crime against the state to call your team out from time to time. It's love. And love is the drug.
"We have to embrace being nervous and the players have to rise above it."

Watch today's Talking Reds https://t.co/EYCq0oQbtW
Subscribe for more reaction https://t.co/q0tg7SFik9

Today's show was in association with our partners @tokyo_time pic.twitter.com/pXjfpCgUqQ

— The Anfield Wrap (@TheAnfieldWrap) February 6, 2019
Recent Posts:
[rpfc_recent_posts_from_category meta="true"]
Pics: David Rawcliffe-Propaganda Photo
Like The Anfield Wrap on Facebook