THESE are testing times.
I feel I've typed that sentence before and will again before the year is out. We aren't sure if we're on the cusp of something truly historic or being drawn back into a recurring nightmare. The experiences of the past two weeks have been a new and yet all too familiar for us as a supporter base. In the week of Groundhog Day, our version has seemingly come back to remind us of the repetitive nature of the fan's experience.
I was part of a panel recording The Weekender podcast for The Anfield Wrap previewing this weekend's game against Bournemouth. The theme of the show was supporters and their feelings towards Liverpool's title challenge. Was our excitement at the prospect of the ultimate achievement creating an anxiety within us that might transmit onto the playing field and, in turn, damage the team's prospect of actually becoming champions?
The discussion considered remedies and recipes for the collective so that we might enhance the atmosphere within our home stadium, and in doing so lift our team. Virgil van Dijk's comments in the media about anxiety on the terraces filtering to the players was a reminder to all that we bear responsibility beyond merely paying our ticket money on the gate.
I was also minded of the iconic 1980s US comedy Cheers. It ran for virtually the whole decade and was set virtually entirely within the fictional "Cheers" bar in Boston and chronicled the travails and insecurities of owner and head barman Sam, and the coterie of bar flies that frequented his joint and gave him a living.
As much as anything it was about class in American society. The everyday folk that frequented Cheers bar were from all walks of life but one thing bound them, gave them common cause. Sports.
The "ball game" background commentaries emanating from the TV over the bar were a ubiquitous presence. We were frequently reminded that owner Sam had himself, back in the day, been quite a baseball player. This fact gave Sam authority. When Sam pontificated on sports, folks listened.
It came to pass that in one episode, I'm sketchily remembering, that a representative of a local TV news channel happened to be in Cheers bar and so became privy to some of Sam's sports wisdoms. So much so that Sam gets invited to host a slot on the local tv channel giving his earnest and informed opinions on the burning sports issue of any given day.
All the regulars are excited for Sam and eagerly await his live TV debut. The evening comes, and Sam is present in the bar room tableau but only as a talking head on the TV screen.
The news anchor cuts to Sam: "Here's Sam with his thoughts on the Red Sox's worrying recent form…"
Sam passionately delivers a polemic that could've been proffered in support of any sports institution at some point in time. He urges supporters to remember that they have responsibilities towards their team. He stresses that their heroes can't do it all on their own. That it isn't sufficient to be a passive bystander, a folded armed critic.
True, committed, participatory support will take the whole enterprise up a level and ultimately be its own reward. Sam is nearly angry, Sam is forthright, Sam is clearly correct.
After three breathless minutes, Sam pauses, and the shot cuts back to the anchor man. "Thanks to Sam there," says the anchor guy cheerily. "I think what Sam's trying to say is that we all need to ROOT, ROOT, ROOT for the home team!"
Quick cut back to shot of Sam looking bemused and a bit crestfallen.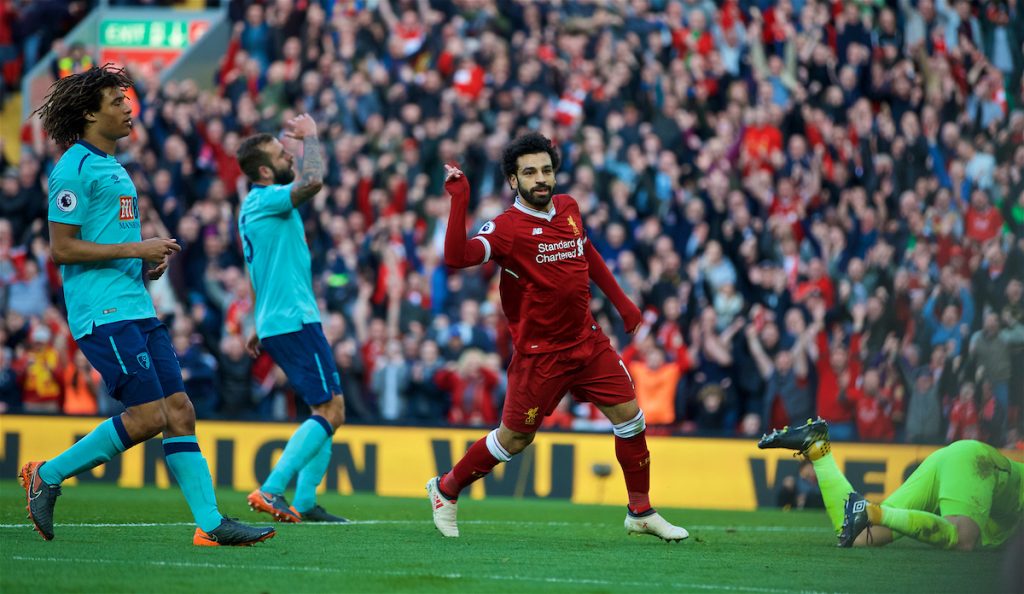 It was the perfect reductive aside to Sam's archetypal sports fan's call to arms. It was funny because it put things in perspective. We can rage, we rail at each other, we can urge for more fire but when it comes down to it, we remain largely powerless.
And there's the rub. Our "act of resistance", however much we seek to glamourise or aggrandise our importance, is futile if the boys simply can't get their shit together. I'd swap every one of our "12th men" for one calm lad who will just stick it in the goal when the chance comes.
I'm aware of the irony of my own position, here. I'm saying maybe we need to calm down, mainly. Very little more. I think we can say that while also acknowledging that it can only be good if we do more to raise the roof in the ground.
Beating Bournemouth can be the panacea we're all desperately seeking. Just a cheeky little win. I'd take the proverbial last-minute 1-0. I'd take a win so ugly that it made us wince. Winning properly would seem a right royal treat, but let's not be greedy.
Jürgen Klopp faced a similar kind of test of his abilities to lift a flattened Liverpool earlier in this campaign. Fulham came to Anfield in the wake of a worrying Champions League defeat in Belgrade. They'd ordinarily have been lambs to the slaughter but The Reds' form would've given them encouragement.
A no-nonsense 2-0 Liverpool win followed, that no one celebrated long into the night, but provided a platform for the resumption of normal service.
The Liverpool manager's burden should be lifted a touch by the return to availability of Trent Alexander-Arnold, Jordan Henderson and Gini Wijnaldum. Trent, particularly at Anfield, can make the pitch "bigger" with his pace and expansive passing. Wijnaldum and Henderson can, in turn, provide the greater security in the middle of the park to license Trent for more offensive forays.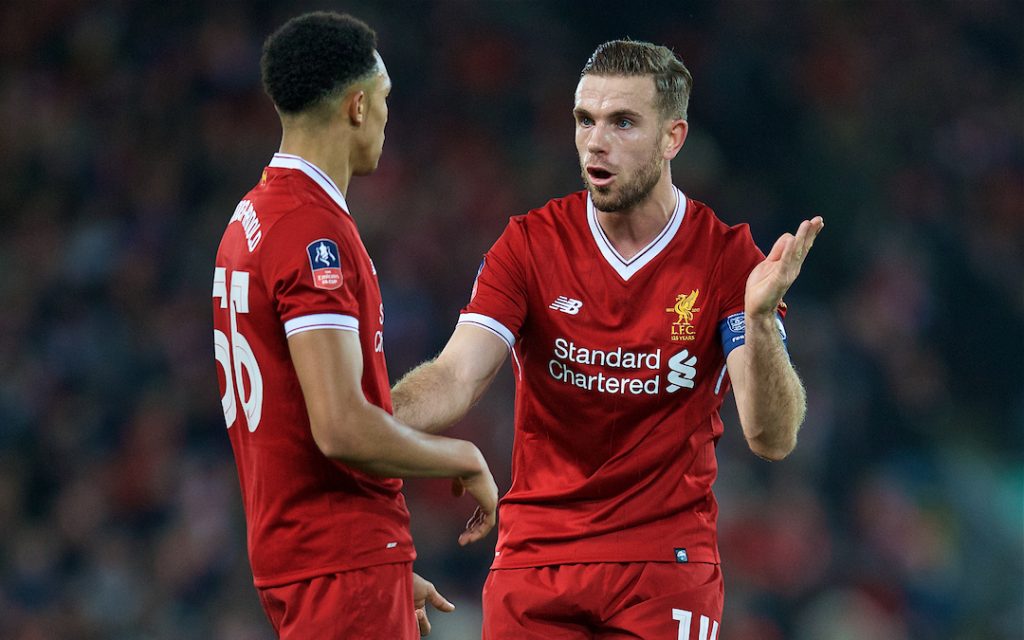 Klopp's selections aren't easy to second guess these days but I think James Milner may be held back for bench duty alongside Xherdan Shaqiri and Adam Lallana. All featured extensively in the draw in London in the week, but could see significantly less game minutes on Saturday. Divock Origi's liveliness as a substitute has gone under radars a touch. Don't be surprised to see him as Klopp's first go-to change if things get sticky.
Bournemouth have a smattering of injuries, most noticeably to star man Callum Wilson. They are also an unpredictable force. They encored a 4-0 trouncing of Chelsea with a meek 2-0 surrender at crap Cardiff City. They aren't travelling well lately — since a 3-0 win at Fulham in November, they have lost seven successive Premier League away games.
They are a respectable 10th in the table because of one of the league's more impressive home records. Only three teams have beaten them on their own turf, and Liverpool's 4-0 win on the south coast has been the most emphatic example.
It may be a good thing for Liverpool that we will get to go about our business away from the glare of prime-time TV coverage this Saturday afternoon. Micro dissections of "failings" during 1-1 draws feel like almost gratuitous attempts to belittle a team that have suffered just one league defeat all season.
The pendulum may have swung against us in the past 7-10 days, but it can just as swiftly return in our favour.
Remember kids: "ROOT, ROOT, ROOT for the home team!". It's better than getting cross, after all.
Predicted 11: Alisson; Trent, Matip, van Dijk, Robertson; Henderson, Wijnaldum, Keita; Salah, Firmino, Mane
Kick off: 3pm, Saturday
Referee: Anthony Taylor
Odds by Redsbet: Liverpool 1-5, Draw 25-4, Bournemouth 14-1
"These are the same players that we were bouncing out of Everton loving."

"They've dropped four points in two games in a season where they've dropped thirteen! They need us now more than ever." 👊

🗣@pfitz98 from @SpionKop1906 spoke on our Weekender show 👏 pic.twitter.com/q670tha9yH

— The Anfield Wrap (@TheAnfieldWrap) February 7, 2019
Recent Posts:
[rpfc_recent_posts_from_category meta="true"]
Pics: David Rawcliffe-Propaganda Photo
Like The Anfield Wrap on Facebook