MANCHESTER City are the bookmakers' favourites to retain the Premier League title, and there isn't a Liverpool player, coach or fan who seems to mind that too much.
That's got to change eventually.
Liverpool teams have been wonderful underdogs at various times during the last 30 years. It's time they learnt how to be favourites again.
Jürgen Klopp – a pedigree underdog himself with Borussia Dortmund – has made a start. He has subtly tried to infuse a strutting, confident, composed favourites' air into much of Liverpool's play this season. Less of the fast and the furious.
Last Saturday's stirring win over Bournemouth was a return to the default setting, a return to busy, pressing, pressurising football. It may have suggested to Klopp again that his team are at their most threatening when they are kicking up a storm.
If anyone knows about that it's Pep Guardiola – 3-0, 4-3, 1-0, etc…
As the Champions League reawakens from its hibernation, drum and bass echoes of banging, bouncing Anfield nights against City and Roma return to the memory. Liverpool announced themselves as a revitalised European force with raging fire and brimstone performances last spring. It's still what they know best.
The charge has been levelled against Klopp that it is simply not physically possible to play with that manic, hurricane intensity week after week, season after season. Rather than curl up in a ball of Sarri stubbornness, the Liverpool manager has refined and rotated the tempo of his team's play. They have paced themselves this time.
So, now there is a genuine "Plan B". Two different formations, two different gears. One is favourites' football: serenely unflappable. The other is more challengers' football: daring, demanding, in your face. Which is the personality that will serve Liverpool best over the coming three months?
Virgil van Dijk and Alisson Becker are players that ooze the self-assured mentality of a clear favourite. They have not only given Liverpool more security defensively, they have also added presence, patience and poise. Comparisons with Alan Hansen and co are not out of place. Klopp's team have won a string of matches by calmly outpassing and outstaying lesser opponents.
Liverpool now seem to go into the fixtures in which they are clear favourites with more authority and certainty. They can handle being odds on. If they continue to develop and progress at their current rate, they will need to. Finish this campaign on top of the pile and they will be a short price to retain the title. Just like the old days.
For now, being a close second favourite probably suits their profile better. City would still be the punter's choice even if Liverpool were four or five points clear. In the form guides, course and distance winners always catch the eye.
The dilemma for Klopp is how best to get the trip. Are Liverpool most effective with their foot hard to the floor or are their title interests better served by the cool-headed, business-like control that puts awkward games quietly to bed?
There was nothing quiet about Anfield last Saturday. The atmosphere bubbled close to European night levels. The manager's rallying cries were heard and the team rose with the decibel level to produce a strident, thunderous performance.
I dare say that I am in a minority of one when I say I don't much care for repeated calls to arms. They remind me of the rallying cries that hopeful minnows make to their fans before an FA Cup tie. As I wrote in last week's column, Liverpool supporters shouldn't need telling how to support Liverpool.
But the place was buzzing and so were the team. The special connection between the fans and the players was refreshed. Anfield was upbeat, uplifting. There was a deafening reply to any suggestions that the title challenge was stalling. Us against the flow. Wagons in a circle. Underdog spirit. That could be the essence of Liverpool's best chance of seeing this thing out.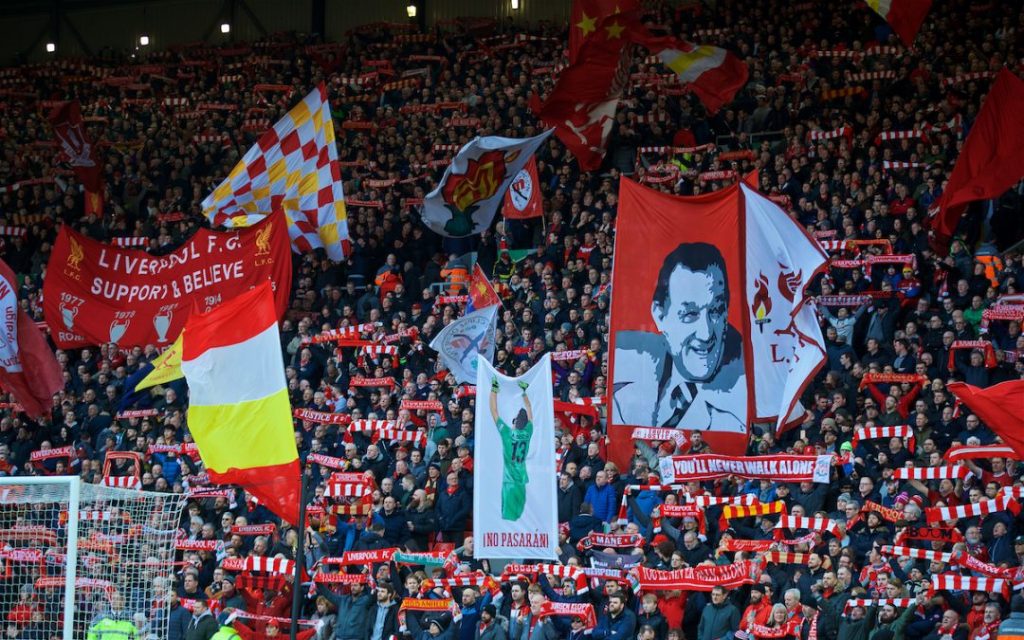 Graeme Souness said last weekend that they may just need to win every game now. So, as the cliché goes, each match is a cup tie. Twelve in the Premier League, dreams of another seven in the Champions League. Klopp may opt to try to give Liverpool's strain of fevered cup football a whirl in each and every one of them.
For all the sound maturity that they have shown in establishing themselves as live title contenders, it is perhaps time to use this sunshine break to gird the gladiatorial loins, and unleash a bit of hell on anyone that dares to stand in their way in the remaining three months of this step-up season. The 4-3-3 enjoyed a welcome revival last Saturday. Liverpool found last season's mojo.
There is a difference between a plucky underdog and a dangerous underdog. One barks, the other bites. Liverpool are 5-4, not 50-1. They are not going away.
Momentum matters from here. Not just the gathering surge of positive results but continually topping up the feel-good factor with rousing performances and roaring atmospheres.
Liverpool refound all that last weekend by refinding a dissenting, defiant voice to the idea that they were feeling the heat, by engaging the unbreakable spirit of a resistance movement, by letting out the untamed growl of an underdog with teeth still to bare.
That defiance, that spirit, that growl may prove the best ways to become favourites again.
"I spoke to Pep Lijnders last week, he said that Fabinho is one of the main reasons for the change to a 4-2-3-1.

"He's becoming an elite midfielder." 👏@neiljonesgoal on this week's FREE Anfield Wrap show…

🗣 You can listen in full here 👉 https://t.co/7zklehPJGX pic.twitter.com/7HXzd3TivS

— The Anfield Wrap (@TheAnfieldWrap) February 12, 2019
Recent Posts:
[rpfc_recent_posts_from_category meta="true"]
Pics: David Rawcliffe-Propaganda Photo
Like The Anfield Wrap on Facebook