I FEEL sorry for defensive football players. They rarely get the credit they deserve.
For example, the last defender to win the PFA Player of the Year was John Terry in 2005, a season which Chelsea conceded just 15 goals all season. And Everton finished fourth with a negative goal difference. Which is nothing to do with anything, it's just mad.
The way we talk about football is largely related to going forward. For example, the general consensus on Sunday was that all the teams in the televised games had played badly. When what we really mean is they attacked badly. But this can also mean the other team defended very well.
The idea that everyone on display that day was rubbish must have been news to Luke Shaw and Emerson, who both might have had their best games all season. But they are left backs so don't really count.
If you think it is bad for defenders, it is even worse for goalkeepers. A goalkeeper hasn't won the PFA Player of the Year since Peter Shilton in 1978. And he might not even be a real fella.
Against Manchester United, Alisson made an outstanding save from Jesse Lingard just before half time that looked all the world a goal or a penalty. It certainly would have been had Karius or Mignolet been in goal.
There was literally no room for error or hesitation and he needed all of his considerable frame to reach it. Yet a look across the match ratings in newspapers saw Alisson given sevens or eights. The Mirror gave him a six.
I know match ratings don't really matter — least of all the Anfield Wrap's. But it is an indication of how goalkeepers are viewed.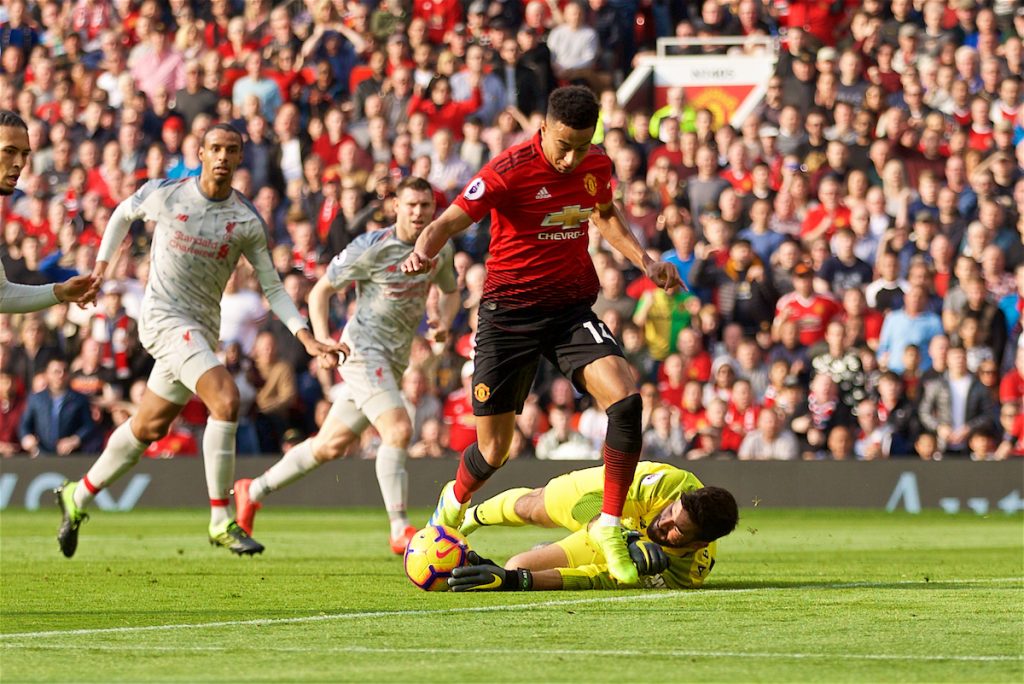 Alisson has had busier days in his life, but you can imagine a striker producing a moment of match-winning brilliance out of nothing and being given a nine in the papers. And besides, we are always told that being peppered with shots is a goalkeeper's dream. It is the ability to concentrate for long periods with little to do and then leap into action when necessary that separates the top goalkeepers from the simply good ones.
Make no mistake, Alisson is in that very top tier. We talk about the best forwards scoring big goals, Alisson makes big saves. Many days he isn't needed, which is great. But on plenty of others he's been the difference between a win and a draw or a draw and a defeat.
We wouldn't have a trip to Munich to look forward to without Alisson against Napoli. We certainly wouldn't have as many league points.
If we do win this league title, others will get more plaudits, but few will have done more to secure it. That he has done so much with the big price tag hanging over him, in his first season in English football and still at the relatively young age for a 'keeper of 26 is really remarkable.
Recently, there was a great video of Jamie Webster and Alisson sat in District in the Baltic, home of the Boss Nights, playing guitar and singing Liverpool songs together. It showed how much he has immersed himself not just in the team but the city and the supporter culture.
Later, Jamie revealed that the club had originally asked Alisson to do it in November but he'd said no. He wanted to establish himself as a top goalkeeper at Liverpool first, not the fun Brazilian with the guitar.
Whatever happens this season, I don't think there is any doubt that Alisson has established himself as the Liverpool number one for years to come.
"Let's go and enjoy this game, and enjoy this title race. Every game is a cup final. 11 to go." ✊

🗣 Subscribe to #TAWPlayer for all of our buildup and reaction to Liverpool vs Watford 👉 https://t.co/lmNtByMZeZ pic.twitter.com/xf9Z4mFzcc

— The Anfield Wrap (@TheAnfieldWrap) February 27, 2019
Recent Posts:
[rpfc_recent_posts_from_category meta="true"]
Pics: David Rawcliffe-Propaganda Photo
Like The Anfield Wrap on Facebook